Digital nomad culture is reinventing itself in 2023 after periods of global lockdown. Resume.io analyzed thousands of #digitalnomad Instagram posts to find out where today's remote workers are plugged in.
Nomad? Slow-mad? Travelpreneur? The 'genres' of remote work are fragmenting into ever-more adaptable alternatives even as potential destinations multiply. Upwards of 40 countries now offer variations on the digital nomad visa, and most have dropped their pandemic-era entry restrictions.
For a clue as to how employers think this will pan out, it's worth a look at what one of the cornerstone companies of digital nomad culture offers its team. Airbnb sprung up to offer affordable, informal and amenable rooms at the heart of local life around the world in the wake of Web 2.0 and the pocket laptop we call the iPhone. But until recently, the company has resisted full-on WFH for its own employees.
"[W]e believe that the most meaningful connections happen in person," wrote Airbnb CEO and Co-Founder Brian Chesky, announcing a new remote work policy in 2022. "Zoom is great for maintaining relationships, but it's not the best way to deepen them. Additionally, some creative work and collaboration is best done when you're in the same room."
The solution? Following months of personally trialing the lifestyle, Chesky announced that those employees whose jobs can be done remotely, may choose to do them remotely; that they can live anywhere in the country they're based in; they can work abroad for up to 90 days each year; and there will be quarterly IRL work meets that they will need to attend for around a week at a time.
In other words, employers are looking to cater to workers' preferences while reserving the right to protect their interests. So, if working from a backpack office is becoming the new normal for many – then where are they laying their hats? To update our 2022 study, Resume.io analyzed 'digital nomad Instagram' to see where the world's remote workers are Instagramming from.
What We Did
Resume.io analyzed thousands of Instagram posts featuring the hashtag #digitalnomad, preprocessing them to ensure no spam accounts or bots were included. We determined which country the digital nomad was in by looking at the Instagram location from the post's geotag or where a country name was mentioned in the text. If we found a match, that country was assigned to the post.
Key Findings
London has the most vibrant digital nomad Instagram community in Europe and the world
New York City is the digital nomad capital of the U.S. and North America
Bangkok, Thailand, is the second-busiest spot for digital nomads globally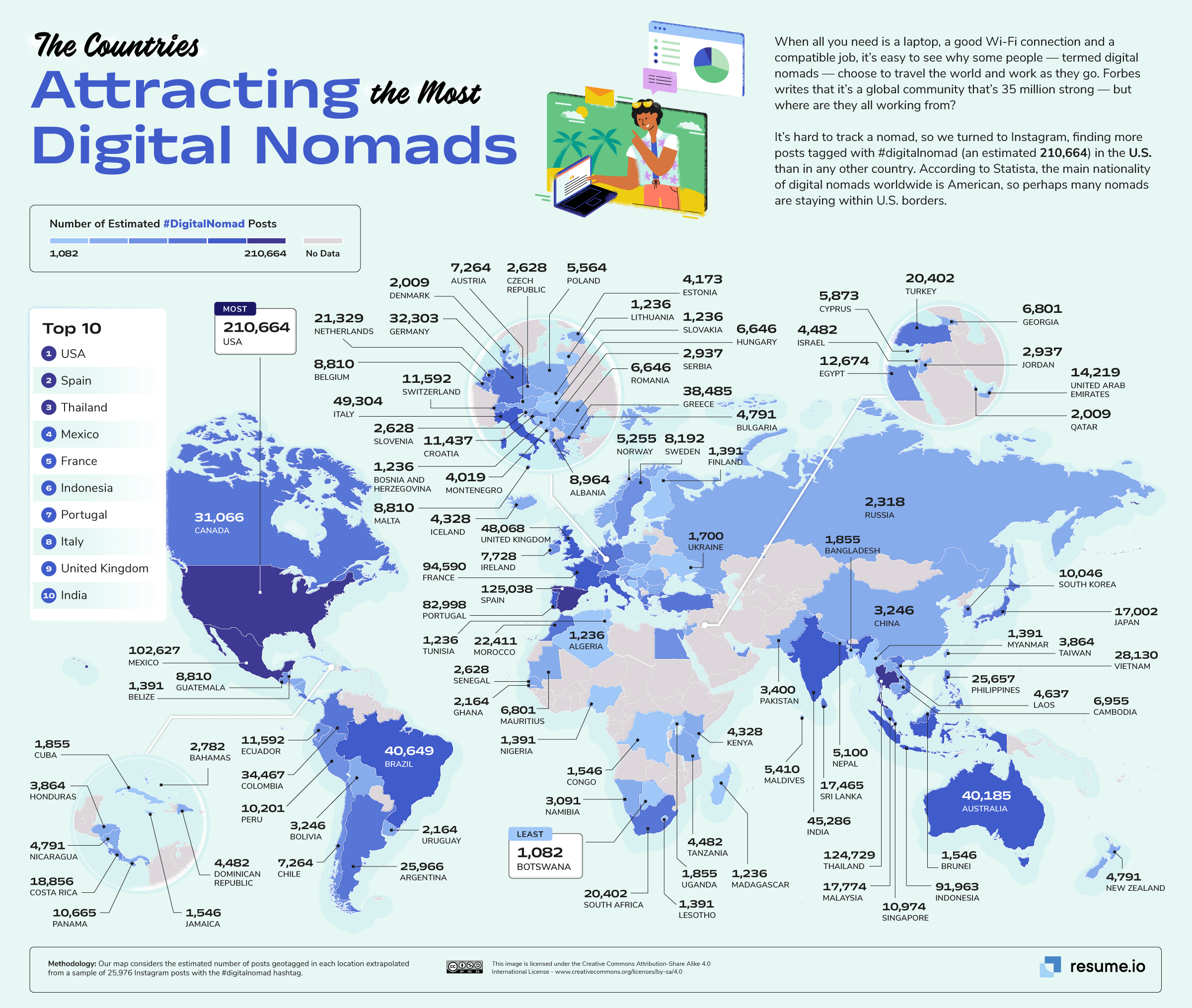 Click here to see the image in full size
North America: New York City is Top Spot for Remote Workers
Airbnb's remote work policy blames the administrative difficulties of maintaining globetrotting employees for its limitations as much as the need to nurture in-person connections. But no matter who you work for in North America, getting off the continent can be prohibitively pricey. Thankfully there's plenty to see at home, with digital nomads in the U.S. mostly making their way to coastal cities — although the ones at the top of the chart each have a distinctive lifestyle that is surely part of the draw.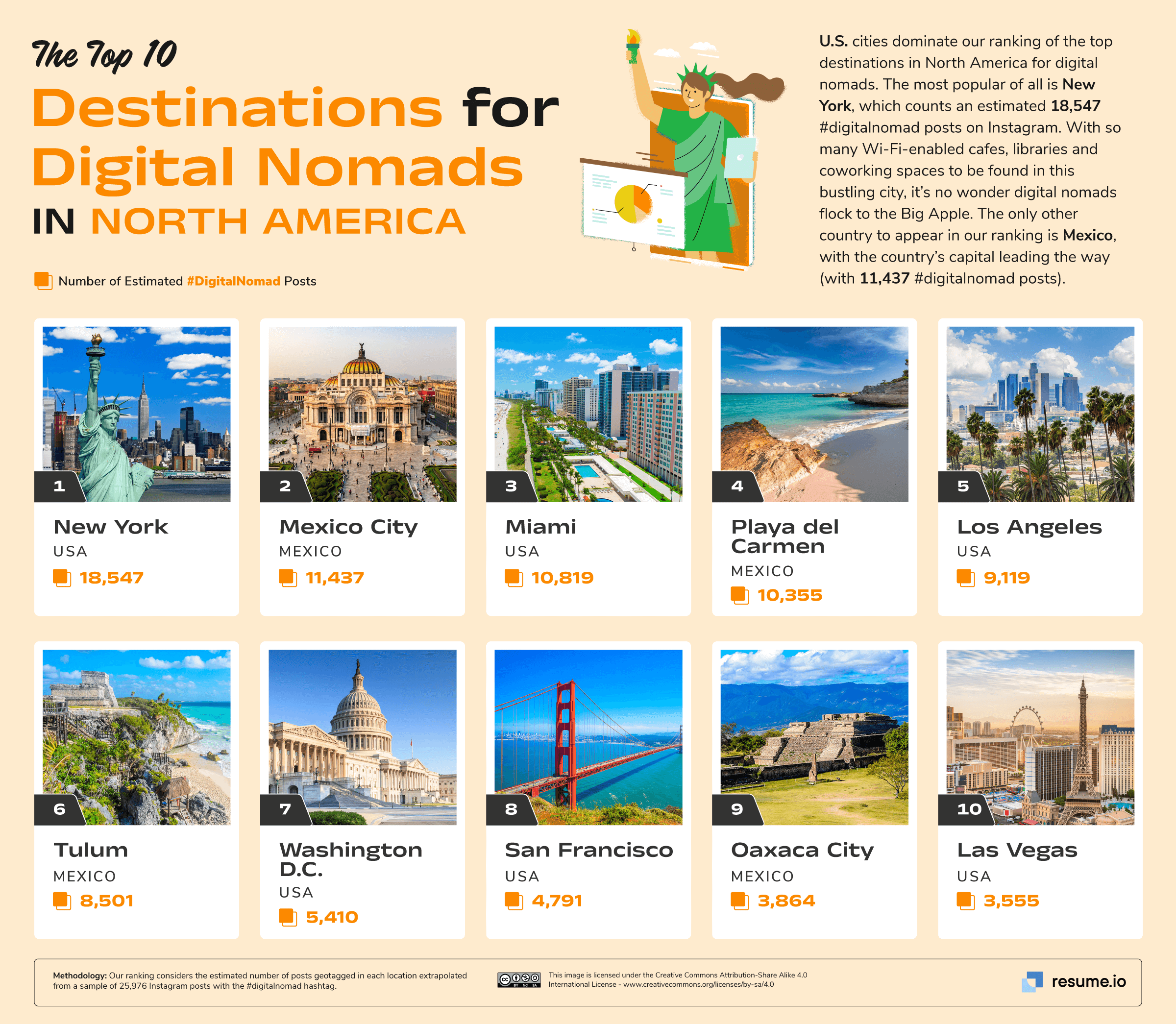 Click here to see the image in full size
Only London and Thailand boast more #digitalnomads than NYC, a city that makes a business of business and where, it seems, folk flock to work whether they need to or not. Washington, D.C., is a less obvious destination for digital nomads. But still, they heed the call: the capital is North America's seventh most popular spot for the #digitalnomad tag and number 30 in the world — perhaps thanks to the appeal to international travelers and the city's reported plethora of free activities.
South America: Buenos Aires Enters the Fray
The Argentinian capital of Buenos Aires is the most popular destination for digital nomads in South America by a significant margin (8.3% more than second-placed Rio de Janeiro). Buenos Aires didn't get a top spot in Resume.io's 2022 report. But the city has climbed to the top, perhaps because it has "a well-established co-working culture, plenty of local start-ups, and a lively expat community to plug into on arrival," according to Lonely Planet.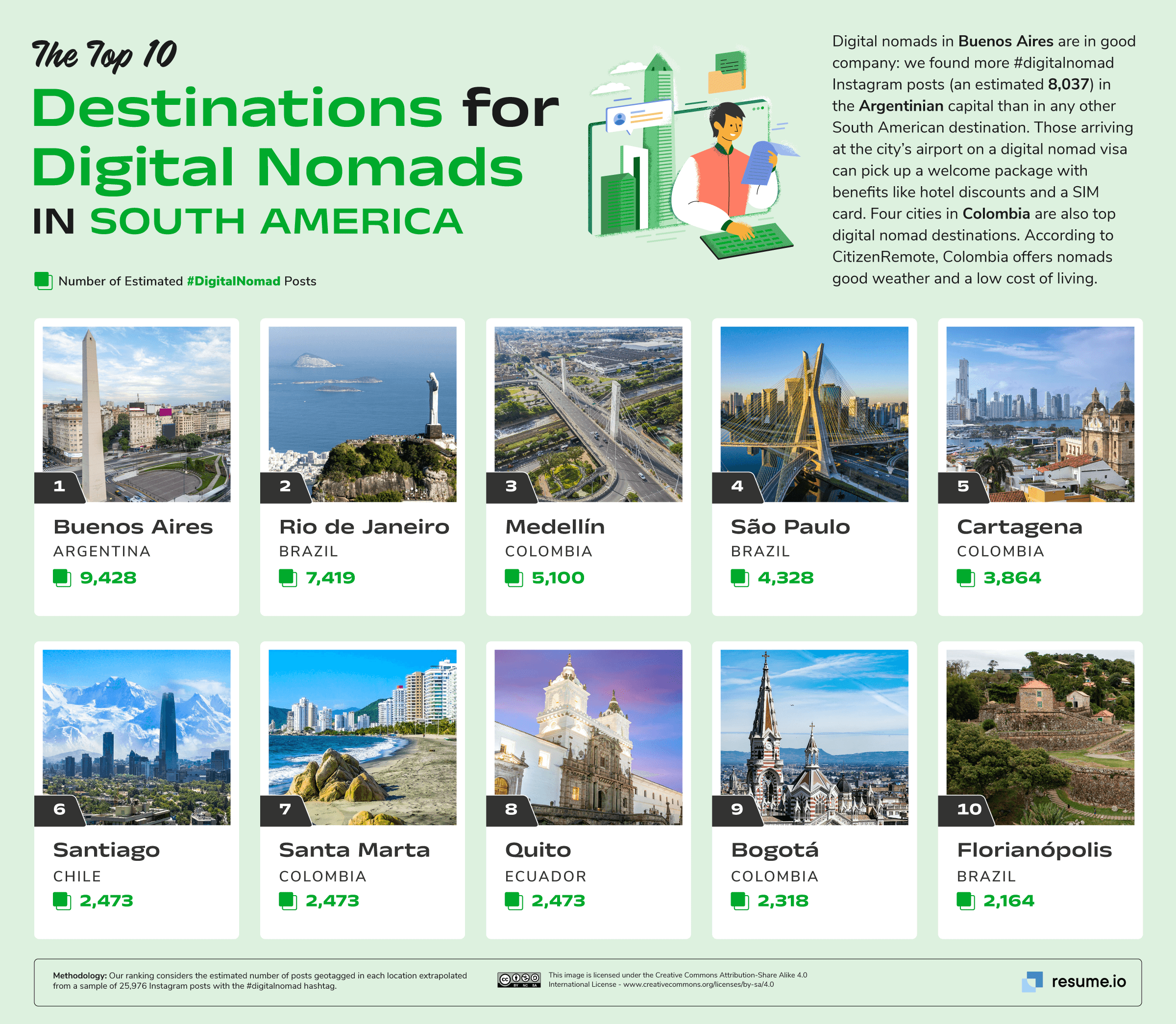 Click here to see the image in full size
Medellín in Colombia was the most popular South American destination last time around, and now it's in third place. However, the famously floral city leads among four Colombian cities to make the top 10 in 2023. As of January this year, Colombia finally has its own digital nomad visa (or Visa V Nómadas digitales). The visa lets freelance workers and remote workers stay for 24 months, compared to just six for regular tourists, and offers state ID, meaning access to banking and the right to register a company in the country. The government expects to draw at least 45,000 digital nomads to the country by the summer of 2024.
Europe: London Takes the Biscuit for Remote Workers
When you think of backpacking around Europe with your laptop, what do you think of? London? Paris? Barcelona? So does everyone else. Along with Lisbon, these are the cities with more than 10,000 #digitalnomad posts — and with 20,556, London is the most popular digital nomad destination in the world.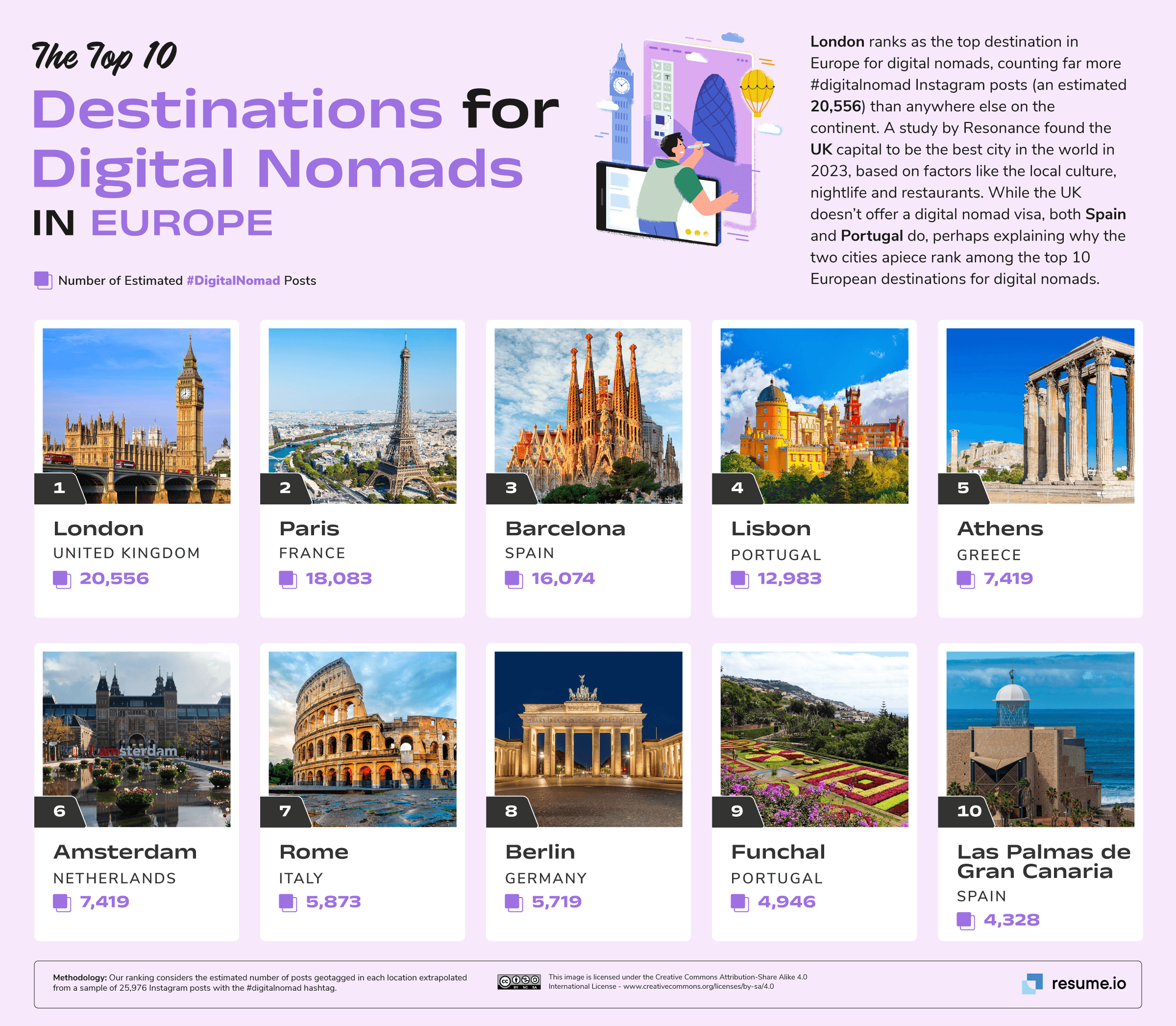 Click here to see the image in full size
With the exception of Athens, Europe's top ten digital nomad hubs are all towards the west of Europe. With the exception of Funchal (Portugal), all are capitals (Las Palmas de Gran Canaria is the capital of one of Spain's Canary Islands). But London is the boss of the virtual workplace by virtue of being a major bucket-list destination (even among Brits, four of the top five UK bucket-list activities are in London). This is despite steep accommodation costs: one study found that "London is the most expensive city to rent a one-bedroom flat at an average price of £11,088 (€12,800) for six months." On the other hand, London has great travel connections to the rest of the UK and Europe, vibrant expat and multicultural communities and vast, fast WiFi networks.
Middle East & Central Asia: Dubai and Istanbul Lead the Region
Dubai and Istanbul are way ahead in the digital nomad stakes in this region. In fact, Dubai recently ranked number three among top global destinations for remote workers. "We have the GoFreelance visa aimed at enabling independent individuals in media, design, and technology sectors," reports director of Dubai Media City, Majed Al Suwaidi. "Meanwhile, our start-up incubator in5 offers a range of industry-grade media studios and creative labs that individuals can access via a competitive membership scheme." While the UAE city has long been a destination for British expats, they're now joined by increasing numbers of French, German, Swedish and Swiss professionals.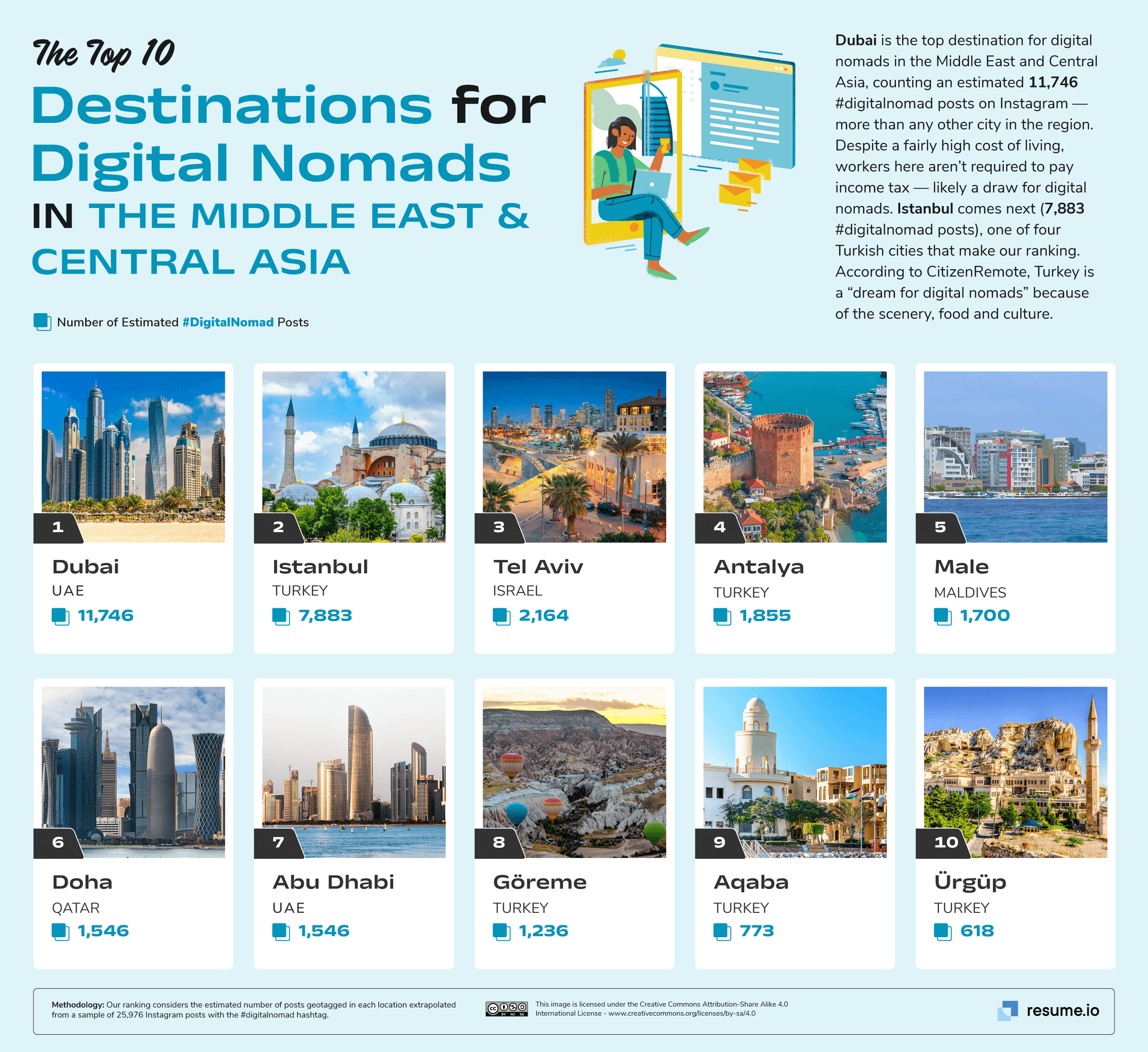 Click here to see the image in full size
With a 264% greater digital nomad presence on Instagram than the next big destination, Istanbul takes an emphatic second place in this region. Digital nomads say the Turkish capital has "lots of people, lots of places to get food, lots of little shops." Rate its markets and fine views, and report that the WiFi is as good as the coffee — there is no shortage of great cafés in which to work if that's how you operate.
Rest of Asia & Oceania: Thailand Dominates Digital Nomad Landscape
Thailand gets a lot of love as a docking point for digital nomads: the capital, Bangkok, is the second-most Instagrammed-from #digitalnomad hub in the world, and Chiang Mai, Ko Phangan and Krabi also make the top ten in Asia. Chiang Mai is known for its fine co-working spaces (but also its pollution), while Krabi is more picturesque and offers easy access to some of Thailand's best beaches. Ko Phangan is a paradisal island that somehow offers both unspoiled natural beauty and numerous working spots for nomads.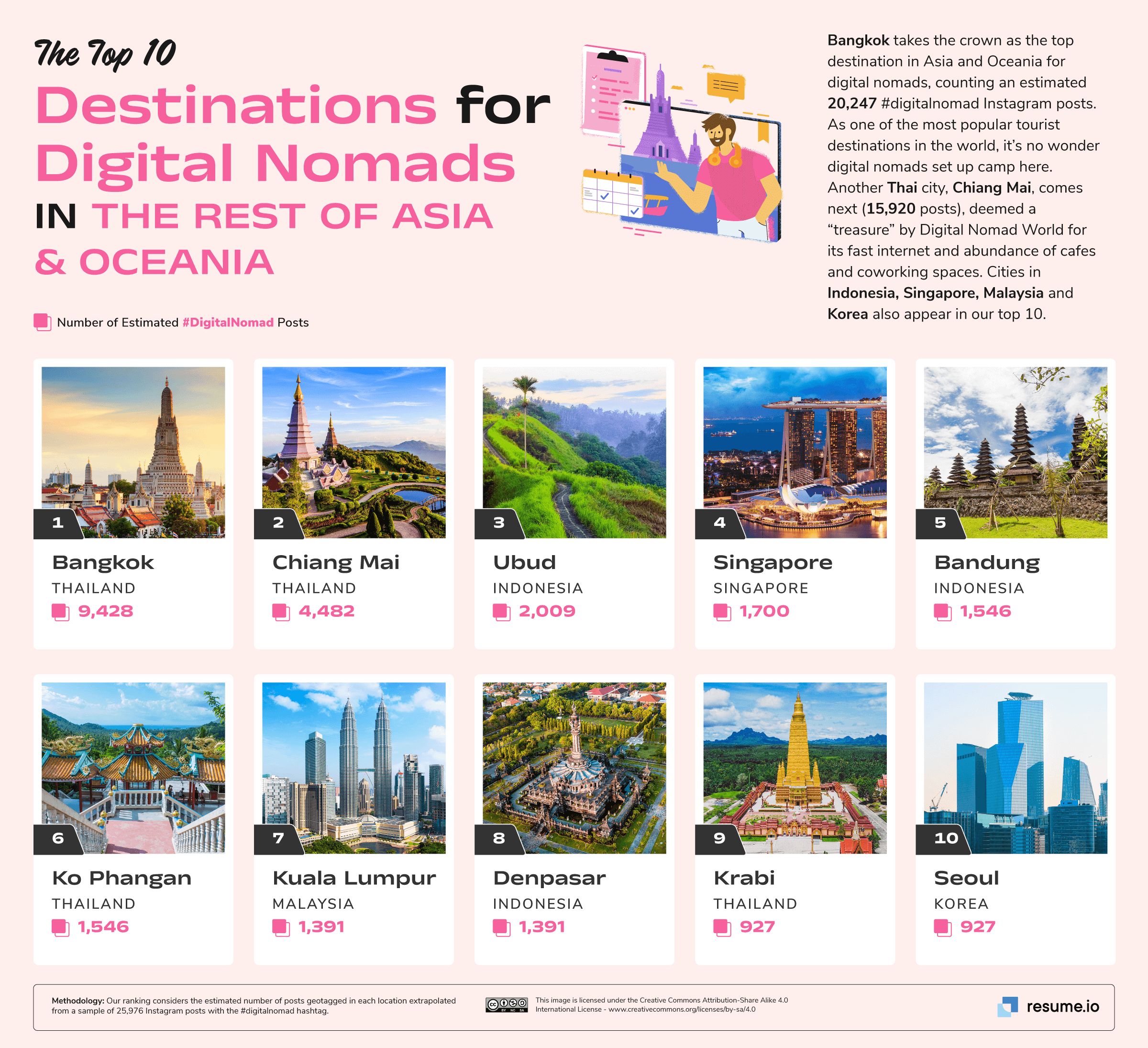 Click here to see the image in full size
Seoul, South Korea, just makes the list — but we could see it jump higher over the next few months. The government is planning a digital nomad visa that would allow employees of foreign companies to stay in the country for two years. "Korea is fast-paced, and it's exactly what I'm looking for," says one digital nomad. "Many other countries provide nomad visas, however, not all of them are close to the largest economies with developed technologies." On a side note, there is also the "K-culture training visa" in development for potential K-pop stars to visit and train in the country.
Africa: Cape Town is Africa's Capital of Remote Work
Cape Town has more than twice the digital nomad activity on Instagram than any other African destination. "Cape Town allows us to live a 5-star lifestyle on a 3-star budget," writes one travel blogger, who also praises the days out, trendy vibe and WiFi cafés that are variously "fancy spots run by cool young trust-fund baby Capetonians" or "corporate chains… which have reliable internet and generators for load shedding." Wait – load shedding? Due to South Africa's ongoing energy crisis, the electricity is turned off in some areas at times of high demand. Hence the generators. Still, those digital nomads are Instagramming somehow…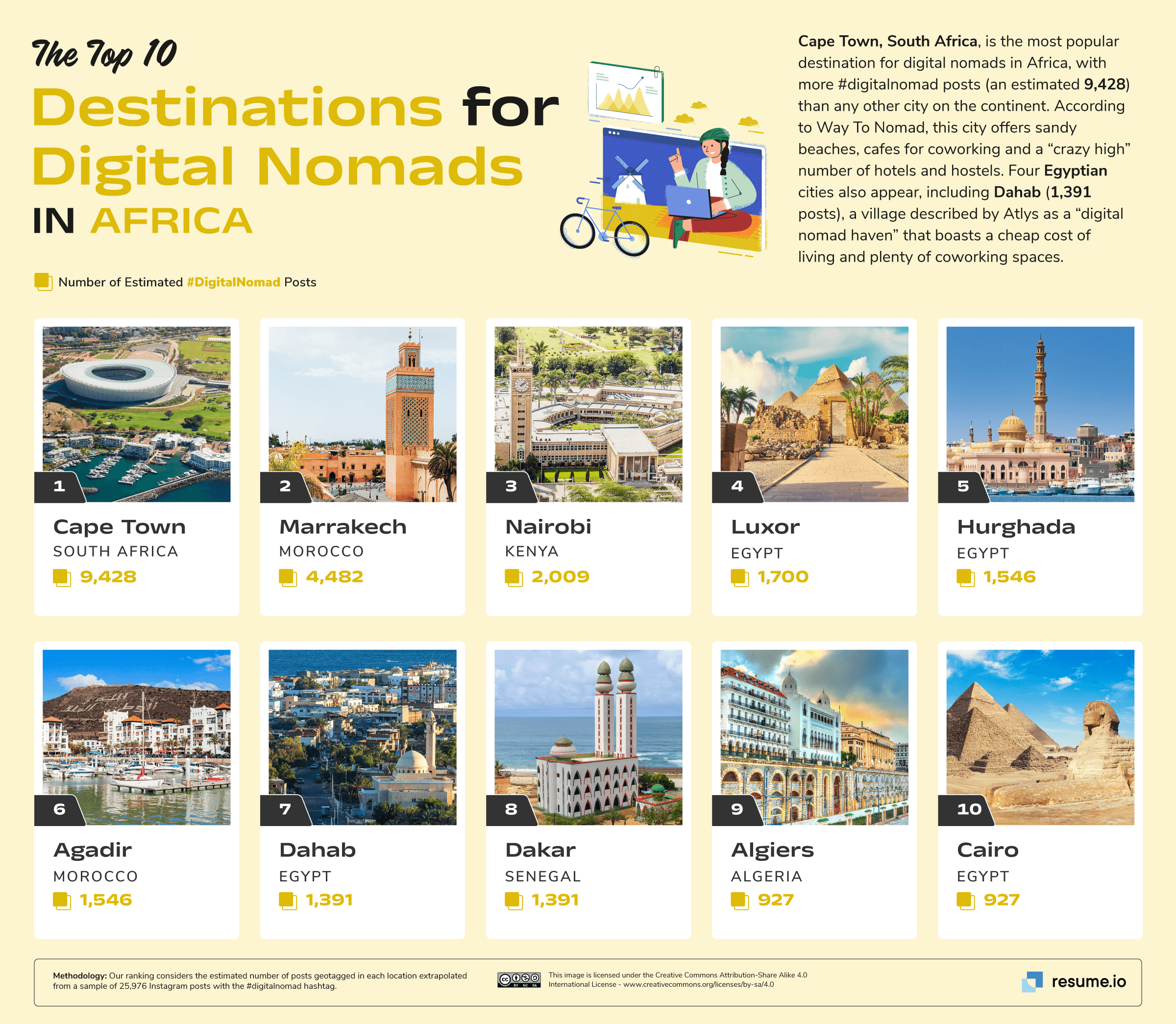 Click here to see the image in full size
With half the Instagram post count of Cape Town but twice the volume of third-placed Nairobi, Marrakech in Morocco is a firm second choice for digital nomads in Africa. The 'Red City,' named for the 900-year-old sandstone city walls, offers a "consistent but average" internet connection, a handful of bustling co-working spaces and vibrant street arts.
Nomadism Booming Despite Economic Woe
The precarious economic situation seems unlikely to quell the movement of digital nomads from place to place. "In the worst state of the economy, we were still seeing an increase in digital nomadism, especially among those who are highly skilled," says Dr. Rochelle Haynes, head of research at the Association for the Future of Work. You can use the table below to find a summary of where they are likely to be.
Of course, only certain jobs are suited to the nomadic lifestyle, and not all employees have the sway to get a pass from their boss. However, if you're good at what you do, then you have some leverage to open that discussion with your boss — and a good basis to look elsewhere for a work pattern that allows you to live your best life.
"Talent is going in this direction, and companies should be paying attention," continues Dr. Haynes. "We're seeing more people choosing to resign and seek out other opportunities because they're re-thinking their work-life balance and work experience… If employees want to work remotely from around the world, they will find the opportunities that allow them to do so."
Methodology & sources
We first extracted 25,976 Instagram posts that featured the hashtag #digitalnomad. We preprocessed the dataset to ensure no spam accounts and bots were included in the sample by allowing a maximum number of 10 posts per user and removing lengthy, duplicated posts.
After that, we determined which country the digital nomad was in by looking at the Instagram location, either by extracting the country from the post's geotag or by searching the tagged location in OpenStreetMap. If no location was tagged on the post, we analyzed the post's content to look for mentions of a country. If we found a match, that country was assigned to the post. If we had no way of assigning a country to the post, it was discarded from our analysis.
Finally, we extrapolated the results based on the total number of posts under the #digitalnomad hashtag and formed the rankings.
Data correct as of April 2023.