Cover letter example to copy & paste
A general cover letter example can serve as a great starting point for your application. If you're feeling stuck, check out this copyable cover letter sample that you can copy and paste to modify for your own experience. You can also change the cover letter template at any time.
Example
Dear Mr. North,
My experience of managing teams through change has taught me that if you put people first, everything else will fall into place. I led a team through a turbulent 18 months of downsizing at Labsworth, while a blistering period of growth at Pine Inc. provided an entirely different experience. No matter what the trajectory of the company is, there are lessons to be learned.

Upon the completion of my MBA last year, I understood that I wanted to pursue a management role with an international dimension. I have never used my native Spanish in a business context and feel that your expansion into South America will allow me to employ my change management skills in a cultural setting that is familiar to me.

In a start-up, it is important to employ people with both operational and commercial expertise. I have negotiated contracts worth $9.5m, improved delivery efficiencies by 12%, redesigned warehouse packing flows, overseen staff disputes, and driven profitability to industry-leading levels. In my last year at Pine, I spearheaded three initiatives to improve the net profit from 5.2% to 6.1%. Profits improve when everything is considered.

I believe in letting my teams dictate the direction of their development. I have experience working with HR to design training modules, something that is particularly useful in a start-up. I enjoy the creativity and challenge of working out how to get the most out of a diverse set of professionals. 60% of my former team have enjoyed promotions over the past five years.
I cannot wait to find out more about your international expansion plans and hope that I am well-placed to assist.
Sincerely,
Lara Fernandez
Our best sample cover letters
Check out our most popular cover letter samples below.
Internship cover letter example 
Accounting cover letter example 
Graduate cover letter example
Administrative assistant cover letter example
Teacher cover letter example
Nursing cover letter example
Software engineer cover letter example
Perfect cover letter structure
The perfect cover letter should have a clear and organized structure to make sure it highlights why you're the right candidate for the job. Here's what you should include to impress employers and increase your chances of landing the interview:
Header: The cover letter header is the space at the top, or sometimes the side, of your cover letter that contains your name, contact information, and any relevant links. The header serves a vital role in identifying your cover letter and helping to create an attractive presentation.
Greeting: The greeting of the cover letter is the way you address the person who will be reading it. We recommend using the hiring manager's name whenever possible to establish a friendly, yet professional tone.
Introduction: The introduction consists of the opening lines of your cover letter that serve to grab the hiring manager's attention and encourage them to read the rest of your cover letter. The introduction should also include the company name and the role for which you are applying.
Body (middle part): The body paragraphs are the middle part of your cover letter that give you the space and flexibility to discuss your accomplishments and key qualifications for the role.
Conclusion & sign off: The conclusion is the final sentence of the cover letter that generally includes a call to action. This sentence expresses your enthusiasm for the job and politely encourages the hiring manager to schedule an interview.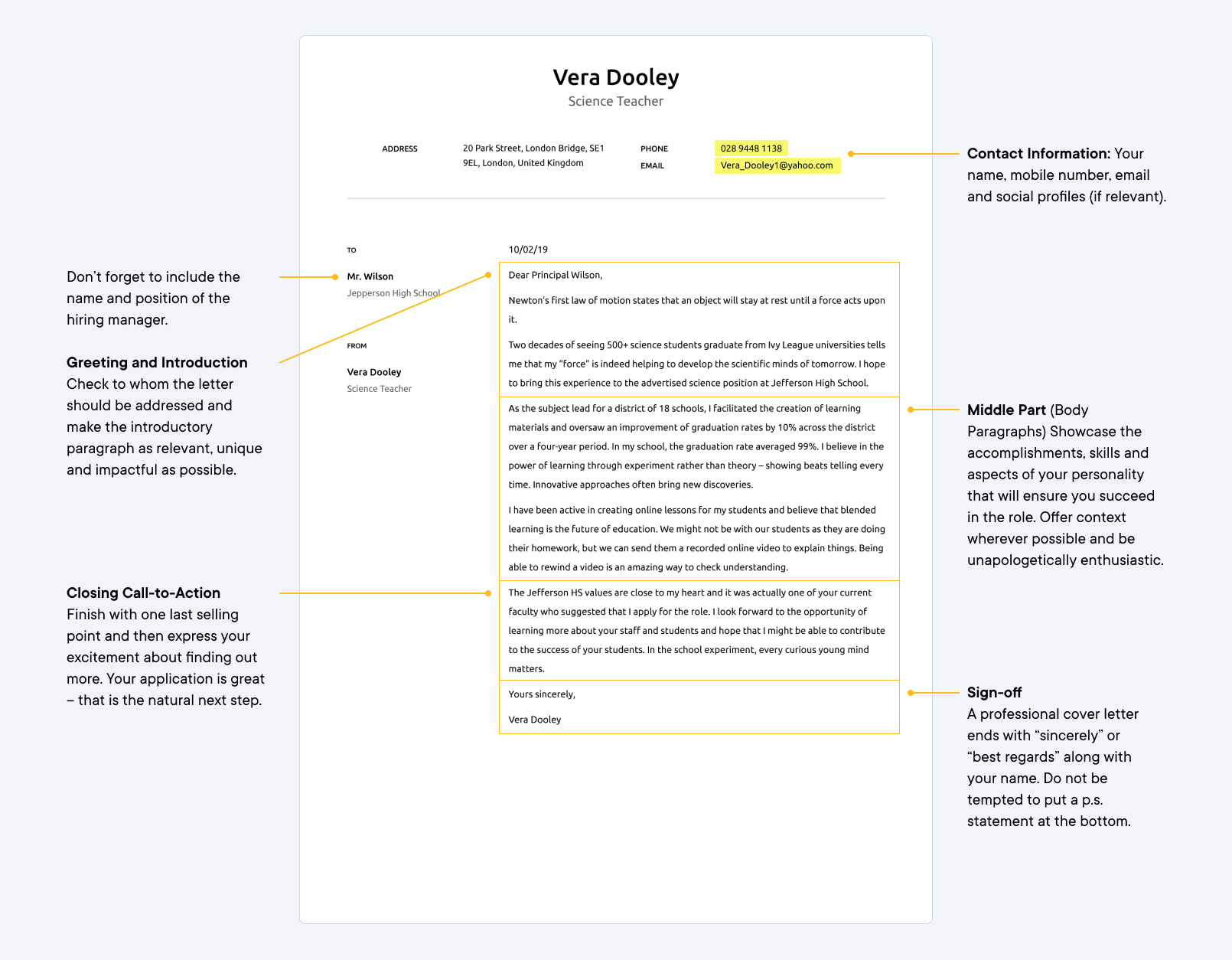 What makes a good cover letter example
A good cover letter example contains a combination of factors that work together to present you as the best possible candidate for the role. Remember that a cover letter sample is a starting point and should always be customized for your specific experience and the job you are applying to. In general, here are a few things to pay attention to that will make your cover letter stand out from the rest:
The right template: An attractive cover letter is more likely to be noticed by employers. The best cover letter template is one that combines your own professional personality with the brand and image of the company you're applying to. Our adaptable cover letter sample can serve as a reference when creating your header.
Proper formatting: The right formatting makes your cover letter easier to read, and in turn, keeps the hiring manager interested for longer. Here are a few do's and don'ts for great cover letter formatting.
Do
Keep a balance of white space to text
Use paragraph breaks and proper punctuation
Create an attractive header at the top of the page
Don't
Adjust the margins to cram in more text
Go overboard with flashy colors unless appropriate in your industry
Forget to proofread for spelling and grammar mistakes
A customized greeting: Your cover letter greeting should use the hiring manager's name whenever possible. If you can't find the name of a specific person, make sure to customize the greeting for the company or team.
A professional email address: Your email address should be a combination of your first and last name (with numbers if you have a common name). Unprofessional email addresses are a big mistake.
Clear structure: Even though a cover letter is one of the more freeform parts of your application, it should still appear organized. Use the sections of our cover letter example above as a model for your own.
Detailed examples: The writing of your cover letter should give concrete examples of your skills, qualifications, and accomplishments. Make sure to use numbers and statistics whenever possible.
Cover letter examples FAQs
What to write in a cover letter?
Your cover letter is an opportunity to expand on the skills and experiences described in your resume. Instead of simply repeating what's written there, make sure to add new details and examples that are relevant for the role and will encourage the hiring manager to contact you for an interview. 
How do you start a cover letter?
There are plenty of ways to start a cover letter, including with an anecdote, a statement about your skills or passion, or your connection to the company. Check out our adaptable cover letter samples for more ideas to get you started writing your own cover letter.
What are 3 things you should include in a cover letter?
Three things that should always be included in a cover letter are:
Your name and contact information
The hiring manager's name
The name of the company and the role you for which you're applying
How long should a cover letter be?
Ideally, a cover letter's length should be between 250-400 words. A shorter cover letter may not be able to capture your skills, while a longer one may become tiresome to read. A cover letter should always fit on one page. See our adaptable cover letter examples for details.
What are common cover letter phrases?
Every cover letter should be unique but a few phrases you may find useful are:
I am excited to apply to the role of (Job Title) at (Company Name).
I am looking forward to the possibility of an interview.
Feel free to contact me by phone or email at (Your Phone Number) or (Email Address).
Sincerely, (Your Name)
What words should not be used in a cover letter?
We recommend avoiding " To Whom It May Concern" as it sounds impersonal and outdated. You should also avoid any language that sounds cold, arrogant, or entitled. Our cover letter samples can serve as an example of the right tone to use.
What does an employer look for in a cover letter?
Employers use cover letters to gauge whether you're truly interested in the position and if you've understood the requirements. Make sure to consult the job description before writing your cover letter.
What is a simple example of a cover letter?
If you're looking for a simple example of a cover letter, you've come to the right place! Here are some of our favorite simple cover letter samples:
Student cover letter example
Driver cover letter example
Customer service representative cover letter example