From schools and hospitals to law firms and small businesses, receptionists are the face of many institutions that make everyday life possible. Landing a one-of-a-kind receptionist position that opens doors to a fulfilling career is a competitive pursuit. A great receptionist cover letter can help convince an employer that you've got the right mix of skills and personality to get the job done. 
Receptionists greet guests, answer phones and help with an organization's planning and internal affairs. Not only is this position a great asset to the company, receptionists also have unique advancement opportunities, both in the administrative field, and also within the industry where they work. In order to win that type of job, a top-notch resume is only part of the equation. 
Resume.io has an entire collection of tools and tips designed specifically for landing a job as a receptionist. Our resources include an extensive collection of occupation-specific writing guides and corresponding cover letter examples. We also offer resume writing tools, informative blogs and field-tested templates to help you create both types of job application documents.
This guide, along with an effective receptionist cover letter example. will:
Explain the purpose and strategies of a strong cover letter
Recommend the best format for a receptionist cover letter and components it should include
Advise how to maximize the impact of each receptionist cover letter section: header, greeting, introduction, body and conclusion
Dive into the psychological power of storytelling to help you land your dream job
Help you avoid common mistakes to make sure you stand out from the competition.
Primary purpose of a receptionist cover letter
Before you can write a great cover letter of your own, it's helpful to understand what a high-quality cover letter looks like and how it can increase the odds of landing your dream position. Before an employer ever invites you in for an interview, a cover letter gives you a chance to introduce yourself. This document doesn't replace a resume, but complements it by explaining your strongest personality traits and skills, your previous successes and the added value you could bring to this new role. 
Do you have a mysterious gap in work history? Did your leadership experience change how you view team collaboration? Did your previous job in a different industry leave you with the perfect skills for this one? Your cover letter is the chance to offer a more complete picture of who you are and what has shaped you. Generally speaking, a cover letter consists of 200 to 400 words, or no more than one page. Sticking to this length limit helps to keep your message concise and focused. The goal is to keep the reader's attention and leave them wanting to get in touch for more information. 
Rise above the competition
Now that we generally understand what a cover letter does, it's time to take a look at why this is such a valuable tool in the application process. We've all stumbled across an application that asks for a resume but doesn't specifically mention a cover letter. Does that mean you should just save yourself the trouble and submit the application without one? NO! In fact, that would be a big mistake.
Statistical insight
According to 2018 data from job board Ziprecruiter, the average receptionist job received 97 applications and the average administrative assistant position received 113. Talk about competition! 
Don't be discouraged, though. A strong cover letter can quickly make you stand out from all the candidates who didn't invest time in theirs, or didn't submit one at all. You've got the tools to go further and land the job you want.
Today's job market is fiercely competitive — even more so for receptionists, secretaries and other administrative professionals. Each one of your application materials is another opportunity to convince an employer that you stand out from the competition. Why would you throw one of those chances away? What's more, your cover letter serves your application in ways a resume cannot. While the profile section gives you one paragraph to show off your personality and personal perspectives, the rest of the document can blur together as a dry collection of titles and dates. Your cover letter, on the other hand, is a chance for you to tell your story — one in which you're the perfect fit for the company you're applying for. 
Expert tip
Make it personal
To ensure that you get the maximum effect from your cover letter, you'll need to tailor it to each and every position that you apply for. For starters, you'll need to get a feel for the hiring organization, its tone and the self-image it strives to present. The employer's website, notably the "About Us" section, is a great place to start. You can also take into account the company's visual styling — fonts, logos and colors can all give a sense of how seriously the branded elements are taken.
Your cover letter shouldn't make you sound like a crazy fan, but emulating the company's professional tone can help give the impression that you're a great fit. The body of your letter can incorporate skills and goals from the job description, and you may choose to use a template or formatting consistent with the company's self-image. All of these small details work together to show that you've done your homework and you're seriously interested in being part of the team.
If you're looking for additional inspiration for cover letter writing, you can check out our related administrative cover letter examples:
Best format for a receptionist cover letter example
Some people dread the cover letter writing process because they feel it lacks a clear framework. Luckily, you've got the secret map. In this chapter, we break down the most common parts of a cover letter into easy-to-follow steps to save you time and frustration. These sections are the same across almost all industries. 
The format of your receptionist cover letter should include these key components:
The cover letter header
The greeting
The introduction
The cover letter body
The conclusion
The signature.
You can get even more detailed information about each of these sections along with free example sentences in this comprehensive guide on cover letters.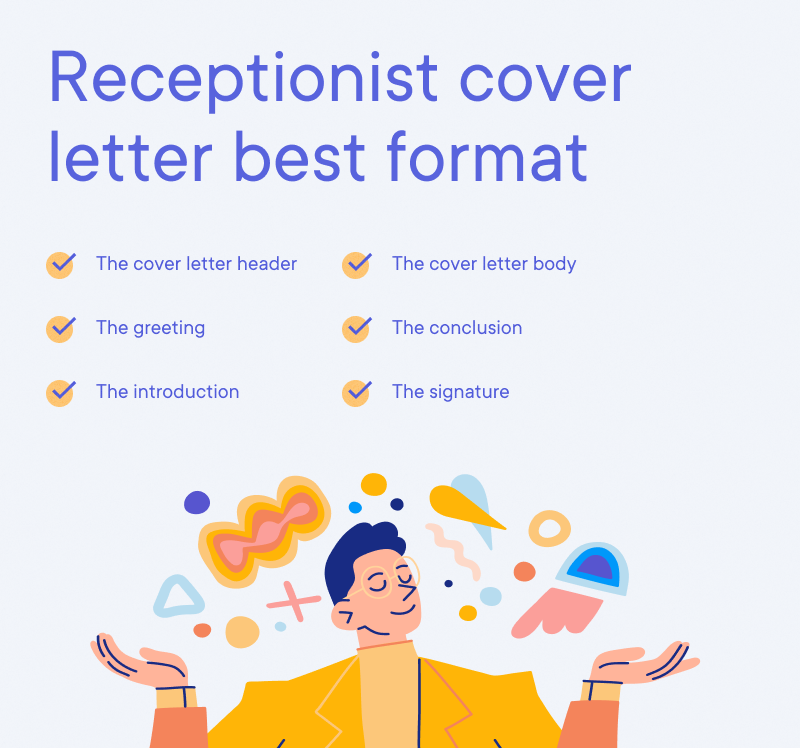 Cover letter header
The primary function of your receptionist cover letter header is simple yet essential: to make sure that everyone who comes in contact with the document knows it belongs to you. 
In the rare case that you are required to send an application by mail, you'll want to top your document with a formal letter heading. For online applications, however, you should reserve your header for just the necessary information — usually your name, phone number and other contact details. That way, no matter which desk your letter lands on, the person reading it knows how to get in touch. 
Expert tip
Align document styles
Not only does your cover letter header serve a valuable purpose in identifying your document, it also plays a role in formatting. This is the one place on your cover letter where you have the option to use color, strong text styles or other flourishes. You should, of course, let the visual identity of the prospective employer company, and the industry as a whole, guide your creative choices. 
If you're not a graphic designer, a cover letter template can help you strike the right balance of visual appeal and professionalism.
Additionally, you can present an even more polished look by keeping your formatting consistent between the headers of your resume, cover letter and any other application materials you submit. This attention to detail shows an employer that you are precise and organized — great attributes for receptionists to have.
The goal of the cover letter header: Keep your name and contact information at the hiring manager's fingertips, with an added touch of professional and appropriate formatting. 
Cover letter greeting
Although just a few words long, your cover letter greeting sets the tone for the entire letter to follow. As a receptionist, your greeting might change depending on the industry in question. You can use the company's own language to gauge just how casual to go, but we recommend erring on the side of professionalism if you're not sure. "Dear" followed by a salutation and last name is the most universally-applicable greeting. "Hi" or "Hello" might be suitable for companies with a more casual or youthful vibe, especially if your cover letter is sent in the body of an email. 
Expert tip
The difference a name can make
It's been well documented that hearing our own name elicits a positive neurological response. Use this scientific finding to your advantage by including the name of the hiring manager in your cover letter greeting. In fact, employers often make it easier for you to do that by including the name of the responsible person on the job posting or on their website. 
Beyond the scientific evidence, using the hiring manager's name is a great way to establish rapport and a personal connection right from the start. However, some organizations are simply too large for you to find out who might be reading your letter. In that case, try to avoid the impersonal and outdated "To Whom It May Concern." Some form of the company's name followed by hiring manager or even a collective noun like "team" can work well instead.
The goal of the cover letter greeting: Address the reader in a polite and respectful way, and set the tone for the rest of the letter.
Adaptable cover letter greeting example
Cover letter introduction
A great introduction can make the difference between a job-landing receptionist cover letter and one that lands in the bin. This is the moment to hook your reader and entice them to continue. You might opt for an anecdote or another energetic statement, but the key is to grab attention while establishing your professional tone. 
The goal of the cover letter introduction: Introduce your letter in a strong and captivating way that encourages the reader to continue into the body section.
Adaptable cover letter introduction example
Having worked as a part-time public relations receptionist for the past three years, I understand that every campaign starts with an emotional connection.
Cover letter middle section (body)  
The body of your receptionist cover letter can be one of the most challenging parts to write, but it doesn't have to be. One option is to break the body into two parts. 
In the first part, you'll talk about your previous successes and milestones, and how your unique perspective and skillset brought you to those places. In each example, the STAR acronym is useful to remember this method for laying out: the situation, the task, your action and the positive result it brought.  
In the second part of your cover letter body, discuss your greatest strengths as they relate to the position at hand. Here, you can dive into your ability to add value to the prospective employer. 
The goal of the cover letter body: Highlight your greatest achievements, along with your top skills and personality traits as they relate to the specific receptionist role you're applying for.
Adaptable cover letter body example
The moment someone enters our office, it is my duty to ensure that they are not distracted from that creative state of mind by a double-booked meeting room, misdirected call or apathetic attitude. If I can, I aim to maintain their state of flow by offering some pleasant politics-free chat or giving them an honest opinion on the latest promotional idea.

My job is to help keep their ideas flowing by providing professional and efficient assistance however I am able. I type at 90 wpm, am used to routing 250+ calls a day, and greet up to 80 daily visitors with a warm and accessible attitude.

At the reception desk, you never quite know what might be asked of you. But in light of my career goal to enter the PR profession after my studies, I go the extra mile whenever possible:
Organized accommodation and travel for 60 press trips (40+ journalists each time)
Collate daily press clippings from 35 news outlets, as required to prepare client presentations.
Maintain editorial, conference and press calendars and updating database.
Coordinate employee input for social media platforms and tracking engagement.
 
The people who walk into my reception area (or who call on the phone) are my absolute priority for as long as they need me, but I believe that a PR receptionist can offer more.
Cover letter conclusion and signature
Once you're sure you've knocked the body section out of the park, you'll probably have the urge to finish the letter with something like "So just hire me!" Don't do that. It doesn't work; we promise. 
However, there is one professional way to close off your receptionist cover letter by encouraging an employer to get in touch. It's called a call to action. This sentence or two invites hiring managers to continue the conversation and gives them a way to get in touch. You might consider thanking them for their consideration or signing off simply with "Sincerely," "Best" or "Best Regards." Just make sure to continue the professional tone from beginning to end. 
The goal of the cover letter conclusion: convey your enthusiasm for the receptionist job and employer by creating an effective call to action, and finish on a positive and professional note. 
Adaptable cover letter conclusion and signature example
I have long followed Imagazine PR's success on social media and I would love the opportunity for an interview to see whether we have that special connection. I sense that we might.

Sincerely,
Ella Walton
Writing psychology — receptionist cover letter tools and strategies
No matter what industry you work in, you know you can expect some similar tasks in your role as a receptionist. Employers know that, too. That's why they're looking for some key traits in candidates for this position.
Professional decorum: A receptionist is an outward-facing role. Employers expect great communication skills and a friendly and helpful disposition to make a great first impression with clients. When dealing with other office staff, receptionists should also carry themselves professionally and respectfully.
Customer service: A receptionist must handle a variety of client needs quickly and efficiently. From handling visitors to fielding calls, every task should be done with the understanding that clients make the business run.
Organization: Much of a receptionist's day-to-day work includes organizing paperwork, office supplies, handling staff events and client documents. Front desk receptionists with the right organizational skills to stay on top of an endless stream of tasks will quickly prove their value to the company.
Hard skills: No longer are receptionists just note takers and phone answerers. Today's receptionists are required to understand a business's goals and operations. They use the appropriate tools like phone systems and Microsoft Office software, tools and equipment to carry out their job effectively. Medical receptionists may be proficient using electronic health records, billing or appointment booking software.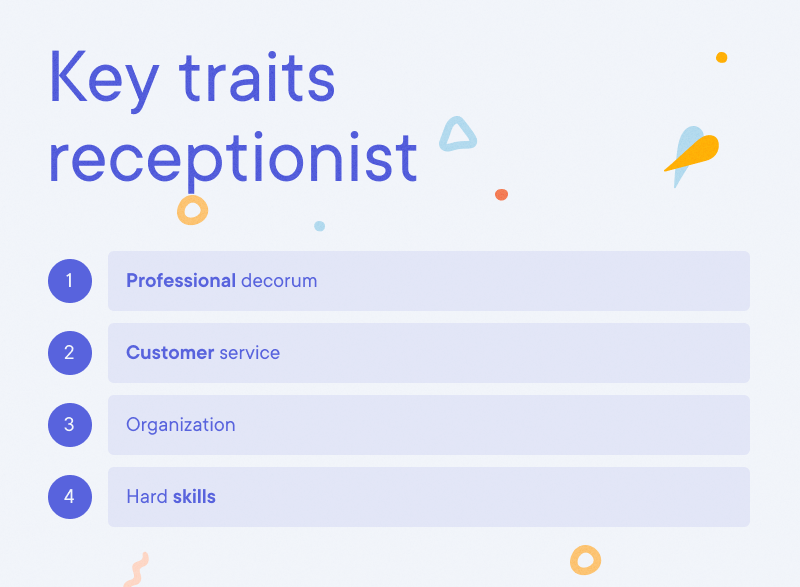 The power of a story
We can all recall favorite stories. Maybe it's a fictitious movie plot or the most hilarious thing that happened to you in college. Maybe the story isn't even your own, but something you once heard that still cracks you up every time it pops into your head. 
It's no mystery that humans love a good story. In fact, neuroeconomist Paul Zak has spent years researching the effects a great tale has on our brains. When we hear a good story, we produce neurochemicals that increase our sense of empathy and encourage us to cooperate and help others. Advertisers have long understood this phenomenon and have used it to create an emotional response that encourages customers to buy their products (think of a funny or heartfelt commercial, for example). During the job search, YOU, too, have something to sell — your skills, personality and work experience as a receptionist. You can use the power of storytelling to stand out from other applicants who are also qualified to file documents and greet clients. 
Think about a time when you made a real difference for a customer. Did you ever go above and beyond your duties to help solve a problem or to help someone? Did you help your boss excel during a big presentation, and were those efforts appreciated? Did you handle an internal issue discreetly and effectively? Did you develop a tradition to boost morale? 
Your story doesn't have to be a life-changing event. Even little gestures can show how you care, not just about your duties, but also the team that you work with and the clients that you serve. Remember, the goal of your story is to show the employer you are kind-hearted, organized and determined, not just because you say so, but because you've proven it. 
Expert tip
The power of liking
As a receptionist, you're qualified to work in a variety of industries and companies. One psychological principle that can help you win favor with an employer is the power of liking. We are more likely to accept and help people who share commonalities with us. 
You can put this into practice by explaining your personal motivations to work in a company or industry. For example, maybe you've always been attracted to this music media company because you're a lifelong pianist. Perhaps your years of experience in two medical-related jobs have given you a great appreciation for the pharmaceutical industry. Showing potential employers why their operation interests you is a great way to align yourself with the company mission and values.
Common mistakes to avoid in a receptionist cover letter
To maximize your chances of success, use these cover letter tips to avoid the most common pitfalls tripping up other candidates for receptionist positions:
Generic letters: It might seem easy to write one catch-all cover letter and change the greeting each time you submit. But be warned: Hiring managers can spot this from a mile away. A genuine effort to connect with the company will go a long way in making a positive impression. That means tailoring your cover letter to the receptionist job description each and every time you apply.
Confidential information: Receptionists have access to a lot of private information, whether that be about the boss, the company or its clients. While some of that might make for an exciting anecdote, it's imperative that you leave out any confidential or damaging information about a previous employer in order to remain trustworthy in the eyes of a hiring manager.
Grammar or formatting errors: As a receptionist, typos and grammar errors make you look sloppy, as if you don't have the attention for detail that you claim to have. You can easily avoid these mistakes by using a spell checker and having a friend proofread your cover letter before you submit. As for formatting, your visual impression is highly important. A professional formatting tool can make sure you strike the right balance.
The wrong tone: Receptionists should be proud of the work that they do while understanding that they are a supporting role. Your tone should convey that you're an enthusiastic team player without giving the impression that you intend to shake up the company with your strong leadership skills. You should also match your writing style to the way the company talks about itself in terms of formality or familiarity.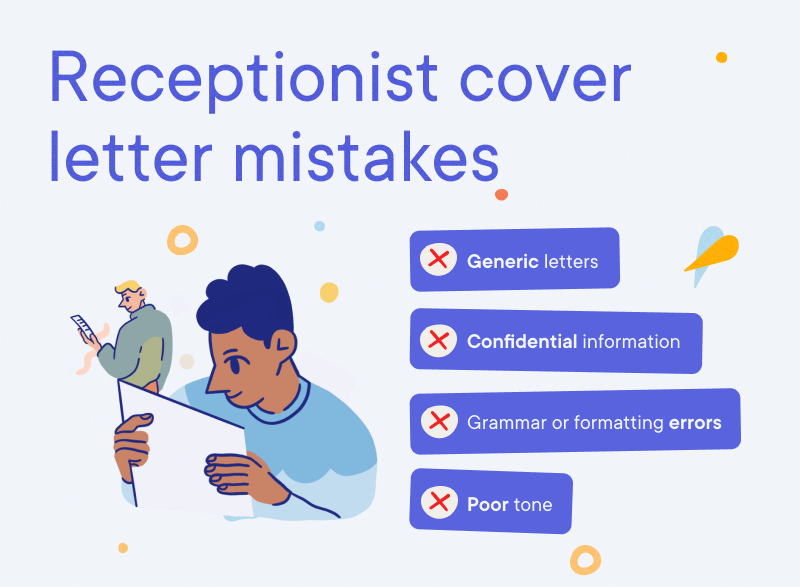 Key takeaways for a receptionist cover letter
A great receptionist cover letter is a key component of a stand-out job application. Maximize your chances of success by tailoring it to each industry and position you intend to work in.
While a cover letter has plenty of room for your own creativity and style, make sure to follow the standard structure so as not to confuse a potential employer.
As a receptionist, professional decorum and customer service skills should be conveyed throughout your cover letter by using illustrative facts and figures.
A concise, yet attention-grabbing story can help you build empathy with the reader and encourage them to give you a chance.
Formatting is the first thing a reader takes in, so make sure to get the visuals just right. A professional template can take care of this quickly.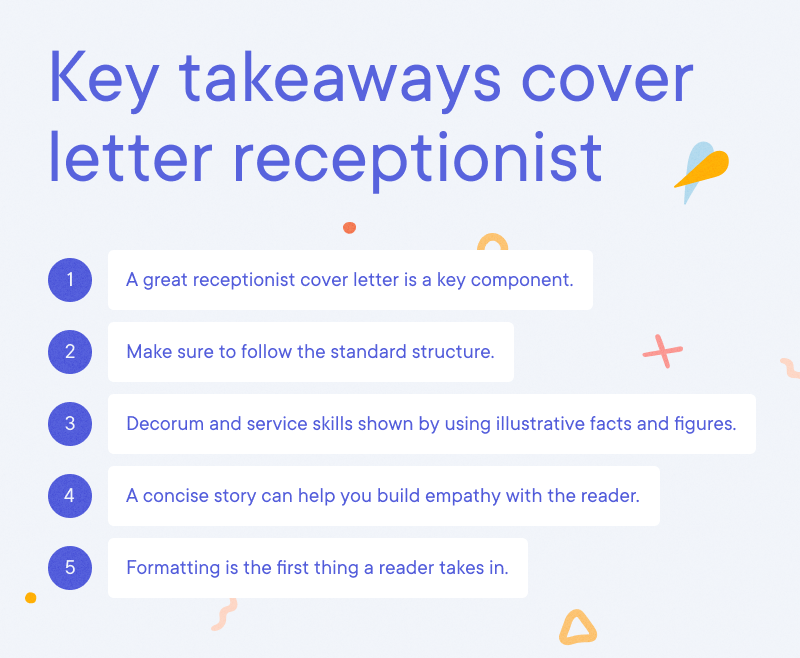 Now it's time for you to continue your professional journey. With resume.io's cover letter builder and cover letter templates, you can create a professional cover letter that lands you a terrific receptionist position in no time.