When you don't have much experience in the field you're applying to, writing a cover letter can feel like a daunting task. While you might be tempted to submit your application without one, that would be a big mistake.
A thoughtful cover letter is one of the best advantages you can give yourself when it comes to showing a hiring manager that your lack of experience won't be an issue. That's because a cover letter is a tool that allows you to explain your motivations, strengths and goals – even with no experience. View that blank page as an opportunity to begin your story of why you deserve a chance.
In this blog, we'll dive into all the aspects of writing a cover letter with no experience, including:
What to put on your cover letter when applying to your first job
How to make your personality traits and transferable skills work for you
A template for formatting a no-experience cover letter
Our top cover letter examples for entry-level positions
We'll list several entry-level cover letters at the end of this guide, but you can always browse our considerable library of free cover letter examples for more inspiration. Have a look at cover letters from your industry - can you copy the personal qualities that are shared? You may be writing a cover letter with no experience, but you can almost certainly find other areas of your life where these qualities are evident. There is no such thing as a cover letter with no experience.
Expert tip
Can I get a first job without a cover letter?
Plenty of people do get their first roles without writing a cover letter (or a resume, for that matter), but the question here could be different. It might read something like:
"Will I give myself a better chance of getting my first job if I write a cover letter with no experience?"
Well, that depends on how it has been written! If you do a good job, then your chances of getting the role will be undeniably higher. Why wouldn't you want to give yourself that incremental advantage? Everyone starts somewhere. Why not put yourself out there and give it a shot?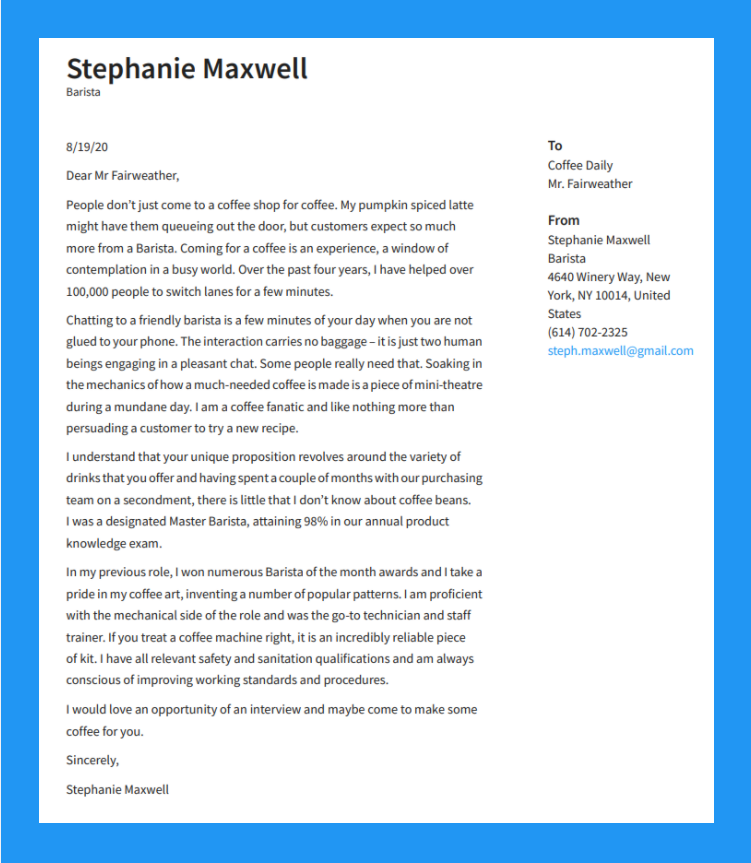 Writing a cover letter for your first job
One of the most common situations where job seekers find themselves writing a cover letter with no experience is when they are applying to their first job. If this is the case for you, it's important to remember that everyone started somewhere and while you may have nothing to say on your cover letter that couldn't be further from the truth!
Instead of discussing your past work experiences, a cover letter for your first job should focus on your willingness to learn and the personality traits that make you perfect for the field. For example, if you're hoping to land a job as a hostess in a restaurant, your cover letter should convey a cheery personality, patience, efficiency and a desire to help others. Try to think of volunteer or student activities that allowed you to demonstrate these skills in a concrete way. Then, mention them on your cover letter and link to the demands of the role that were shared in the job description.
The cover letter should retain a healthy amount of humility - when you do not have experience you shouldn't act like you can conquer the world. Genuine self-confidence comes from past experiences, so although you may not have the specifics required for the role, fall back on other experiences that may be viewed as similar.
Here's an adaptable example of how to accomplish this:
Example
While a hostess position with Texas Steakhouse would be my first work experience in a restaurant, I believe my positive attitude, customer service skills and efficiency would make me an excellent addition to the team.
As a volunteer with Meals on Wheels, I'm used to answering calls, scheduling deliveries and greeting customers during drop-offs. I believe the patience and communication skills needed for this work would carry over to my duties as a hostess.
Expert tip
Does entry level require a cover letter? I would suggest that a cover letter is even more important for entry level roles than it is for more seasoned professionals. Cover letters are for conveying personality and motivations in a free-flowing way, so this is a great way to convince a hiring manager that lack of experience doesn't matter. Hiring managers will definitely be more likely to read a cover letter with no experience, so don't worry if your resume is looking a little bare. Pour your soul into your cover letter. You resume may seem somewhat threadbare, but if you have nothing to say for yourself in a cover letter, how will you fill 60 minutes of interview with positive vibes? No hiring manager wants to sit there with someone with nothing to say for themselves.
Another aspect to discuss when writing a cover letter with no experience for your first job is the source of your interest or passion for the field. A hiring manager likely doesn't expect you to work as a barista for the rest of your life, but if you can show that you have an interest in the science of making good coffee – or at least that you enjoy drinking it – you're already ahead of candidates who are just looking for any old entry-level position. They know that you will stick around a bit longer if you care - retaining and developing entry-level hires is one of their key considerations. A strong motivation statement at the beginning of the cover letter will set the tone for the rest. You may have no experience, but that shouldn't mean that you have no hope.
Check out this example of how to communicate your interest:
Example
As a law student at the University of Nebraska, it's no surprise that coffee has become a big part of my routine. In the past two years, I've come to appreciate the art of good coffee and have even spent some time researching and investing in the best home brewing methods. I believe my love for crafting the perfect drink along with my positive attitude and willingness to learn make me a great candidate for the part-time barista position with Campus Coffee Roaster.
Cover letter with no experience in that specific field
Another situation you might run into at some point in your career is trying to write a cover letter with no experience in a specific field. This is likely the case if it's time to make a career switch, especially one that you didn't prepare for.
Just like before, writing a cover letter might seem impossible, but it's actually the key to showing a hiring manager that you've got what it takes – even without hard experience on your resume. It all starts by highlighting your transferable skills. People change fields all the time and you won't be the only applicant with a "different" resume to what may be expected. Hiring managers are used to reading through the lines.
Look for instances in your previous experience where you demonstrated the same core qualities or skills needed in the field you're applying to. For example, if you used to work as a server in a restaurant, but are looking for a position in customer service, your ability to answer questions, memorize product information and organize your time efficiently are all great transferable skills that show how you would quickly adapt to the customer service role. 
Here's an adaptable example based on that scenario:
Example
Customer service agent hasn't yet been my official job title, but it's always been at the heart of what I do. As a server working one of the city's busiest seafood restaurants, I've practiced my ability to offer polite and friendly service. Answering questions, conveying product details and making sure to help each customer in an efficient manner are my strengths, and I believe they are key skills that will allow me to quickly adapt to the customer service role.
Expert tip
How do I write a cover letter quickly? A cover letter with no experience might actually take longer to compose than a cover letter where you are picking from the various chapters of your career story. When you do not have much to say you could say anything, so what you do say will be analyzed in detail. Look at the personal qualities that are required from the job description and build your cover letter around them. Even though you have minimal experience for any job, every cover letter should still be tailored towards the different experiences that are required. It is not an easy task, but it will be worth it when you secure that first role. Each cover letter with no experience should be written specifically for the role - tailor whatever experience you have as best you can. The hiring manager will not the effort and thought that you have put into your creativity.
Cover letter for internship with no experience
Interns are not expected to have direct experience, but they are expected to have an interest in the industry and some transferrable skills to bring to the role. An intern cover letter with little experience should focus on education and what the role will bring to you and your future career. Employers love to bring on bring young professionals who are on a growth trajectory. When you grow, the company grows with you.
Many companies take on interns to handle the more mundane aspects of various roles, but when you are surrounded by top professionals, some of their experience cannot help but rub off on you. Don't be too ambitious in your intern letter - you won't be taking on the world on day one. Again, be humble and show that you are ready to take on the hard work.
An intern cover letter with no experience should contain passion and logic in equal measure. You have to justify why you deserve that place ahead of countless others - after all, it is still a business decision to hire you. As a last note, show that you have the capacity to learn and take on new information quickly.
Example
As a Bright intern, I will bring a fearless creativity and youthful perspective to your team. I have long sought out any opportunity to get involved in the media industry and joining Bright Media would offer the opportunity to learn from the best minds in the PR business. My college course in English Literature and Creative Writing is far from an academic exercise - writing is my passion. Amongst other challenges, you expect interns to analyse press coverage, manage your clients' social media campaigns and write compelling press releases. I have done exactly this during my university corporate placement and would relish the chance to build on my skills.
Cover letter for a teacher job without experience
It is perfectly possible to apply to most positions with no experience, but your chances of hearing back will vary according to the position. There are plenty of occupations such being a waitress, office assistant or security guard that do not require experience for someone starting out, but you may be surprised at just how many other professions allow someone to start with little or no experience.
A trainee teacher, for example, who is still studying, needs to gain precious experience in the real classroom. Yes, they might have no experience on day one, but after a month they will be experts!
Example
As I start my teaching qualification, I am looking for an opportunity to teach Spanish classes at a beginners and intermediate level. I am a native Spanish speaker and have already taught Spanish within my local community. My passion for language teaching started when my family moved to the United States when I was four and my father taught me English. I found the mechanics of language fascinating and have been a keen linguist ever since. I have taught local league softball to 12-15 year olds and enjoy contributing to the development of young adults.
Expert tip
How do I write a simple cover letter? Keeping a cover letter with no experience a little shorter than a normal cover letter is perfectly reasonable. Stick to your relevant transferrable skills, your motivations for the role and why this job fits in with your overall career ambitions. Entry level jobs are often stepping stones to greater things, but you have to show that for those few first years you are willing and able to give everything for the cause.
Cover letter no experience but willing to learn
Writing about your willingness to learn is always a great idea when writing a cover letter with no experience. It generally works better for entry-level positions where hiring managers are accustomed to teaching motivated beginners. However, if applying to a more serious role, you may want to consider offering clear examples of times when you proved your ability to learn quickly and on the job. You'll need to prove your value over candidates who already have some experience by highlighting personality traits that make you stand out.
Here's a cover letter template that allows you to mention your willingness to learn:
Example
Your name
Your phone number
Your email address
Your LinkedIn and/or other relevant social media
Date
Name of employer
Mailing address of employer
Dear (hiring manager's name),
I am excited to apply for an (position name) position with (company name). When I heard about the opening via (place you heard about it), I knew it was the right job for me considering my (skills, interests, other reasons that explains your interest).
As a (previous volunteer position or otherwise) I was able to (skill or experience completed) in order to (result accomplished.) I believe my (relevant skills) make me the right candidate for your position and will allow me to bring (examples of what you can offer the company).
While this would be my first professional experience as a (job title), I've demonstrated my ability to learn quickly and to adapt to various tasks as a member of (previous role.) There, I was able to (what you accomplished) in only (time period) after applying myself to the task and asking for assistance from more experienced colleagues when needed.
I would jump at the chance to put my (relevant skills or traits) to work for (company name) and hope to speak with you in the near future. You can reach me at (phone) or (email.) Thank you for your consideration and I look forward to hearing from you soon.
Sincerely,

Your name
Expert tip
Always use the hiring manager's name and never use "To Whom It May Concern" in your cover letter. If you can't find the hiring manager's name, try LinkedIn or phone the company. That phone call could also be used to ask any questions you might have to inform your application.
Top no experience cover letter mistakes to avoid
When you don't have experience to put on your cover letter, you have to work a bit harder to show a hiring manager why they should take a chance on you. Don't let these three common mistakes get in the way of that message. 
Poor formatting: Professional formatting can go a long way in making up for the experience you lack. Make sure your cover letter includes a well-organized header with your name and contact information. A touch of color can also help to create an attractive presentation.
Spelling and grammar mistakes: These little errors can cost you big time when the hiring manager decides you don't have enough focus or attention to detail for their opening. Luckily you can avoid these mistakes with spell check or by asking a friend to proofread.
Generic cover letter: Even though you're not an expert in the field, you should still have some idea of your goals and interests. A generic cover letter sent to many hiring managers says just the opposite. In order to avoid looking desperate to land any job that comes your way, you'll want to tailor each cover letter to the specific company and position you're applying for using details from the job description.
Expert tip
Getting the length of your cover letter right is a big way to increase your professional credibility. Generally speaking, a great cover letter should be between 200-400 words. Write fewer words than that and you risk not conveying all your strengths, too much more and you might start to lose the hiring manager's attention. Remember, a cover letter should never be longer than one page in length.
Our top 5 entry-level cover letter examples
Many people gain their first professional experience in a handful of jobs that are well-suited to entry-level candidates. Below you'll find the top cover letter examples on our site that give you specific tips and advice about how to write a cover letter with no experience in each of these positions:
Key takeaways
If you are applying for a suitable job (someone with no experience won't be applying to be CEO), it will be likely that you will be top against plenty of other people with minimal experience. Do not let your lack of experience put you off writing a fantastic cover letter. Follow the advice in this blog and you will have every opportunity to expand on your passions and motivations during an interview.
Find a way to justify your potential based on your past experiences.
Show that you are willing to learn and able to retain knowledge.
Be open about your understanding of the role - you are willing to get stuck in.
Don't put yourself down - false humility will get you nowhere.