The job search is tough enough without obsessing about every word in each cover letter that you send. But why wouldn't you? Your cover letter keywords might make all the difference.
There is conflicting advice when it comes to cover letter keywords. Some suggest that your career narrative should not be a slave to artificially inserted keywords. While it is true that you can damage your chances by seeming inauthentic in your cover letter, there is no reason why being selective with your language can be anything other than beneficial. The words that you choose to describe yourself illustrate who you are.
Others worship at the altar of the ATS. As this software parses hundreds of applicants for each position, there is an argument that keywords can play some part in elevating your application to near the top of the pile. The reality, however, is that every hiring manager will want to scan every application that is at least somewhat suitable.
The ideal approach for cover letter keywords lies somewhere in the middle. 
As job seekers attempt to tailor their cover letters for each application, it is natural that they will seek to modify their language to fit the job description. Cover letter keywords can play an important part in presenting yourself as the ideal person for each individual role. Take the time to think deeply about what is required of you. Which words would you choose to describe yourself? What sort of language would the hiring manager want to read?
While we certainly do not recommend including all 350+ of our suggested keywords in the same cover letter, by the end of this blog we hope to persuade you that every word matters. We explore:
What are cover letter keywords?
Why should you include them?
100+ behavioral cover letter keywords
250+ cover letter keywords by industry sector
Why your story is more important than the keywords
It is an enjoyable exercise to sit down and think about which words best describe your skills and experiences. You have invested so much time and effort in developing your career. Take the time to adequately describe what you have done – with the right cover letter keywords to make a hiring manager curious.
What are cover letter keywords?
A cover letter is an amazing opportunity to tell a version of your career story that will be most likely to secure you an interview for a specific role. This story should be tweaked and modified to ensure that it meets the requirements of the role, putting the job description at the heart of its narrative. This sounds like a mammoth undertaking, but it can be easily achieved with the help of cover letter keywords.
While your work experience may not be an exact fit for the role, the trick to presenting yourself as a perfect fit lies in the words that you use to describe your activity. A cover letter is a far more flexible storytelling medium than a resume, so you have a certain amount of artistic license to describe your accomplishments. If you use the sort of language that would impress a hiring manager, they will be keen to find out more.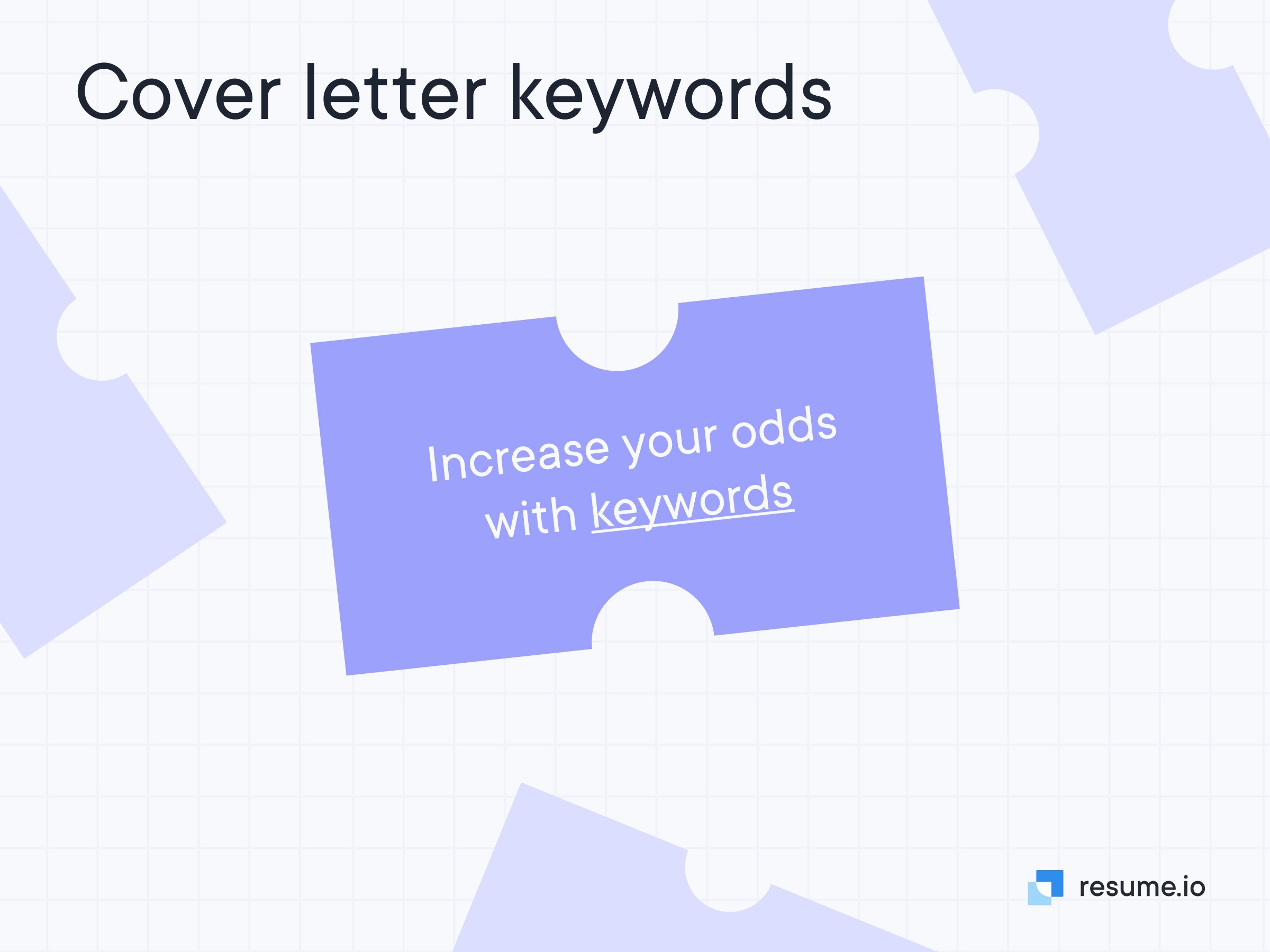 Why do keywords matter in a cover letter?
While you might be expecting me to focus on the importance of including keywords to pass the ATS software test, the reality is that a cover letter that includes a generous helping of suitable keywords will also sound impressive to a hiring manager.
Describing your experience with hyper-specific keywords will make you sound more professional. If your career story is too conversational, you will come across as someone who does not "live" for their job. Geek out a bit when you are writing your cover letter - adopt some of the language from the job description to sound like you will hit the ground running.
Another benefit of including cover letter keywords is that you will be able to choose your language more deliberately. If you are building a letter around interchangeable keywords you can really focus on the word that best fits both your experience and the role that you are applying for. In this way, you can tailor your cover letter for various roles by changing a few strategic words (rather than whole sentences).
From a psychological perspective, you should bear in mind that it is these keywords that will stick in the hiring manager's mind. They won't memorize whole sentences, but they will certainly consider whether these stand-out words are a fit for them. When the game is to create a connection with someone that you have never met, cover letter keywords are a great way of building those links.
Expert tip
Why do keywords matter for the ATS? 
While an ATS system is unlikely to reject you because you haven't included certain words, it does offer a hiring manager the ability to search the resume database for certain words and phrases. If you do not appear on a search, you will not be considered. Searchability is therefore a key reason to think carefully about your cover letter keywords.
100+ Behavioral cover letter keywords 
The first cover letter keywords that we will be looking at are concerned with your behaviors around the workplace. While a cover letter is not long enough to describe the circumstances of your accomplishments, a well-chosen word or phrase to outline your behavioral soft skills will go a long way to helping a hiring manager imagine how you went about your work.
Everyone processes language in different ways. Put yourself in the position of the hiring manager. Which words would they want to read on the application?
Soft skill keywords
Soft skills are tough to outline in a cover letter. There is simply not enough space to go into detail about how you achieved things, so the hiring manager will have to make do with a well-chosen word or two to spark their imaginations before the interview.
While you may think that most cover letters would be packed with such words, you might be surprised. Most people write conversationally and do not take the time to consider the impact of their words. A soft skill keyword can do the heavy lifting of an entire sentence.
Problem-solving keywords: Analytical thinking, Brainstorming, Conflict resolution, Cost-benefit analysis, Creative thinking, Critical thinking, Logical reasoning, Process improvement, Quantitative analysis, Qualitative analysis, Risk assessment, Root cause analysis, Scenario planning, SWOT analysis, Troubleshooting.
Leadership keywords: Change management, Coaching, Collaboration, Communication, Delegation, Empathy, Initiative, Mentoring, Motivation, Organizational skills, Performance management, Problem solving, Project management, Strategic planning, Team building.
Time management keywords: Deadline-driven, Detail-oriented, Efficient, Goal-driven, Multitasking, Organized, Prioritized, Proactive, Punctual, Resourceful, Self-disciplined, Structured, Task-oriented, Time-bound, and Result-oriented.
Adaptability keywords: Adaptability, Agile, Change management, Collaboration, Critical thinking, Flexibility, Growth mindset, Innovation, Learning agility, Multitasking, Open-mindedness, Resilience, Resourcefulness, Responsiveness, Versatility.
Which soft skill keywords would make sense to include in your cover letter? Remember that you shouldn't include a soft skill if you can't give a fantastic example during an interview.
Action verbs
While action verbs are not strictly keywords, they do make a huge difference in terms of how your accomplishments are perceived. We have compiled a comprehensive list of action verbs that can be used in all job search scenarios, but here are a few that may help to elevate your cover letter. Make your application stand out with emphatic language.
Accomplishment action verbs: Achieved, boosted, championed, drove, eclipsed, founded, innovated, initiated, leveraged, minimized, outperformed, reinforced, revamped, secured, surpassed.
Communication action verbs: Addressed, advocated, authored, briefed, coached, collaborated, conveyed, crafted, documented, instructed, performed, persuaded, presented, promoted,
Creativity action verbs: Conceived, curated, emulated, illustrated, imagined, modeled, modified, produced, re-designed, replicated, researched, schemed, storyboarded, visualized, revamped.
Resist the temptation to exaggerate with your action verbs, though. Don't use an impressive verb to describe a mundane accomplishment. Enhance your accomplishments with your choice of cover letter keywords, don't let them dominate.
250+ Cover letter keywords by industry sector
While we have only included a few general industry sectors, hopefully, the following breakdown of keywords might offer an idea of what certain professionals may include in their cover letters - the more specific, the better.
It may be worth taking out a sheet of paper and writing down the sort of words that you think you should include for yourself for any specific job. This exercise is a great way of being honest with yourself about the potential fit. If you cannot find enough suitable keywords from your experience, it may not be worth going ahead with the role.
Finance
Whether you are analyzing data, ensuring compliance, managing risk or allocating budgets, the language of finance is highly specific to each industry niche. Here are a few examples:
Accounting, Analysis, Analytics, Asset management, Audit, Banking, Budget management, Business administration, Business planning, Business strategy, Compliance, Consulting services, Cost effective, Data analysis, Financial analysis, Financial management, Financial reporting, Financial services, Forecasting, GAAP, Inventory management, Leadership development, Legal, Risk management, Strategic planning
Retail, hospitality
Customer-centric language is critical in any retail or hospitality cover letter. The right cover letter keywords will make a hiring manager curious to find out more:
Customer service, Retail sales, Communication skills, Problem-solving, Sales associate, Cash handling, Point of sale (POS) systems, Product knowledge, Upselling, Complaint handling, Time management, Attention to detail, Teamwork, Adaptability, Interpersonal skills, Customer complaints, Conflict resolution, Sales targets, Merchandising, Inventory management, Order processing, Customer retention, Cross-selling, Returns processing, Store operations
Technology
While wordsmithing may not be top priority for a technology professional, there is no getting away from the fact that selecting the right industry jargon for each specific role is a critical part of the selection process. How many of these keywords are relevant to you?
Programming languages (e.g. Java, Python, C++, etc.), Software development, Web development, Database management, Cloud computing, Agile methodology, Project management, DevOps, Machine learning, Artificial intelligence (AI), Big data, Data analysis, Cybersecurity, Network administration, Troubleshooting, Technical support, Software testing, User experience (UX) design, User interface (UI) design, Mobile application development, Internet of Things (IoT), Robotics, Embedded systems, Object-oriented programming (OOP), Source code control (e.g. Git, SVN)
Marketing
The blank screen is a marketeer's canvas. If their cover letter is not thoughtfully crafted, their application will not progress further. While some may yearn to be more creative with their pitch, others will understand the raw power of simply selecting the right words:
Advertising, Brand management, Campaign management, Competitive analysis, Content creation, Content marketing, Conversion optimization, Customer acquisition, Digital marketing, Email marketing, Event planning, Google Analytics, Influencer marketing, Market research, Marketing automation, Marketing strategy, Media planning, Mobile marketing, PPC advertising, Product marketing, Public relations, Sales enablement, Search engine optimization (SEO), Social media marketing, Web analytics
Manufacturing
As machines play an increasingly important part in the manufacturing process, the role of manufacturing professionals is becoming ever more nuanced. What skills will set you apart in this increasingly sophisticated environment?
Assembly line, Automation, CAD, CNC programming, Continuous improvement, Design for Manufacturing (DFM), Equipment maintenance, Fabrication, GMP, ISO, Inventory management, JIT, Kaizen, Kanban, Lean manufacturing, Machine operation, Materials handling, Mechanical engineering, Production planning, Quality assurance, Root cause analysis, Safety protocols, Six Sigma, Supply chain management, Tooling design.
Public administration
Working in public administration involves large amounts of regulations and bureaucracy that are specific to certain areas. Choosing suitable keywords to hint that you have the required experience is the first box that needs to be ticked in a job application.
Budget management, Community outreach, Contract negotiation, Data analysis, Economic development, Emergency management, Environmental policy, Fiscal management, Government regulations, Grants management, Human resources management, Information management, Legislative affairs, Local government, Policy analysis, Project management, Public policy, Public safety, Public works, Regulatory compliance, Risk management, Strategic planning, Sustainability, Urban planning, Volunteer coordination
Construction
Construction work is a highly technical occupation that requires a high degree of hard and technical skills. While behavioral cover letter keywords may not be so important, if you do not adequately describe your technical ability, your application will not proceed.
Blueprint reading, Building codes, Carpentry, Commercial construction, Concrete work, Construction management, Cost estimation, Demolition, Electrical work, Engineering, Equipment operation, Excavation, Framing, HVAC, Masonry, Materials handling, Mechanical systems, Plumbing, Project management, Quality control, Safety compliance, Scheduling, Site preparation, Structural engineering, Welding
Sales
Many successful salespeople have the gift of the gab. They understand the impact of the right word at the right time, so choosing keywords for their cover letters should be second nature. Be as specific as possible with the skills that you outline.
Account management, B2B sales, Closing deals, Cold calling, Consultative selling, Customer acquisition, Customer relationship management (CRM), Forecasting, Inside sales, Lead generation, Negotiation, New business development, Outside sales, Pipeline management, Product knowledge, Prospecting, Relationship building, Sales analytics, Sales cycle, Sales goals, Sales management, Selling process, Territory management, Upselling, Value proposition.
Healthcare
Healthcare is one of the biggest sectors and industry professionals can often move across industry verticals. It is therefore important to select the right keywords for the area in which you wish to work.
Electronic medical records (EMR), Health information technology (HIT), Health promotion, Healthcare administration, Healthcare policy, HIPAA compliance, Infection control, Medical billing and coding, Medical terminology, Medicare and Medicaid, Mental health, Occupational therapy, Patient care, Patient education, Patient safety, Pediatrics, Pharmacology, Physical therapy, Physician relations, Quality assurance, Rehabilitation, Risk management, Telemedicine, Utilization review, Wellness programs
Education
When you are trusted with impressionable young minds, outlining your specific teaching skills is important to make your case. Consider the culture of the educational establishment and the teaching environment where you will be working your magic.
Classroom management, Coaching, Common Core State Standards, Curriculum development, Differentiated instruction, Distance learning, Education policy, Educational technology, ESL instruction, Grading, Instructional design, Learning management systems, Lesson planning, Literacy instruction, Parent-teacher conferences, Pedagogy, Professional development, Project-based learning, Special education, Standardized testing, STEM education, Student assessment, Student counseling, Teacher mentoring, Team teaching
Most important: don't sacrifice your story for your keywords!
As mentioned previously, if your cover letter is packed too full of keywords, your career story can get lost in the verbosity. If you feel that a keyword can add meaning to a description of your achievement, by all means, include it. There does not need to be one on every line if it does not add a different level of meaning to your story.
One good way of telling whether you have gone a little too far is reading the cover letter aloud to a friend or relative. If it sounds manufactured and artificial you have gone a little too far. Aim to make it sound like you as you will be the one talking during an interview. If you do include a keyword that sounds a little out of place, make sure that you can justify its inclusion to your listener. 
Key takeaways
If you are wondering how to structure your cover letter, be guided by the keywords that you wish to include. Sprinkle them into your accomplishments rather than build your accomplishments around the keywords. View your keywords are signposts to the stories to come in the interview. What words would best describe your brand of career awesomeness?
Be guided by the job description when you select your cover letter keywords.
Put yourself in the position of the hiring manager – what do they want to read?
Don't pick keywords that are too far away from how you naturally speak.
Remember that every keyword should lead to a compelling career story.