The best sales pitches are brief, powerful and memorable. Their appeal to reason is hard to deny, evoking an emotional response that demands action. If a targeted sales message hits home, customers press the "buy" button. An effective sales cover letter works the same way.
Resume.io can help you with every cover letter preparation step. Our job-winning resources include a wide selection of occupation-specific writing guides and free cover letter examples.
This writing guide, along with the corresponding sales cover letter example, will:
Explain how to make the most of your cover letter selling opportunity
Recommend the best format for a sales cover letter and what it should
Advise how to convey your breadth of sales experience in each over letter section: header, greeting, intro, body and conclusion
Explore aspects of sales psychology that your cover letter can reflect
Help you make it clear to the hiring manager that you know your sales worth.
So let's get into it — what can transform a sales cover letter from good to great?
What lies at the heart of every great sales application letter?
When a sales professional is looking for a new role, the cover letter — sometimes called an application letter — is far more suited to their persuasive craft than the resume. The structured nature of a resume is great for hiring managers who need to sift through hundreds of applicants, but when the sales field has been narrowed, it is the cover letter that gives a window into the persuasive abilities of each candidate. 
With just 300 or 400 words to play with in a sales cover letter, how you choose to sell yourself speaks volumes about your professional ability. You have an intimate knowledge of your product, so if you fail to impress, maybe you aren't so special after all.  No pressure.
What is the primary purpose?
When you might only have moments to impress a potential customer — or in this case, a hiring manager — the sales professional knows repetition is a critical consideration. You want to give customers as many reasons as possible to buy, but at the same time you cannot afford to cloud their core motivations to buy. So, you keep the selling message as simple as possible, and you use repetition to remind employers why they really (really) need it.
The primary purpose of a sales cover letter is to complement the resume. While allowing for expansion on your personality and influencing skills as a sales professional, it should not ignore the fact that your resume's core messages need repeating. 
Showcase your influencing skills with persuasive language and demonstrate that you understand the needs of your future employer. But don't forget to ram home the messages about what makes you a great salesperson. If those messages are relevant to the prospective employer, they will stay in the heads of hiring decision-makers for the rest of the recruitment process. That is where you win.
Your sales application letter should move your target employer that little bit further down the sales funnel, increasing your percentages as each sentence in your cover letter is read. It needs to show that you are not just a great salesperson, but also a great salesperson for this employer. Do your research, find our where your fit is strongest and repeat it!
Expert tip
Use a sales technique (or two) in your cover letter

There are many techniques that salespeople use to close deals. If you liberally use a couple of these in your cover letter, it can hint at a wealth of sales savvy to come.
One idea is to identify a sales "pain point" of your future employer. Point out the benefits of hiring you and end with a pithy closing remark. You can do that within a sentence by mirroring the sort of influencing techniques that you might use with a sales client. If successful, you not only persuade the hiring manager that you are the person for the job, but also provide insight into your sales craft.
The sales cover letter example provided with this guide illustrates some of the approaches suggested. Personalizing it to reflect your own unique sales approaches should not be too difficult.
Secondary purpose
When you are selling a product or a service, there are two main considerations. First, you need to understand what you are selling, and second, you need to understand the motivations of those who might purchase it.
While it's hard to demonstrate in your cover letter that you have the ability to "read" a whole range of customers, it is eminently possible to show that you have a detailed understanding (and passion) for the product or service that you will be selling. Your future employer needs to feel that you will live and breathe it.
However varied your sales career is in terms of different products and services, your cover letter should have a laser-sharp focus on whatever product or service will be sold in your new role. This means you must tailor each cover letter appropriately to the employer you want to work for. After all, if you do not make "customers" feel special they will move on to someone who does. So your sales cover letter should speak to the product and industry sector being targeted, and, as stressed previously, repeat if possible.
If you have not had sales experience in exactly the same industry, talk about your accomplishments in a similar industry. For example, you may not have sold B2B HR services, but the sales process from your experience in selling consulting services won't be very different. Sharing relevant experience shows that you understand what the job will entail.
These are just two initial considerations, and most sales professionals will likely have much more that they want to say about themselves. Any sales pitch needs a logical structure to shape and temper the flow of its persuasion, and a sales cover letter is no different.
For more inspiration, we invite you to browse through these cover letter examples and writing guides in our related sales category:
Best format for a sales cover letter
While your sales pitch should be as unique as possible — and certain industries will demand more creative approaches than others — it is generally accepted that all cover letters should follow the same structure regardless of occupation. 
General advice on how to write a cover letter may be found in resume.io's comprehensive cover letter guide. 
Your sales cover letter includes all of the same components as follows, each serving a specific purpose:
The cover letter header
The greeting / salutation
The cover letter introduction
The middle paragraphs (body)
The cover letter conclusion
The sign-off (signature)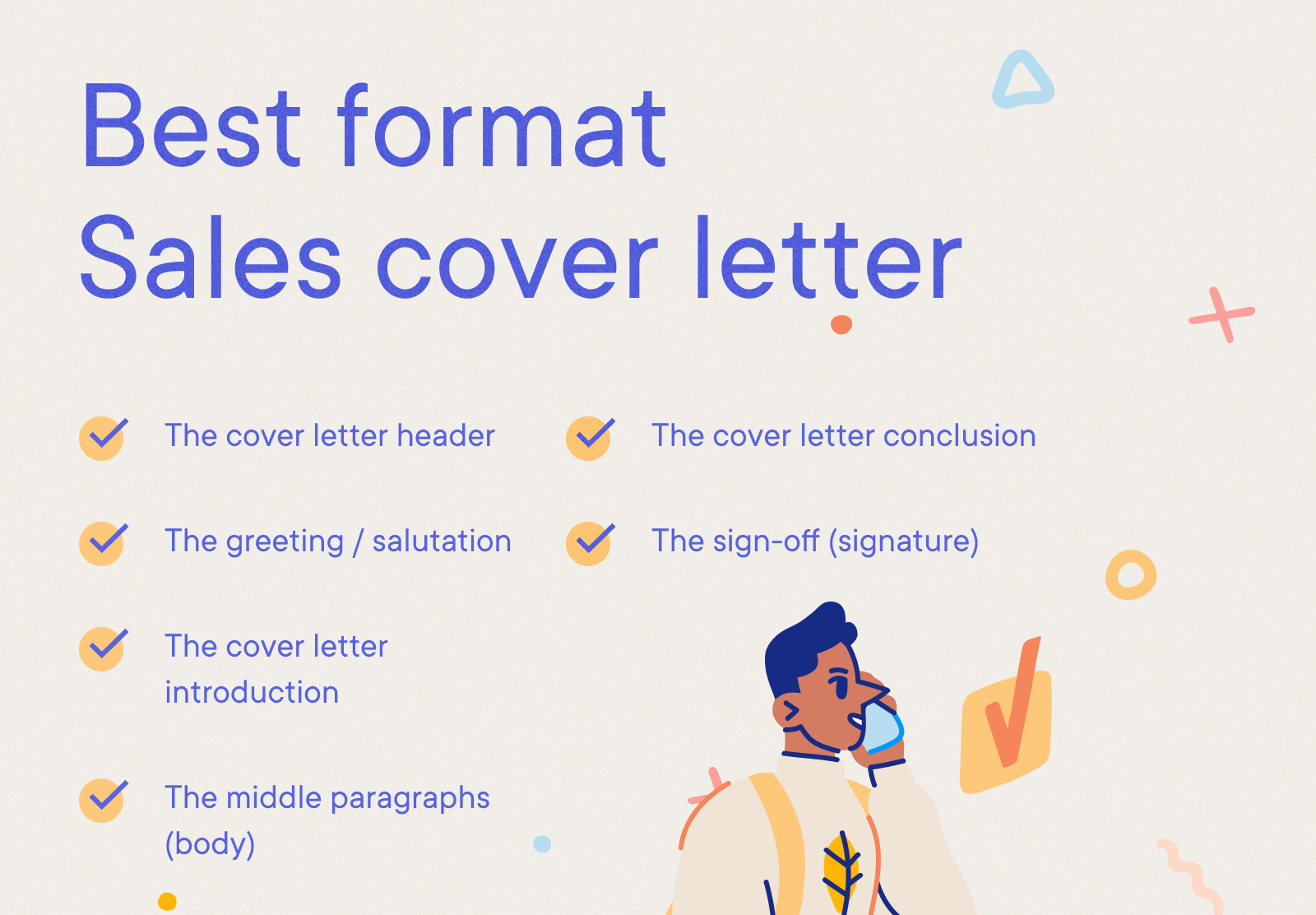 Cover letter header
Just as potential customers need to have your contact information handy when they are ready to make a purchase decision, a hiring manager should be able to readily and easily drop you an email or make an interview appointment by phone. 
Essential personal information should always be in the header section of your sales cover letter. Although your every instinct might want to hit recipients with your sales pitch straight away, it is important to cover certain practical bases first. The white space surrounding the header in the top section gives readers a couple of seconds to settle into reading mode. It would be tragic to waste a killer first line if their mind is still on the last email they read or the remnants of unconsumed coffee they are staring at.
So besides clearly identifying who your cover letter belongs to and how you can be reached, including a sensible email address bearing your name, the header allows recipients to catch their breath before reading the good stuff.
Goal of the cover letter header: Focus attention on the letter by clearly establishing who it is from and how the recruiter can reach you.
Cover letter greeting
Just as you would never start a sales call to a stranger with a cheery "Alright mate," your cover letter greeting sets the tone for the remaining content. It is vital to make sure it is appropriate for the reader.
Opening with the classic "Dear Mr. (or Ms.) Surname," is almost always the best option. It's consistent with the generally expected degree of respect and politeness when unfamiliar people in the sales world interact with each other.
As sales professionals are accustomed when researching their prospects, your sales cover letter should be addressed to the right individual(s) by name. Attempting to make a direct personal connection on that basis is vitally important. This initial rapport can be built upon later in the recruitment process.
A lazy "To whom it may concern," will never cut it. If it proves impossible to address anyone by name in the cover letter greeting, a warmer variation such as "Dear <Company Name> Hiring Team" is quite acceptable. Showing that you have put some thought and effort into personalizing the greeting is what matters.
A more casual tone may be fine if you are certain it reflects the employer company's culture. Judge accordingly, but always err on the side of formality as you would in any initial sales communication.
Goal of the cover letter greeting / salutation: Start off on a formal footing with a direct personal connection that sets the tone for further interaction during the hiring process.
Adaptable cover letter greeting example
Cover letter introduction
The first sentence or two of a sales cover letter is your chance to show off.
Sales professionals are masters of pithy one-liners, on social media and face-to-face in the real world, so crafting an introduction that hits home with the core of their message should not be too hard. Offer a vision of exactly what you can bring to your future employer. Talk about smashing sales targets, fueling growth and winning new clients. Give your cover letter a positive start and the reader will be hanging on your every word with whatever else comes next.
Sharing some concrete figures in the introduction would show that you understand the importance of results. Think carefully about those numbers to ensure they are genuinely impressive. If not, they could have the opposite effect on your prospective future employer.
Goal of the cover letter introduction: Perfect your elevator pitch by making it clear up front what you can deliver.
Adaptable cover letter introduction example
Delighting a freight customer is about far more than availability and pricing. When competing with my sales manager rivals to sell empty space on a container ship, the basic variables of service and cost are not enough to give me an edge. I need to convince customers that working with them is worth paying for. I sell my colleagues rather than my containers.
Cover letter body 
The body of a sales cover letter should ebb and flow like your sales pitch.
On one hand, you should be careful not to overwhelm the reader with a barrage of sales successes. You need to give a feel for the person behind the numbers. Simply giving a list of projects or including too many statistics can easily detract from your wider story.
By all means, share a couple of your most relevant projects, but fill in the gaps by detailing how your sales smarts made a difference and why your approach worked out particularly well. It seems so much more real when you give the context for your success.
As well as sharing your softer behavioral skills, give a flavor of your technological savvy. The most successful salespeople use a wide range of digital apps and social media techniques, so it's important to portray yourself as being at the cutting edge of the industry in this regard.
Goal of the cover letter body: Paint a picture of your sales persona in your own words and allow the reader to imagine what your sales skills would bring to their organization.
Adaptable cover letter body example
As Crano Worldwide is expanding its routes in the Far East, I hope that my B2B sales experience in the region may prove useful. I have networked here for the past decade, speaking at transport conferences, building relationships with 250+ importers and exporters, and doubling market share from 4% to 8% over a six-year period. As a student of the intricacies of the Chinese tender process, I understand how to influence effectively.

Crano encourages a winning mentality at work, and I would fit in well. To demonstrate that I understand the subtleties of selling freight forwarding, consider my track record:
Increased the ocean freight customer base by an average of 25% over the past five years.
Averaging 92% annual client retention.
Increasing annual profit growth per customer by 16%.
Exceeded annual sales quota by an average of 45% over the last six years.
150+ Far Eastern clients — more than half of which could potentially move to Crano.
Generated $2.3m revenue last fiscal quarter.
Consistently top in global sales list.
 
Seeking to understand the precise requirements of each customer is the key to finding those critical negotiation levers and squeezing the potential out of every opportunity. I enjoy the role most when I am managing a fluid sales process rather than simply reacting to leads.
Cover letter conclusion and signature
A sales professional's closing remarks should include humility and hope in equal measure, and your sales cover letter conclusion should be no different.
With no certainty that you are a perfect hire based on a brief job description, you should avoid any arrogant pronouncements or presumptuous statements. Be humble and present yourself as being a good fit for the role as you currently understand it. Let the recruiter know you would love to further explore the possibility. 
It is fine to say "I hope that you find my qualifications of interest." On the other hand, stating "I know that I would fit in perfectly" when you haven't yet been able to qualify that cannot be genuine. In sales, there is a fine line between confidence and arrogance. Your sound judgement in that regard should be evident in your application letter.

Signing off is a simple matter of placing your name below "Sincerely," or "Best regards." A handwritten signature is only necessary on printed hard copies. Inserting a scanned version into electronic documents is optional, not required.
Goal of the cover letter conclusion: Temper your expression of hope that you may be a good fit for the job with some humility. Present your case and end on a "what do you think?" note.
Adaptable cover letter conclusion and signature example
I was referred to this career opportunity by one of your current sales managers, David Grey. I hope for the opportunity of an interview to see why he loves working for you so much.

Sincerely,
Christine Foster
Writing psychology: get under your future employer's skin
Any piece of writing by a sales professional should be backed by a solid amount of psychology. After all, you are a master of influence and persuasion. Here are a few considerations:
Reach out with emotion: if prospective employers are not feeling excited after reading your cover letter, then you have no chance of getting the job. They might also be feeling curious, intrigued or even incredulous. The more emotions you can make them feel, the more they will want to explore them during an interview.
The circle of trust: any salesperson who is going out into the market and selling a product or service has to come across as being trustworthy. Be someone who lives by your word, who is a straight talker and who seeks to over-deliver rather than over-promise. Some sales materials can seem exaggerated; make sure that your sales cover letter engenders a gentle sense of trust rather than an unbelieving suspicion.
Sell your benefits: working out how your experience can most benefit your prospective employer (and communicating it throughout the recruitment process) is the goal of any successful candidate. Sales people should find it easy to sell the benefits of hiring them. Being honest and clear about why they should hire you is not arrogant — you are simply setting out the reasons why you are worth bringing onto their team.
Instant gratification: If recruiters are worrying about an aforementioned "pain point" and you have identified that you have the ability to solve it, they will subconsciously feel right away that you are able to handle a whole range of other issues. Appeal to their self-interest in showing how you will instantly make their time at work more profitable if you are hired.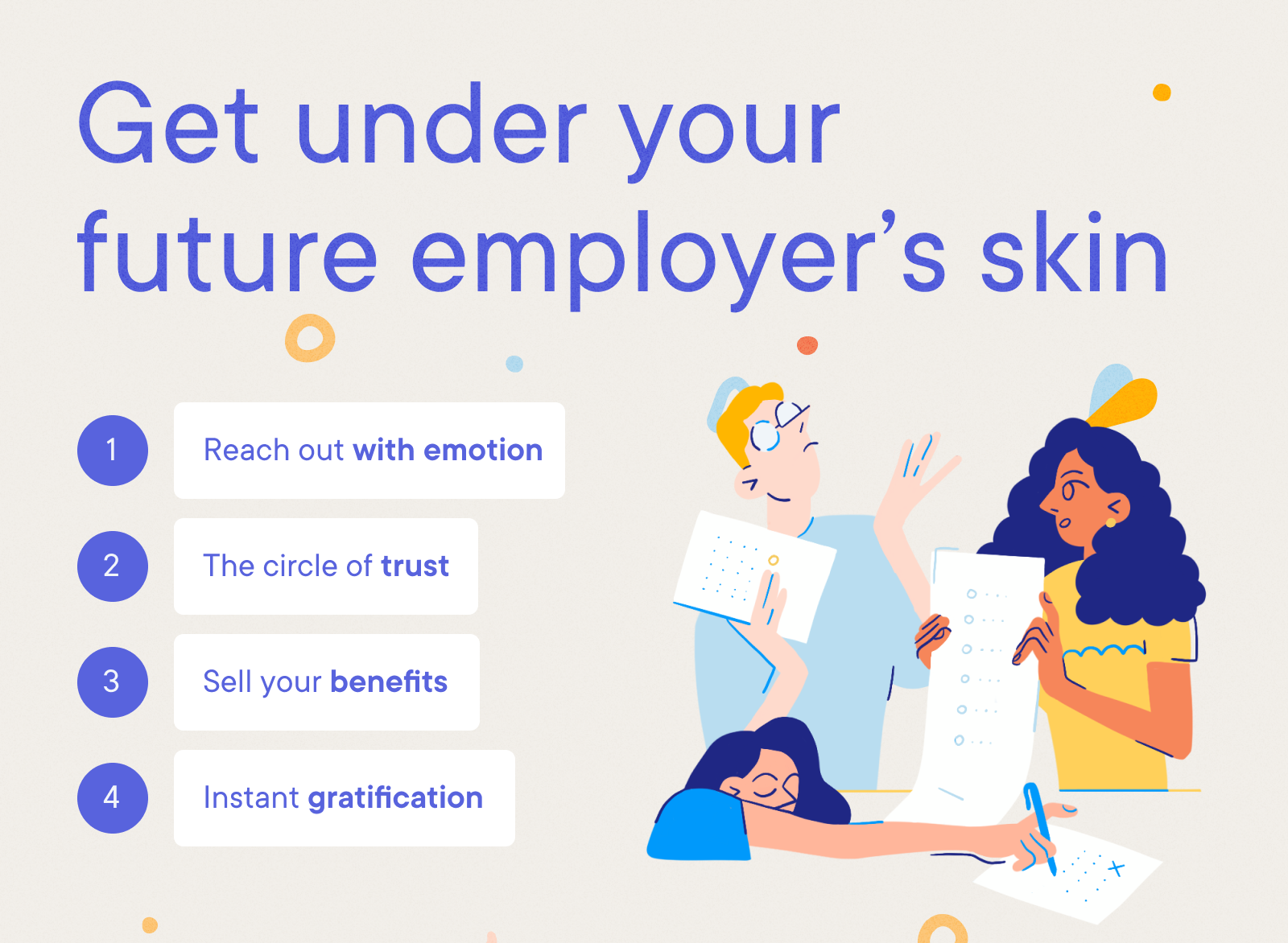 Show that you are always learning
Sales legend Grant Cardone talks a lot about the importance of continuous learning for any sales professional. This attitude is something that every hiring manager will want to see in a new sales recruit:
"The best investment I ever made was when I was 25 years old and I hated sales. I borrowed $3,000 from my mother to buy a sales program — it was 12 cassette tapes and it took 10 days for it to arrive. I made so much money from those tapes. I went from making $30,000 to making $100,000 a year. Most importantly, not only did I make more money, but for the first time in my life I could say I loved sales. For the first time, I knew what I was doing. Ever since then, I've spent hundreds of thousands of dollars investing in myself and my people, in hopes of making us all better, more motivated, more strategic. Some of the programs don't work, but I keep investing, knowing that it'll pay off in the long run."
Whether it is an MBA, an online course or even a stint working with a sales coach, every sales professional should have an insatiable drive to become more effective. You can be sure that your cover letter readers will be passionate about sales too. If they feel that you share that passion for self-improvement, they will find a kindred spirit.
Don't style yourself as the ideal sales machine. Even if there were such a thing, it would be obsolete within a short period as the world is changing at such a fast pace.
Don't commit these sales cover letter errors
Much of the advice in this guide has been sales-specific, but there are a few basic mistakes that belong in no job seeker's cover letter.
Don't overpromise. Before you join the company, you won't know exactly what is required of you, so make sure that you don't paint yourself as a potential sales superhero. Be inquisitive, be curious and be interested in how you might contribute.
Keep the tone professional. Every salesperson is naturally personable, but make sure that the tone of your cover letter remains on the professional side. The interview is the time to gauge the room and show your friendly side. In an application letter it comes across as being slightly misjudged.
Avoid being overly descriptive. Wasting words with flowery language will waste the time of any prospect. Sales communications should take people on a journey, but when a hiring manager has 10 cover letters to read, your superfluous language won't be appreciated. Get to the point and make sure it is powerful.
Careless formatting. Just as a careless mistake might detract from your overall message in a sales presentation, any kind of mistake in your cover letter or resume might indicate a lack of attention to detail on the candidate's part.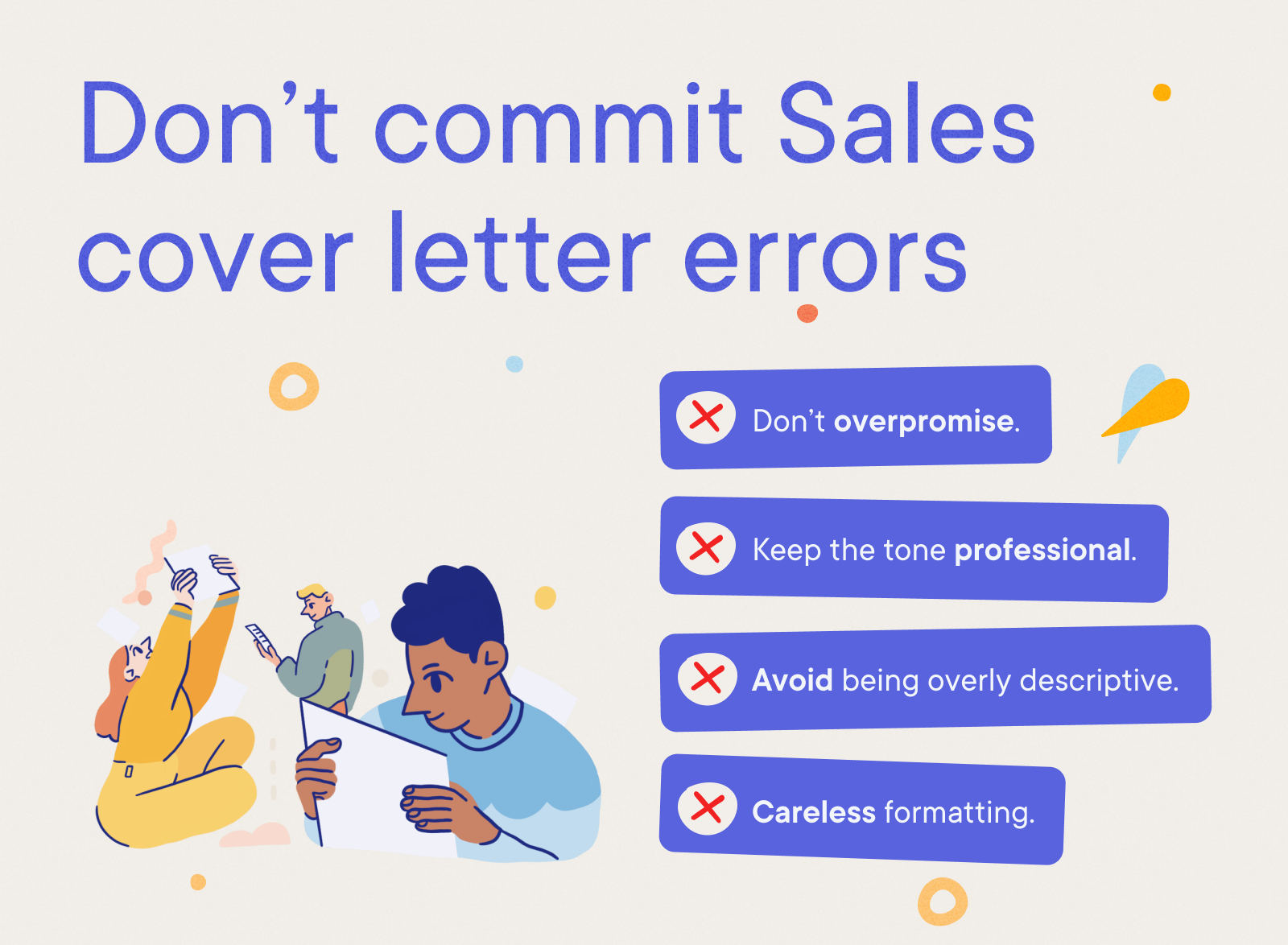 Key takeaways for a sales cover letter
Use all of your sales influencing skills and persuasive tactics in your cover letter.
Repeat the core messages to drive home your key benefits for the prospective employer.
Show that you understand what it takes to sell that company's products or services.
Reach out to your future employer and establish trust and confidence early.
Talk about how you invest in your continuous sales learning.
With resume.io, your cover letter can become an ideal companion to your resume. With this dual strategy, your perfect sales role is just around the corner. Click on one of our ready-made and carefully market-researched cover letter templates and start writing. Our easy-to-use builder tool makes it a breeze to customize with your own replacement text.