There are certain occupations in the technology-led STEM fields of science, IT, engineering, data science and maths that require a whole different level of technical skill and industry expertise.
What Are Technical Skills? 
Technical skills in resumes are a narrower and more specific category than just " hard skills ". Technical skills are those that deal with using complex tools (both software and hardware), number-based methodologies and systems, as well as complicated disciplines that often take years of training. Technical skills examples are often related to STEM fields, hardware tools or computer programs.
Some of these technical skills take many years to master, so they naturally deserve a special kind of treatment on a resume.
Is it enough for them to limply sit alongside "teamwork" on your skills section, or is there another way of elevating your technical skills for resume to the position that they deserve?
This blog will consider how you can bring your technical skills examples to the forefront:
How do I include technical skills on my resume?
List of technical skills by industry
Examples of technical skills based on tools and job duties
Advanced tips for technical skills in a CV
Expert tip
How do I know my technical skills? Think about all the tools that you use to achieve results - hardware, software, processes and methodologies. Common tools such as Word will be mastered by most people (it is about as technical as making a coffee in the morning), but there are many other disciplines that are far harder to master. This is what sets you apart from others - these are your technical skills examples.
Technical Skills for a Resume - How to Include Them
You should definitely fill the skills section with the rarest technical skills that you possess (and don't forget the simple ones as they help you to pass the ATS test). 
Any resume from a technical profession will be packed with these insider terms, but there are other ways to describe the level of your proficiency as well as the breadth of your technical skill-set. Back up those skills with facts about how you delivered.
1. Include the skills in your work experience section
It is possible to represent the level of your technical ability with graphics or symbols in a list of skills, but there is nothing more revealing that actually quantifying what your skills have brought to previous employers. The best place to outline your biggest hitting technical skills for resume is therefore in the work experience section.
Try to select the skills that are most specific to the job that you will be doing. If your best career achievement is not relevant to the role in question, think very carefully whether it needs to be included. 
2. List the very rarest technical skills examples in your summary
While a programmer, business analyst or data science professional will be expected to have a certain degree of competence that might be inferred from their years of experience and previous titles, job search success in technical fields will depend on a job seekers ability to highlight the rarity and exclusivity of their technical skill set.
There is no better place to highlight your technical ability than the summary and no more powerful way than a simple list. "I can do this, this, this, this and this." If your technical skills examples set you apart from the rest, they will form the perfect starting point for many interview questions . 
3. Find the most graphically impressive (and space saving) way of describing your skills
Space will always be at a premium on a technical resume because you simply have so much to include, so any resume format that allows for a nuanced and graphical representation of technical skills may well be a winner.
I find that a front page of a technical resume that lists the very rarest skills with an indication of skills level) in the separate section is incredibly powerful. You should definitely still describe the technical skills for resume in the context of your accomplishments but there is still nothing more powerful than saying you are expert level at X, Y and Z. Just don't lie or exaggerate – you will be found out and never be invited to interview again.
Expert tip
Which technical skills are in demand? To understand which technical skills are in demand in your particular industry, a scan of job descriptions for your role and related roles will tell you all that you need to know. Of course, some job descriptions are better than others, but every quality employer will want to make it clear what is expected from future employees. The most common technical skills should be listed, but if they are not you should still expect them to come up during an interview. A little research at this stage will go a long way.
List of Technical Skills for a Resume
Here's a list of technical skills for a resume based on professions and industries. If you want to check out a list based on tools and job duties - see the chapter below this one!
Computer science technical skills for a resume
Software and Hardware Tools (based on job opening)
Programming Languages (see details in the next chapter)
Math
Calculus
Linear Algebra
Statistics
Automation Systems
Marketing technical skills
SEO / SEM / SEA
Programmatic advertising
Google Analytics
Social media platform tools (Facebook Ads tools, Content Studio tools etc)
Content management tools
Wireframe tools
CRM tools
Media surveys and focus groups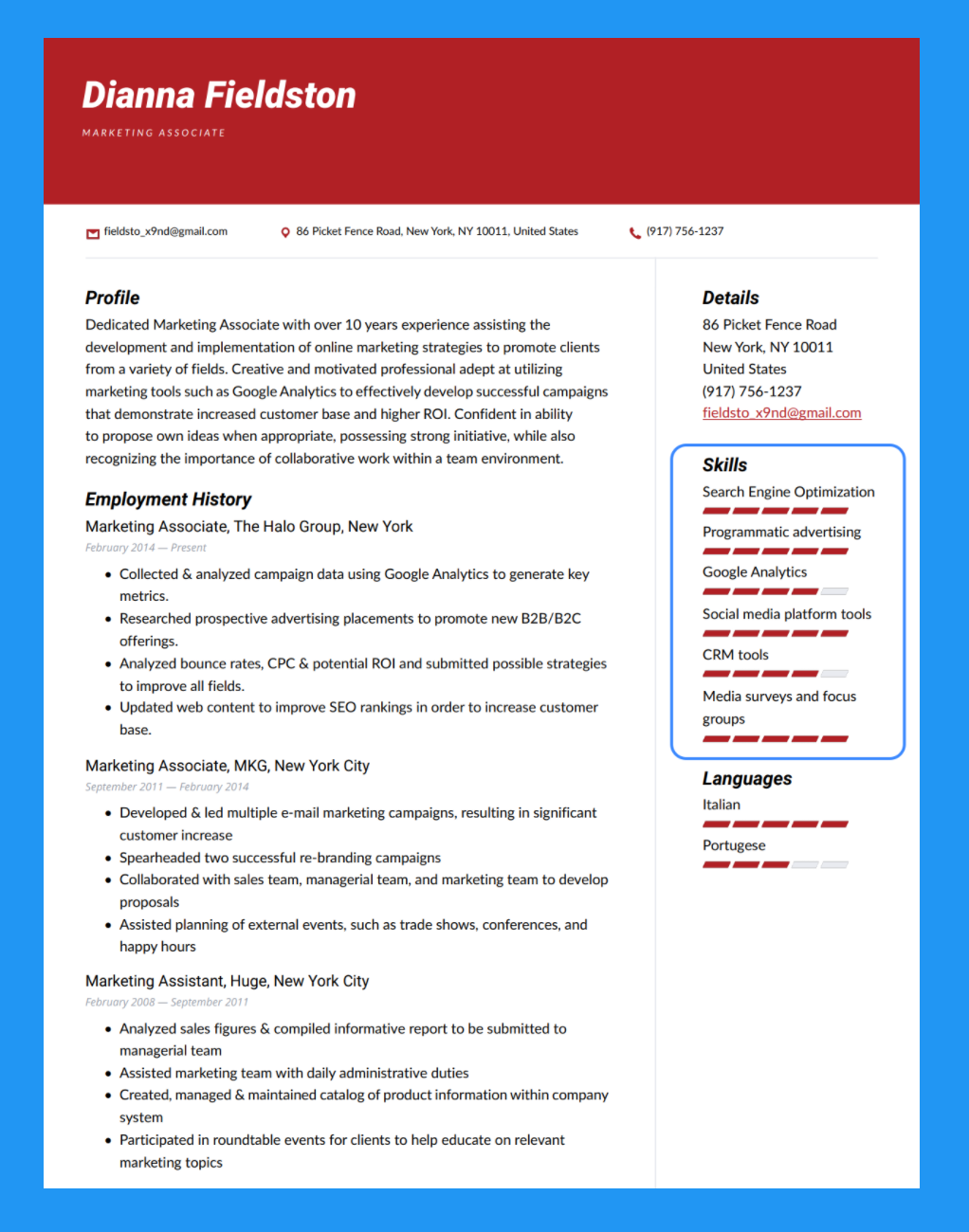 Technical skills for finance and accounting
Auditing
Intuit QuickBooks
Generally Accepted Accounting Principles (GAAP)
SAP
ERP systems
Sage 50 Accounting
Tax software
Microsoft Excel
Financial statements
Technical skills for engineers (electrical, civil etc)
CAD Software
3D Modelling
3D Design
Systems design
Blueprinting
QA Testing
The MathWorks MATLAB
Visual Basic
Technical skills for software engineers
Coding Skills (see details for various programming languages in the next chapter)
Product Testing
Code Testing
Data Structures and Algorithms
Source Control
Integrated Development Environments
Operating Systems
Encryption
Data science technical skills
Algorithms
Calculations/Computations
Data Mining
Database Design
Database Management
Modelling
Needs Analysis
Quantitative Research
Quantitative Reports
Statistical Analysis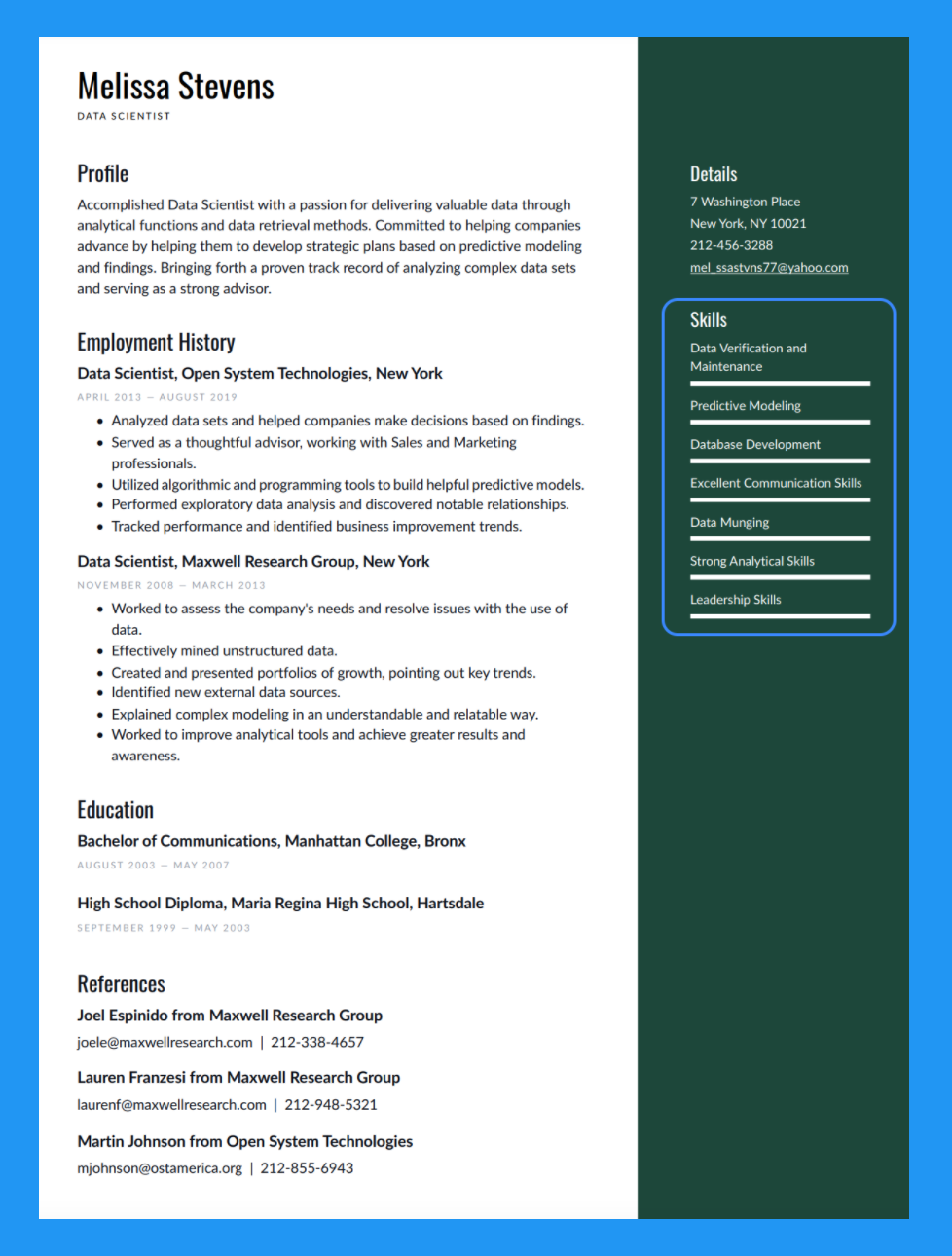 Technical Skills Examples (by tools and job duties)
Enterprise Systems: Payment Processing, Automated Billing Systems, Customer Relationship Management (CRMs like Oracle Netsuite or Salesforce), Business Continuity Planning, Enterprise Resource Planning (ERPs like SAP, Oracle).
Computer Technical Skills Examples: MS Office, Google Drive, spreadsheets, email, PowerPoint, databases, social media, web, enterprise systems.
Spreadsheets Technical Skills Examples: Excel, Google Sheets, OpenOffice, comparative analyses, pivot tables, macros, link to database, vertical lookups.
Programming Skills and Languages: C#, SQL, Java, C++, HTML, JavaScript, XML, C, Perl, Python, PHP, Objective-C, AJAX, ASP.NET, Ruby, Swift, Go, Ruby, HTML, Network Architecture, Solution Delivery
Business Analysis Tools: Amazon Web Services AWS software, Microsoft Access, Oracle JDBC, Transact-SQL, Eclipse IDE, Apache Groovy, Oracle Solaris, UNIX, C#, Data analytics, Data modelling, BI tools and applications
Expert tip
What are the best technical skills? Programming languages will become increasingly important in all sorts of industries over the next couple of decades, so exploring rudimentary coding might be a decision that could set your career onto a whole different trajectory if you become proficient. With the workplace becoming ever more digitised, these technical skills will soon become "must haves" on many resumes.
What Are Examples of Technical Competencies?
Technical competencies are the same as technical skills. The word competency is often used in a job search context, so it is worth exploring exactly what it means. 
Originating from the Latin "competens" (meaning "sufficiency of qualification") a competency is a skill that has been learned and practiced enough that it is second nature. Whether you are building a database, writing some code or analysing data, your technical competencies in these areas will ensure that you are successful.
From an interview and resume point of view, you need to take your interviewers on a journey in terms of how you acquired your technical competencies. Mention them at the earliest possible point in your career on your resume and show how you achieve ever more impressive results as your technical competencies develop.
Technical Skills in a CV - Advanced Tips
The vast majority of technical skills are a constant work in progress. There are some additional steps you can do to present technical skills in a CV, some of these include extra effort, but are often well worth it, putting you way ahead of other candidates submitting resumes with technical skills.
Demonstrating that you are aware of how to improve your skill-set and outlining a track record of professional development is a great way of demonstrating to a future employer that you are keen to keep growing. As you grow, they will grow too.
You can present and improve your CV technical skills in various ways:
1. Take courses or certifications for your CV technical skills
There are countless online and in-person training courses at a variety of levels for every conceivable technical skill example. There is a captive market. Once you have set out on a journey to learn a certain skill, there will always be a course for the next level.
2. Online or remote self-study programs
Remote study options have expanded and vastly improved over the past few years and employers do not now look at these as a second-class option. Taking a technical qualification from a leading provider has never been easier. So why don't you? You can then list this program as the source of your technical skills in a CV.
3. Individual mentoring
Talking about how you learned certain technical skills in a CV from a mentor demonstrates a level of self-awareness and human connection that not every technically minded candidate will possess. Absorbing technical experience from others gives a new perspective.
4. Job-based learning
It is nearly always the case that employers provide a raft of training opportunities to take advantage of alongside your normal job. Include a few of these in your resume and show that you will go above and beyond to improve your technical skills.
Key Takeaways
Technical skills are always a sought-after aspect of every resume as they are far easier to quantify and put into context than the less easily defined softer skills . 
When you work in a STEM-related professional, however, these technical skills examples should lie at the very heart of your career story. They are the engine of your career growth and should dominate your job search story.
A few extra words around your rare technical skill-sets could make all the difference. Have look at our resume templates and use our online resume builder to get that dream position.