There are all sorts of jobs for teens available. Opportunities will vary depending on the local amenities, but there are undeniable lessons to be learned as teenagers earn their first wages. We explore a few of the most common roles.
Most teenagers give their parents a blank look when they are told "go get a job."
I am a parent of two early teenagers, and this is a conversation that I am anticipating at some point soon. I am fully expecting that empty look and the oft-used phrase when they want to avoid a topic of conversation: "What do you mean?"
Maybe it is just my family, but teenagers seem to need everything explained to them. They fully understand everything deep down, but it somehow isn't real until it has been gone over a couple of times. Hopefully, if the explanation is sound, they will accept it.
The thing is, that when it comes to jobs for teens, "getting a job" is far from a simple matter. This is one of the first times when kids need to go out and genuinely earn their keep. We will list plenty of great jobs for teens in this article, but some of them are not so simple to secure. We will therefore offer a few additional recruiter tips for both parents and kids. In this article we will cover:
10 best jobs for teens
5 online jobs for teens
5 summer jobs for teenagers
5 sports jobs for teens
You will need to check the age requirements for your specific country as they will vary, and some roles do require a significant amount of emotional maturity and intellectual capacity. 
Most teenagers from ages 15 upwards will be able to earn some money with these jobs.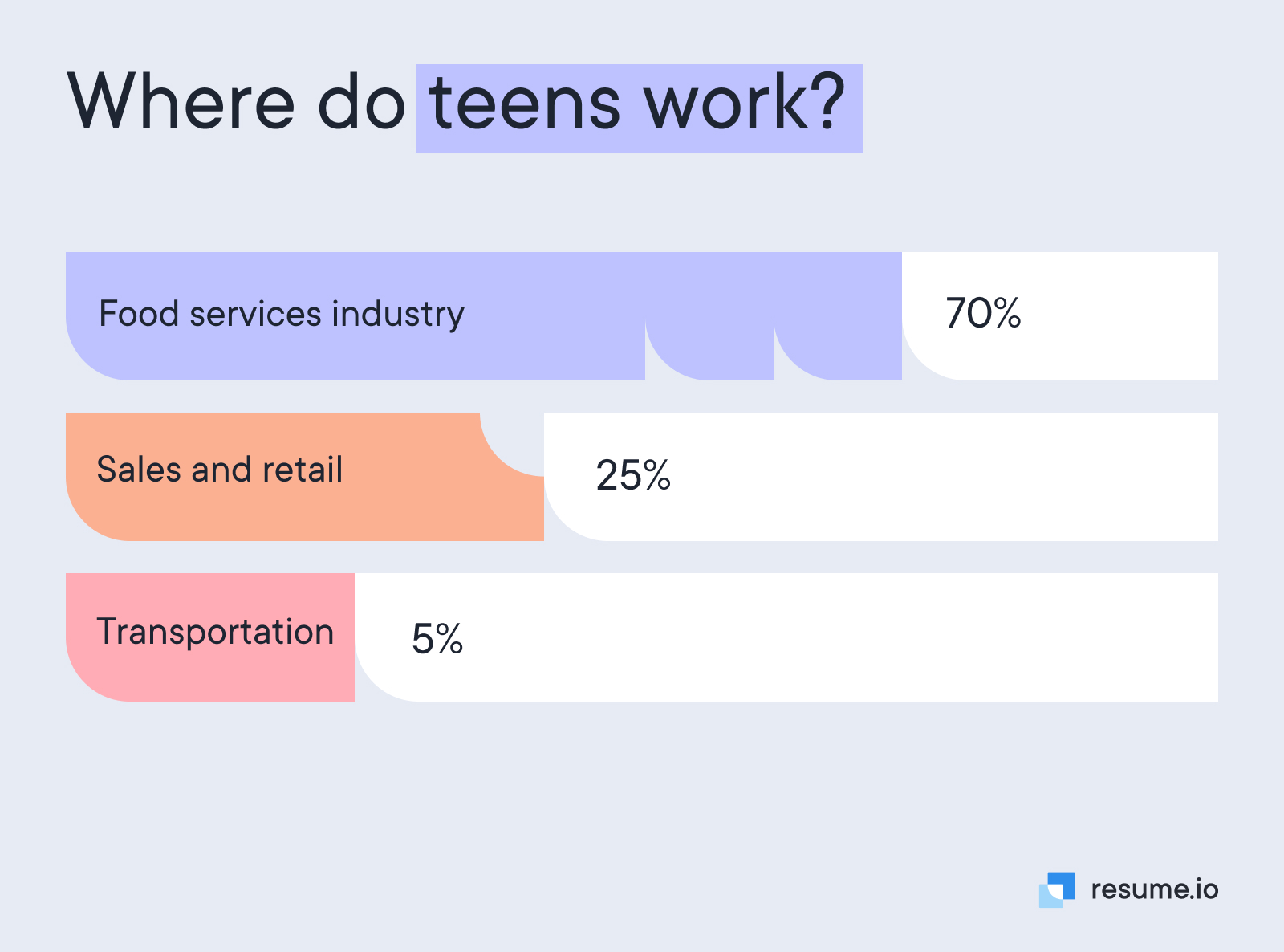 Expert tip
How do you find jobs as a teenager? Finding a job as a teenager is not all about who you know. There are many job sites and apps that can connect teen job seekers with potential employers. A Google search will also prove useful. Being proactive and looking for local employers is another idea for the most resourceful job seeker. Send them a letter, tell them what you are looking for and how hiring you will benefit them.
10 Best Jobs for Teens
There are countless jobs for teens, so here are ten of the most popular. Most adults will have had experienced one of these jobs in their younger days:
Babysitter
Looking after someone else's young children while their parents are away doing something else is an age-old money-earner for young teens. You may need first aid training and previous references will help to create a sustainable teenage career.
For teens with younger siblings, babysitting comes naturally. You bathe them, feed them, entertain them, educate them and just generally be there for them. Rewarding and fun.
Shop assistant
Shop assistants, sales associates and cashiers are commonly either people at the start of their careers or those at the very end of them. Many shops will be staffed by teenagers and there is always lots of manual work to be done besides serving customers.
Retail is a high turnover industry, so the constant stream of teenage workers is a boon for any shop. If you get on with the management, it is a flexible job in terms of working hours.
Daycare worker
Helping look after the youngest children in daycare facilities is a common job for teens. Changing diapers, preparing food, potty training, organizing games and reading countless books is all part of a day's work. Imagination and creativity are a must.
The daycare worker role requires immense amounts of patience but can be a great fit for teens interested in education or childcare in the future.
Barista
Baristas need to be proficient with their drink-making skills, but the role is as much about giving their customers a pleasant mini-experience as it is about serving beverages. Someone with a naturally cheery disposition will flourish in the role and customers will come back.
Many coffee establishments and cafes offer quality training in terms of customer service excellence, something that will prove essential in many later careers.
Cleaner
This is one of the less glamorous jobs for teens, but it is one of the jobs that cannot be automated and with improvements in technology it is not the grimy and miserable job that it was in the past. Maybe not one of the best jobs for teens, but it is still popular.
Teens may not be so active in cleaning residential houses, but there are opportunities in industrial and office cleaning. Fitness and resilience levels need to be high.
Gardener
While teens might not have the level of experience to do every gardening task, there is a lot of physical work involved with gardening and landscaping that calls for youthful energy and enthusiasm. An enjoyable job to do in the summer, which may turn into snow shoveling in the winter.
Whether you are mowing lawns, trimming edges, planting shrubs, clipping bushes or watering flower beds, gardening is a great way to get movement and fresh air.
Fast food employee
The cliché of a spotty teenager working in a fast-food restaurant is as old as the hills. It is not a glamorous job, but it is perfect for teens who want a regular wage.
Fast-food workers are on their feet all day, so bundles of energy and the resilience to keep going are required. The job tends to be repetitive, so motivation levels need to be high.
Dog walking
Dog walking is one of the most popular jobs for teens. Who wouldn't want to spend their time amidst nature with a bunch of excitable canines? Dog owners view their pets as part of the family, but they may not have time to give them the exercise that they need.
When you have a stable group of clients, you can walk multiple dogs at one time and earn a considerable amount of income. Dog walking can also be organized flexibly around studies.
Parcel/Food delivery
While a teen might not have a full driving license, many delivery drivers for food use mopeds and bicycles. In cities where traffic is bad, food delivery is often via smaller modes of transport that are open to teens. Being a bike courier is a great way of staying fit.
Timely and efficient delivery is important and delivery people will be measured by quality. Food should be delivered hot and ideally as it leaves the kitchen.
Car washing
While many people will take their cars to be washed in an automatic car wash, the tradition of having someone hand-wash your car is still very much alive. Enterprising teens prowling their neighborhoods for custom can often be seen with a bucket on the weekend.
Car wash attendant is another common job for teens – they might not be doing the washing, but they take the payment and perform basic operational duties when required.
Expert tip
Be quick to apply for a popular job. Make sure that you sign up to job alerts on apps and websites. You need to apply as quickly as possible for some roles as they will be filled incredibly quickly. Employers won't wait until they accumulate a pool of applicants to choose from. If you are suitable in terms of experience, first come is often first served.
5 Online jobs for teens
Many teens are used to spending a lot of time in front of their devices, so the proliferation of online jobs is not surprising. 
Social media management
I won't be the person to say that a career as an Instagram star is a viable option for a teen. Let's face it, only a tiny percentage of teens make it as an influencer, but there is plenty more manual work in social media for corporate clients that can be done by a teenager. 
Help manage their social feeds, engage with followers and get creative with some posts of your own. Not everything can be automated, so this is a perfect activity for a teen.
Website designer
There are many website builders that are simple enough to learn for a teenager, but as many small business owners are not at all web savvy, building, designing and maintaining websites is a useful skill to possess. Ability in basic coding does help but isn't essential.
Teen website designers can find work via specialist gig work job sites or do a bit of business development themselves on social media. An excellent introduction to the world of work.
Data entry
Data entry is an activity that is typically for older teens as there can be serious consequences in the event of errors. Depending on the nature of the data entry and the industry of the employer, it can pay well. 
You need to have an incredible head for detail and an impressive word-per-minute typing speed. A data entry job is fine in terms of income, but it won't teach any people skills that may be required at the start of a career.
Customer service
Everyone likes to deal with a real person and while certain customer service issues will be left to older employees, there are plenty of companies that offer basic services that can be managed by teenagers. 
You may need to be 16+ in many countries, but if you have a good internet connection, a quality headset and a calm phone manner you are good to go. Customer service roles can teach teenagers many important business skills.
Completing surveys & watching ads
Being paid to complete surveys and watch ads online can be slightly soul destroying, but if a teenager wants to earn some fast cash on their mobile devices without having to engage their brain, then this is a viable option. 
Again, the online advertising industry is getting savvy to the involvement of AI bots, so this is a common activity for teenagers who want a little extra pocket money and can do it from anywhere they like.
Expert tip
Be aware of age limitations. Some of the jobs in this article will not be available until you are over 15 in the United States because younger teens can only work 3 hours a day. This may vary for other countries, and it is worth checking.
5 Summer jobs for teenagers
While vacations and fun with their friends are top of teens' priority list, many spend the summers earning money for their various needs.
Camp counselor
Helping out with younger children at a holiday camp is incredibly varied and usually a rite of passage for many teens. Their "time off" can be spent having fun with the other counselors and they learn a lot about teamwork, communication skills and being responsible.
Camp counselors play an important role in maintaining the camp - this is physical work, so a decent level of fitness is important. Teens want to get involved wherever possible.
Carnival, fair or amusement park worker
The second-best thing after going to an amusement park is working in an amusement park. Sure, many of the roles open to teenagers are repetitive and simple affairs, but you get to see the smiles and hear the whoops of the visitors all day. You get to relive your early childhood.
Enthusiastic attitudes and perma-smiles are mandatory, which can become tiring if you are having other issues in your life. This job is perfect for the bright and breezy optimistic types.
Lifeguard
Working as a lifeguard at a beach, swimming pool or aquatic center is only for those who are excellent swimmers, and you also need to pass various qualifications (depending on the country). Young lives are in your hands, so vigilance is paramount.
Lifeguarding is one of the most impressive jobs for teens for a future employer as you have to be alert all day, have to deal with difficult situations and are trusted to do your job.
Tour guide
There are plenty of tourist attractions that need plenty of assistance and that don't require qualifications. You might be assisting cars to park, running the candy concession, directing visitors around a maze or advising visitors about the best things to do.
Tour guides are there to maximize the enjoyment of visitors, so they should be engaging communicators and customer-centric problem solvers. 
Fruit picking
This is back-breaking work, but there are many worse jobs than spending a summer or two out in the fields picking fruit. Different fruits become ripe through the summer season, so you can literally take your pick. Of course, you need to live near a farm or two.
The pay for fruit picking is typically low, but if fitness is important to you, it is one of those roles where you can challenge yourself physically. The more you pick, the more you earn.
Expert tip
I haven't got a resume, but do I need to write a cover letter? You might not have the experience to create a resume, but definitely do write a motivational cover letter that outlines why you want the role and what you can bring. It forms the start of a conversation.
5 Sports jobs for teens
For the sporty teen, moving into a supportive role within a sports environment is a common next step and excellent way of earning a little money. They can share their experience.
Junior coaching
Most teens will have long lost their desire to be a pro sports player, but while they might still play the sport on the weekend with their friends, another option of earning some money is to study for basic coaching qualifications.
Teens are involved as assistant coaches in every type of junior sport. They may do a little coaching themselves, but their participation is usually mostly organizational.
Junior umpiring
Professional umpires will not get paid a lot for umpiring junior sports and there are not always a lot of volunteers, so gaining umpiring qualifications to work with the youngest participants is also a great way of remaining involved with a sport that you love.
Teenage junior umpires should be ready to mediate conflicts, make difficult decisions and take the inevitable abuse with an understanding attitude. They will need a thick skin.
Golf caddy
Many jobs for teens involved working alongside adults, but the role of a golf caddy is fascinating. You get to carry the bag for an adult, telling them about the nuances of the course, but you also get to chat with them at a casual level.
Golf caddies need to be fit, but they should also be great listeners and conversationalists. People play golf to let off steam - mentally and physically. Sometimes it is good to chat.
Merchandise sales
Working as a cashier at a stadium or in the food or merchandise concessions is a stable job for someone who wants to work on the weekend. Students can provide a flexible workforce for the bigger games and many work for their sports team throughout their school years.
Working in a sales assistant capacity is a great job for a teenager. The work is not overly complicated, but there is much responsibility involved.
Junior fitness instructor
Junior fitness sessions with younger children have become popular in recent years. Parents of a 7-year-old may not want them being coached by an adult and might consider that they will have more fun with a coach who is nearer their age.
Teenage junior instructors can make fitness fun and have the energy and enthusiasm to make their fitness classes fizz. This is a particularly popular role in summer camps.
Expert tip
Practice your soft skills. Jobs for teens are the perfect place to practice the soft skills that will come in so useful in their first "proper" jobs after their further education.  You undoubtedly have so much to share, so go ahead and build your resume with one of our a resume templates!