A century ago, you would have had a guaranteed job if you knew how to use one of those new-fangled "typewriters." Forty years ago, typists were being replaced by "word processors" who knew how to use an IBM PC or even an Apple IIe. Today, data entry specialists have long replaced both of the above. But since it's not the 1920s anymore, you're going to need a modern data entry specialist resume to get a job turning obsolete chicken scratch into usable information in modern computing systems.
In this data entry specialist writing guide and its copyable resume examples, we'll type up the following:
What does a data entry specialist do?
How to write a data entry specialist resume
The five parts of a successful resume
The right resume format for a data entry specialist
Expert tip
Resume.io is one of the world's leading providers of resources for job seekers of all kinds, offering 300+ resume examples and writing guides for almost every occupation. So if you're looking to create a perfect resume for your occupation, you've come to the right place.
What does a data entry specialist do?
Data entry specialists can type "The quick brown fox jumps over the lazy dog" (using every letter in the alphabet) in 2-3 seconds with their eyes closed. But beyond this parlor trick, they are experts at turning words, numbers and symbols into data that can be scanned, crunched, sorted and analyzed by modern computer systems. 
Sometimes the task is as simple as turning handwritten notes into digital text. Sometimes data entry specialists do the same for audio recordings – for example, a doctor's tape-recorded voice notes, or an audio/video recording that needs to be in a readable format. 
How to write a data entry specialist resume
As a data entry specialist, your end product is text, so you need to showcase your skills in your resume by producing a flawless piece of writing. Your resume should generally be one page only, and you're allowed exactly zero mistakes. 
Your resume should consist of the following five components, no more and no less:
Header
Summary/profile
Employment history
Education
Skills
In the header, at the top of your resume, list the following contact info: name, occupation, address, phone number, email and perhaps a LinkedIn profile.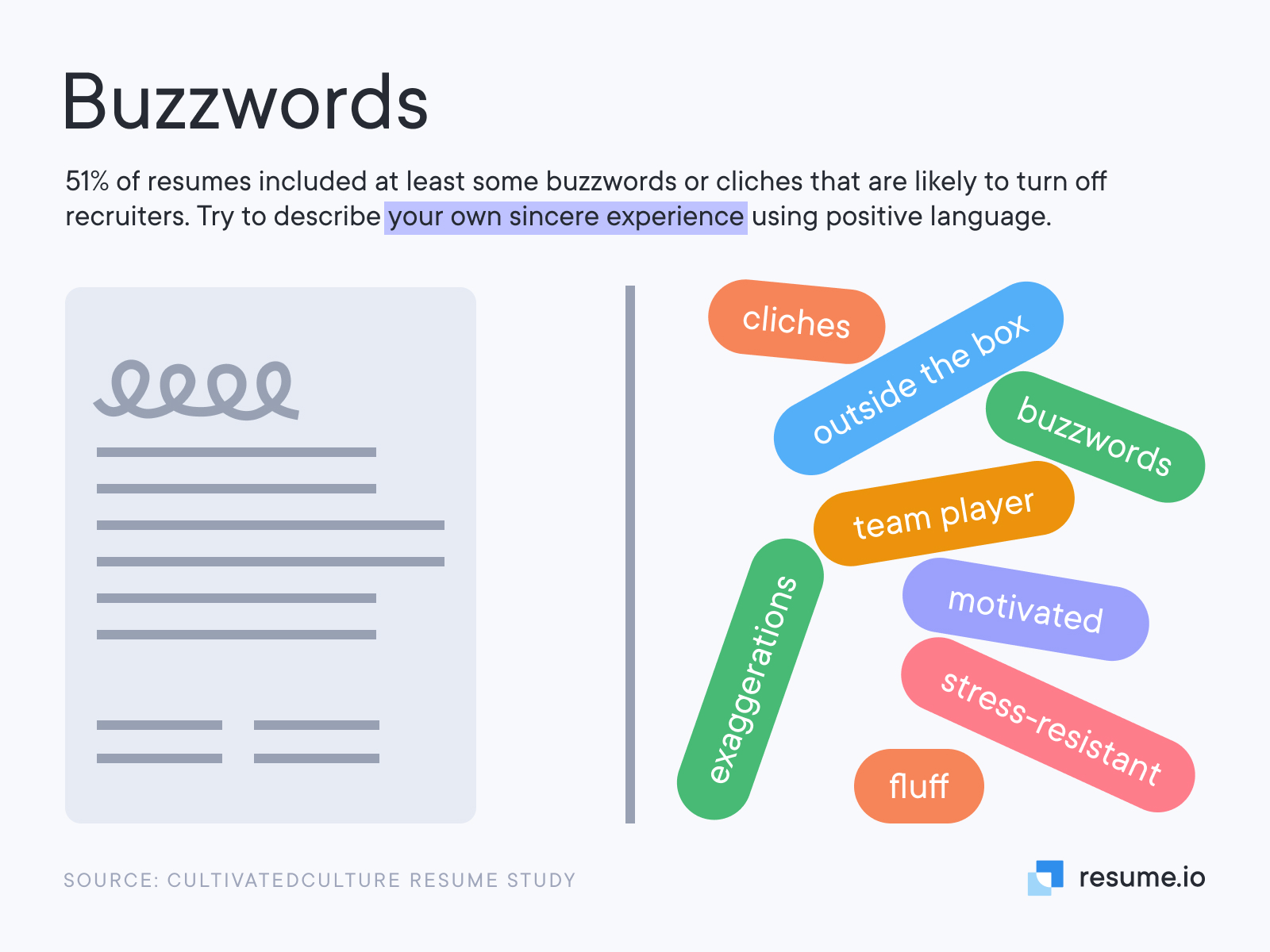 How to choose the best resume format for data entry specialists
Data entry specialists with at least some previous experience are most likely to benefit from a reverse chronological resume format. That's because this format centers around an employment history section where you're able to showcase your skills and experience. If you don't have much to highlight, then you may consider reading more about one of the alternative resume formats we suggest like the hybrid or reverse chronological models.
To find out how to create the rest, read on.
Resume summary example
The resume summary, also known as a profile, uses compelling language to describe your qualifications for the job you're seeking. If you have a lot of work experience, focus on that, or if you're a newcomer to this field, emphasize your education, training and skills. Check out the summary from our adaptable resume sample below.
Adaptable resume summary example
Highly skilled and dynamic data entry specialist with 6+ years of experience working with data entry systems to support and enhance business processes. Adept in maintaining organized filing systems by entering, reviewing and editing data to ensure completeness and accuracy. Experienced in Microsoft Excel and QuickBooks.
Employment history sample
Use this section to list up to 10 years of relevant employment history. In the bullet points below each job, use facts and figures where possible, and be specific. Use the employment history section of a data entry specialist resume sample below as a model.
Adaptable resume employment history example
Data Entry Specialist, Litchfield Movers Inc. New York
Apr 2018 - Jan 2022
Created and maintained customer logs and book-keeping spreadsheets.
Entered and reviewed data updates in the system to ensure accuracy.
Prepared and organized documents for data entry.
Corrected and verified data from several different sources.
Filed information into spreadsheets and databases according to instructions.
Audited 5+ reports and spreadsheets monthly.
Maintained the confidentiality and security of all data.
Accurately reviewed and processed electronic files via software applications such as Microsoft Excel and Adobe Acrobat.  
 

Data Entry Specialist, HHS Group, New York
Jun 2015 - Mar 2018
Worked to help maintain organizational procedures for the membership and fundraising database.
Managed and coded hundreds of incoming electronic documents.
Collaborated with staff to review weekly data files for outgoing communications.
Adjusted and processed donations, records and files as needed.
Processed notes and feedback and entered appropriate data into the membership and fundraising database.
Assisted with office projects and other duties as needed.
Data entry specialist resume education example
You don't need an advanced degree to be a data entry specialist, but you should tout whatever education you have. List your education credentials here in reverse chronological order, starting with your highest degree, and include any certifications or special credentials you hold. Here's the education section from our data entry specialist resume example.
Adaptable resume education example
Mercy College, Associate of Arts in Communications, New York
Sep 2014 - May 2016
CV skills example
Be sure to include a list of your job-related skills in this CV section. These should include hard skills, like your typing speed or your knowledge of relevant software, and also soft skills, like communication, efficiency and organization. Here is the skills section from our resume sample.
Adaptable resume skills section example
Touch Typing
Database Management
Agile Project Management
Coding Expert Administrative Support
Inventory Management
Cloud-based Systems
Communication Skills
Resume layout and design
In order to instill confidence in the hiring manager and make a great first impression, you'll need to create a professional layout and design. Make sure to leave enough white space to keep the page easy to read. You should also stick with the same 1-2 font styles throughout your resume and create a header that highlights your name and contact information. Get a head start with an expertly-designed resume template.
Key takeaways for a data entry specialist resume
Create a summary that highlights your most noteworthy experience and skills.
Use action verbs, concrete information, numbers and statistics to show the impact you can have in the employment history section.
Check out our data entry specialist resume sample for more ideas on creating a great header.
Best of luck in your search for the data entry specialist job that works for you!