As a medical administrative assistant, you're the face of the medical practice. That means greeting patients with a smile and an air of competence. But that's just where your job begins. As you begin your search for your next job opportunity, you need to project both the friendliness and efficiency your role requires. How do you do that? With a carefully-crafted medical administrative resume.
Resume.io will guide you through your job hunt with powerful resources for job seekers including guides and resume examples for 300+ professions. We'll help you stand apart from other applicants with a medical administrative assistant resume that gets you noticed.
This guide, along with the corresponding medical administrative assistant resume example, will cover the following topics:
What does a medical administrative assistant do?
The content of each medical administrative assistant resume section
The best format for a medical administrative assistant resume
Professional resume layout and design hints.
What does a medical administrative assistant do?
Medical administrative assistants perform the day-to-day office functions of a medical practice in physicians' offices, hospitals and other healthcare environments. They are the interface with patients when they schedule appointments and the first face a patient sees when they arrive for their appointment. But medical administrative assistants do much more than provide a pleasant waiting room experience. They also:
File insurance claims
Check patients personal information to ensure it is up-to-date
Compile medical records and charts
Pass lab results to the appropriate medical professional
Statistical insight
Healthcare professions are high-growth opportunities and medical administrative assistants are no exception. The need for this entry-level role is expected to grow 18% in the next decade, the U.S. Bureau of Labor Statistics predicts.
How to write a medical administrative assistant resume
You want that interview, so make it easy on recruiters by using a standard format in your medical administrative assistant resume. That means creating the following elements:
The resume header
The resume summary (aka profile or personal statement)
The employment history section
The resume skills section
The education section
Expert tip
Account for the ATS
Did you know that your job application may never be seen by a person no matter how hard you work on it? That's because when you apply online human resources departments are employing applicant tracking systems (ATS) to sort and rank resumes. 
The ATS scans for the keywords and phrases that are important to your future employer. Your medical admin assistant resume needs to take this into account by reviewing the job listing and personalizing the language to match that employer's needs.
Choosing the best resume format for a medical admin assistant
Keep your application straightforward here with the reverse chronological order resume format. Why? Because it allows recruiters to find the information they seek quickly.  Listing your most recent position first and working your way back is favored by recruiters and the ATS.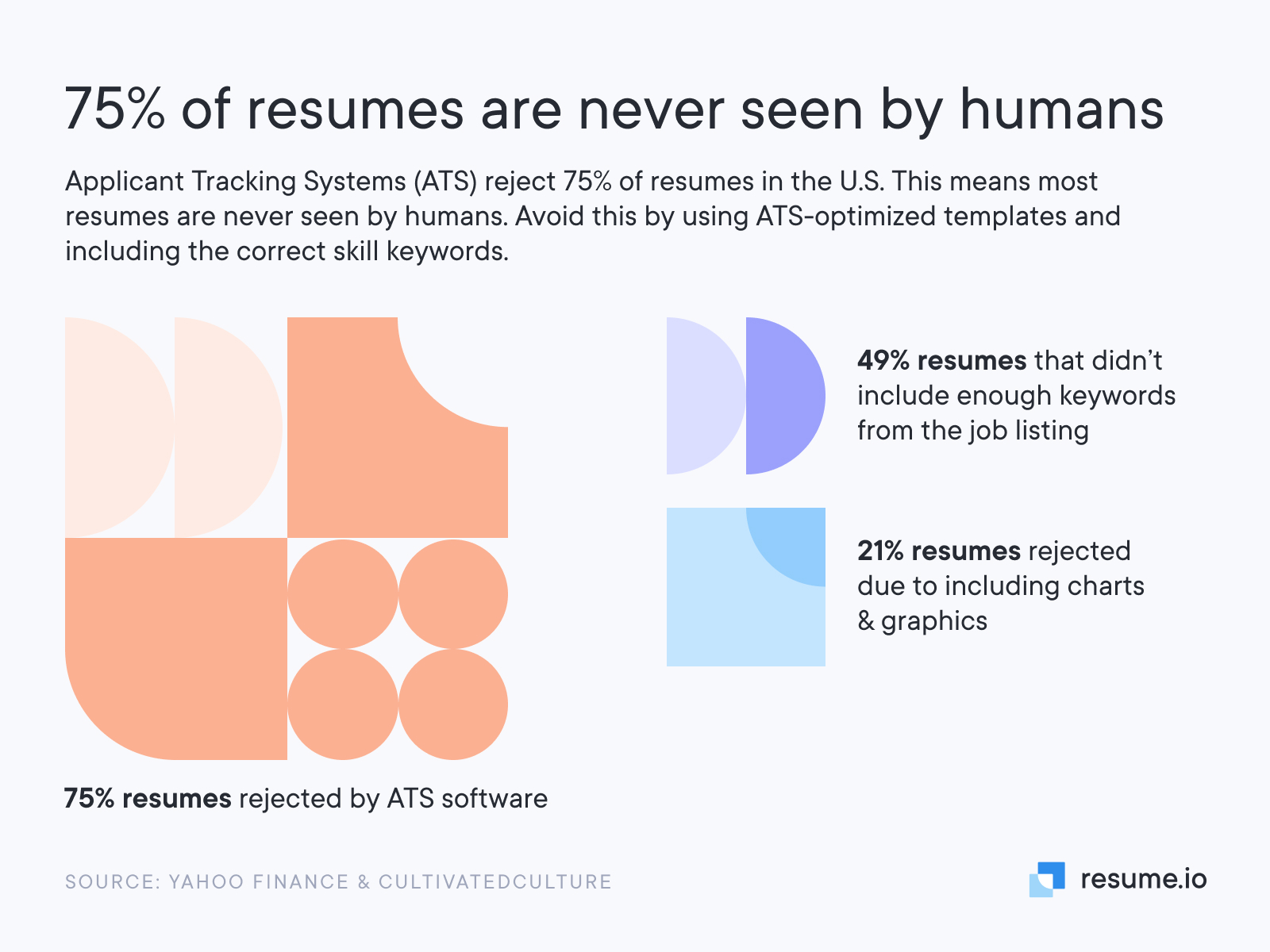 If you're new to the job market or have had a more winding career path, you can check out the resume formats we suggest as chronological alternatives or hybrids.
Resume summary example: friendly introduction
Your summary, also called the profile, shows off who you are, how you approach your work, and your career highlights — all in 3-4 lines. Use strong, descriptive language to define your professional personality and tell the recruiter in no uncertain terms why they should hire you. Adopt a tone that matches that of the environment you're targeting (an oncology practice will have a different tone from a pediatric office, for example) and remember to insert words that will help you get past the ATS. 
See the resume example text below for summary ideas.
Adaptable resume summary example
Hardworking and detail-oriented medical administrative assistant adept in providing optimal administrative and clerical support in busy medical office settings. Committed to ensuring exceptional office organization and maximized efficiency by performing all administrative and specialized tasks in a timely and professional manner.
Employment history sample: chart your growth
The employment history section of your medical administrative assistant resume is the nuts and bolts of your document. It is here that you impress by detailing the successes you have had in your career. Begin each bullet item with a strong action word followed by your actions and what you achieved.
If you are new to the job market, consider moving this section down to highlight demonstrable skills.
See resume sample content below for ideas on your employment history.
Adaptable resume employment history example
Medical Administrative Assistant, Bellemore Medical Group, New York 
July 2017 - January 2022 
Worked to optimize and streamline administrative processes to ensure the smooth operations of a medical group with over 5,000 patients.
Collaborated with office staff to better support patients and their needs, leading to 5 percent jump in patient satisfaction rates in my first year.
Assisted with appointment scheduling, rescheduling and follow-up arrangements.
Coordinated tests, procedures and lab appointments for patients.
Attended meetings as required by management and offered ideas and solutions to enhance administrative procedures.

Medical Receptionist, Caremount Medical Group, New York 
January 2015 - June 2017 
Provided exceptional secretarial and clinical support to physicians and surgeons in a respected audiology office.
Scheduled appointments and triaged appointment requests.
Worked closely with other staff members to ensure the ultimate patient experience and achieve high satisfaction scores.
Provided attention to patients in a manner that fostered confidence, trust and loyalty.
CV skills example: highlight your competencies
This listing of 4-7 top skills on your CV gives recruiters a quick sense of what you bring to the table. Make sure you are customizing this list with the skills your prospective employer wants. This will give you an edge in beating the ATS and show that you are not submitting the same CV to every job. Check out the skills section from our resume example below.
Adaptable resume skills section example
Detail Oriented
Data Entry
Effective Time Management
Medical Terminology
Medical Billing and Coding
Administrative Skills
Knowledge of Office Technology
Expert tip
What if this is your first job?
Good for you for jumping into the job market! You have a lot of skills even if you have not had a full-time job before. Remember that recruiters know they are hiring for an entry-level position and don't expect you to be a seasoned veteran.
Focus on soft skills such as organization, time management, and leadership which you can demonstrate through part-time work or experiences you had in school or extracurricular activities.
Medical admin assistant resume education example
As this is an entry-level position, your high school diploma will suffice in the education section. If you have taken any business administration classes, make note of them here. Some practices may require an associate's degree or postsecondary certification. If you have earned either, this is the place to list them.
Below you will find an education resume sample as a formatting guide.
Adaptable resume education example
Bachelor of Arts in Communications, Manhattan College, New York
September 2010 — May 2014
Resume layout and design: the look of success
You will be the face of the medical practice, so the layout and design of your resume really count. Start off on the right foot with a clean, professional design. Leave ample white space for easy reading and create standout contact information and section headings. Most importantly, keep your application error-free.
Expert tip
Consider using a professionally-designed resume template to minimize time-consuming formatting tasks.
Key takeaways for a medical administrative assistant resume
As the face of the medical practice, you need to show your positive personality throughout your resume
Take the ATS into account in each section of your document
Check out our medical administrative assistant resume sample for more ideas on creating a great page layout.