Always wanted to work in medicine? Enjoy helping others? Starting out as a medical receptionist is just the job for you.  If you're not quite sure where to begin, we have just the advice and tools for creating a winning medical receptionist resume.
One way to decide whether you want to enter the healthcare industry as a specialist is to start out as a medical receptionist. It may be easier to get started than you think. Working as a medical receptionist can also be a great way to specialize if you already have experience as an office receptionist. "Can I really work with patients?" you may ask. Of course —and a great resume will help you get there.
Resume.io is here to help you stand out from the crowd with a job-winning medical receptionist resume. As a leading international source of HR advice, we've developed more than 300 occupation-specific resume guides and resume samples designed to position professionals for their next career move.
This guide, along with the corresponding medical receptionist resume example, will show you how to:
Create a medical receptionist resume that reflects your understanding of the industry and work environment
Determine the best resume format to structure your medical receptionist resume
Tailor the style and tone of your resume to get the attention of hiring professionals while first making it past the applicant tracking system filter
Optimize the impact of each resume section: header, summary, work history, education and skills
Apply resume layout and design hints to showcase your attributes as an outstanding medical receptionist candidate.
Remember, your first step to success is getting your foot in the job interview door.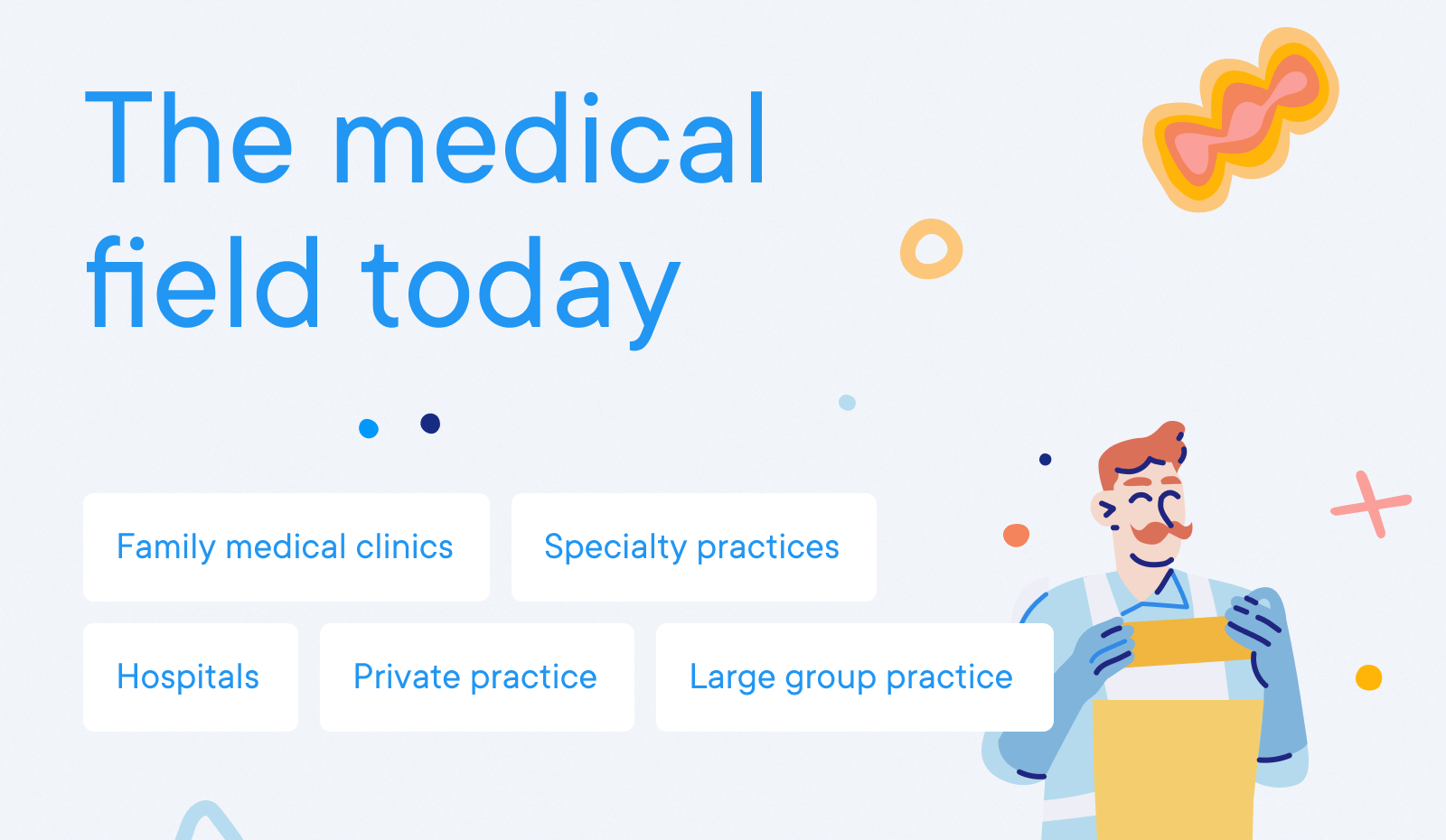 What does a medical receptionist do?
A medical receptionist is the face of the care-giving environment. As a medical receptionist, you will set the emotional tone for the practice's atmosphere. You are the friendly voice on the phone, the efficient appointment setter, the ear for frustrations and worries. 
The medical field today
A number of different types of medical facilities provide patient care, including these common ones.
Family medical clinics: General practitioners in these clinics are usually the primary medical care provider to patients of all ages. 
Specialty practices: Doctors in these facilities practice certain medical speciality, such as dermatology or cardiology.
Hospitals: Receptionists may be stationed at the main entrance or within different departments of the hospital.
Private practice: Physicians in private practice work individually or in a small group.
Large group practice: These are run by large healthcare businesses, with physicians practicing the same specialty or offering different expertise.
All of these healthcare settings rely on medical receptionists with a  personable and professional demeanor. Your knowledge of the different types of centers and services each provides will help give your job search direction and focus, so you can customize every job application accordingly. 
If you are set on a medical receptionist career, you have chosen wisely. According to the U.S. Bureau of Labor Statistics, employment in healthcare occupations of all types will grow by 15 percent between 2019 and 2029. With the rising need for healthcare in general, the demand for receptionists is also likely to grow. That makes medical reception a better bet than office reception, which is expected to grow at the rate of 5 percent a year. 
The opportunities are out there, but you must know how to get past the obstacles to reach your goal of working in the right environment for you.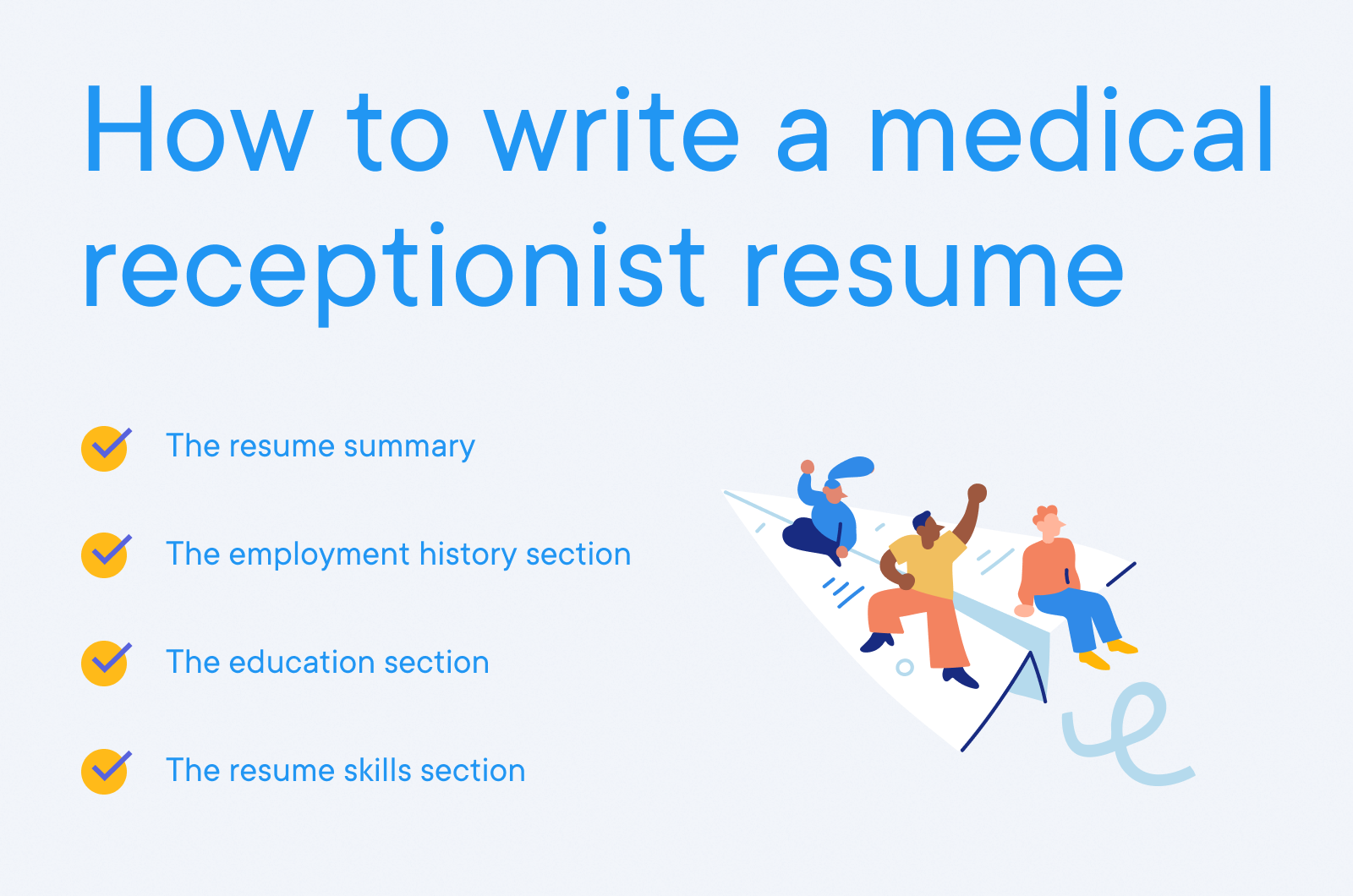 How to write a medical receptionist resume
The very first step in writing your medical receptionist resume is understanding what sections to include. Your CV should contain the following elements:
The resume summary (also called profile or personal statement)
The employment history section
The education section
The resume skills section
What a successful medical receptionist resume has in common with any other selling medium is that the style, tone and message should be geared to the person you are communicating with. In this instance it's a hiring manager representing the medical facility, perhaps an office or clinic manager, hospital administrator or HR department, or a recruiting agency.
Investigate everything you can about the job you are applying for: the place and the people. Especially try to put a name and a face to the hiring manager, and whoever will be your boss if it's not the same person. Write your resume as if you are answering interview questions that haven't been asked yet. Who knows? It could open the door to an actual interview that finds you steps ahead of other candidates.
Expert tip
It's vitally important that your medical receptionist resume plays to applicant tracking systems (ATS). This refers to software that many employers today use to screen resumes submitted online. Recruiters and hiring staff can be overwhelmed by the large number of applications for each posted job. ATS algorithms narrow the field by scanning resumes for specific keywords and culling those that fall short when ranked against other applications. Sadly, this may mean that no matter how qualified you are for a job, your resume never gets past the "bots" and is eliminated before without being reviewed by any human eyes.
Choosing the best resume format for a medical receptionist
The most commonly used chronological resume format works well for job seekers in almost any occupation, particularly if their work history has followed a linear path in a series of employee positions. In that resume section, progressive job experience and accomplishments are organized by employer / workplace in reverse order from most recent to earliest dates. It would likely be a good fit for most medical receptionist job applicants who already have experience in this field or have other kinds of office or administrative support background.
Alternative resume formats are sometimes appropriate for those new to the workforce or changing careers, or those with a more varied occupational background. That includes some self-employed professionals with a project-based background well suited to a functional resume format. Other functional resumes emphasize specialized technical s
Resume summary example: Make it shine
Personality plays a big part in a medical receptionist's job, and this is the one spot to show it. Distinguish yourself from the crowd with a great summary! These two short thoughts may be the key to your success. Here's where you get to show who you are and why you'll make a perfect medical receptionist. You always want to sound professional, but injecting a little personality, especially since you're the face of the practice, is a sound idea. Use active verbs and descriptive language. You don't have to be worried about facing a blank page, because this guide and resume builder will lead you through the process of writing a great summary.
Poor: I like talking to patients. Great: Excellent at communication with patients, emotionally open, compassionate yet efficient. Not every resume includes a summary, and opinions are divided on their value, but here are a few reasons to seriously consider one:
Summaries can be easily tailored to each job by changing the emphasis, adding, or deleting a skill.
If you are early in your career, or a career-changer, you can use the summary to convince an employer you are right for the job.
If you can insert some ATS keywords while telling your dream employer who you are, more power to you!
Here's a medical receptionist resume example summary that you can adapt:
Experienced Medical Receptionist adept in providing excellent administrative and clerical support in high volume medical offices. Skilled in maintaining schedules, making appointments, taking messages, and treating patients with care and respect. Bringing forth the ability to manage front desk settings with organization and a sense of calm. Eager to join a new medical office where I can utilize my skills to help others.
Keywords and Word Clouds
Another factor, aside from adding some color and personality to your summary, is custom-tailoring this professional story to the job listing for which you're applying. While it's a good idea to have a general purpose template of your summary, you should always make your resume razor-sharp for a specific position when trying to land an interview. So, look through the advertised job requirements, and the language and frequently used words of job descriptions to increase your chances. 
Job listings may be written in jargon or confusing language. Conversely, they may not offer much in the way of specifics. One method to clarify what your potential employer wants is to plug the listing into Wordle.com or Worditout.com. These services create word clouds that will instantly tell you which words are used most frequently. Then, tailor your resume to prominently include those words.
Word clouds help you clarify which words ATS systems are searching for. The bigger the word in the cloud image, the more likely it is your potential employer has programmed the ATS to highlight it. Therefore, it is in your best interest to use those words in your resume. Remember, you must get past the ATS if you want a person to see your resume.. As the summary is a broader overview of your professional character, it should lightly touch upon your most important achievements, work-related milestones and qualities. 
Employment history sample: Organize for success
This is the core of your resume. Make sure it's easy to read and highlights all your career accomplishments. Most resumes list jobs in reverse chronological order, in other words, from most recent to oldest, and this is what we recommend. You may want to consider other methods if your relevant experience is older or if you are just beginning your career. Add extra sections such as courses or certifications only if you have extra space to fill in. Your priorities should be your summary, employment history, and achievements.
Expert tip
Human resource departments review resumes to screen out applicants who do not meet the basic requirements for a position. Although many use an ATS, they may still screen each application manually. Make sure your resume fits the requirements of the job, or explains why you are a good candidate even with a missing requirement.
Experience that fits the job
Remember that you are the first point of contact in your office. Employers will be looking for someone who can represent them well. Your resume must make clear that you fit the bill. You do not have room for self-expression within the employment history section, but make sure your experience fits the job. Each listing should highlight your professional demeanor, technology and interpersonal office skills.
Statistical insight
The median U.S. salary for a receptionist in May 2020 was $14.96 hourly, $31,110 annually, according to the Bureau of Labor Statistics. Growth in the healthcare industry overall makes it a great bet for landing a job as a medical receptionist. .
Think about the important skills this guide has already listed. Using bullet points and active verbs, list achievements that highlight these skills in your descriptions even if the job does not seem directly related to medical reception.
Focus on achievements instead of listing skills. Hard data is always a plus
Leave out duties that don't apply to medical reception. You do not need to list everything you accomplished at every job. Be selective. Be deliberate in ordering your bullet points. Put your most impressive accomplishments first, where they are more likely to catch a recruiter's eye. Consider using the CAR format to describe the: Challenge you took on, Action you took, and Results. For example, if you streamlined a process or developed a new system in one of your past jobs this is a great way to show off your achievement. 
Expert tip
Medical receptionist is a great first job. Because of that, you may not have a lot of experience to list. Use your high school job, if you had one, or any club members or school activities that show your achievements.
Not sure what experience is helpful? Have you been in a customer service role in a non-medical industry? Consider your achievements. Customer service is a huge part of a medical receptionist's work. Here are a few description examples: 
OK: Scheduled appointments with patients over the phone and in person.
Good: Increased appointment scheduling efficiency and patient satisfaction by developing methodical call scripts..
Great: Reduced time to schedule appointments by 25% and patient wait time by 15%.
Here's a medical receptionist employment history resume sample you can adapt:
 
Greeted patients and provided them with information and assistance.
Handled calls, collected personal information, and created appointments.
Utilized booking systems and handled correspondence between patients and doctors.
Instructed patients to perform certain tasks prior to being seen.
Distributed and collected patient forms to be filed.Managed office mail, payroll distribution, and the physical setting of the front office.
Expert tip
O*NET lists the following as common medical software: GE Healthcare Centricity EMR; Kodak Dental Systems Kodak SOFTDENT Practice management software PMS; McKesson Lytec; Medical condition coding software.
Medical receptionist education example
Show what you know. You've learned a lot; here is where you make it work for you. Medical receptionists do not need more than a high school diploma, but if you have any post-secondary classes or degrees, great! 
You can stand out from the crowd if you've had any training in medical terminology, health careers classes, or computer technology. Make sure you list these classes in your education section and keep your list easy-to-read.
The academic entry bar for medical receptionists is a high school diploma. While that may be the case, you need to lift your application above those who meet only this qualification. Ask yourself the following questions:
Did you take an anatomy course in high school?
Did you take any other course that included medical terminology, such as a health careers class?
Did you take a class that required you to use word processing software or spreadsheets?

These are two more valuable skills.
Expert tip
You can also increase your desirability as a medical professional by taking classes in medical billing and coding or even basic business classes. Some schools offer a certificate for medical receptionists, but it is not a requirement for the job. Add skills by taking healthcare-specific courses.
You can list any courses you have taken in your summary, or create a separate section in your resume for honors, scholarships and certificates. Especially if you are fresh out of school, these accolades will give you a boost. 
Here's an education section from a medical receptionist resume example:
2005-2009 Molloy College, Bachelor of Communications Denver, CO
2001-2005 Denver High School, High School Diploma Denver, CO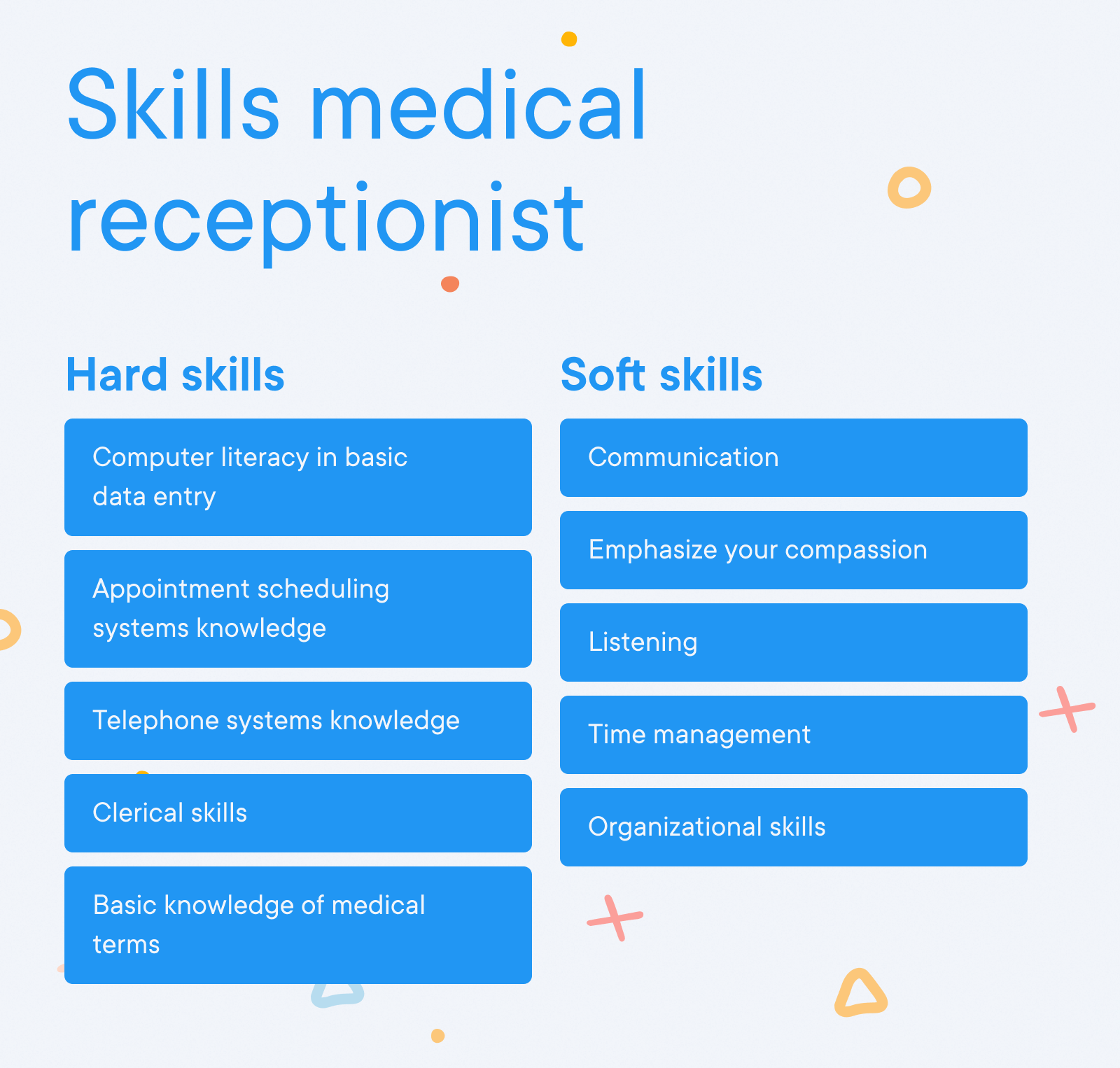 CV skills example section: Your professional instruments
Skills are one of the most important aspects of your resume. This is how recruiters and ATS evaluate your core work qualities. A medical receptionist needs a key set of skills that align with two different categories: hard skills and soft skills. Hard skills are technology or industry-specific skills such as software expertise or an understanding of medical terminology. Soft skills are people skills. These are very important for a professional who will be the first point of contact for patients. Empathy for those who may be ill or worried about their health or the health of a loved one can result in better health outcomes for patients, according to the U.S. Agency for Healthcare Research and Quality. 
Expert tip
Think of both hard skills such as computer software knowledge, and soft skills, such as empathy and communication, when crafting your resume to include both.
Hard Skills
So what are the top hard skills employers seek in a medical receptionist? A scan of the specific job listings that catch your interest will help you prioritize, but here are skills that appear almost all the time:
Computer literacy in basic data entry and word processing software and the ability to learn how to use a new system
Appointment scheduling systems knowledge
Telephone systems knowledge
Clerical skills such as preparing charts and filing
Basic knowledge of medical terms
Some medical practices also ask receptionists to:
Collect copays or payments
Verify insurance information
Enter charges and/or process billing
Soft Skills
Soft skills are just as important in this professional role. 
Expert tip
A resume is a great place to show off your communication and organizational skills by keeping it clear, concise, and readable. 
The number one soft skill required by employers for medical receptionists is communication; it is far and away the most commonly listed soft skill. But what does this entail and how do you highlight your communication skills? 
It's easier than you think. Patients may be worried, impatient, in discomfort or suffering pain. They may be angry about wait time or a bill. Emphasize your compassion and ability to stay calm and pleasant under trying circumstances. Mention your clear and soothing telephone voice. Highlight your ability to attend to multiple patients in a brisk yet friendly manner. 
Coworkers, doctors, and staff require you to accurately communicate information patients have given. You may also be asked to relay information to patients from a staff member. You probably exhibited this skill when you completed a group project at work or school. Listening is part of communicating. Consider adding this skill to your resume as well. You will frequently hear medical terms. Highlight your knowledge of these terms; that skill makes you a better communicator. Time management ranks high on the list of required soft skills as well. You must be able to work in a busy office with multiple patients and staff members and get everything done in a timely fashion.
This leads to organizational skills. Keeping doctors' schedules correctly, routing patient messages, and attending to any tasks required by other staff members requires a consistent process. Remember that the Applicant Tracking System is analyzing your resume for keywords and phrases that raise your candidate score and give you a better chance of making it past the initial screening. To enhance your chances, focus on the job listing. What skills does it mention? Make sure you add those keywords to your summary. If all this seems daunting, never fear! 
Our basic adaptable example is a great starting point.
Multitasking Skills
Organizational Skills
Customer Service Skills
Bookkeeping Skills
Scheduling
Clerical Skills
Motivated Attitude
Resume layout and design: The look of a winner
Add a creative touch, but keep it clean and professional. Your resume is not the place to show off your love of mixing fonts or creative text placement. Remember, you have very little time to make your case, so a clean, bug-free presentation is essential. 

Our resume builder offers proven layout options to ensure that your resume will move smoothly past the problems others encounter. It's designed to be used alongside our professionally made and recruiter-tested templates. 

Formatting errors can prevent an ATS from picking up vital information from your resume. Once you pass muster with the ATS, you have 6 seconds to impress a recruiter or HR employee. Six seconds!
The right design for you
No matter how brilliant your summary and experience are, no matter how perfect you are for the job, if your resume looks unprofessional or confusing, you don't stand a chance. A medical receptionist is expected to be warm and friendly, yet efficient. Your resume's design should be too. That means organized with a personal touch, perhaps a splash of color or your picture.
Key takeaways for a medical receptionist resume
Medical reception is a great way to start a health career or change careers.
The healthcare industry is growing, as is the demand for medical professionals.
Analyze job listings to insert keywords that will help you beat Applicant Tracking Systems and get your resume into the hands of a human being.
Once there, you have six seconds to impress.
Write an engaging summary that lets your potential employer know who you are. This is your one chance to inject your personality into your resume.
Describe your career achievements with active verbs and consider using the CAR format. Focus on results.
Think about skills, not about industry sectors. Your experience in another field translates into value as a medical receptionist.
Leverage all your related education by listing high school and post-secondary classes in the healthcare field.
Use our editor tool on your choice of template to add a splash of personality to your resume. Make sure you keep it bug-free, clean and show off your organizational abilities.