It's not like drawing blood. To write a phlebotomist resume, you just need one page, and you can write it in ink.
Resume.io has abundant tips and tools to help you get started, or if you become stuck at any point. We've created well over 350 occupation-specific writing guides with corresponding resume examples. 
What you're reading here is a step-by-step resume writing guide geared specifically to phlebotomists. It incorporates sample wording from a phlebotomist resume you can adapt for your own job search. Here's what we'll cover:
What phlebotomists do and their exceptional employment outlook
The correct framework and best format for your phlebotomist resume
Ensuring each resume section hits the mark — header, profile, work history, education and skills
Layout and design advice so your resume looks as good as it reads
What does a phlebotomist do?
While certain common phobias about blood and needles are not their fault, phlebotomists can take credit for calming untold numbers of jittery patients presenting lab test requisitions for blood samples. It's all in a day's work hearing some of those patients concede afterwards, in mid-exhale, "That wasn't so bad" or "I didn't feel anything." Clearly, there's an art to go with the science of phlebotomy.
Whether it's a youngster whose mom's anxiety proves unwarranted, or a burly dude with tattoo-covered arms trembling in fear, phlebotomists do their utmost to put everyone rolling up their sleeves at ease, sometimes just by explaining what to expect. They must also be watchful for adverse reactions.
In addition to drawing blood for medical lab testing, some phlebotomists perform the same function for transfusions, research, or blood donations. Their training enables them to work in diverse healthcare settings, including hospitals, medical and diagnostic laboratories, ambulatory and outpatient care sites, and physician offices. Some phlebotomists are employed in long-term care or home care positions. Others collect blood samples from life or health insurance applicants to determine their eligibility for coverage.
Job market and outlook
The U.S. Bureau of Labor Statistics (BLS) projects a staggering 22% employment growth rate for phlebotomists between 2020 and 2030, when nearly 29,000 jobs should open up. This surpasses the otherwise dynamic 16% growth expected for other healthcare support occupations. And it significantly outpaces the 8% occupational average growth rate.
Statistical insight
According to the BLS, the median annual income for phlebotomists in May 2021 was $37,380. 
This is slightly higher than what Glassdoor.com reports as the U.S. average salary — $34,321 — and the $35,632 yearly average cited by Payscale.com.
How to write a phlebotomist resume
The clear and simple breakdown of sections for all resumes, regardless of occupation, can make it seem less daunting to get started. Your phlebotomist resume should contain these same components, confined to a single page.
Header
Summary
Employment history section
Education section
Skills section
Before taking a closer look at each part on its own, let's talk about why it's vital to customize a different version of your resume for each specific job application. We'll be reinforcing this in our writing tips later on. 
To determine the right targeted approach, thoroughly scrutinize the advertised job requirements and do additional research about the hiring organization. Here are two reasons why it's highly worthwhile:
Applying for any given phlebotomist position requires a demonstrated understanding of what the employer needs and expects. Speaking directly to those needs and expectations from a "best hire" perspective can be a game-changer. It will be obvious to recruiters that you've made an effort to research the healthcare organization in question, rather than mass-mailing the same cookie-cutter applications to multiple potential employers.
Including enough of the right keywords in your resume will optimize its chances of passing through the applicant tracking systems (ATS) that screen online job applications. These have become commonplace in many larger healthcare organizations, where dozens or hundreds of resumes might be flooding in at any given time, for multiple positions needing to be filled.
Choosing the best resume format for phlebotomists
Unless you lack professional experience because you're new to the workforce or changing careers, the chronological resume format is recommended for phlebotomists. It's the most widely used approach, and also preferred by recruiters for being easy to review. Essentially, the employment history section consists of bullet point highlights for each relevant position you've held, dated in reverse chronological order. 
Other resume formats may be suitable for job seekers wanting to emphasize specialized or transferable skills rather than employers — either a functional resume or the more versatile hybrid (combination) format.
Resume header
The favorable and memorable first impression you make on recruiters begins with your resume header. The extra thought and attention you devote to this key visual detail will not go unnoticed. 
Besides setting you apart from other job candidates as a personal branding element, the header draws readers' eyes to your prominently displayed name, occupation and contact information. The white space offsetting this anchor element creates an eye-pleasing balance that makes the page inviting to read. Then later, when duly impressed hiring managers are ready for the next step, it will be easy to revisit your resume and find what they need to get in touch. 
Expert tip
Double the impact with a matching resume and cover letter pair, featuring the same header and other design elements. It takes no extra effort to make both application documents look like they belong together and — unmistakably — to you.
Resume summary example
This compact, but all-important, resume section is where every word must count in a way that resonates with the hiring manager. Try to form an immediate connection that reflects what you know about the job requirements and the work setting — patient volume, lab capacity, staffing, and relationship with other healthcare professionals. Speak to the employer's hiring needs by conveying how well-qualified you are to meet those needs. Highlight your most impressive professional abilities and personal attributes from a problem-solving standpoint. 
Concise and precise language is the key to a resume summary — sometimes called the profile or personal statement — that commands attention within a constrained space. Descriptive and dynamic action verbs go a long way, as well as ATS-beating keywords.
Below is a phlebotomist resume sample summary you can customize.
Adaptable resume summary example
Nationally certified and highly experienced Phlebotomis skilled in the collection and proper handling of various specimens. Committed to working independently as well as part of a team to maintain the highest level of patient care standards.
Employment history sample
For your work experience highlights to really shine in your employment history section, frame them as accomplishments that benefited your previous employers. Sure, it's probably much easier to come up with a passive list of job duties and responsibilities for each phlebotomist position you've held. But it's not going to convince hiring managers that you have anything special to offer in the way of beneficial outcomes.
Again, zero in on the particular needs of the target healthcare employer. Be specific and selective in describing ways that you've made a positive difference in other phlebotomist or healthcare support roles. Even if it wasn't singlehandedly, but as part of a team, think about improvements you played a part in achieving — cost and time savings, efficiencies and productivity gains. What about great ideas you came up with or helped implement? Use facts and figures to express measurable results if you can.
Below is a phlebotomist employment history resume sample you can modify.
Adaptable resume employment history example
Phlebotomist, Healthworks New York 
Jun 2019 - Aug 2023 
Performed all daily activities of the patient service center accurately.
Confidently and carefully drew blood from patients of all ages.
Collected specimens according to established procedures.
Researched client information and verified all written and electronic orders by utilizing lab technology systems.
Complied with departmental policies, protocols, and procedures.
Assisted with the submission of data when required.
Maintained all phlebotomy logs in a timely and organized manner.
Provided laboratory support information, specimen results, and reports for patients of the nearby hospitals.
Phlebotomist, Nuvolve Health New York 
Sep 2014 - May 2019 
Provided care to patients following established standards and practices.
Drew quality blood samples from patients and prepared specimens for lab testing.
Performed a variety of routine blood draws from patients including venipuncture, heel sticks, and finger sticks using standard equipment.
Collected specimens according to established procedures.
Packed specimens adhering to DOT regulations.
Performed various quality control procedures to maintain compliance with internal and regulatory requirements.
CV skills example
Technical abilities are obviously important on a phlebotomist resume. Be sure the ones you list are an exact match with those specified in the employer's job posting. There's a good chance some of those must-have hard skills will be in sync with keywords too, so take advantage of this ATS-proofing opportunity.
What also belongs prominently on any phlebotomist resume are the innate personal qualities integral to your chair-side manner. Ideally, however, your soft skills are best woven into the employment history section, where they come across as enabling the work achievements you describe. Others can be touched on in the summary. Reserve a place here in the skills section only for those that are not apparent elsewhere in your resume.
Expert tip
MedCerts, an online skills training resource, regards these seven skills as essential to be a successful phlebotomist.
Compassion
Good communication skills
Positive attitude
Work well under pressure
Observation skills
Responsible
Team player mentality
Check out a phlebotomist CV sample for the skills section below.
Adaptable resume skills section example
Venipuncture
Technical Laboratory Skills
Clerical Administration
Accuracy and Attention to Detail
Interpersonal Communication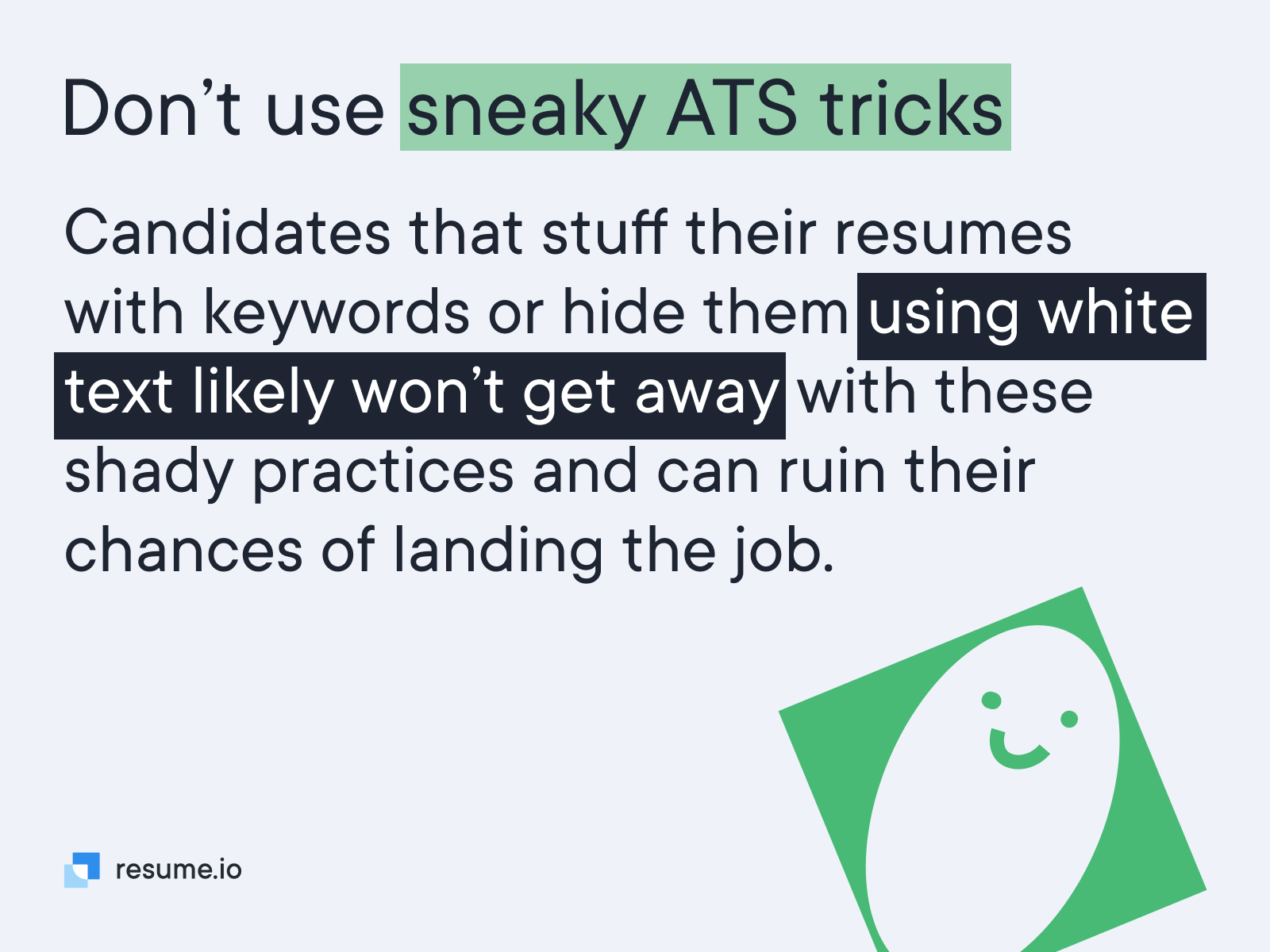 Phlebotomist resume education example
A resume's education section normally lists college degrees and other postsecondary training in reverse chronological order, from highest to lowest level. Although college degrees are not a hiring prerequisite for phlebotomists, any that you do have — especially in a health, science or psychology discipline — are worth mentioning here.
Otherwise, indicate the phlebotomy diploma or certificate training program you completed at a vocational school or community college. Below that, your high school information can be included if you graduated fairly recently, along with your GPA if above 3.0.
Be sure to include any phlebotomy certifications you've obtained, and relevant clinical training. In jurisdictions where a license is required, that information can appear here or in your resume summary.
Below is the education section from a phlebotomist resume you can modify.
Adaptable resume education example
Associate of Science in Biology, Hunter College New York 
Sep 2012 - May 2014
Resume layout and design
Clean, neat, professional and polished will send the right visual message to recruiters about your phlebotomist resume deserving more than a quick glance. That doesn't mean it has to look bland or sterile style-wise. As long as the overall look is organized, uncluttered and inviting to read, you have some leeway when it comes to layout, design and formatting choices. 
Graphic accents and even touches of color are fine if used sparingly with no distracting impact.
Stick to one font for all body text, and possibly one more for header text and titles. Make sure your margins allow enough white space on all sides, and line spacing adds breathing room throughout. 
Expert tip
Why not leave all these design details up to us? Resume.io's field-tested resume templates relieve you of the hassle and guesswork. Just download a style you like after browsing our four design categories. Then it's a snap to customize with your own replacement text using our builder tool.
Key takeaways for a phlebotomist resume
Explosive employment growth in the coming decade will open up an exceptional range of opportunities for phlebotomists. But in no way will this diminish the importance of a superior resume when job moves are being pursued.
However extensive your qualifications, each job application calls for a customized version of your phlebotomist resume, matched precisely to the hiring circumstances and the employer's needs.
Carefully review the advertised job requirements to pinpoint the work experience you should emphasize, and the right keywords for ATS-proofing your resume.
Consider using our adaptable phlebotomist resume sample to help guide you in creating a great page design.