Between the global health crisis and an aging population, there's a shortage of healthcare workers for all the patients needing to be seen, according to the NIH. Licensed Practical Nurses, or LPNs, help fill the gaps by providing the basic care that allows doctors and RNs to treat more people at a time.
LPNs are essential to the healthcare field and can find positions in many different settings. All it takes is a great LPN resume to help you land the interview and get started making a difference in the medical field. Luckily, Resume.io is here to help. With 300+ resume examples and writing guides, we're an expert resource for professionals across industries and experience levels.
This resume guide, along with the corresponding LPN resume example, will cover the following topics:
What does a licensed practical nurse do?
How to write an LPN resume (tips and tricks)
The best format for an LPN resume
Advice on each section of your resume (summary, work history, education, skills)
Professional resume layout and design hints
What does a licensed practical nurse do?
Licensed practical nurses or LPNs are the helping hands of the healthcare industry. This role usually requires a one-year training program where LPNs learn the basics of anatomy, physiology, and medical care.
Licensed practical nurses are often employed in residential facilities or nursing homes where they perform a number of tasks, including
Bathing and changing patients
Dressing wounds and other first aid tasks
Administering medication and treatments
Checking blood pressure and other vital signs
Reporting findings to doctors and registered nurses
A job as an LPN can also make for a great stepping stone into the medical field as many licensed practical nurses go on to complete further education to become RNs or other healthcare workers.
Statistical insight
LPN job market and outlook
The Bureau of Labor Statistics predicts the demand for LPNs to rise by 6 percent over the coming decade. Most of these new jobs will be found in nursing homes and assisted living facilities.
How to write an LPN resume
The very first step in writing your LPN resume is understanding what sections to include. Your CV should contain the following elements:
 
The resume header
The resume summary (aka profile or personal statement)
The employment history section
The resume skills section
The education section
By following this structure, you'll be able to create an LPN resume that shows organization and seriousness about the position – both of which are important for the medical field. You'll want to take a balanced approach in writing your LPN resume. While practical skills are the basis of your work, your resume is also a good place to show your empathetic nature and commitment to a high standard of patient care.
Make sure to read the job description closely to better understand the employer's ideal candidate and the duties of the particular job. A position in a pediatric private practice will look a lot different than that of an assisted living facility. Adjust your resume to the skills and workstyle needed for the role to show the employer that you're truly interested in becoming part of their team.
Choosing the best resume format for an LPN
LPNs with some amount of previous experience – even internships – should consider choosing the reverse chronological resume format as this is the structure hiring managers expect to see. This "traditional" resume format focuses on the employment history section where you can list your previous jobs going back through about 10 years. However, if your experience in the medical field doesn't extend that far, make sure to focus your resume only on the relevant previous positions.
If you're just starting out as an LPN or are making a career change, you may consider using a hybrid resume format. This often entails an experience section at the start of your resume to capture a wider range of activities. You may also include a less prominent employment history section further down. We do not recommend the functional resume format for professionals in formal fields like medicine.
Resume header
The header occupies the space at the very top of your resume. This is where you'll place your name and contact details so the hiring manager can find them should they want to set up an interview. You may also place your LinkedIn or other relevant links here. LPNs should make sure to choose a professional and organized design for their header since the medical field is a formal environment. See our adaptable LPN resume example to get started creating a great header.
Resume summary example
The resume summary is the perfect place to show examples of your ability to treat patients with respect and empathy. That's because these 3-5 sentences at the top of the page make up the most freeform section of your resume. The summary allows you to call the hiring manager's attention to your education and experience, while also offering a touch of your personality. By highlighting your most relevant qualifications in the summary, the hiring manager will be more likely to continue reading your resume. You can find an adaptable summary in our LPN resume example.
Adaptable summary resume sample
Experienced LPN with strong background and proven expertise in nursing and medical care. Outstanding track record of coordinating full continuum of care by maintaining ongoing communications with patients, caregivers, physicians and specialists. History of delivering calm, compassionate care in all patient and caregiver interactions, and of maintaining highly organized schedules and records. Excel at developing rapport to provide education to patients.
Employment history sample
The employment history section is a favorite of hiring managers because it allows them to succinctly evaluate your previous experience and your readiness for their position. Make sure to include only the positions relevant to an LPN (ideally without leaving large "gaps" of unemployment). Include the job title, employer name, dates worked, and location. Then offer 4-5 bullet points that summarize your responsibilities, achievements, and skills. Make sure to give numbers, statistics, or other bits of concrete information to showcase your impact on the workplace. See our adaptable resume sample below for more guidance on writing your employment history section.
Adaptable employment history resume example
Nursing Assistant at Biloxi Medical Center, Biloxi, MS
October 2020 - Present
Provide patients with optimum care in close collaboration with physicians and interdisciplinary nursing team.
Attend to patients' daily needs, including assistance with cleaning and mobility, administering medication and monitoring IVs.
Ensure patients were fully outfitted for admittance and release, including completion of necessary documentation and education on effective recovery techniques.
 
Medical Assistant at Biloxi Women's Care Center, Biloxi, MS
June 2018 - October 2020
Conducted women's health exams under guidance of a physician or ARNP.
Assisted in diagnosis and treatment of GYN conditions.
Conducted annual wellness examinations and provided prescriptions under physician supervision.
Counseled patients on family planning, birth control and contraception methods.
Assisted with procedures such as pelvic and vaginal examinations and Pap smears.
CV skills example
The CV skills section is a roundup of all your top qualifications. Before compiling this section, make sure to reread the job description and pull out any specific technical skills or personality traits the hiring manager is looking for. Place them on your resume using the employer's exact language. This step will increase your chances of passing the Applicant Tracking System. Your skills section should be a balance of practical knowledge and your ability to put patients at ease. See our CV skills resume sample for more insight.
Adaptable skills section resume example
Ability to Work Under Pressure
Microsoft Office
Patient Centric Care
Medication Administration
IV Monitoring
Family Advocacy
Women's Healthcare
LPN resume education example
Since LPNs are required to be licensed, the education section takes on extra importance for your resume. Make sure to include the name of the school where you completed your education, the dates attended, and the location. You'll also want to mention where you passed your LPN exam and give the prospective employer your license number. The education section is also the place to include any awards, recognition, ongoing training, or leadership roles you've held. See our resume example below.
Adaptable education resume example
Associate of Science in Nursing, Mississippi Gulf Coast Community College, Perkinston, MS
September 2016 - June 2018
Resume layout and design
LPNs need to be efficient and organized – and your resume layout should be, too. A clean, easy-to-read design will go a long way in showing the hiring manager you're a professional candidate serious about their position.
Make sure to use consistent font styles and sizes throughout your resume and include clear section titles like "Employment History" or "Education." This will help both the hiring manager and the ATS find the information they are looking for.
As goes for most medical professionals, LPNs should avoid flashy or eclectic resume designs with bright color schemes. A neutral or monochromatic look can still be stylish while conforming to the norms of hiring in the healthcare field. Resume.io's collection of professional resume templates can take the guesswork out of resume designs and allow you to focus on the writing.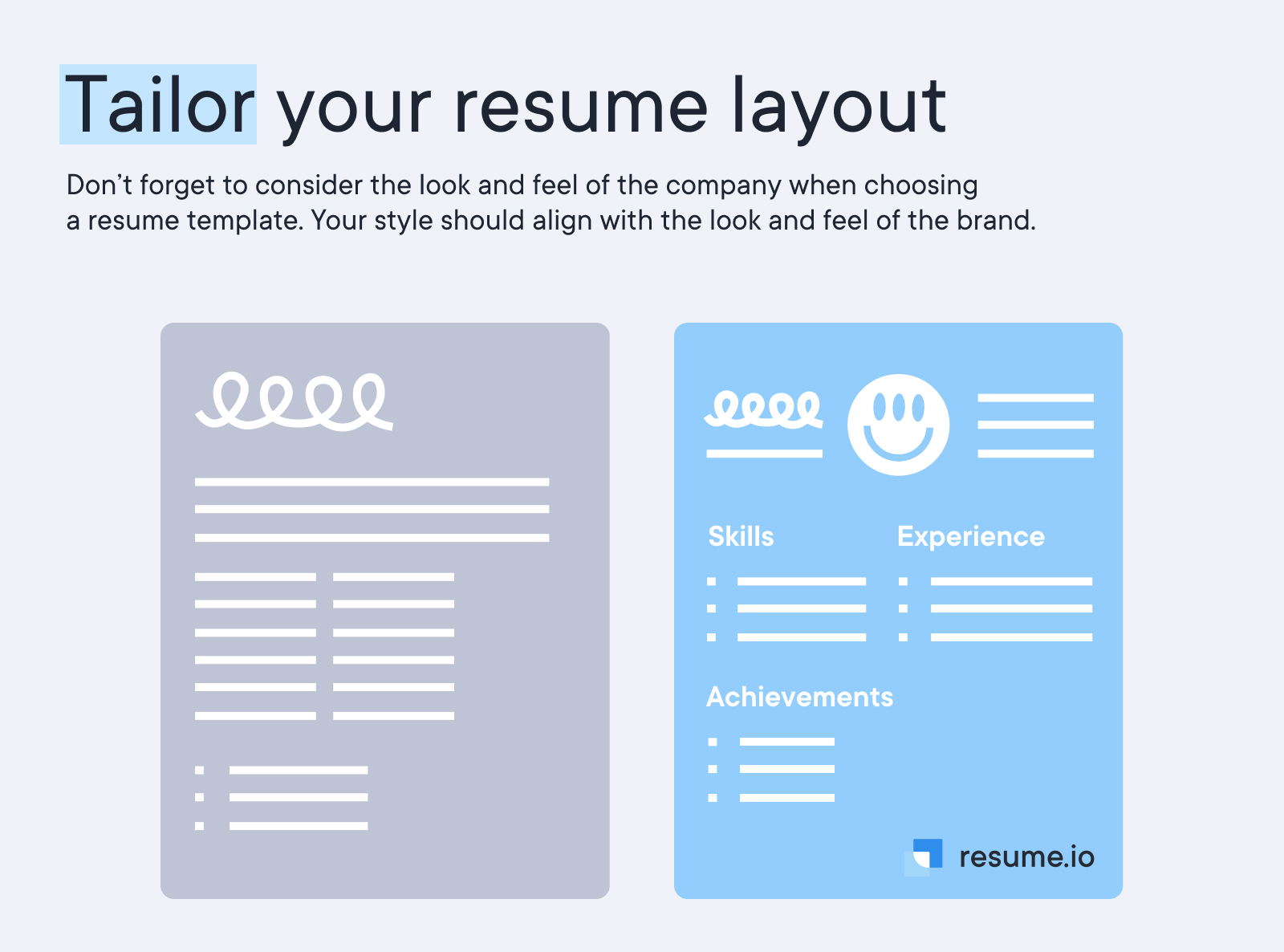 Key takeaways for an LPN resume
LPNs are the helping hands of the medical field and will be in demand to support a global aging population.
The resume summary is a great place to call the hiring manager's attention to your qualifications and highlight your caring nature.
Don't forget to adapt your LPN resume to the workplace setting you're applying to – a tailored resume can greatly increase your chances of landing the interview!
Make a professional first impression with an attractive resume layout. See our adaptable LPN resume sample to get started.