The need for nurses in all healthcare areas is rising rapidly, and psychiatric nursing is no exception. With a wide-open field, you've decided it's time to seek out the job of your dreams. All you need is a psychiatric nurse resume that does your experience justice.
The best resumes make a case for your employment by focusing the recruiter's attention on the highlights of your career that make you an excellent fit for the job. How you communicate this is almost as important as what you are communicating since a large part of your role as a psychiatric nurse is communicating with people who may be struggling to do so themselves.
The resources, resume examples, and builder tool Resume.io offers are designed to take you through the process of developing a psychiatric nurse resume that leads to your dream job. Within this guide and its accompanying resume sample, you will find information on the following:
What does a psychiatric nurse do?
The basis for writing a psychiatric nurse resume that resounds with recruiters
The best format for a psychiatrist nurse resume
Making the most of each section: summary, employment history, skills, and education
Designing a resume that will send the message you intend
What does a psychiatric nurse do?
Psychiatric nurses, also called mental health nurses, provide support to patients experiencing mental health problems and may develop strong therapeutic bonds with them and their families as they treat their patients over time. They may also work closely with communities as a whole.
As part of their job, psychiatric nurses may conduct intake interviews, screenings, and evaluations. They work in tandem with psychologists, psychiatrists, neurologists, and other healthcare providers to monitor and guide treatment.
Psychiatric nurses work in hospitals, mental health clinics, and private practices. They can also be found in prisons and assisted living homes or any setting where mental health services are needed.
The main responsibilities of psychiatric nurses are
creating and monitoring treatment plans
evaluating patient needs
crisis intervention
counseling services
administering and managing medication protocols.
Psychiatric nurse job market and outlook
Unfortunately, the pandemic has left a host of mental health issues in its wake. This is only one among many factors that have created a deep need for psychiatric nurses. The demand for psychiatric nurses is also fueled by a lack of psychiatrists.
"Mental health access is a public health crisis, only worsened by the COVID-19 pandemic," Dr. Michael L. Barnett, M.D., who co-authored a study on mental health access, told FierceHealthcare. "While demand for mental health treatment is soaring, provider supply is actually dropping among psychiatrists, particularly in rural areas. We need new solutions. Psychiatric mental health nurse practitioners are an important part of the mental health workforce that has received relatively little attention in mental health policy." 
While the U.S. Bureau of Labor Statistics does not track the demand for psychiatric nurses separately, it does estimate a hike of 40 percent in the need for specialized nurses and a 22 percent increase in the need for substance abuse, behavioral disorder, and mental health counselors through 2030.
Statistical insight
How much do psychiatric nurses earn?
The median hourly rate for a psychiatric nurse is $32.93 per hour, PayScale reports. That comes out to almost $69,000 for full-time work. The top 10 percent of earners command $43.62 or more, while the bottom 10 percent earn $26.19.
Staff nurses on hospital psychiatric wards have a median salary of $80,699 ($38.80 an hour for a 40-hour week) with a typical range of $73,796 and $91,104, Salary.com calculates.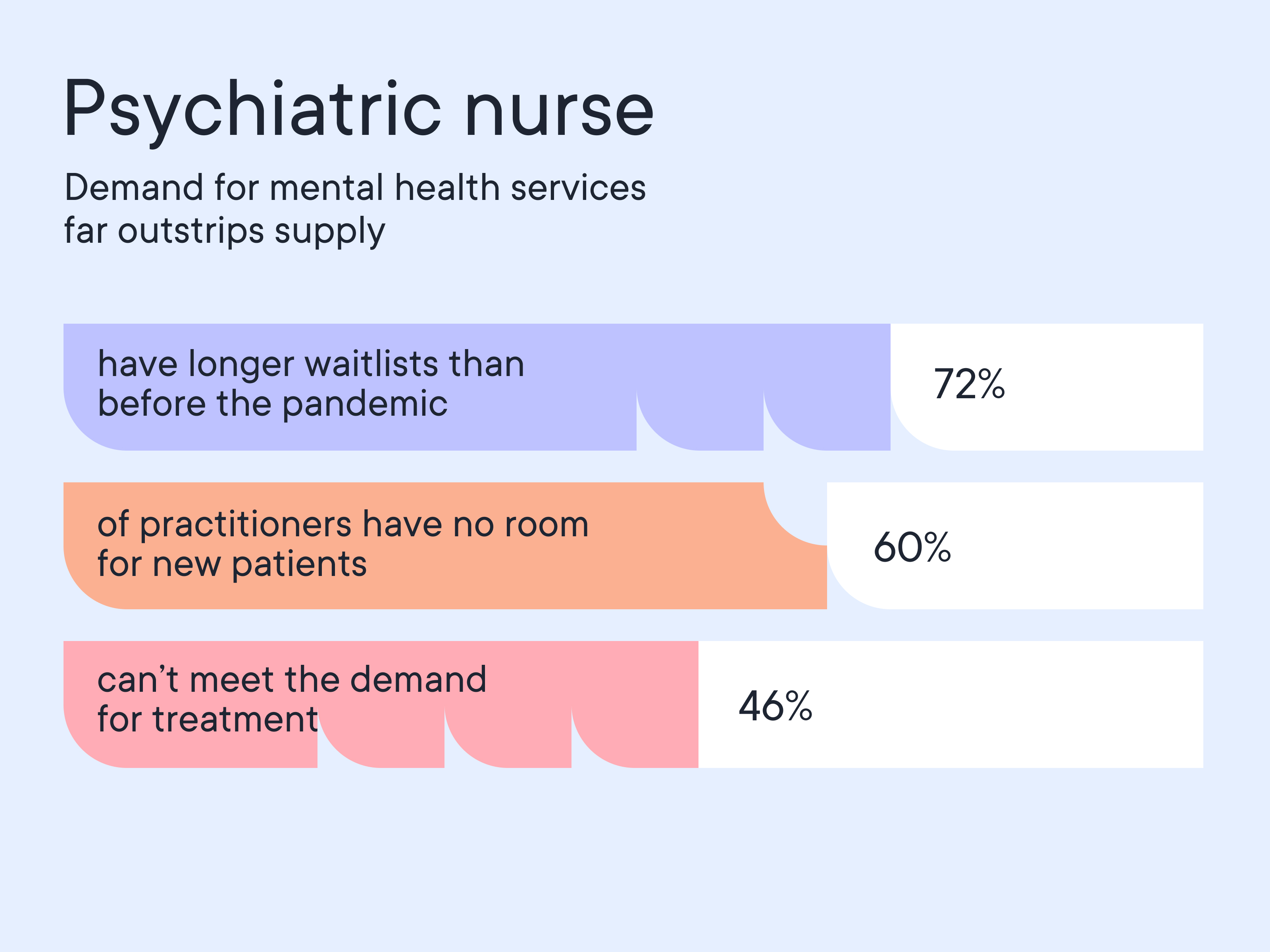 How to write a psychiatric nurse resume
We will advocate for customizing your psychiatric nurse resume throughout this guide, but the elements are not the place to do so. Your CV should contain sections common to most resumes. They are
The resume header
The resume summary (aka profile or personal statement)
The employment history section
The resume skills section
The education section
The customization will come in your text and design, but you want to standardize the section structure for two key reasons:
It makes it easy for healthcare recruiters to scan for relevant information
The Applicant Tracking Systems (ATS) that most healthcare employers use can scan your resume and input your data, but they will be looking for those standard sections. If you vary from those (and there are a few reasons you may), you will have to reorganize your information in the software program.
More on the ATS: Not only do these systems scan your resume, but they use formulas to rank all resumes for a given job. The top-ranked candidates make it through to human eyes. The formulas are based partly on keywords linked to the job description. That's why it's incumbent upon you to take note of the skills and attributes listed by your prospective employer and echo those on your psychiatric nurse resume – while maintaining the tone and your voice, of course.
Choosing the best resume format for a psychiatric nurse 
Again, sticking with a common format for your psychiatric nurse resume is your best bet because it suits recruiters and the ATS. That means reverse chronological order, which affects your employment history section and the listing of your education.
If you have changed careers, are looking for your first job, or have extensive medical knowledge you want to highlight, you can consider using a hybrid-style resume that gives you more room to emphasize skills over experience.
Resume summary example 
Summary implies a brief overview, but the summary of your psychiatric nurse resume is not an overview. This section, sometimes called a profile, gives you about four lines to craft your main case for employment and describe your greatest success and professional style.
Use your summary to illustrate the qualities that make you a great psychiatric nurse including  communication, empathy, and grace under trying circumstances. If you have expert-level knowledge in crisis management or another aspect of healthcare, make sure you highlight that. Your goal is to explain why you are an excellent choice for the position and why you want it.
Adopt a tone appropriate to the environment in which you want to work. The culture at a  community clinic will be very different from that of a locked psychiatric ward, but in any case, you are not in a casual career; mental health concerns are serious. Err on the side of formality in your writing.
Expert tip
As the summary is the most amorphous and potentially most difficult to write, you may want to check out the following healthcare resume samples for more guidance:
Adaptable summary resume sample
Well-trained, experienced, and credentialed Registered Psychiatric Nurse with broad, hands-on medical-care background. Champion in formulating diagnoses and prescribing treatments and medications for various mental and related physical illnesses.
Employment history sample
Just as your summary is not merely a summary, the employment history section of your psychiatric nurse resume is not a listing of job responsibilities. Think of each bullet item in this section as evidence that will convince the HR person to offer you an interview. 
How do you make your case as strong as possible? Get as specific as possible. Describe the settings where you worked, including how many cases you handled and the demographics of your patients. Choose successes and experiences that directly relate to the position you seek. That means customizing every time you apply for a different job.
| | |
| --- | --- |
| Good | Better |
| Managed a full caseload of teens at a community clinic | Managed caseload of up to 50 mostly adolescent patients with diagnoses including borderline personality disorder, psycho-disaffective disorder, and depression |
| Monitored patient progress in hospital psychiatric ward | Monitored patient progress through discussion and observation and created detailed recommendations for physician follow-up |
| Developed treatment plans for young adult patients | In conjunction with colleagues, developed detailed treatment plans including medication and therapy for patients ages 18-25 diagnosed with severe anxiety |
Consider using the STAR method if you benefit from structure. Describe the Situation, the Task you were charged with, the Action you took, and the Results you achieved. If relevant, you can add a reflection, which will show recruiters that you are self-aware and learn from experience.
Adaptable employment history resume example
Medical-Psych Nurse, Grand Rapids Medical Center, Grand Rapids, MI
March 2019 - Present
Assess patients with a variety of psychiatric and medical conditions.
Prepare nursing diagnoses based on assessments, initiate interventions, measure outcomes,
and ensure a safe therapeutic environment.
Develop, implement, monitor, and evaluate effectiveness of treatment plans.
Emergency Department Behavioral Intake Nurse, Grand Rapids Hospital, Grand Rapids, MI
July 2015 - March 2019
Delivered comprehensive, quality patient care for Behavioral Health Program specializing in general adult psychiatry.
Responded to calls for assessments in the emergency department within 15 minutes of patient arrival.
Demonstrated teamwork in working closely on a daily basis with other members of health care delivery team, including physicians.
Nurse Practitioner, Spectrum Health Medical Group, Grand Rapids, MI
March 2011 - June 2015
Diagnosed, treated, and provided care to patients with various medical conditions.
Conducted physical exams and gathered information on each patient's medical history.
Performed diagnostic tests and procedures.
CV skills example
In addition to knowledge of psychiatric conditions, crisis management, medications, and treatment options, psychiatric nurses need excellent people skills. The skills section of your psychiatric nurse resume allows you to highlight 4-7 attributes that are essential to your career, and specific to the job you are applying for.
We don't mean to hit you over the head, but you should customize this section as well to best target each prospective employer. Choose a mix of your communication, empathy, and other soft skills, the hard knowledge that it takes to help patients with their mental health goals, and the administrative tasks such as record-keeping and note-taking that you must complete.
Expert tip
Here are the top eight interpersonal skills a psychiatric nurse needs, according to Nurse Theory:
Availability to patients who may have abandonment issues
Clear boundary setting
Empathy
Equality, in other words, showing the patient that they are equal as a person to all others, including you
Ability to help patients develop their individuality
Showing respect
Supportiveness
Understanding
Adaptable skills section resume example
Interpersonal Communication Skills
Mental Health Assessments
Crisis Intervention
Urgent Care Assessments
NASW Code of Ethics
Psychiatric Care
Therapeutic Regimen
Vaccination / Antibiotics Education
Psychiatric nurse resume education example
Psychiatric nurses must be licensed as registered nurses (RNs). Becoming an RN requires an associate's or bachelor's degree in nursing. The education section of your resume is where you list your degrees, training, and certification.
In addition to your license and degrees, some employers may require a Psychiatric–Mental Health Nursing Certification, or RN-BC, either to be hired or to be obtained within a certain time frame after hiring. Include this here as well.
Expert tip
How to list your credentials
The American Nurses Credentialing Center recommends the following order:
Education, licensure, state designations, certification, awards and honors, and additional certification. Start with your highest degree, then work backward.
Adaptable education resume example
Grand Valley State University, Bachelor of Science in Nursing, Allendale Charter Township, MI
September 2007 - May 2011
Grand Rapids Community College, Associate in Science of Nursing, Grand Rapids, MI
September 2005 - May 2007
Resume layout and design
To complete the package, you need a layout for your psychiatric nurse resume that elicits the impression you want to make. The healthcare field has high standards for organization and neatness as well as compassion, so your design needs to find that balance, too. 
Here are some tips for crafting a design that will accomplish your goal:
Use crisp, clear lines
Leave margins of 0.5-1 inch
Don't cram in text: font size should be at least 11 points with ample white space between sections
Choose a subdued color palette unless you are aiming to work in a pediatric setting
Avoid the hassle of formatting with our expertly-designed resume templates
Key takeaways for a psychiatric nurse resume
You're in a career that's highly demanding and in high demand, so your dream job awaits
Psychiatric nurses must balance empathy and excellent communication with precision record-keeping
Your summary is an opportunity to show your personality, while your employment history builds your case for employment
The resources at Resume.io will get your job hunt going faster.