ER nurses are among the heroes of the pandemic. They didn't have time to look up and assess their careers. Now, with breathing room, it's time to do just that. An ER nurse resume must present a combination of medical knowledge, grace under pressure, quick decision-making and compassion.
You're used to instant action, but developing a great ER nurse resume requires time and perhaps assistance. The tools and guidance at Resume.io include resume examples and guides for 300+ professions, plus an easy-to-use resume builder. These options help you deliver quality applications to your prospective employers.
This resume guide, along with the ER nurse resume example embedded within, will cover the following topics:
What does an ER nurse do?
How to write a compelling ER nurse resume (tips and tricks)
The best format to choose for an emergency room nurse resume
Advice broken down for each section of your resume (summary, work history, education, skills)
Professional resume layout and design hints.
What does an ER nurse do?
ER nurses are on the scene when a patient in crisis enters the hospital. It is their job to conduct a quick but thorough evaluation of the patient and create an immediate care plan. They assist doctors and may perform minor surgical procedures such as tracheotomies and intubations.
Among the duties of ER nurses are triage, or determining how severe a patient's state is and the order in which to treat patients. Emergencies include everything from injuries to cardiac events to gunshot wounds. They may set broken bones, stitch or suture wounds, administer medications, or start intravenous (IV) lines.
ER nurses must keep cool under pressure and communicate well with other medical personnel and the family and loved ones of patients. 
ER nurse job market and outlook
The market for registered nurses overall has cooled a bit since the pandemic. Within the next decade, the U.S. Labor Bureau predicts that the demand will rise 6 percent, or about average for all professions.
That doesn't mean that opportunities are diminishing, since movement may open up the position of your dreams.
Most ER nurse salaries fall within the $90,000-$110,000 range. Hawaii ER nurses earn an average of $129,470 – the highest salary of the 50 states – while nurses in Louisiana earn a countrywide low of $81,079, ZipRecruiter reports.
Statistical insight
Many nurses are on the hunt for a new environment. According to the 2022 Nurse Salary Research Report, 29 percent of nurses surveyed were thinking about leaving the profession. Another 28 percent were dissatisfied with their pay or management and 17 percent of those were looking to change their work setting.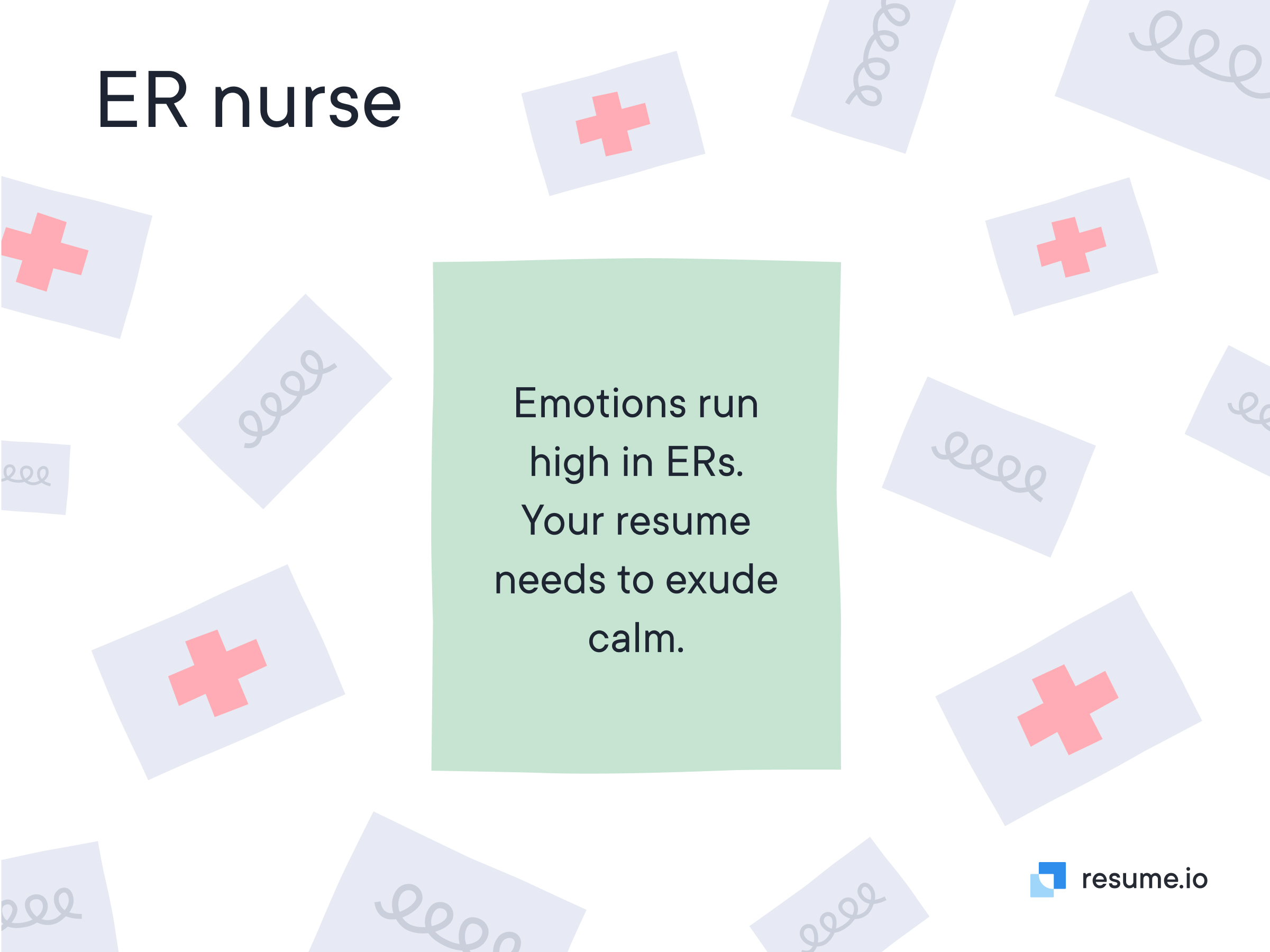 How to write an ER nurse resume
ER nurses need to follow strict protocol, so following the structure of an application document should come naturally. Before you begin, take a look at the sections that compose your ER nurse resume. Your CV should contain the following elements:
The resume header
The resume summary (aka profile or personal statement)
The employment history section
The resume skills section
The education section
Choosing the best resume format for an ER nurse
The message behind your ER nurse resume is simple: Here's what I can do for you. You deliver that message by organizing your experience and skills in the easiest way for a hospital HR person to find it. That means reverse chronological order.
In this format, you list your experience from most recent on back because recruiters are most concerned with what you have done lately. You may veer from this style under certain circumstances including:
You have been recently certified as an RN
You have a wide-ranging skill set you want to highlight
You took time off from your career
You are a travel nurse who has changed positions frequently.
In these cases, consider one of the alternate formats we describe.
Resume header
Resume headers provide the space for a bit of design and color, but they also perform the key function of highlighting your name, title, and contact information in a spot where HR personnel can easily access it.
Choose the phone number and email address you check most frequently so that you don't miss out on an interview request.
Let's move on to the more detailed section of your document.
Resume summary example 
Just as the header gives you a chance to show off a bit of personality in a visual format, the summary of your ER nurse resume presents you with the opportunity to infuse your style and philosophy of care into your prose overview. Keep in mind your key objective: Explain to the medical facility what you can do to improve the emergency room.
Start out with a one-sentence description of your career, making sure you tout your achievements with strong adjectives without crossing the line into braggadocio. This is also the best section in which to describe your demeanor, how you handle emergency room stress, and the manner you use to communicate with colleagues and patients under trying circumstances. Also, bring out an accomplishment you are proud of.
Adaptable summary resume sample
Experienced ER Nurse with strong background of providing patient care and triage in fast-paced emergency room environments. Skilled at coordinating with medical teams and emergency physicians to swiftly formulate urgent patient treatment and care strategies. Calm under pressure, with the ability to maintain composure within fast-paced, high-stress environments and safely handle volatile patients. 
For more ideas on this free-form section, see our related resume examples:
Employment history sample
The bulk of your ER nurse resume will be consumed by your employment history unless you are new to the field. There's no need to detail everything you have done at every job; instead, focus on your highest-level achievements at each position.
Double-check the job listing because a refresher on what the hospital needs will help you hone your bulleted items to best focus on those attributes. The bulleted list below each of your jobs should be worded as successes, not responsibilities. To make these items as strong as possible, begin each with an action word and use data and details to back up your assertions.
Another reason to keep the job listing handy as you compile your application is the Applicant Tracking System (ATS). Algorithms will seal your resume's fate and these formulas use keywords and phrases pegged to the job. Match your words to those in the job listing making sure you don't lose the authentic sound of your items. This method will help boost your ranking in the ATS and get your resume into the hands of a human.
Adaptable employment history resume example
ER Nurse, Chippenham Hospital Richmond, VA 
July 2018 - Present 
Deliver direct care to patients presenting to the Emergency Department with medical and psychiatric emergencies.
Quickly triage each patients' medical situation to determine level of care needed and promptly coordinate efforts for stabilization.
Work closely with emergency physicians and ER staff to schedule urgent care and discuss / plan patient treatment.
Registered Nurse, Bon Secours St. Mary's Hospital Richmond, VA 
February 2016 - June 2018 
Performed a wide range of RN duties in a busy medical environment.
Conducted assessment of patient and determined appropriate medication / treatment administration.
Monitored patients, adjusting medications and treatment procedures as needed and assisting with basic needs.
Nurse Extern PRN, HCA Healthcare Richmond, VA 
January 2015 - August 2015 
Worked directly under Registered Nurse (RN) in gaining hands-on experience providing patient care in a real-world medical setting.
Assisted nursing staff in delivering high-quality, patient-centered care.
CV skills example
The skills section of your ER nurse resume is an easy-to-scan listing of what you consider your top attributes. Again taking the ATS into account, curate the skills you believe will help you make a difference in the emergency room where you want to work.
Obviously, you need medical know-how to be a registered nurse of any kind. This knowledge is at the core of the hard skills you have learned in training and on the job. Within this section, list any specialized medical training or skills you have that make you a more desirable candidate, but don't neglect the soft, or people and organizational, skills that are also requirements in ER nursing.
Here are a few soft skills to consider:
Problem-solving. Quick thinking is a prerequisite for an emergency room nurse who will have to make fast decisions, sometimes with limited information.
Emotional resilience. You will see many distressing occurrences and be unable to save every patient. You have to be able to put aside your feelings to be at your best.
Physical fitness. ER nurses spend a lot of time on their feet, bending over patients, and maneuvering incapacitated people. Stamina and endurance are musts.
Empathy. While you have to protect yourself emotionally, you also have to maintain an understanding of what the people in your ER are going through.
Communication. You need to pass on information to doctors and other medical personnel as well as calmly explain to patients and those who care about them what is happening, what you are doing, medical risks, and options.
Adaptable skills section resume example
Urgent Care Assessments
Emergency Triage
Medication Administration
Collaborative Treatment
First Aid & CPR
Multicultural Communication
Medical Documentation & Forms
Interpreting Lab Results
Collaboration & Teamwork
Physician Relations
ER nurse resume education example
Your ER nurse resume needs to include not just your education, but your certifications. If you have many certificates and specialized training, you may want to break them out into a separate sections. Any recruiter will want to know that you are a registered nurse with proper credentials.
Adaptable education resume example
Bachelor of Science in Nursing, Virginia Commonwealth University School of Nursing. Richmond, VA 
September 2013 - May 2015 
Associate Degree in Nursing, Fortis College. Richmond, VA 
September 2011 - May 2013
Expert tip
Listing your certification
In addition to your degrees, you need to pass the National Council Licensure Exam for RNs (NCLEX-RN) to earn an RN license and subsequently apply for licensing in your state.
List your credentials in this order:
license type
licensing state/body
license name and number
expiration date
List your certifications in this order:
name
conferring organization
expiration
certification number, if applicable.
Resume layout and design
While your experience and education speak loudly, the first impression an HR person will have of you is the visual impact your ER nurse resume makes. Nurses must be organized and put hygiene at the forefront. That means your layout needs to be crisp and clean.
That doesn't mean you can't choose an accent color to grab attention, but we recommend that in your career, you keep it to a minimum. A splash in your header or skills section is about the right amount of color for a serious profession.
Other ways to keep your resume neat:
Maintain margins of at least one-half inch all the way around
Choose no more than two fonts – one for section headings and one for the text
Use muted colors
Vary the lengths of your bulleted items to ensure you leave white space; big blocks of type are off-putting
Choose from among the expertly-designed and HR-vetted resume templates offered by Resume.io to avoid formatting errors and get your application out there sooner
Key takeaways for an ER nurse resume
ER nurses were on the front lines of the pandemic and can count themselves among its heroes
The stress has caused many in the profession to reassess their career choice, or at least consider moving to another position.
The summary of an ER nurse resume allows employers to get a sense of who you are as a professional and how you will improve their emergency room functioning
Keep your design professional and neat, just as you do your personal appearance at work.