As healthcare needs and demands have grown and changed, so, too, has the role of nurse practitioners. Increasingly, patients and the healthcare industry itself have turned to nurse practitioners to provide primary medical care, especially in areas where demand for primary care physicians outstrips supply.
The profession of nurse practitioners began with one program in 1965 and has burgeoned into what U.S. News and World Report named the No. 2 overall job and the best healthcare job of 2022. And the field is expanding. In 26 states and Washington, D.C., nurse practitioners have full practice authority. That's up from 24 in 2021. In fact, nurse practitioners (NPs) are the fastest-growing segment of primary care providers.
All that is great news for you, but you know that to afford yourself the best opportunity to get the job of your dreams, you need a resume that helps you stand out from the pack. Resume.io is here to help with HR-based expertise, resume examples, and a builder tool that will help smooth the path toward a satisfying career.
This nurse practitioner resume example and writing guide will offer advice on:
What exactly nurse practitioners do and the job future market
How to write a nurse practitioner resume and use techniques to pass by the Applicant Tracking System filters
Structuring your nurse practitioner resume by choosing the best format
Methods for developing a compelling employment history section
Creating a professional layout and design.
What do nurse practitioners do?
We've already mentioned that nurse practitioners have "full practice authority" or FPA in 26 states plus D.C., but what does that mean? Nurse practitioners provide a full range of healthcare services – and are licensed to act in the same way as physicians, although they cannot perform surgeries.
This includes:
Evaluating patients and ordering, performing, and reading diagnostics
Diagnosing and treating illness and chronic conditions
Prescribing medication and treatments
Managing care
Counseling and educating patients about all aspects of their health.
Nurse practitioners may specialize just as physicians do. Part of their value lies in their holistic approach to patient care, the American Association of Nurse Practitioners says, which in turn lowers healthcare costs.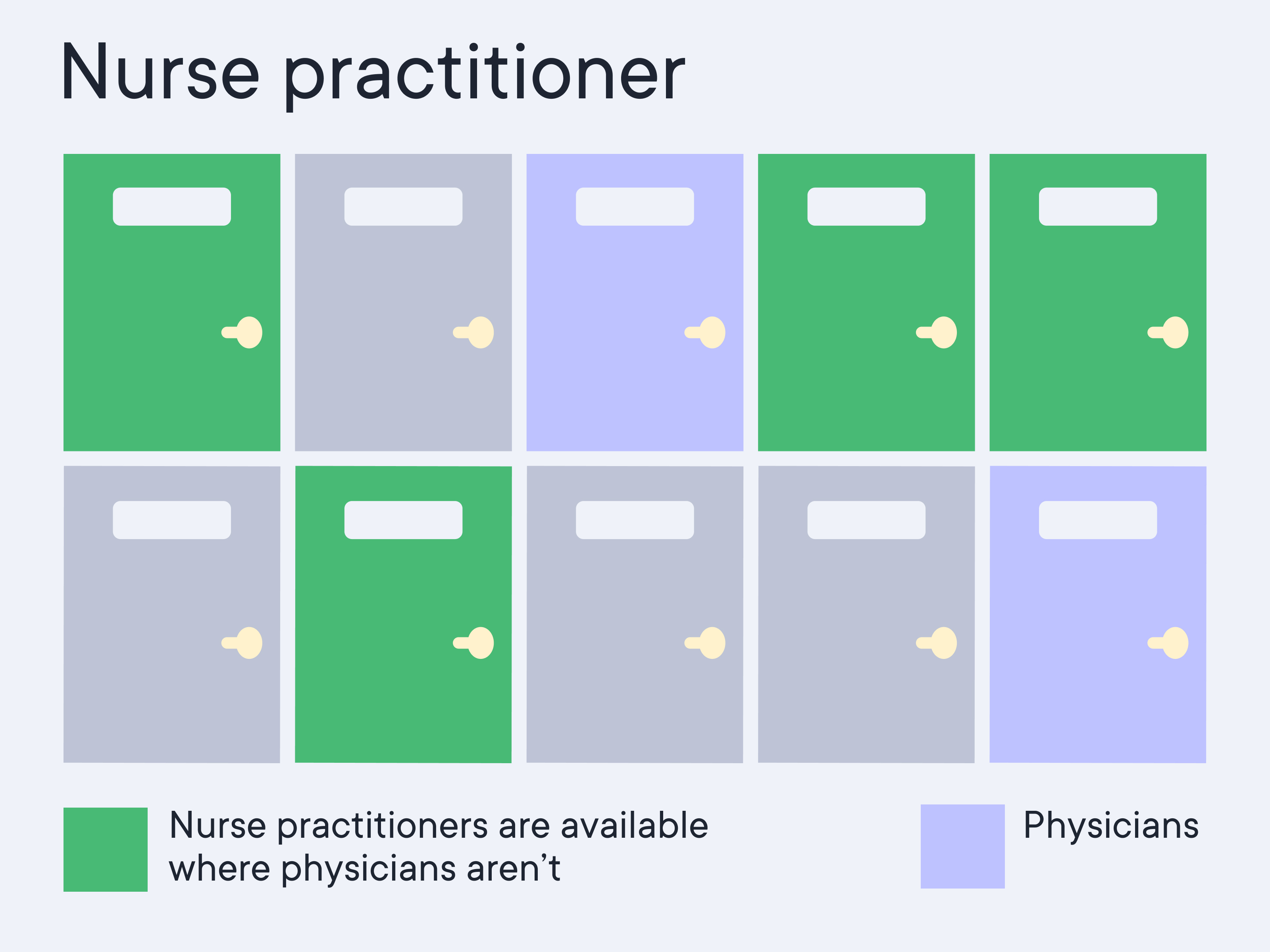 Nurse practitioner job market and outlook
The career with the highest projected job growth over the next decade? That's right: nurse practitioner, with a 46 percent increase in demand – that's 118,000 more jobs for a total of 359,400 NPs, the U.S. Bureau of Statistics predicts.
Statistical insight
Here are the top 5 and bottom 5 states in terms of demand for nurse practitioners:*
State

Arizona (1)

Georgia (2)

New York (2)

Florida (3)

Nevada (3)

Massachusetts (47)

Michigan (47)

Rhode Island (48)

Alaska (49)

Mississippi (50)

Percent demand increase

51

41

41

37

37

16

16

14

9

7
*Source: Nurse.org
This demand is fueled by an aging population who have a longer life expectancy and a predicted shortage of up to 124,000 physicians in the next decade.
Nurse practitioners are highly trained, in-demand professionals and as such command a six-figure salary. Base salaries for nurse practitioners range from $110,780 and $129,697 with an average of $119,387, Salary.com reports.
How to write a nurse practitioner resume
Your nurse practitioner CV should contain elements common to most resumes. They are
The resume header
The resume summary (aka profile or personal statement)
The employment history section
The resume skills section
The education section
Now that you know what sections you need, you need to know why you should stick with those. The first challenge your nurse practitioner resume will face is the Applicant Tracking System (ATS). This technology is designed to limit the number of resumes the HR staff has to get through. It does this by hunting for keywords and ranking applications. Only the top resumes will make it through to a person.
Expert tip
Using standard section headings and formatting will make transferring your nurse practitioner application into an ATS much simpler, and reduce the potential for input errors.
Choosing the best resume format for a nurse practitioner
In keeping with the message above, stick with a format for your nurse practitioner resume that the ATS understands: reverse chronological order. If your career has followed a clear path, this format will work well for you as it allows you to show growth and learned skills over time.
If you are on the job hunt for the first time or have made a recent career change, you may need a combination of chronological and functional (which focuses on skills) to best show off your professional abilities and education. An alternative format may also suit your career if you have worked on a contract basis.
Resume summary example
We have discussed generalities and counseled that your nurse practitioner resume should have the outer trappings of all other resumes. That advice holds only for the structure. It is within each section that you distinguish yourself and the summary, or profile, is the best place to do so.
Within your summary, you have the opportunity to highlight the best of your career, express why you want the job and how you will fit into the practice, and show off your professional  personality – all in about 100 words. As a medical professional, you need to display empathy and authority. It's a fine balance, but if you can show it in your summary, you're well on your way.
Next, be cautious with your tone and word choice. Applying for a pediatric role requires a different type of patient communication than one in which you are working with cancer patients. Adjust accordingly. As you revise, make note of the keywords and requirements of each position for which you apply and incorporate those into your summary (and other sections) to help raise your ranking with the ATS.
Expert tip
As the summary is the most amorphous and potentially most difficult to write, you may want to check out the following healthcare resume samples for more guidance:
Adaptable summary resume sample
Certified Nurse Practitioner, dedicated to providing evidence-based care to a diverse patient population. Highly skilled in performing examinations, diagnosing acute and chronic conditions, and developing effective treatment plans. Able to collaborate with interdisciplinary team of primary care physicians, specialists, and RNs.
Employment history sample
What you have accomplished speaks volumes about who you are professionally and how seriously you take your career. The employment history section of your nurse practitioner resume serves to put a focus on that path of growth and success.
Keeping the exact job requirements in mind, focus each bullet item on a measurable achievement, a healthcare initiative you spearheaded, or a process you streamlined. Start each item with a strong action word (such as spearheaded or streamlined) and make sure each accomplishment illustrates what you will bring to the job.
Use details that help your prospective employer understand the environments in which you worked and are working. That includes the number of patients in the practice and how many are on your caseload. The number you see each day, the types of health concerns you have encountered, and the demographics of the populations you have served.
Adaptable employment history resume example
Nurse Practitioner at Massillon Health Center , Massillon, OH
October 2017 - Present
Treat 20+ patients per day, including conducting wellness exams, diagnosing illnesses, and prescribing appropriate medications.
Provide medically sound counseling and educate patients on treatment plans.
Collaborate with primary care and specialist physicians to co-manage high-risk patients.
Support continuous quality improvement initiatives to reduce costs, improve patient satisfaction, and comply with regulations.
Registered Nurse at WellPath Massillon, Massillon, OH
January 2012 - October 2017
Cared for patients, advised on diagnoses and treatments, and recommended lifestyle changes to improve healthcare outcomes.
Served as sole RN in immunization, triage, and wound care clinics.
Performed electronic charting and maintained detailed medical records in Cerner.
CV skills example
The skills section of your nurse practitioner CV serves two main purposes, and yes, one of them is to accommodate the ATS. The other is to give overworked healthcare recruiters a quick way to see if your skills match their needs. That means adjusting this section based on each different job description.
Nurse practitioners need a fine-tuned combination of medical knowledge, or hard skills, and interpersonal abilities, or soft skills. Each environment will require a slightly different balance, so give this section as much care as all the others even though it is a simple listing of 4-7 of your attributes. The better able you are to paint a picture of your skills, the more likely you are to get a job that suits you well.
Fortus Healthcare Resources lists five broad categories of necessary skills:
Clinical skills
Strong communication
Flexibility
Collaboration
Organization
These categories can be broken down into more discrete abilities. Instead of "clinical skills," choose which clinical skills you are most adept at and are most likely to be desired in your dream job.
Expert tip
Take the community into account
Different demographics have different healthcare needs. If you want to work in a community with a large immigrant population, mention that you speak the language or understand the lifestyle and customs of the culture.
Nurse practitioners are frontline providers and connecting to patients in a clinical setting can make all the difference in the outcome of their care.
Adaptable skills section resume example
Evidence-Based Care
Electronic Medical Records (EMR)
Clinical Assessments
Diagnosis and Treatment
Preventive Healthcare
Immunizations
Quality Assurance
Continuous Improvement
Interpersonal Communication
Interdisciplinary Collaboration
Nurse practitioner resume education example
Becoming a nurse practitioner does not take as long as becoming a doctor, but the educational requirements are stringent. Be proud of what you have earned by listing your degrees, awards, and certifications in the education section of your nurse practitioner resume.
The minimum education requirement for nurse practitioners is a two-year master of science in nursing (MSN). First, you need a bachelor's degree in nursing and then must pass the National Council Licensure Examination to become a registered nurse. After at least a year or two of experience as an RN, you may apply to graduate school. Nurse practitioners may also hold a doctor of nursing practice (DNP) degree. 
Because you have an advanced degree, there's no need to list your high school diploma. Do, however, include all your certifications and any training courses you have taken that enhance your candidacy. If you have many, consider adding a separate Certifications, Licensure, and Training section to your resume.
You may bump this section up to just below your summary.
Using the resume builder tool will allow you the flexibility to move sections easily and help guide you through the best placement of your qualifications.
Adaptable education resume example
Master of Science in Nursing (MSN), The Ohio State University, Columbus, OH
September 2015 - June 2017
Bachelor of Science in Nursing, The Ohio State University, Columbus, OH
September 2008 - June 2012
Resume layout and design
Balancing empathy and authority is crucial, not just in your words, but in your visual presentation. Choosing the appropriate layout and design is as important as choosing the right words – first impressions are lasting. Make sure your verbal and visual messages match.
Clean lines and organization should guide you, but you must appear warm as well as efficient. That's why a professionally-designed template may be your best choice. Not only will it offer you customizable options, but it will help you avoid having to format a complex document without error.
Expert tip
Spell check won't catch everything
Using spell check is a great first step in your proofreading process, but it won't catch everything. Consider a grammar checker as well, but the best method is a second set of eyes. Your friend or trusted colleague may also be able to tell you that your resume is too formal or too casual as well.
Key takeaways for a nurse practitioner resume
You're in a hot profession and have a chance to reach for your dream job. A great nurse practitioner resume will help.
Tailor your resume for each job just as you tailor your approach to give the maximum care to each patient.
Use your summary to show who you are and what you will bring to the job.
Consider the ATS at every step.
Templates and our builder tool will eliminate technical and formatting problems and get your resume completed faster.