With your degree in hand, you're ready to look for your first great nursing job. The demand for these compassionate, dedicated workers is high. But you want to make sure you have options, so you need a new graduate nursing resume that shows you in the best light.
The best resumes all contain common qualities no matter what type of career they are aimed at. They present a compelling case for employment by highlighting professional demeanor and skills in a format that is friendly to recruiters and human resources personnel. If that sounds like a lot to accomplish in a page or two, let the experts help out. At Resume.io, our resources for job hunters include everything from this guide to our resume examples that can help give you that boost.
In this guide, and the accompanying new graduate nursing resume example, you will answers to
What do newly graduated nurses do?
The outline for a new graduate nurse resume
How to choose the best format for a new graduate nurse resume
Tips and ideas for developing each section of your resume: the summary, employment history, education, and skills sections
How to create an eye-catching and professional layout and design
What does a newly graduated nurse do?
As a newly graduated nurse, you are ready to lend a hand in this challenging healthcare career. As a nurse, your main responsibilities will be for hands-on patient care, communication and emotional support for patients and their families; and communication and coordination with physicians and other healthcare providers.
Your degree and certification qualify you to work in any healthcare setting including hospitals, doctor's offices, home healthcare, nursing care, and skilled rehabilitation centers. 
There are more than 100 nursing specialties, so it may take you some time to find your niche, or you may be a grad nurse who leaves school knowing exactly what you want to specialize in. Either way, opportunities abound.
Expert tip
Finding the right job
Your first job sets the stage for your healthcare career. Your new grad nurse resume has gotten you interviews, but remember that you are also interviewing the hospital or facility so that you find the best fit for you.
Nursing World offers a list of potential questions to ask your prospective employer.
New graduate nurses' job outlook and income
You have chosen a career that requires dedication, long hours, and hard work. Add to that the exhausting work the pandemic plunged nurses into, the increasing number of retirements from the nursing field, and the aging U.S. population, and you will find that you're in high demand. 
In fact, McKinsey predicts that by 2025, the demand for nurses will outstrip the supply by 200,000-450,000 people. That means you're in a great place to find the right position and command a good salary.
The median salary for a new grad registered nurse is $66,728, according to Salary.com. The top 90 percent of earners bring home almost $85,000, while the lowest earners start out at $53,603 or less. If you're looking for the highest hourly rate, head to California, where the median hourly rate for registered nurses is $59.62, the U.S. Bureau of Labor Statistics reports.
How to write a new graduate nurse resume
You may think that you must distinguish yourself by developing a new grad nurse resume that breaks the mold. Nothing is further from the truth. You want your job application to reflect who you are within the bounds of a typical outline.
To that end, your graduate nurse CV should contain the following standard elements:
The resume header
The resume summary (aka profile or personal statement)
The employment history section
The resume skills section
The education section
The main goal of your resume is to get the interview. You don't want to tempt the recruiter to triage your application out of the list. So, opt for a familiar organization.
Expert tip
Account for the Applicant Tracking System
The Applicant Tracking System (ATS) is another way HR departments make the hiring process easier for themselves. Whenever you apply online, you are inputting your data into an ATS. The ATS scans your information and ranks it against other resumes to create a top tier of documents that will be seen by a person. To make it past the ATS algorithms, which are partly based on keywords and phrases associated with the position, you need to match your words to those in the job listing.
The trick here is to do so while still sounding natural and avoiding any tricks such as "stuffing" your resume with keywords.
Choosing the best resume format for a new graduate nurse
We recommend reverse chronological order in most cases and your new grad nurse resume is one of them. You may choose to move your education section above your employment history section since your experience is limited, however, you should still list your latest degrees and experience first.
You may opt for a hybrid-style resume format, which showcases your skills as well as any internships or other healthcare experience you may have, but a functional resume, which puts highly scientific or technical expertise at the forefront, is not the best choice for a newly graduated nurse.
Resume summary example
Because you are new to a profession that requires empathy, compassion, and detailed communication, you should pay careful attention to the summary of your new grad nurse resume. Here you have the freedom to show your personality and how you will enhance care at the facility.
Your summary, or profile, if you prefer, gives employers an overview of your career or accomplishments to date. As a newly minted nurse, you take these 3-4 sentences to describe why you choose this demanding field, the specialty (if you have one), and the type of environment.
The key to a successful summary (and application documents as a whole, including your cover letter) is to let your prospective employer know what you will bring to them. Let your professional voice shine through, especially since a large part of your job is clear communication. See our adaptable summary in the new graduate nursing resume example.
Adaptable summary resume sample
Recent graduate with a passion for supporting healthcare needs through empathetic patient service, engagement, communication, and education. Strong talent for cultivating and maintaining relationships, partnering with physicians, nursing staff, administrative teams, and patients/families to ensure positive experiences and health outcomes.
Employment history sample
If you went right into nursing school from high school, you may not have an extensive work record to detail in your new grad nurse resume. That's OK. Recruiters understand that you are in search of your first job.
List any summer or part-time work experience you do have, particularly if it relates to caring for others. Work such as volunteering in a senior center or with other populations shows that you have experience as a carer. Barring that, list work that demonstrates your reliability, time management, and other soft skills since employers value those highly. The same advice holds if you are a career changer. 
Each bullet item should convey what you did and the results you achieved because of your actions on the job. Be as detailed as you can and use data when appropriate.
Expert tip
Action verbs for a nursing resume
Here is a list of some verbs you should consider as you compile your employment history section:
Ordered
Tested
Administered
Discussed
Treated
Rehabilitated
Assisted
Monitored
Charted
Adaptable employment history resume example
New Grad Residency Nurse , Mercy Hospital, San Antonio, TX
August 2022 - Present
Provide effective, engaged care for up to 10 patients per shift.
Consult with Physicians and colleagues to develop and execute healthcare plans, ensuring alignment with patient needs.
Manage patient medications, assessing prescriptions and dosages for contraindications.
Meet with patients, caregivers, and families to provide health education and address healthcare inquiries.
Secure patient samples and administer medications in adherence to Physician orders.
CV skills example
Here is your chance to shine – and to easily target each job. Your new graduate nurse resume should contain a robust skills section that highlights the job attributes at which you excel while ensuring employers that you have what they seek in a newly certified nurse.
Your skills list should include your knowledge of medicine, healthcare, and nursing and the best practices you learned in school. Examples of those include starting peripheral IV lines, giving injections, checking vital signs, and having a deep understanding of both HIPAA (Health Insurance Portability and Accountability Act) and privacy practices. Don't list those to the exclusion of the people skills that will make you a great all-around employee.
NurseJournal calls these soft skills "crucial" for nursing:
Communication
Critical thinking
Compassion
Professionalism
Teamwork
Accountability
Stress management
Critical observation
Self-development
Resilience
Choose from among those or from your own skillset, making sure that you cross-reference the job listing to include the attributes your prospective employer has specifically mentioned. See our adaptable skills section in the new graduate nursing resume example.
Adaptable skills section resume example
Patient Care
Patient & Caregiver Engagement
Physician Partnership
Medication Management
First Aid & CPR
Immunization
Data Confidentiality
Electronic Medical Records (EMR)
Electronic Health Records (EHR)
Health Education
New graduate nurse resume education example
The education section of your new grad nurse resume may look a bit different from that of a registered nurse with experience. You may choose to list specific courses you completed that went above the minimum nursing degree requirements to bolster your desirability as a candidate.
In some states, nurses only need an associate's degree, but in others, they must complete a bachelor's degree. Each type of nursing and each state has slightly different requirements, but you will also need to take a licensing test. List all of these qualifications in this section.
Unless you have other extensive healthcare experience, you should move this section up above your work history because it is your main qualification – along with your nursing certification – for the position. If you have any specialized certifications, list those here as well.
Adaptable education resume example
Lady of Infinity College of Nursing, Bachelor of Science in Nursing, San Antonio, TX
May 2017 -  May 2022
University of Texas at San Antonio, Practical Nursing Degree, San Antonio, TX
December 2012 - December 2016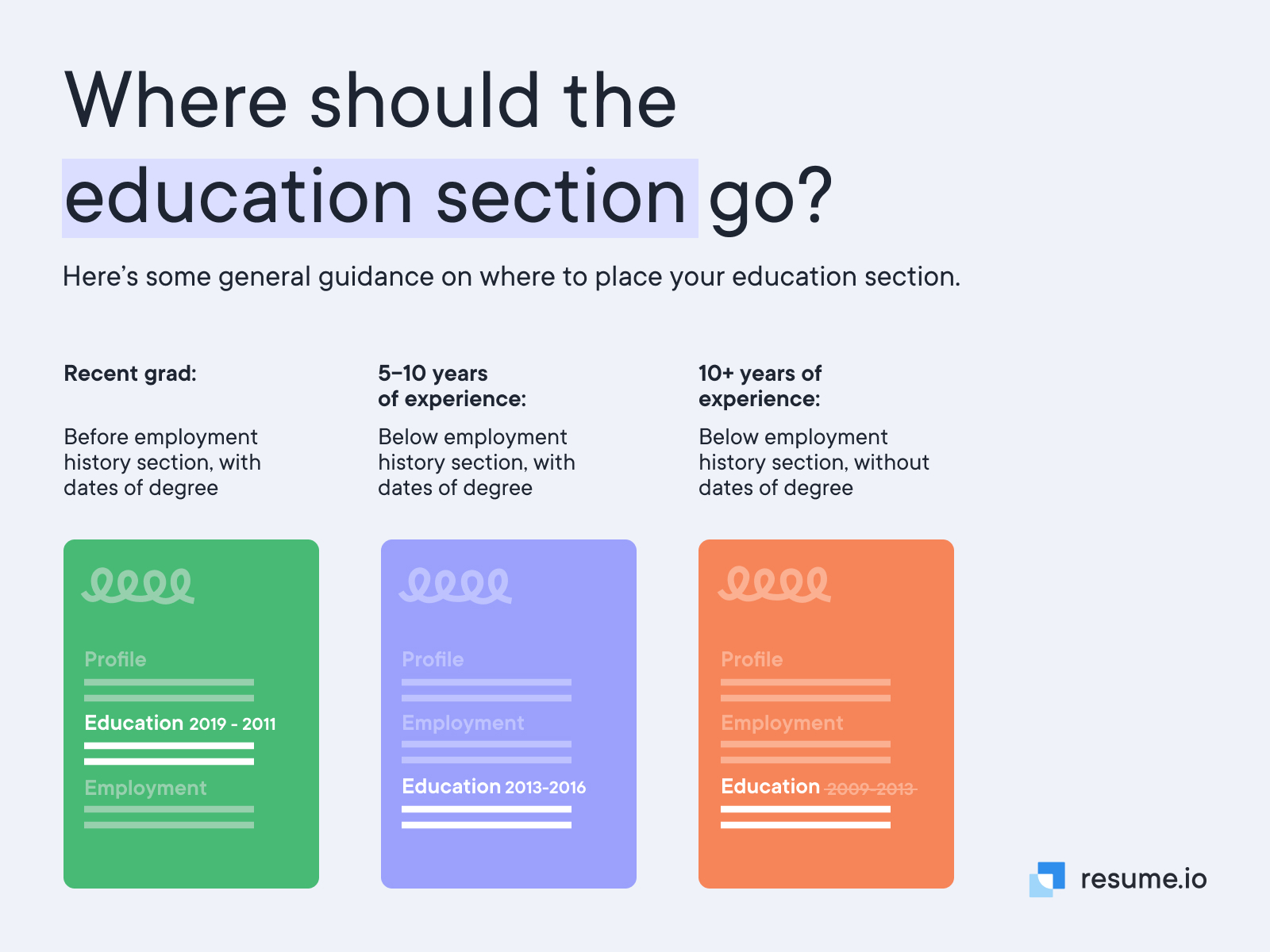 Resume layout and design
Precision and cleanliness are absolute requirements in healthcare jobs; the design and layout of your new graduate nurse resume need to reflect that. You wouldn't show up to an in-person interview looking anything less than professional – your layout makes the first visual impression before you even get there.
The best way to project a professional image is with a professional layout. Consider using one of our expertly-designed and adaptable resume templates. Also, take the following resume design tips into consideration:
Create neat lines by left-justifying your text.
Choose easy-to-read fonts and use two at maximum.
Keep color to a minimum. Allow yourself more leeway if you want to work in a pediatric ward since your upbeat personality will play a role in cheering up little patients and their parents.
Use boldface and enlarge the font slightly to help your section titles stand out.
Use your header (where you display your contact information) as an eye-catching  graphic element, but keep it legible.
Proofread, proofread, proofread! You can't make mistakes in medicine, so make sure there aren't any on your resume.
Key takeaways for a new grad nurse resume
You may have a choice of jobs, but you will need a great resume to get the job you really want.
With nurses in demand, you should be prepared to interview your prospective employer to find the best fit for you.
Consider highlighting your education section above your employment history since you are new to the nursing field.
Project attention to detail and efficiency in your resume layout.
Avail yourself of the professional job-hunting resources available at Resume.io.