The caring profession of nursing takes on an added dimension when you are willing to go wherever you are needed. A travel nurse resume that demonstrates compassion and the ability to adjust to constantly changing circumstances will help ensure that you get the positions you desire.
An excellent resume can make all the difference, so before you begin compiling your application, a bit of research is in order. Resume.io offers resume examples and an easy-to-use resume builder along with this guide, which includes a travel nurse resume example. Below, we will address the following topics:
What does a travel nurse do?
Tips and tricks for writing a travel nurse resume
Choosing the best format for a travel nurse resume
Getting the most out of each section of your resume (summary, work history, education, skills)
Professional resume layout and design hints.
What does a travel nurse do?
The demand for travel nurses exploded during Covid as medical facilities around the country could not keep up with the influx of patients combined with ill and burned-out staff members. As the pandemic has eased, healthcare facilities are looking to hire more full-time nurses, but that doesn't mean you can't find a great contract position as a travel nurse.
Travel nurses perform the entire range of nursing tasks, but they do it in different environments depending on where they are needed. Many temporary nurse jobs are found in high-needs areas where medical professionals are scarce or the work is particularly demanding.
Among the benefits of travel nursing is control over one's own schedule, experiencing different healthcare environments, and choosing the location where they want to work. Travel nurses are contract employees. They work in hospitals or other healthcare facilities covering vacations, nursing shortages, maternity leaves, and temporary increases in patient needs.
Statistical insight
What do travel nurses earn?
These are the top 5 most popular cities for travel nurses and mean weekly salaries, according to Nursa, a staffing agency.
| | |
| --- | --- |
| City | Weekly salary |
| San Diego | $2,572 |
| Seattle | $2,635 |
| San Francisco | $1,949 |
| Los Angeles | $2,669 |
| Boston | $2,458 |
The average hourly salary for a travel nurse is $56.49. Those starting out can expect $37.71 per hour and very experienced RNs can earn as much as $82.06.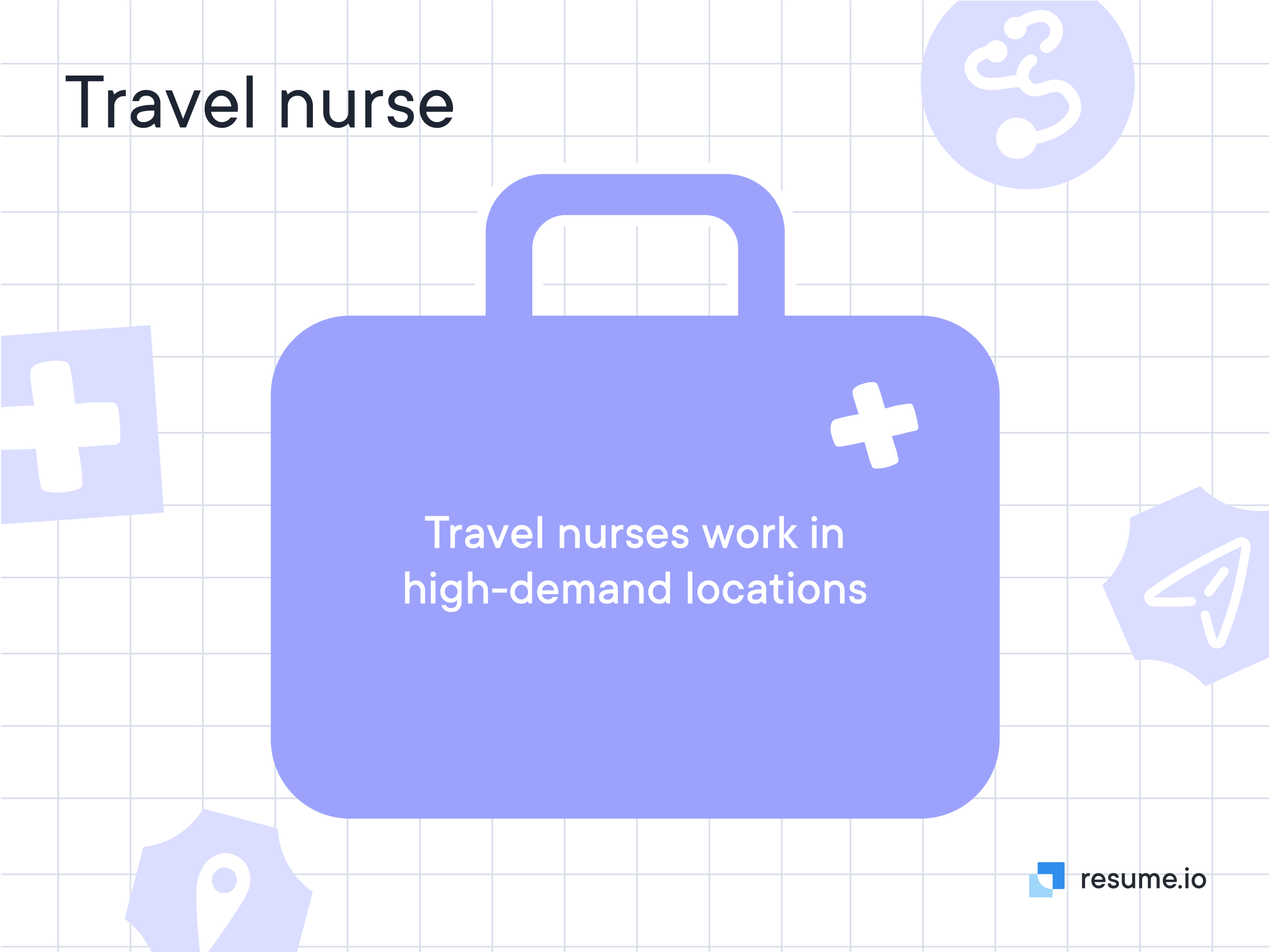 How to write a travel nurse resume
While your job includes much variety, your travel nurse resume should not. In fact, your CV should contain the following elements common to most resumes:
The resume header
The resume summary (aka profile or personal statement)
The employment history section
The resume skills section
The education section
That's because your goal is to make life easy for recruiters who are looking for candidates like you. These common sections allow them to quickly scan your application for relevant experience and qualities. Getting creative with section titles or organization will introduce a stumbling block they may not leap over.
Choosing the best resume format for a travel nurse
Typically, we recommend reverse chronological order as the best resume format; however, a travel nurse resume is a bit different. You have wide-ranging experience that may be better highlighted by a hybrid CV style that puts your skills at the forefront.
However, if at all possible, stick with reverse chronological order because it makes life easier for recruiters, which means you're more likely to be offered an interview. It may also help when you input your resume into an online Applicant Tracking System since these applications are typically set up to look for the standard chronological order format.
The choice of which type of resume to use is a judgment call for you to make. Consider the job listing and how best to highlight the skills, experience, and knowledge your prospective employer seeks.
Resume header
If you want to get creative, the header of your travel nurse resume is the place to do it. You want to attract attention to your name and contact information and make a memorable vision impression, but make sure you are staying within the bounds of professionalism and readability.
Offer an email address and phone number that you check frequently so you don't miss out on an opportunity. Also, add your title under your name, especially if you have a specialization that makes you even more desirable as a travel nurse.
Resume summary example
The summary of your travel nurse resume gives you an opportunity to show what you bring to each new situation. Introduce your expertise and your career highlights here, but also consider explaining why you love travel nursing and how you adapt to different work environments and demands.
Here's a sentence-by-sentence outline you may follow to guide you through this paragraph:
Introduce yourself and your career with strong, descriptive words: 
"Even-keeled emergency room nurse with five years' experience in high-needs hospital environments brings efficiency and compassion to each position."
Describe a successful or proud moment:
"During Covid, triages hundreds of patients while compassionately explaining to each individual and their loved ones their medical condition and care options."
Explain your philosophy:
"High-needs communities are my passion because everyone deserves top-quality medical attention, especially when emotions are running high in an emergency."
Tell your prospective employer what you will add to their team:
"My ability to quickly adjust to new situations, assess patient needs, and communicate to the team and patients will ease the burden on the emergency room staff."
Because the summary, also known as a profile, is a blank canvas, you may want to read other sections from our resume examples for healthcare professions such as:
Adaptable summary resume sample
Compassionate, dedicated travel nurse with a stellar reputation for top-tier patient support and care. Provide empathetic nursing support in a wide range of facilities, integrating into high-pressure, demanding environments to ensure quality of care. 
Employment history sample
No matter the format you have chosen, you will focus on your current and previous positions here. A hybrid style will give you more space for your skills and attributes, but any travel nurse resume should at least list your employment history.
Focus on achievements that highlight the skills you will need in the position for which you are applying. The traits of an ER nurse are different from those of a maternity ward specialist. Use strong action words that impress upon the recruiter that you are a person who gets things done. Data and details strengthen your candidacy.
To create symmetry within your employment history, use the STAR method to write your bulleted items. Explain the Situation, describe your Task, detail the Action you took, and highlight your Results.
Adaptable employment history resume example
Travel Nurse at Healthcare Travelers, Inc., Boston, MA 
January 2019 - April 2023 
Engaged with diverse patients to provide stellar care and support.
Delivered health care education to patients and families, providing information on care plans, medication management, and prevention strategies.
Aided physicians in the execution of treatments, ensuring effective care for a wide range of patient needs.
Registered Nurse at Boston Migraine Care, Boston, MA 
September 2014 - December 2018 
Performed injection therapies and nerve block treatments to deliver relief from debilitating migraine pain.
Evaluated and recommended lifestyle change and prescription medication regimens to drive meaningful change in patients' quality of life.
Partnered with neurologists to shape tailored care strategies.
Registered Nurse at Boston Hospice, Boston, MA 
September 2010 - July 2014 
Consulted with patients, families, and caregivers to shape end-of-life care and pain management strategies, ensuring comfort and ease in highly challenging environments.
Leveraged compassion and empathy to create care plans in accordance with unique needs and religious practices.
Delivered education and information on patient challenges, empowering patient wellness and advocacy.
CV skills example
In addition to your medical knowledge and skill, travel nurses need a blend of adaptability and compassion. The attributes you choose to highlight in the skills section of your travel nurse resume tell recruiters a lot about who you are and what you believe is important.
Play up your emotional intelligence. These are the skills that help you understand others and take care of your own needs so that you can be at your best in difficult situations. Travel nurses must adapt to each team with which they work, understanding the style and dynamics that they are thrust into. Communication (including active listening), empathy, teamwork, and internal motivation are all soft skills that make you a better travel nurse.
Correlate these skills with the ones listed in the job description to help you get past the computer gatekeeper or ATS  and reach the hands of a human being, but also to show your prospective employer that you understand what they need.
Adaptable skills section resume example
Trauma & ER Experience
Patient Care Planning
Patient Advocacy
Health Education
Teamwork
Clinical Processes
Outpatient Care
Pain Management
Resume education example
All travel nurses must have completed at least an associate's degree in nursing (ADN), however, most staffing agencies and their clients look for a bachelor of science in nursing (BSN). List all your degrees in reverse chronological order within the education section of your travel nurse resume.
If you have any advanced or specialized training, such as those from the American Nurses Credentialing Center, include those certifications and classes in this section.
Adaptable education resume example
Master of Science in Nursing, UMass Boston, Boston, MA 
January 2006 - December 2009 
Bachelor of Science in Nursing, Suffolk University, Boston, MA 
September 2001 - December 2005
Expert tip
Listing your certification
In addition to your degrees, you need to pass the National Council Licensure Exam for RNs (NCLEX-RN) to earn an RN license and subsequently apply for licensing in your state.
List your credentials in this order:
license type
licensing state/body
license name and number
expiration date
List your certifications in this order:
name
conferring organization
expiration
certification number, if applicable
Resume layout and design
The keywords here are professional and legible. The main place to express your personality visually and add a splash of color is your travel nurse resume header. Otherwise, stick with black type on a white or very light background.
Recruiters are likely to scan your skills section first, followed by either your contact information or your most recent place of employment. Keep those factors in mind as you lay out your document.

Unless you are a pediatric specialist and want to present a more cheerful image, you should stick to these guidelines:
Use color sparingly
Avoid images and icons
Choose fonts that are easy to read and keep it to two or three, if one is in your header
Avoid large blocks of type by varying your line lengths and using bulleted lists
Proofread! Your job requires attention to detail, so make sure your resume shows that attention.
If design isn't your strength, let us do the heavy lifting by choosing from among our many expertly-designed resume templates. These templates also prevent formatting errors that can make your resume look unprofessional or difficult to read.
Key takeaways for a travel nurse resume
Travel nurses are a special breed – they have to be adaptable and willing to work in high-demand areas, but they also get to choose where and when they work.
The more experience you have as a nurse, the higher salary you can command.
You need a combination of medical knowledge, efficiency, and adaptability, as well as the all-important ability to communicate with patients and their loved ones.
Save the hard work for your job – let us guide you through the resume creation process and get your job hunt done more quickly.