Creating a resume that will get you that coveted interview requires more than job skills. With as little space as you have, every word counts. That's why you need to know the best resume buzzwords 2021 and which words to avoid.
Resume buzzwords fall in and out of fashion just like everything else. You want hiring managers to know your industry knowledge is up-to-date and that you're not falling back on tired cliches like "team-oriented" or "go-getter." And, to stand out, you definitely want your resume to read differently than other candidates. With that said, you also want to use those resume buzzwords to rank highly in Applicant Tracking Systems.
What are resume buzzwords?
Resume buzzwords are commonly used keywords , terms, abbreviations and phrases - specific to a certain industry, time period or profession (or any combination of these). They are usually related to skills or professional qualities in resumes (or alternatively - adjectives describing professional situations/phenomena). Resume buzzwords can be both good and bad for your resume, depending on a whole set of factors.
The three most critical factors to consider when determining if using a resume buzzword will help or harm your application are these:
Frequency and character of use (at the time or in your industry)
How appropriate they are to the context of your job and role
Whether they are believable compared to the rest of your resume
In terms of frequency and character, if the resume buzzword is heavily overused in the industry and is often placed in resumes to simply "hype up" a candidate profile - you might want to reconsider using it (or at least think of rephrasing it). Certain phrases like "stress-resistant" or "team player" have been overused to such a degree that they have almost become meaningless.
Secondly, if you're applying for a junior marketing role and try to use resume buzzwords related to management or another profession entirely (such as programming), this may hurt your resume. They simply look out of place.
Similarly, high-profile or managerial skills or terms may not seem believable in an entry-level or junior resume. Filtering out overqualified candidates is also an unfortunate reality of any job market. So be careful with "overhyping" your language. 
However, there are numerous situations where buzzwords can be used in a positive sense. By monitoring industry trends and your target employer's needs, you can often identify through research (or guesstimate) which of your actual skills and qualities may look great for a given job application. Are you applying to a company that's expanding into a new market or works in a bilingual region? Then, "multilingual" may be a great buzzword to use. Is a company hiring people for night shifts? Then "flexible in time management" may be super appropriate. Good use of buzzword examples are endless.
List of buzzwords for resumes
Some CV buzzwords apply to almost any career. Recruiters are looking for the set of skills that make you a valuable employee in these times of changing job environments and situations, but even before the pandemic, employers understood the benefit of soft skills, with 65 percent saying they desired those skills in candidates, a survey by Morning Consult on behalf of Cengage found. 
Here are some resume buzzwords that describe sought-after soft skills:
Adaptability/flexibility
Creativity
Problem-solving
Curiosity
Emotional intelligence
Persistence
Persuasion
Relationship-building
Resourcefulness
These resume buzzwords will help you take your resume from good to great by bypassing some of the tried-and-true (and a bit boring) descriptions many resumes contain.
Do
sophisticated knowledge
mastery
realized
transformed
augmented
Don't
experience
expertise
achieved
influenced
increased
Each career has its own set of CV buzzwords. Make sure you include these in your resume as well.
Sales buzzwords for resumes
Salespeople need great soft skills to understand the desires of customers and anticipate and fulfill their needs. They also need to know their product and techniques for closing the deal. These sales resume buzzwords tell hiring managers that you have it all.
Accountable
Active listening
Affinity with technology
BANT (budget, authority, need, timeline)
Buying signal
Closed question
Emotional sale
Information gathering
Mirroring
Prospecting
Social selling
Storyteller
Project management buzzwords for resumes
Skip the words "detail-oriented" and "multitasker;" you wouldn't be a very accomplished project manager if you weren't. Instead, get more granular with resume buzzwords that explain exactly what details you juggle.
Arrow diagramming method
Backlog
Change control
Cost management
Gannt chart
Gap analysis
Process improvement
Risk management
Scope creep
Marketing CV buzzwords
Marketing CV buzzwords change with the tides, it seems, as everyone seeks the word or phrase that will elevate their message. Here are some that will help you rise above.
Artificial intelligence
Customer journey
Disruptor
Machine learning
Omnichannel marketing
Programmatic advertising
SERP (Google's search engine results page)
Social media management
Video marketing
Consulting buzzwords for resumes
Your resume buzzwords will depend on the industry in which you consult, however, there are some standards you should consider. Remember to maintain the tone of the industry. In other words, don't use casual, insider language. Focus on CV buzzwords that equate to skills.
20,000-foot view/bird's eye view
Alignment (of goals and processes)
Big data
Deliverable
Holistic approach to problem-solving
Leverage
Pain point
Scope of work (SOW)
Teacher CV buzzwords
Educators sometimes seem to be speaking a different language. Like other careers, trends come and go and cycle back around. The lesson here is to be up on current pedagogy and place these buzzwords in your resume.
Accessibility and equity
Blended learning
Digital citizenship
Mastery-based grading
Remote learning
Self-paced classroom
Synchronous and asynchronous learning
Whole-child learning
Customer service buzzwords for resume
As a customer service representative, your people skills are your bread and butter, but don't ignore your technical skills . Highlight them all by choosing from this resume buzzword list to incorporate into your application document.
Active listening
Adaptability
Conflict resolution
Customer-centric
Customer needs recognition
Customer success team
Emotional intelligence
Hyper-personalization
Knowledge base
Multi-channel
Stress management
Upselling
Engineering buzzwords
Engineering is far from a single career, so we'll leave it up to you to get deep into your field of expertise, but these resume buzzwords are high on the list of hiring manager wants.
Actionable analytics
AI/machine learning
Bill of materials
Data modeling
Feasibility analysis
Justification study
Lean manufacturing
Process flow mapping
Systems integration
Resume Buzzwords 2020 - 2021
Resume buzzwords and business terms change every year (and sometimes even every month), but it does make sense to follow the language and documentation trends for the current year or two.
Here's a list of business and professional buzzwords that can be used in your resume, compiled by Indeed.com in 2020-2021 (we've chosen the ones that are most appropriate for job seekers):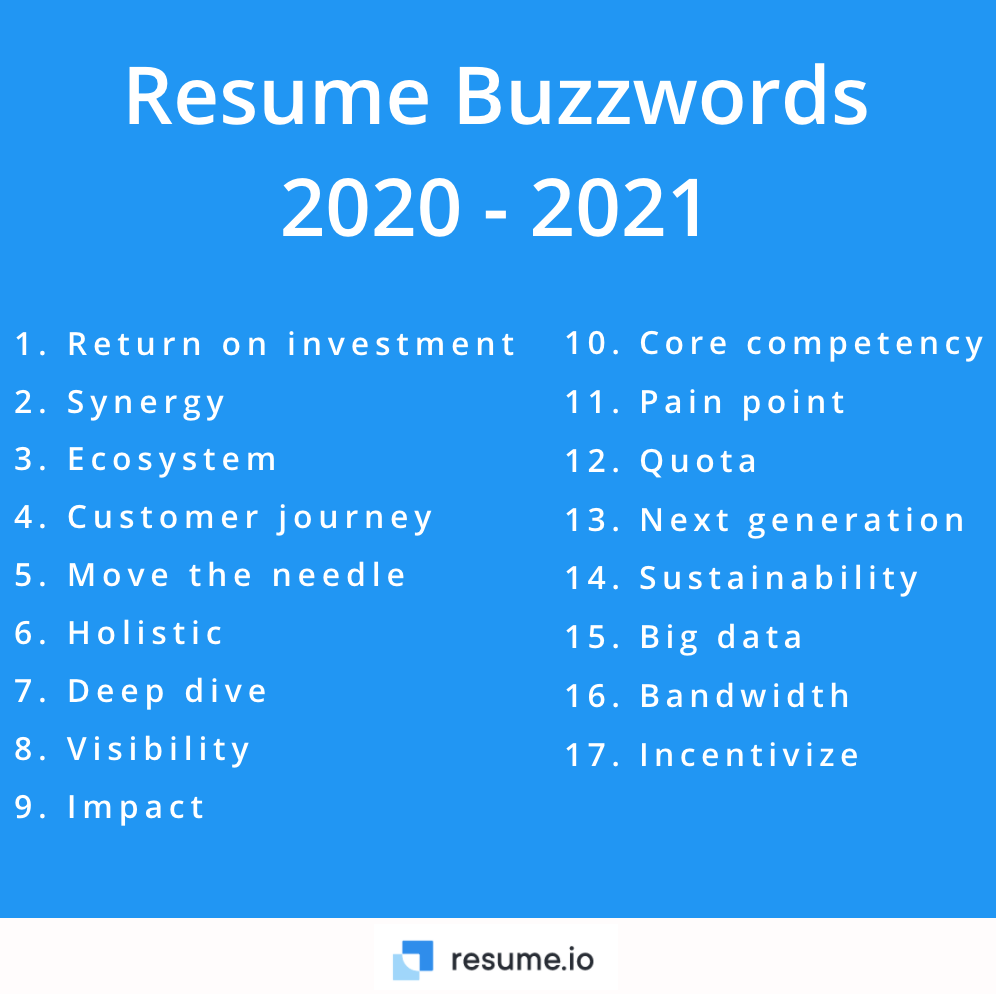 These should not be used blindly, but instead - adapted to your profession, industry, job role and targeted employer and job listing. However, this list may be a source of useful ideas to draw upon. You can also conduct your own Google research. Just make sure to follow the advice already included in this guide on resume buzzword usage.