Charge nurses are not only healthcare professionals but also administrative experts with the leadership skills needed to keep busy clinics and hospitals functioning at maximum efficiency. Charge nurses are in high demand, meaning that now is a great time to prepare your resume and land your next position.
Resume.io is here to help you each step of the way. With 300+ resume examples and writing guides, we're an expert resource for job seekers across fields and experience levels. This resume guide, along with the corresponding charge nurse resume example will cover the following topics:
What does a charge nurse do?
How to write a charge nurse resume (tips and tricks)
The best format for a charge nurse resume
Advice on each section of your resume (summary, work history, education, skills)
Professional resume layout and design hints.
What does a charge nurse do?
A charge nurse is a registered nurse who holds a leadership position within a healthcare facility, overseeing a specific unit or department. They play a vital role in coordinating and supervising the nursing staff, ensuring the delivery of high-quality patient care. Unlike other types of nurses, the charge nurse assumes administrative responsibilities, such as assigning patient loads, managing schedules, and acting as a liaison between the nursing team and other healthcare professionals. This additional role allows them to make crucial decisions, provide guidance, and maintain a smooth workflow, contributing to the efficient functioning of the unit.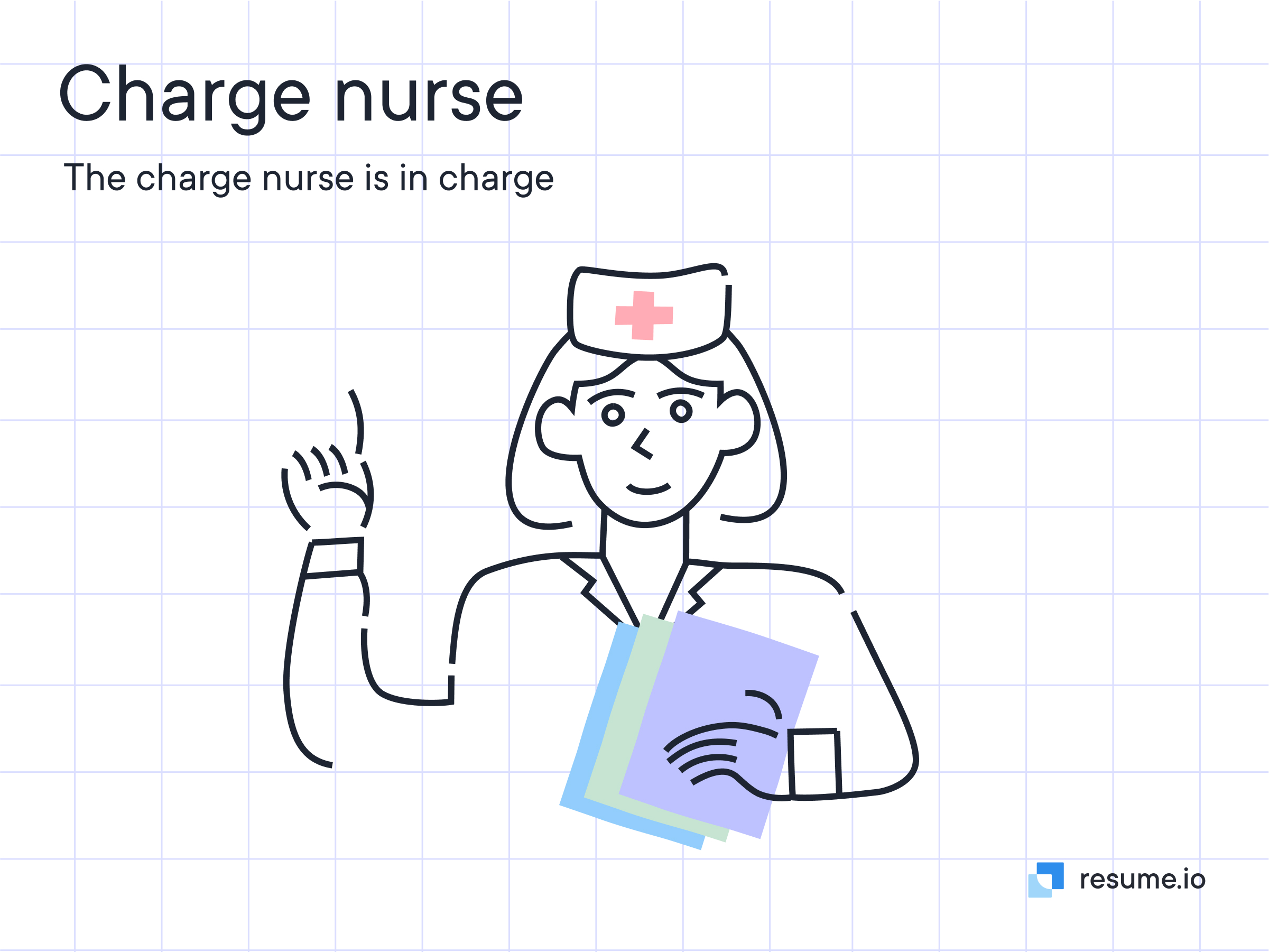 How to write a charge nurse resume
The very first step in writing your charge nurse resume is understanding what sections to include. Your CV should contain the following elements:
The resume header
The resume summary (aka profile or personal statement)
The employment history section
The resume skills section
The education section
Expert tip
Consider the ATS
When applying to a large hospital or health network, there's a good chance that your resume will be scanned by an ATS before it's reviewed by a human hiring manager. ATS, or Applicant Tracking Systems, are resume-scanning algorithms that look for keywords programmed by the employer (often from the job description) and rank candidates against one another. Only the top-scoring are passed onto the hiring manager for review. To avoid being filtered out, make sure to include the most relevant duties and skills from the job description on your resume using the employer's exact language.
Choosing the best resume format for a charge nurse
As medical professionals, charge nurses generally only have one option when it comes to choosing the best resume format. The reverse chronological resume format is often seen as the standard for most professional positions because it focuses on the employment history section where you're able to share your skills and accomplishments in previous nursing roles. You should include up to ten years of relevant experience.
While other resume formats do exist, we recommend them for students or those in creative fields. For healthcare workers like charge nurses, an alternative resume format may make you come across as inexperienced.
Resume header
At the very top of the page (or sometimes as a sidebar depending on the layout) you'll find the resume header. This section plays a key role in helping the hiring manager to identify your document and keeping your name and contact information easy to find in case they want to schedule an interview. The resume header also adds a touch of creative formatting to your resume. However, it's best for charge nurses to stick to a neutral or monochromatic color palette as the medical field is a formal one.
Resume summary example
The summary is a 3- to 5-sentence paragraph at the start of the resume that introduces the hiring manager to your most impressive experiences, qualifications, and skills. The summary should give a sense of your caring nature and efficiency as a nurse, and encourage the hiring manager to keep reading to find out more about your strengths. Since hospitals often hire for multiple roles at once, it's important to include the name of the exact position and location you are applying to and even the job description reference number if applying to a large medical system. Check out our resume example summary for more ideas.
Adaptable summary resume sample
Dedicated Charge Nurse known for ensuring exceptional efficiency and performance across busy nursing departments. Experienced leader able to streamline operations in fast-paced, high-pressure environments to support the needs of patients and medical institutions.
The summary is the most freeform section on the resume so you may want to check out our other healthcare resume examples for inspiration including our:
Employment history sample
The employment history section of your resume is likely to draw the hiring manager's attention first as they quickly try to evaluate if you have the skills needed to work on their busiest hospital floor. Therefore, when writing your employment history section, make sure to keep the employer's needs in mind and reference examples from your previous experience that are most relevant to your prospective new job. 
To write the employment history section, first create subheadings for each of your previous jobs with the job title, employer name, dates worked, and location. List the dates in reverse chronological order, starting with the most recent position and moving backward through all relevant work experience. Then, add 4 to 5 bullet points that detail your main duties, accomplishments, and the skills used in each role. Make sure to focus on numbers and concrete details to help your resume stand out in the hiring manager's mind. Below you'll find our adaptable employment history section resume sample.
Adaptable employment history resume example
Registered Nurse, Boca Raton Emergency Clinic 
February 2018 - March 2023, Boca Raton, FL 
Engaged with patients and families to provide education on healthcare needs and care plans.
Partnered with Physicians and nursing staff to develop customized patient care strategies, leveraging medical history insights to inform planning.
Rapidly assessed patient state by executing diagnostic testing and consultation.
Ensured accuracy and confidentiality across all patient documentation.
Charge Nurse, Boca Medical Associates 
April 2013 - January 2018, Boca Raton, FL 
Scheduled and coordinated nurse teams, shaping shift schedules to maintain optimal coverage.
Monitored supply levels, placing purchase orders and requisitions to align medication and supplies with projected demand.
Assigned nurse duties, coordinating team to maximize talent and experience across all functions.
CV skills example
The skills section of your CV is the place to add your key areas of experience so that the hiring manager can quickly evaluate if you have what it takes to work their most hectic shift. Make sure to double-check the job description and pick out the knowledge and skills that are most important to the employer. The CV skills section should contain your 4 to 5 most impressive skills in a bullet point list that the hiring manager can't miss. See our adaptable resume example below for more insight.
Adaptable skills section resume example
Empathetic Patient Care
Nursing Team Leadership
Cross-Department Collaboration
Scheduling & Coordination
Family-Centered Care
Care Planning & Education
Clinical Documentation
Patient Assessment
Expert tip
As a charge nurse, it's important to show a balance of hard and soft skills on your resume as both of these are essential to the work you do. Hard skills are technical abilities and are generally job-specific. Examples of hard skills for a charge nurse may include various clinical expertise and administrative tasks.
Soft skills, on the other hand, are the innate qualities and personality traits that make you a caring and attentive nurse. As a charge nurse, it's important to include skills related to your leadership and administrative abilities, along with your ability to cultivate a positive team environment.
Charge nurse resume education example
To become a charge nurse, you typically need to meet the educational requirements to become a registered nurse (RN), meaning that education is an essential component of your resume. The educational path for an RN usually involves completing a nursing program and earning either an associate degree in nursing (ADN) or a bachelor of science in nursing (BSN). Make sure to list any degrees in reverse chronological order and include the program name, degree earned, dates attended, and location. If you are a recent grad, you may also choose to add one or two bullet points to describe any accomplishments or leadership positions related to your education.
Adaptable education resume example
Boca University, Bachelor of Science in Nursing 
January 2006 - December 2011, Boca Raton, FL 
Southeast Florida University, Associate Degree in Nursing 
September 2001 - December 2005, Boca Raton, FL
Expert tip
Many healthcare facilities prefer or require charge nurses to have a BSN degree due to its broader education and emphasis on leadership and management. Some employers may even require charge nurses to have a certain number of years of experience as an RN before assuming the charge nurse role.
Resume layout and design
The layout and design of your resume send a message about your professionalism as a charge nurse before the hiring manager ever reads a word about your experience. It's important to keep a subdued look as bright colors and flashy imagery are generally inappropriate for the medical field. However, that doesn't mean your charge nurse resume should be unattractive. Make sure to bold your name or use a larger font size to make it stand out. Lines and other design elements can help you separate sections and keep your resume easy to read. Here are a few other tips for the layout and design of your resume:
Do
Keep a balance of white space to text
Add "charge nurse" to the header of your resume
Try out a professionally-designed resume template to save time when creating a layout.
Don't
Change the margin size to cram in more information
Add a headshot to your resume unless common in your country
Forget to proofread before submitting
Key takeaways for a charge nurse resume
Healthcare workers are in high demand so this is a great time to prepare your charge nurse resume.
While there may be many similarities between nursing jobs, it's still important to tailor your resume to the exact location and employer you are applying to.
The reverse chronological resume format is the best option for charge nurses as it focuses the skills used in your previous positions.
Check out our adaptable charge nurse resume example for more ideas on how to create an effective and professional page layout.