The header is the crucial section at the top of your resume that contains your name, occupation and contact info. How you format the header can make or break your application.
You're aware of the expression "Last but not least," but let's talk about another issue, "First things first." Let's discuss the mission-critical header that needs to go at the very top of your resume. 
It's the easiest part to write because you already have this information memorized. But it's the most challenging part to design, and job seekers often make basic blunders when creating their resume headers.
This article will cover:
What is a resume header?
Why do you need a resume header?
How do you write a resume header?
How do you design a good resume header?
What should you leave out of the resume header?
What is a resume header?
A resume header is a thoughtfully designed section at the top of a resume that contains a job applicant's name and contact info, plus sometimes a few other things that we'll discuss below. 
A header is similar to what used to be called a "letterhead," where the sender of a business letter has pre-printed info at the top identifying the company's name and contact info. In addition to providing critical information on how to reach you, a good header projects professionalism and competence. 
Why do you need a resume header?
A resume header keeps your most important contact details at the hiring manager's fingertips should they want to set up an interview with you.
Creating a resume without a header would be like printing a blank business card: Nobody would know who you are or how to reach you. Even if the rest of your resume were perfect, you would never get any response, because you forgot to tell the reader how to get a hold of you.
Other than the obvious importance of your name and contact info, headers also serve an important design function. In your header, you have the freedom to make creative choices about fonts, font sizes, layout, icons and use of color. With a well-designed header, your resume will look better at arm's length, before anyone reads the first word. This makes a positive first visual impression, and that's important. Your resume needs to look as good as it reads.
Your header also gives you a sort of "visual ID," a design signature that helps identify you in the recipient's mind. Your resume header and your cover letter should be similar if not identical, making it clear that these documents were designed to go together. If a hiring manager prints out 10 resumes and 10 cover letters and then drops them all on the floor, it should be easy to match up your resume and cover letter because it's obvious at a glance that they're a "matching set."
How do you write a resume header?
To write a resume header, you'll need at least three things:
Your name
Your phone number
Your email address
See how easy this is so far? But wait, there's more.
This is sometimes overlooked, but whether you're a nurse practitioner or a circus clown, you should include a very short description of your occupation below your name. If you have noteworthy certifications or degrees in your field (such as CNA, CPA or the like), consider including those as well.
This used to be among the most important things to include in a resume header, but nowadays it's considered somewhat optional. The logic goes that modern employers aren't going to snail-mail you a letter in response. And they may even be turned off by how far away you live from their offices. Or you may be applying for a remote job where your current residence doesn't matter anyway.
But on balance, we recommend including your mailing address unless there's a good reason not to. At the very least, we suggest including the city and state where you live, or the city and country if you live in a different country than the employer.
Links to websites that display your professional cred in your field
LinkedIn pages can be a good option, as they usually focus on professional achievements, but make sure your profile is updated and optimized for job-search purposes. Your Facebook, Instagram and Twitter pages may or may not be a good idea to include, depending on whether they focus on your professional life or are too personal. 
But if you're an artist, photographer or the like with a personal website showcasing your portfolio, that's absolutely worth including. Before providing links to any websites, review them to make sure they're updated and professional and don't contain any material that might be a deal breaker.
If in doubt, go without. Headshots on resumes are quite common in countries outside North America, but they are often frowned on in the U.S. The reason is that laws prevent employers from making hiring decisions based on race, gender or age, and photos can reveal all of the above. But if you're an actor or model, where how you look could play a legitimate role in a hiring decision, those considerations generally go out the window.
How do you design a good resume header?
A U.S. Supreme Court justice once wrote that obscenity is hard to define, but "I know it when I see it." And the same could be said of good resume header design. 
Spend some time scrolling through the hundreds of resume templates and resume examples at Resume.io, and you'll see lots of resume headers. You don't have to love them all, but if you see one you really like, click on it and follow the steps to making it your own using our easy builder tool.
Resume header examples
Resume headers can be designed horizontally, with all the info at the top of the page, like this one:

Headers can also put the name and occupation at the top and contact info in a well (margin) on the left. The remaining space in the well can be used to list job-related skills: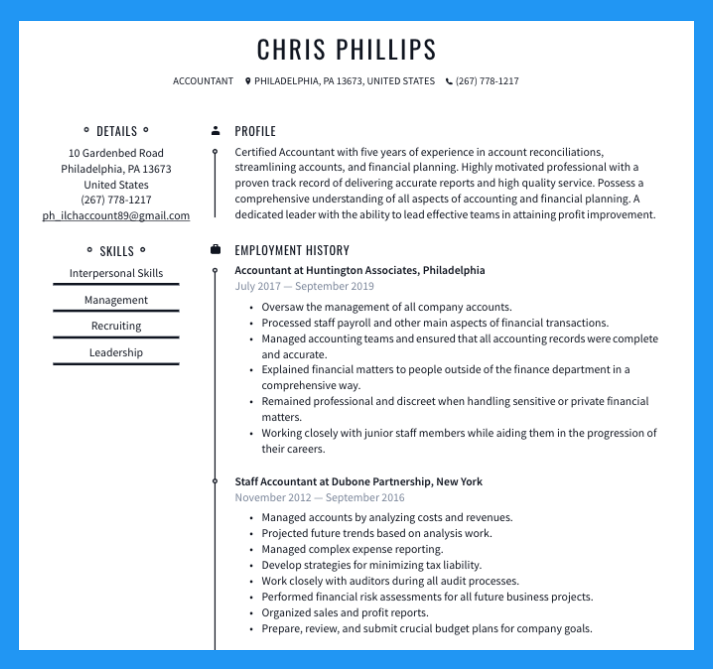 Contact info can also be placed in a well on the right: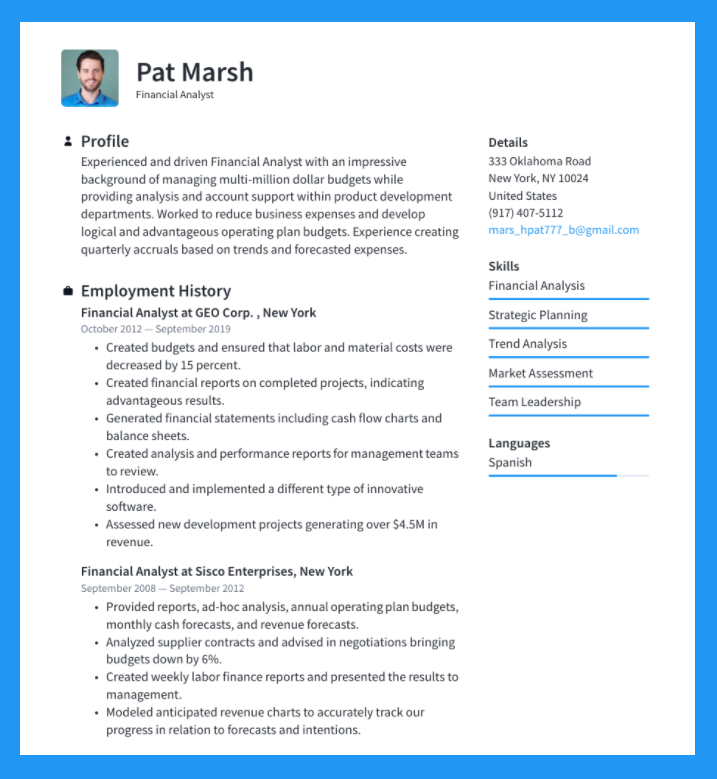 You can also opt for a photo and an accent color:

Feel free to design your own header if you know what you're doing. But the easiest way to get a professional header to put on your resume is to find one that's already designed for you. 
What about a 2-page resume header?
In most cases, we recommend that a resume be one page only. However, there are cases where a two-page resume is appropriate, especially for those with long careers. So the question comes up: Should you put a header on both pages?
Opinions are divided on this. Some experts say you should include a header on the second page, making it doubly easy for a recruiter to find your contact info. Other experts say this is a silly idea – you already provided all this info, and you should use the space for new information.
If you do choose to repeat your header on a second page, it should be very similar if not identical to the header on the first page.  
What should you leave out of the resume header?
When considering what to leave out of the resume header, please note that it isn't necessary to put the word "RESUME" at the top of the page. Hiring managers will know they're looking at a resume.
Do not confuse a resume with a biodata, which is a document used in India, Pakistan and other South Asian countries as a job application document – and even for matrimonial purposes in countries where arranged marriages are common. A biodata will often include information that doesn't belong in a resume, including:
Age or date of birth
Gender
Race or ethnicity
Nationality
Religion
Marital status
Job applicants often have questions about the differences between a resume and a CV (curriculum vitae). Usually, these mean the exact same thing – "resume" is simply the term commonly used in the U.S. and Canada, while "CV" is the most common term in other English-speaking countries. However, there is a big difference between an ordinary resume/CV and an "academic CV," which is used in academic settings and is usually much longer. To understand the distinctions, see our article " Resume vs. curriculum vitae (CV): What's the difference?"
Also, there are certain differences between standards for CV/resume preparation in North America and other countries. As noted above, resumes in the U.S. should not contain information about age, gender, race, marital status (or, usually, photos) but it's more common to include these in resumes/CVs in other countries. Read more about this in our blog " What does CV stand for?"
One other important note: Microsoft Word allows you to put information like chapter titles and page numbers in what it calls "headers" and "footers." But you should never put your resume header in what Word calls a header, or it may be invisible to Applicant Tracking Systems (ATS) that employers use to scan resumes.
Key takeaways:
A resume header is the section generally found at the top of the resume that contains the applicant's name and contact information
A good header should be easy to read and visually attractive
Matching cover letter and resume headers help you create a "personal brand" for your application
In North America, a headshot or information about marriage status, race, nationality or religion should never be found on a resume, due to laws about discrimintation in hiring.