There are certain jobs where your certification is arguably the most important piece of information on your resume (think CPA or RN.) Then there are positions where a certification will set you far above the competition like PMP or A+, for example.
In each of these situations, knowing where and how to add certifications on a resume is the key to making sure a hiring manager sees your value from the second your application crosses their desk. 
In this blog we'll cover everything you need to know about putting your qualifications to work on your resume. Here are the topics:
The best places to mention certifications on your resume
How to correctly format certifications on a resume
Examples of certifications that look good on a resume
How to use qualifications to help you land your next position
Where to list certifications on a resume
Here are a few key places where you can mention any certifications you possess on your resume:
In your resume header
During your summary or personal statement
In your education section
In a separate certifications section
As a bullet point in your work history section
While these five options are all potential places to add a certification on your resume, you likely won't want to add the same certification to each of these sections. Where you decide to mention your certifications has a lot to do with your job title and the importance of the certification.
Here are some questions to ask yourself when deciding where to put certifications on your resume:
Is my certification practically a job requirement and does it have a commonly-used abbreviation?
Examples: CPA, RN
If yes, these are great certifications to place following your name in the header section of your resume. You'll likely want to note them in the summary as well.
Is my certification a great advantage in my field but shouldn't be placed next to my job title?
Examples: CPR, general first aid 
If so, make sure to keep your certification right in your summary. You'll also want to add it to your education section.
Do I have various certifications that show my specialization and commitment to the field?
Examples: Safeserv, LEED certification
If so, you may want to mention the most important one in your summary and then include all of them in a separate certifications section.
Did an employer finance my training or did I pass the certification while working a related job?
Examples: Master plumber, CDL
If so, this is a great reason to include your certification in your employment history section underneath the corresponding job title.
Expert tip
Creating a separate certifications section is easy inside our expertly-designed resume builder. Simply click into your template, scroll to the bottom of the page and choose "add custom section." Then, label your new section and begin to create sub items for each certifications.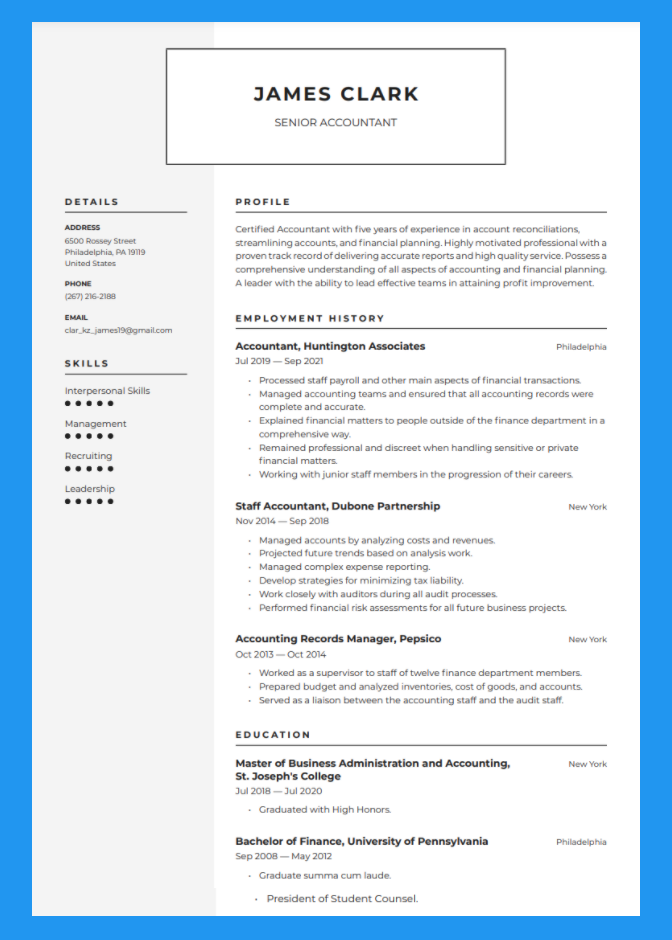 How to write certifications on your resume
How you write a certification on your resume is key to making sure the hiring manager can find the most important pieces of information in the first few seconds of scanning your resume.
In general, each certification should include:
The name of the certification, along with the most common abbreviation
The issuing body or location where the training was completed
The date issued
The expiration and/or renewal date
Each of these pieces of information helps a hiring manager learn more about your career story and interest in the profession. It also gives them practical information about how far back you might have learned the relevant skills. By adding the date completed, you allow the hiring manager to verify your certification with the governing body. 
Expert tip
Can I list a certification in progress on my resume?
Not only can you, you probably should! Certifications in progress show employers that you've invested your time into the field because you're passionate about the possibilities. If the certification is part of a larger education program, then you may want to include it underneath your degree in progress. If not, it can go in a separate certification section with all the usual identifying information plus your anticipated completion date.
Below you will find a guide to formatting the certifications on your resume. Although it shows how to list nursing certifications on a resume, the order of information will be the same no matter what certifications you are listing on your resume.
Example
Clinical Nurse Specialist; Wellness through Acute Care (Adult-Gerontology); ACCNS-AG; American Association of Critical-Care Nurses (AACN); Jan. 15, 2021, renewal date Jan. 14, 2023
Certified Hospice and Palliative Licensed Nurse (CHPN); Hospice & Palliative Credentialing Center (HPCC); March 15, 2019, renewal date March 14, 2023
Using certifications to your advantage
When you don't have much experience in a field or are trying to make a career switch, a relevant certification or two can work to your advantage in convincing a hiring manager that you're worth an interview. 
You may decide to go out and complete courses on your own to show employers that you're serious about working in the field. This investment of time and money, along with a great resume and the right transferable skills can sometimes be enough to win you the job even with no experience.
To use certifications on your resume to your advantage, make sure to place them at the beginning of your summary section. This area at the top of the page is likely to catch a hiring manager's attention as they begin to scan your resume. You can also mention your certification again in your experience or education sections. 
Expert tip
Are certifications good for my resume?
Certainly adding skills and knowledge in the form of certifications can't hurt — if they are relevant. Our examples of certifications below will give you an idea of which to go after if you don't have them already.
Should I put expired certifications on my resume?
Whether or not to list expired certifications on a resume can be a tough decision. In general, it's not recommended to include expired certifications as hiring managers are looking for your current skill set and licensing. However, there are instances where knowledge from an expired certificate may still be relevant even after the piece of paper is out of date. If you're applying for a job in healthcare and you used to work as a nurse, for example, a mention of your previous training can show that you have skills other candidates may lack.
Expert tip
How do you list online certifications on your resume?
The short answer is this: the same way you list other certifications. Use the same criteria you would use when deciding if a certification will help your resume. If it makes the cut, document your achievement. If you have a URL, add that in. Even better, use our online resume maker to link directly to your certification.
It  also depends on how formal and/or legally required the certification is for this specific job opening (such as one that is required to practice your profession). If a language proficiency test can likely still be listed in some cases, a government-licensed certification should probably be renewed before listing it.
Alternatively, if you really need to, you can mark an expired certification on your resume as "in the process of being renewed" or a similar disclaimer. Just make sure that it really is in that process.
The best certifications + examples
The right certification for you depends largely on your job title and career goals. It's worth researching trends in your field to see which certificates will put you ahead and help you learn new skills. There are, however, some certifications that are growing in popularity either for their ability to be applied to multiple fields or because they set the standard for knowledge of a particular industry.
Note that there are thousands of certifications for various industries, so a comprehensive list would take up the space of a small library. But here are some examples of the best certifications to have in 2022:
IT:
AWS Certified Solutions Architect – Professional
Certified Data Privacy Solutions Engineer (CDPSE)
Cisco Certified Internetwork Expert (CCIE)
Cisco Certified Network Associate (CCNA)
Cisco Certified Professional Network Professional (CCNP)
Microsoft Certified Azure Solutions Architect
Microsoft Certified Solutions Associate (MCSA)
Oracle Certified MySQL Database Administrator (CMDBA)
Hospitality and catering:
ServSafe
ManageFirst
National Registry of Food Safety Professionals
Learn2Serve
National Environmental Health Association
American Hotel & Lodging Educational Institute
Construction:
National Council of Examiners for Engineering and Surveying (NCEES)
American Concrete Institute (ACI) Certification
Green Building Certification (LEED)
Crane Operation Certification
Construction Management Association of America—Certified Construction Manager (CCM)
Healthcare Administration:
Fellow of the American College of Healthcare Executives (FACHE)
Certified Medical Manager (CMM)
Certified Healthcare Administrative Professional (cHAP)
Certified Professional in Healthcare Risk Management (CPHRM)
Key takeaways
You worked hard to earn your certifications. Make sure you place them carefully to make the most of them.
Go ahead and list any relevant certifications you have, but make sure they are up-to-date or demonstrate a skill you will use in the job you seek.
Take care to list your certifications on your resume in the format hiring managers prefer.