Precision and detail are your bread and butter in the accounting field. A CPA resume must be perfectly honed to show that you don't make mistakes where money is concerned, but also show what distinguishes you from other candidates. 
When it's time to get moving on your job search, avail yourself of the advice of experts. Resume.io's resume guides and resume examples for 300+ professions are backed up by an intuitive resume builder that will smooth the path toward creating an excellent application package. 
This resume guide, with a corresponding cpa resume and example, offers detailed advice and answers to the following:
What does a CPA do?
What is the best way to write a CPA resume (tips and tricks)?
What is the best format for a CPA resume?
How do you maximize each section of your resume (summary, work history, education, skills)?
How should you approach the layout and design of your resume?
What does a CPA do?
CPAs, or certified public accountants, manage finances. Those who work in companies are responsible for financial record-keeping, reviews of data, preparation of reports, and audits of financial reports. They may also make strategic financial recommendations to the finance department or CFO.
CPAs who work with individuals are often tax preparers. They interview clients, gather and organize their income statements, advise them on tax strategies, and file tax documents.
Some CPAs work for the government at the federal, state, or local levels. They may audit businesses or individuals for tax or regulatory purposes.
CPA job market and outlook
The demand for accountants and auditors as a whole is expected to grow at an average rate of 6 percent from 2021-2031. That translates into 136,400 new jobs per year, the US Bureau of Labor Statistics predicts.
One reason for those numbers is retention. According to a Deloitte study, 82.4% of managers at public companies who hire accounting and finance professionals said talent retention is a big challenge as did 68.9% of hiring managers at private companies, the Controllers Council reported.
Statistical insight
The average CPA earns $119,000 a year without bonuses. This can range widely depending on experience level and the size of the company. 
The "Big Four" accounting firms of Deloitte, Ernst & Young (EY), PricewaterhouseCoopers (PwC), and KPMG pay a median range of $70,000-$125,000 a year, according to Investopedia.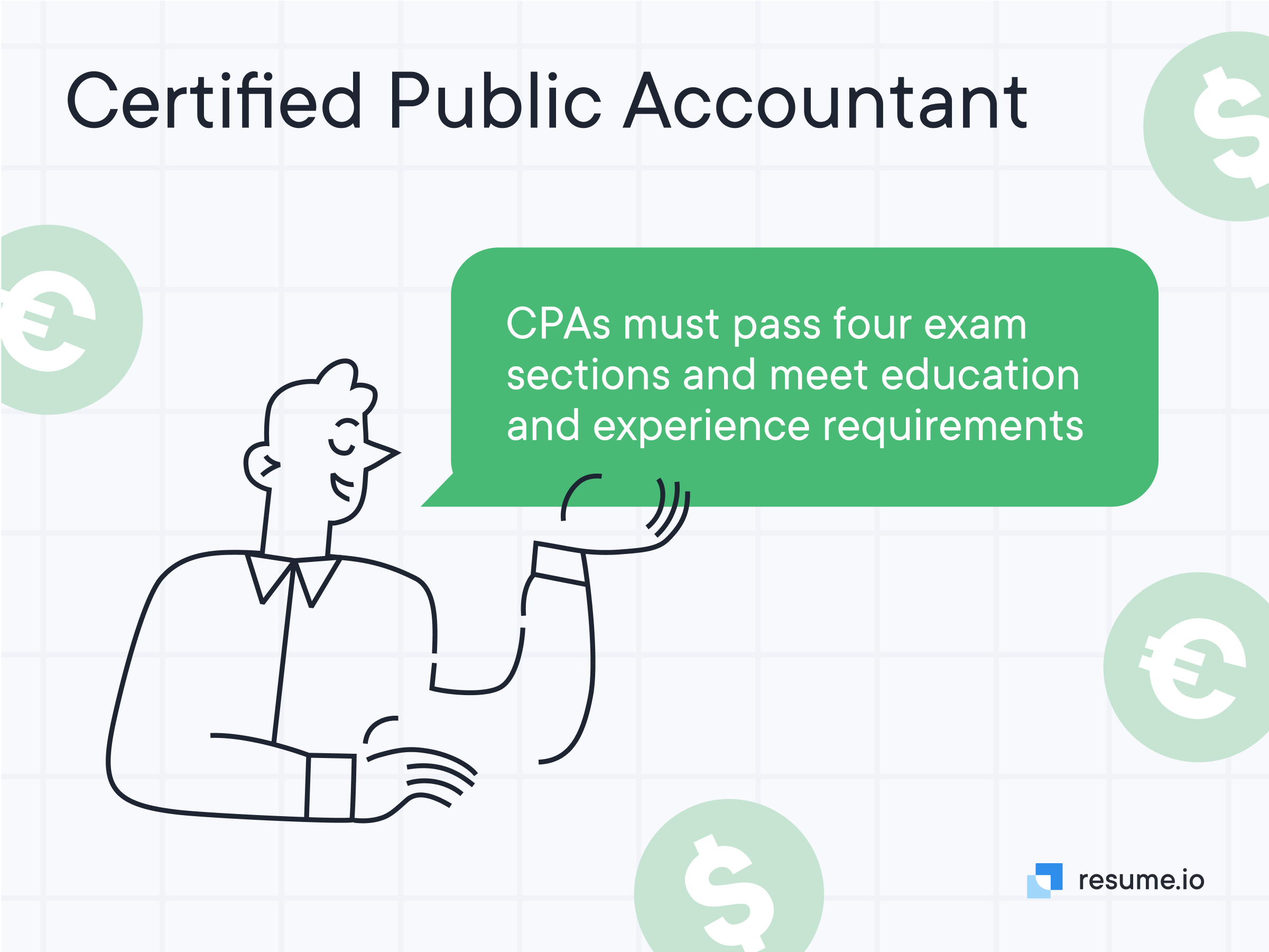 How to write a CPA resume
You're used to organization, spreadsheets and structure, so the idea that a CPA resume also has a definite structure should be an easy entry point to begin thinking about your document.
The following elements are requirements for your CV:
The resume header
The resume summary (aka profile or personal statement)
The employment history section
The resume skills section
The education section
Now that you know what sections to include, let's get to the format you should use.
Choosing the best resume format for a CPA
Overall, the best format for any resume is reverse chronological order and your CPA resume is no exception. Within this format, you will begin your employment history section with your latest position and work your way backward. The same is true of your education listings.
There are exceptions to this advice, however. If you are a career-changer, are looking for your first job, or have extensive experience you want to collapse into a one- to two-page document, consider a hybrid style that allows for more flexibility instead.
Resume header
Previously, you would put all your contact information in the header of your paper letter. Now, this information can be found in your CPA resume header, which doubles as a design element. Stay conservative, but develop a memorable header that meshes with the design of your cover letter.
Make sure your header shows off your name, title, best email and phone, and perhaps your address or at least the city in which you live.
Resume summary example 
While your job requires precision and process, the best finance professionals know there is also an art to financial planning and forecasting. The 3- to 4-sentence summary of your CPA resume is the place to show off your flexible thinking and money management philosophy.
Introduce your career and top-level skills in your first sentence. Then, using an example of your achievement, explain to the hiring manager what your financial acumen will add to the company. Always remember that managers are trying to solve a business problem by hiring the person who can best solve that problem.
Adaptable summary resume sample
Accomplished, detail-oriented CPA with wide-ranging experience performing diverse accounting functions for various organizations. Skilled at analyzing and resolving accounting and disclosure matters. Experienced in all aspects of general ledger management.  
Find more ideas within the resume example text below, plus those found in these related examples:
Employment history sample
What have you accomplished that proves you can get the job done at the position you seek? The employment history section of your CPA resume should resoundingly answer this question. Choose higher-level successes that elevate your candidacy above simple accounting competence.
As a numbers person, you know how best to make your case using statistics and dollar signs. Do so now. Details make your case more strongly than vague assertions.
Adaptable employment history resume example
Certified Public Accountant (CPA) , Morgan Slater, CPA Lubbock, TX 
June 2015 - Present 
Manage all operations of CPA business, including operational planning and strategy, bookkeeping, and other administrative functions.
Prospect new accounts and cultivate relationships with existing accounts, ranging from individuals and families to small- and mid-sized businesses and corporate clients.
Arrange appointments to discuss annual tax preparation, quarterly earnings, and financials for business establishment and expansion.
Accounting Manager, American Freight Carrollton, TX 
February 2012 - May 2015 
Maintained company finances, ensuring immaculate accuracy and efficiency.
Managed general ledger functions, including monthly account reconciliations, journal entries, and monthly closing entries.
Analyzed general ledger transactions to ensure accuracy and integrity of financial information.
Performed balance sheet account analysis and routinely reviewed chart of account structures.
Junior Accountant, Cambria Group Dallas, TX 
June 2010 - December 2011 
Assisted in accounts payable and receivable, ensuring timely payments and collections.
Significantly reduced discrepancies through accurate account reconciliations.
Contributed to preparation and filing of tax returns, ensuring compliance with applicable laws and regulations.
CV skills example
The skills section of your CPA resume makes busy recruiters' lives easier. This is one of the first places they will scan to see if you have the skills they seek but also to get a quick idea of what you think is most important for the job.
Choose attributes mentioned in the job listing. This will not only show the recruiter that you understand the company's requirements but will help you overcome the algorithms used by Applicant Tracking Systems that factor in keywords and phrases related to the position.
Adaptable skills section resume example
Financial Accounting
Corporate Treasury
Accounts Payable / Receivable
Internal Auditing
Payroll Management
Budgeting / P&L Statements
Balance Sheet Analysis
Regulatory Compliance
Tax Preparation
Quarterly Earnings
Expert tip
The skills you need
What does finance and accounting recruitment firm Robert Half look for in a CPA? Here's their list:
Up-to-date tax knowledge
Business acumen
Presentation prowess
Technical abilities
Emotional intelligence
Additional audit training
Management and leadership
Note the soft skill of emotional intelligence. Don't neglect your communication, collaboration, time management, and other abilities that are not directly related to your finance knowledge.
CPA resume education example
Every state requires that a CPA have a bachelor's degree with at least 150 hours of coursework. Each state requires a different total amount of accounting-related credits if you do not major in business or a related subject. You must also take the CPA exam issued by the American Institute of Certified Public Accountants (AICPA) and then apply for your license. 
Many CPAs also earn master's degrees, which gives them a much higher success rate in passing the CPA exam on the first try. 
List your education and certifications in your education section. If you have many specialized certifications or completed professional education courses, consider adding a separate section to highlight them.
Adaptable education resume example
Bachelor of Business Administration (BBA), Accounting, Mays Business School at Texas A&M University 
September 2006 - May 2010
Resume layout and design
To project an image of trustworthiness and detail orientation in your CPA resume design, keep it simple. Use easy-to-read common fonts and steer clear of all but a small splash of a muted color, if any at all.
Employ ample white space by leaving standard margins and varying the lengths of your bullet items. 
Expert tip
A CPA's work requires checking and rechecking to ensure accuracy; therefore, you can't afford any errors in formatting, spelling, or grammar in your application. Take advantage of all the tools you can including spell check, grammar check, and a pre-formatted, expertly-designed resume template. Then, ask a trusted friend or colleague to proofread for you.
Key takeaways for a CPA resume
CPAs may work in a variety of environments, from businesses to government to tax preparation
Retaining top-quality CPAs is a challenge for hiring managers, which means the door is open for negotiation
The goal of your CPA resume is to project precision, trustworthiness, and business acumen as well as leadership skills
Avoid errors of any kind by using all the tools available to you to show you have an eagle eye for detail.