As an internal auditor, examination and analysis come naturally. You are the master of breaking down complex processes and monitoring their compliance. What can be more of a challenge is breaking down your own professional profile into a comprehensive internal auditor resume. 
According to the Bureau of Labor Statistics, auditor jobs are projected to increase by 6% over the next decade. To land one of these roles, you will need a top internal auditor resume to show off your expertise.
Resume.io has a library of resume guides and resume examples for 350+ professions. So, we know a thing or two about writing a job-winning resume. This resume guide, along with the corresponding internal auditor resume example, will take you through the step by step of writing yours. We will cover the following topics:
What does an internal auditor do?
How to write an internal auditor resume (tips and tricks)
The best format for an internal auditor resume
Advice on each section of your resume (summary, work history, education, skills)
Professional resume layout and design hints.
What does an internal auditor do?
As an internal auditor, you are responsible for catching any pesky issues within your organization before an external auditor does. Usually, your job will revolve around making sure that financial and operational processes are controlled in order to respect the state and federal regulations governing your industry.
Your main responsibilities may revolve around assessing the risks in an organization's current processes, systems, and workflows. However, another important aspect of your job could involve proposing improvements to the efficiency of a range of operations. Your role could be particularly important during times of intense organizational shifts, such as undergoing a merger or acquisition.
Generally, the key function of an internal auditor is to protect the company from failings - or even legal action - when being scrutinized by external bodies. For instance, you may be responsible for identifying problems with and/or suggesting solutions to the ways that an organization reports its financial statements so that they don't get caught out by the Federal Bureau of Investigations (FBI), the Securities and Exchange Commission (SEC), or other governmental external auditors.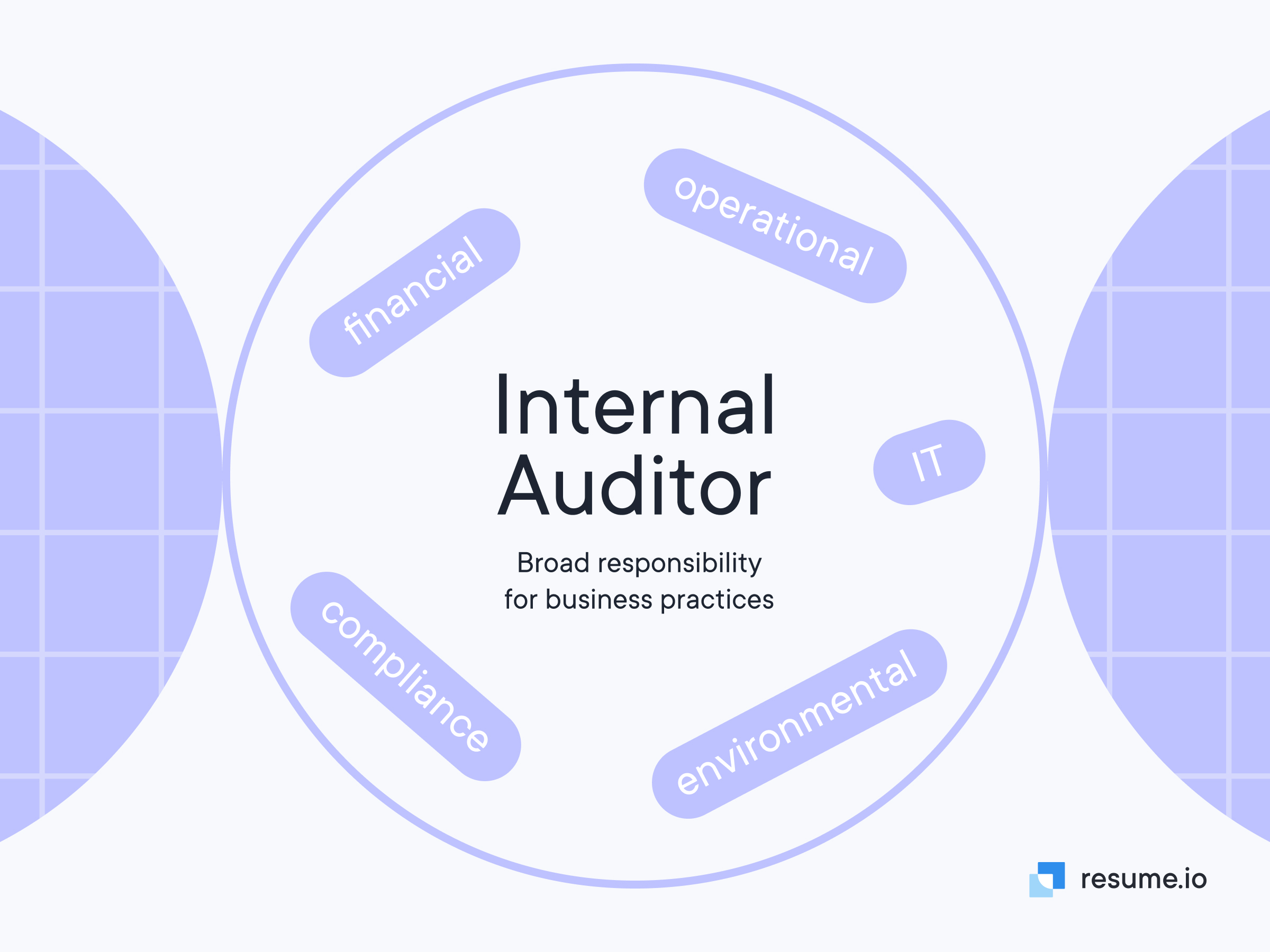 How to write an internal auditor resume
A strong internal auditor resume should comply with some foundational guidelines. Make sure your structure your CV to contain the following elements:
The resume header
The resume summary (aka profile or personal statement)
The employment history section
The education section
The resume skills section
Complying with these generally accepted norms are the bare minimum when writing a resume that grabs the hiring manager's attention. The other requirements for writing a job-winning resume come down to tailoring your resume to the job at hand.
A hiring manager will be faced with multiple resumes from qualified applicants. To stand out, you need to make sure that you have read the job description carefully and responded to each of the points.
Here are some top ways to write an internal auditor resume that will have the hiring manager picturing you in the role already:
Match your word choice to the language in the job description.
Keep your tone in line with the organization you're applying to.
Fill each section with content that directly relates to the role you're aiming to land.
Expert tip
ATS: The auditor becomes the auditee
ATS stands for Applicant Tracking System. Many large organizations use them to sort through the many applications they'll receive for a job role. Usually, the algorithm will evaluate your resume based on the presence of keywords and rank it against the others.
Only the top applications will make it in front of the hiring manager. So, make sure you scan the job ad for the main verbs, adjectives, and qualifiers that you see repeated. These are likely the keywords.  Now simply repeat them in your resume in a way that feels natural. Keep it truthful!
Choosing the best resume format for an internal auditor
Staying on top of best practices is your game, so it's wise to reflect that in your internal auditor resume. You should choose the best resume format for the position before writing. We recommend the reverse-chronological format since it's what virtually every hiring manager will expect.
The reverse chronological resume format is the most traditional resume format and is preferred for most career paths. It's characterized by presenting the employment history and education sections in, you guessed it, reverse-chronological order. This resume format also draws focus to your previous roles.
While surprises can be good, in the case of your resume format it's good to be predictable. The format you choose will impact how easy it is for the hiring manager to digest the information that you're presenting to them. So, make it simple for them. The rest of this guide will take you through the step by step of preparing each section. 
Resume summary example
Your resume summary is the first thing a hiring manager will read about your internal auditor profile. Your goal is to make sure it's not the last. The summary of your internal auditor resume should offer an engaging snapshot of why you're perfect for this role.
A snapshot needs to be snappy. So, make sure your summary is no longer than four sentences. You can fit a lot of relevant information into this short paragraph. Try some of these tips to make sure your summary is informative and engaging:
Omit subject pronouns like "I".
Use active verbs to make your phrases more precise and interesting to read.
List one or two of your top achievements to make your resume stand out.
Mention keywords or skills the hiring manager is focused on to hook their attention.
Ultimately, there is no fail-safe way to pique the hiring manager's interest, but your personality is a big part of your professional profile. Since this is one of the few spots in your resume where you can write creatively, have some fun with it. The internal auditor resume sample content below will help to get you started.
Adaptable summary resume sample
Results-oriented audit professional dedicated to ensuring optimal business performance and compliance. Extensive expertise in all aspects of risk management and financial governance.
Employment history sample
The employment history section is the main attraction of your internal auditor resume. Clearly list your previous roles with the most recent one at the top. For each role, you should include your job title, the organization's name, your dates of employment, and the location.
Underneath those most-important details, you can tailor several bullet points with more information on what you did during your time there. These bullet points should be tailored to the job you are applying to. This is a great place to include some of those all-important keywords and talk about what makes you the best candidate.
Here are some ideas of what to include in your bullet points:
Relevant responsibilities
Impressive accomplishments
Statistics and/or figures that illustrate how you exceeded your job function
Skills you acquired that are important to the job applications role
Adaptable employment history resume example
Internal Auditor, North Country HealthCare, Flagstaff, AZ
May 2018 - Present
Conduct deep-dive evaluations across business and financial operations, evaluating processes for effectiveness, sustainability, and compliance.
Lead full audit cycle, shaping risk management, control, and governance plans.
Assess accounting records for accuracy and compliance, generating detailed reports for leadership and stakeholders on financial performance.
Shape and recommend improvement strategies, developing customized risk and compliance management solutions for optimal results.
 Auditor, Gregory Const Co, Flagstaff, AZ
April 2016 - April 2018
Generated comprehensive compliance reports for leadership and stakeholders.
Maintained optimal risk-averse positioning across the organization, analyzing internal operations for legal and regulatory compliance.
Recommended internal changes based on industry standards and regulatory requirements.
Accountant, Ashley Home Furniture, Flagstaff, AZ
October 2009 — March 2016
Ensured optimal accuracy of accounts payable and receivable (AR/AP) across multiple locations, integrating multiple data sources to deliver expert AR/AP control.
Generated accounting and AR/AP reporting, providing vital insights for leadership .
Governed accounting activities, maintaining strict adherence to legal, regulatory, and statutory requirements for optimal compliance.
Internal auditor resume education example
Your experience and skills are important. However, the education that made you the internal auditor you are today takes a crucial spot on your resume. List your qualifications in reverse chronological order including the qualification title, the educational institution's name, its location, and the dates attended.
Follow the format in the resume sample content below to get it just right. If you have a college degree or equivalent, then you can omit your high school education.
Adaptable education CV example
Northern Arizona University, MBA, Flagstaff, AZ  
August 2005 - May 2009
Northern Arizona University, BS in Business Management, Flagstaff, AZ 
January 2001 - May 2005
CV skills example
Depending on the sector where you work as an internal auditor, the skills you can demonstrate will be vital to landing the role. The hiring manager will want assurance from your CV that you have the expertise needed to control their systems. Triple-check the job ad for any important keywords you haven't included in your CV yet.
The number of skills you include will depend on the role and sector. However, stick to the most important skills only. Prioritize the ones that are required from the job description, any knowledge you know to be essential to this type of role, and balance it with some soft skills. 
Of course, it's just as important to stay truthful. In fact, for every skill that you list in this section, it's worth thinking of an anecdote that illustrates your capability. This will be gold when you are preparing for an interview.
Adaptable skills section CV example
Accounting
Business analysis
Internal auditing
Risk management
Process improvement
Financial management
Regulatory compliance
Legal compliance
Financial reporting
Resume layout and design
Like the systems you monitor, great design can't hide flaws in your content. However, it can accentuate a job well done and make a great first impression. Your internal auditor resume is no different. Take the time to format the final document with an attractive layout.
Stick to one or two fonts maximum. They should be easily legible - this isn't the place for fancy calligraphy - and make sure they are not too small. Choose a simple color scheme to keep it  clear and professional, just like your writing. Finally, remember to present your final internal auditor resume as a PDF document unless you are explicitly asked to do otherwise.
Expert tip
How much color is too much?
Depending on the brand of the organization you're looking to work at, a pop of color could be a great idea. However, for a role such as an internal auditor where trust is paramount, you want to visually communicate that you're a serious candidate.
If design is not your strong point, then you can consider using one of our field-tested resume templates. We want to reduce your design-induced anxiety with our wide range of layouts and color palettes. Plus, you can easily tweak the content without having to spend another twenty minutes formatting it all over again. We've got your back!
Key takeaways for an internal auditor resume
Be prepared to beat the pesky ATS that will audit and rank your application.
Get creative in all the right ways with a top resume summary.
Tailor the bullet points in your employment history section for the job at hand.
The design of your resume should visually reinforce the tone you want to communicate.