You may be great at staying on top of all of those transactions and invoices. However, to bag that next accounts receivable role, the most important asset is your resume. With a decrease in accounting roles forecast over the next decade, it's more important than ever that your job application makes the right sort of statement.
Luckily for you, Resume.io has helped millions of job seekers to create top-performing resumes. We have a library of 350+ job-specific resume examples. An excellent accounts receivable resume will show off your organizational skills and attention to detail. However, this valuable little document also needs to communicate the nuanced accomplishments that make you a worthy candidate.
This resume guide, along with the corresponding resume example will cover the following topics:
What does an accounts receivable specialist do?
How to write an accounts receivable resume (tips and tricks)
The best format for an accounts receivable resume
Advice on each section of your resume (summary, work history, education, skills)
Professional resume layout and design hints.
What does an accounts receivable specialist do?
As an accounts receivable specialist, you are responsible for overseeing a variety of invoicing and billing operations. Your day-to-day tasks could range from creating invoices and documenting transactions to liaison with relevant departments, or even generating financial reports. 
Proper management of accounts receivable is vital in a range of industries. Therefore, you could find yourself working alongside all sorts of people like tech professionals, finance experts, or other functional specialists. You may even go on to specialize in accounts receivable in one particular sector.
Whether this is your first role in finance or you are a seasoned accounting professional, a wealth of skills is necessary. Organization, attention to detail, and compliance with the relevant rules and regulations are all essential for a top-performing accounts receivable professional.
Statistical insight
How much do accounts receivable professionals earn?
According to Glassdoor, the median annual salary for an accounts receivable position is $42,419. This increases to $51,281 for senior accounts receivable specialists.
Accounts receivable job market and outlook
Data from the Bureau of Labor Statistics forecasts a decrease in bookkeeping, accounting, and auditing roles from 2021 – 2031. This reflects a shift in how personnel will be used in light of technological advancements such as AI. 
You can expect the accounts receivable roles that are available to focus less on data entry and more on tasks that are better placed for humans to execute in the coming years. This means it's more important than ever for your resume to highlight the analytical and problem-solving skills that differentiate you from other candidates.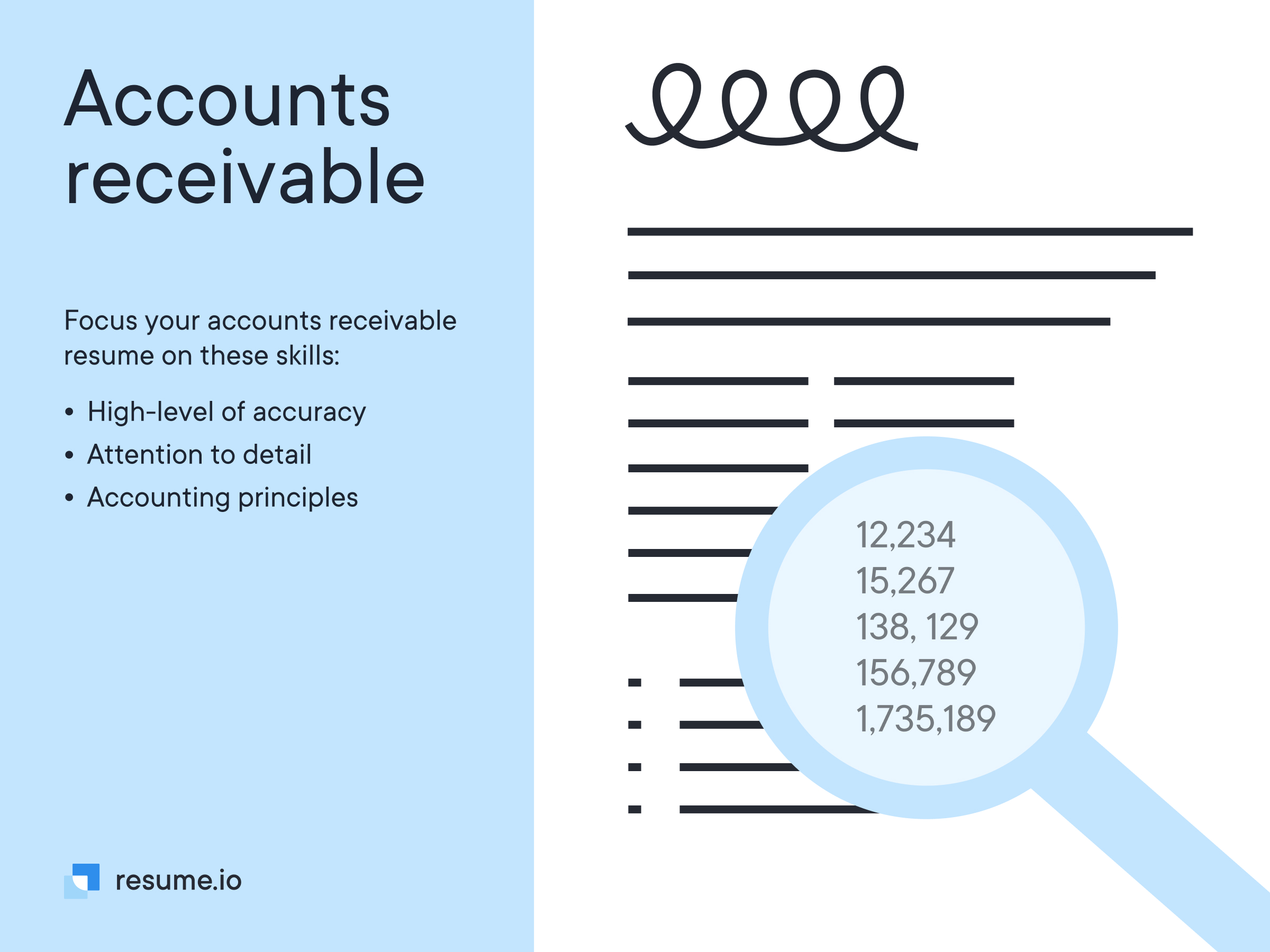 How to write an accounts receivable resume
A top-performing accounts receivable resume speaks the same language as the hiring manager. The rest of this guide will focus on how to write something that will perform well. However, the very first step to achieving this is understanding what sections to include. 
Your CV should contain the following elements:
The resume header
The resume summary (aka profile or personal statement)
The employment history section
The education section
The resume skills section
Expert tip
Before your resume can charm the hiring manager, it has to satisfy the cold, hard data points that the Applicant Tracking System (ATS) will be looking for. Most organizations use an ATS to filter only the most relevant applicants in hiring campaigns. 
To get in with the best of the bunch, make sure you use the language the ATS is looking out for. How do you do that, we hear you ask? Read through the job ad and make sure you are including the exact keywords used to describe the accounts receivable role's responsibilities and tasks.
Choosing the best resume format for an accounts receivable specialist
For most jobseekers the chronological resume format is the best way to reflect their professional experience on paper. Accounts receivable job postings are no different. This format focuses on previous work experience to paint the full picture of the sort of professional that you are.
We will focus on the reverse chronological format in this resume example and writing guide. With this resume format, your most recent job position appears at the top of the employment history section. This section should also be the longest in the chronological format. The hiring manager wants to understand your most recent and relevant experience. Alternatively, accounts receivable specialists who are new to the workforce could consider using the functional resume format to accurately communicate their suitability for the job role. 
Resume header
At the top of your resume is your header. This is the section where you include key information such as your name and contact information. Keeping it distinctive and professional is the key to setting the tone for the rest of your resume. 
While you want to make your document easily recognizable among all of those tabs of other candidates, don't go over the top. The main function of the resume header, after all, is to keep your name and contact details easy to find. Look at our resume layout tips further down for some more information on the design of your resume.
Expert tip
Simple and to the point
Stick to a simple color scheme and two fonts when it comes to the aesthetics of your resume. Your goal is to keep things clear and legible.
Resume summary example
Your resume summary is the spot to offer an elevator pitch of why you are the best candidate for this accounts receivable position. It's an "at-a-glance" overview of your resume. You should write three to four phrases that reflect your most impressive qualities for this role. 
Consider any previous experience, awards, or training that make you uniquely hirable for this position. You may find it useful to write this section last when you've already chosen the content for the other sections of your resume.
If you would like some ideas, check out our sample resume content below. For further inspiration you may like to check out:
Adaptable summary resume sample
Detail-oriented accounts receivable specialist with demonstrated success in increasing on-time collection and significantly reducing aged receivables. Excellent interpersonal skills, able to communicate with customers to maintain positive business relationships. Adept at identifying and resolving problem accounts, discrepancies, and other issues.
Employment history example
The employment history section is likely to be the longest in your accounts receivable resume. Here you will reconcile and balance the expectations you set in your resume summary with some firm examples. In reverse chronological order, list your most recent and relevant job roles.
For each position, include your job title, the name of the organization, your dates of employment, and the workplace's location. Underneath this subheading, you can create several bullet points that outline your key accomplishments and responsibilities in the role. This is precious resume real estate, so keep anything you write relevant to the job at hand.
Adaptable employment history resume example
Accounts Receivable Specialist at Rokeach Food Corporation, Newark, NJ
2017 - Present 
Post more than $1.5M in payments per week to customer accounts using QuickBooks Enterprise Edition.
Closely monitor aging report on a daily basis to maintain cash flow and ensure accounts remain in good standing.
Interface with customers to collect on past-due invoices, set up payment plans, issue credit notes, and apply discounts.
Assist accountant with month-end and year-end close reporting.
Accounts Receivable Clerk at Medical Arts Bureau, Jersey City, NJ 
2012 - 2017 
Reduced payment backlog by $2M in only three months and decreased 90-day aged receivables by 87%.
Increased productivity by streamlining payment posting process and eliminating unnecessary manual steps.
Assisted with transition from legacy Excel-based accounting system to Microsoft Dynamics GP.
Expert tip
Numbers talk
As an accounts receivable professional, you're a numbers person. This plays in your favor in the bullet points of the employment history section. You have a short space to communicate your value as an employee. So, aim to quantify your successes through numbers. Think about how to measure the effects of your actions in time, money, or resources and commit it to paper for a top resume example.
Accounts receivable resume education example
The education section is for formal education qualifications like high school diplomas, degrees, or similar. Create a subheading for each qualification with its name, dates attended, the name of the educational institution, and its location. Look at the resume sample content below to see how it's done. 
If you have a college degree equivalent or higher, you don't need to list your high school education. If you have some training or have attended a course that would be relevant to an accounts receivable role, ideally it won't appear in the education section. You can mention it in the skills section or - if you have enough skills that are worth mentioning - create a separate section for them.
Adaptable education resume example
Bachelor of Arts in Accounting, St. Peter's University, Jersey City, NJ 
2008 - 2012
CV skills example
Accounts receivable specialists straddle multiple skill sets. Don't be shy and make sure this is clear in your CV. Include a balance of hard skills (those are technical skills) and soft skills. Soft skills are capabilities that refer to how you collaborate and communicate with others.
Our resume example content will help you to shape your own CV skills section. However, this is one of the most important sections to tweak to suit the role you are applying for. List your most important skills first. Take your cue from the job ad and how they prioritize what will be asked of you in the role.
Don't forget to mirror the language used in the job description. Not only will this help to beat the ATS, but it also avoids miscommunication with the hiring manager. There should be no doubt as to which points on the job ad you satisfy.
Adaptable skills section resume example
Payment Processing
Account Reconciliation
Bookkeeping
QuickBooks
Journal Posting
Collections
Microsoft Excel
Sage Accounting
Resume layout and design
Just like your ledgers and invoices, the design of your resume needs to respect a particular format. A sleek resume design will make all the difference in appearing professional. It's an important step in proving yourself as an organized communicator to the hiring manager.
Taking the time to polish the presentation of your accounts receivable resume will pay off as a clear demonstration of your attention to detail. However, if creating presentable layouts and designs is not your strong suit, you can consider using one of our field-tested resume templates. You'll be sure to come across well to the hiring manager without the stress of reformatting your resume for the hundredth time. 
Key takeaways for an accounts receivable resume
Create a snapshot of your professional profile in the resume summary.
The sector might be leaning more heavily on tech, but there are ways to differentiate yourself from stiff competition for any accounts receivable role.
Focus on quantifiable examples for the bullet points in your employment history section.
Hard skills and soft skills are both critical for a great accounts receivable professional.
Neat presentation for the visuals of your resume is just as important as your written communication.