If you're looking to take your career to the next level, you'll need a payroll specialist resume that turns heads. You may have a flair for numbers and databases, but how do you feel about putting pen to paper? Whether you're a natural-born wordsmith or can't stand writing, putting together an interview-winning application doesn't have to be hard. 
Love straightforward systems? Believe it or not, there's a rigid process you can follow when writing your resume. It's all about knowing what elements to include, the structure you need to follow, and how to get the wording just right. Think of it like learning any other process: The moment you know the general guidelines, you can get moving quickly. 
Here at Resume.io, we have everything you need to enhance your career prospects. Boasting resources including resume guides, resume examples for 350+ professions, and an easy-to-use resume builder, we make the whole process super simple. Within this writing guide and the corresponding resume example, we will cover the following topics:  
What a payroll specialist does and the average salary
How to write a payroll specialist resume — including expert tips
How to find the right format for a payroll specialist resume
Advice on each section of your resume (summary, work history, education, skills)
Expert resume layout and design hints.
No matter where you are in your admin career, getting your resume right will help you advance. Understanding the best practices when applying for jobs is a real advantage. 
What does a payroll specialist do?
Payroll specialists are administrative wizards. These savvy professionals maintain the employee salary and payment database and process payroll. That's the core of the job. However, they may also manage the company budget, oversee bonuses, liaise with different departments, and carry out additional admin tasks. 
Armed with an analytical brain and a knack for systems, you will ensure that every staff member gets paid on time. To keep those cogs turning, you'll have to oversee a whole range of activities. Here's an idea of what you can expect in this fast-paced role: 
Calculating each employee's income including overtime and bonuses
Dealing with large-scale databases
Communicating with various departments, i.e. answering questions
Liaising with management to gain approval for certain payments
Updating staff members' records and payment grades
Prepare pay orders through an electronic system
Manage the outgoing employee and business taxes
Statistical insight
How much do payroll specialists get paid?
You might be the one holding the purse strings, but how much money will you make? We have some good news for you. It might be more than you expect. 
According to Salary.com, the average income for a payroll specialist in the United States is $51,699 with the range typically falling between $45,937 and $58,578. Of course, your pay packet will depend on your experience level, education, and unique skill-set. 
So that you can excel in this career, you will need knowledge of payroll best practices, accounting, and industry-specific software. However, it doesn't start and end there. 
Since you will be working closely with professionals from other departments, you will also need excellent communication and intrapersonal skills. Put simply, having a varied mix of talents means that you're more likely to land a role as a payroll specialist.
How to write a payroll specialist resume
Before you get started writing your payroll specialist resume, you need to know what sections to include. Going in without grasping the structure is a mistake. You run the risk of rambling on without streamlining your points. Your CV should contain the following: 
Resume header
Resume summary (aka profile or personal statement)
Employment history section
Resume skills section
Education section
Tailor your resume to suit the company at hand. Here's where you might have to unleash your inner Sherlock Holmes and do some investigating. The more information you can gather about the employer, the larger the advantage you will have. While most payroll specialist roles are similar, there will also be minor differences from company to company. A well-crafted resume can persuade employers that you're the right person for the job.
Expert tip
Optimize your resume for the Applicant Tracking System (ATS). 
Applicant Tracking Systems (ATS) help companies find the creme de la creme of applicants. The software uses keyword tracking to determine how well a resume fits the job opening. Predetermined algorithms scan each application searching for specific words or phrases. The more matches a document gets, the more likely it is to pass. 
However, if your resume doesn't contain the right keywords, it may be filtered out. That means that it will end up in the 'junk tray' before a human ever lays eyes on it. To combat this problem, you simply need to refer back to the original job posting. 
Pick out any keywords that seem important. For example, you might select "payroll processing", "ADP Payroll", "payroll services", and "human resources (HR)" for a payroll specialist. Pepper your resume with the word combinations used in the job advert. This trick may help you pass the ATS and give you a higher chance of landing that interview.
Getting your payroll specialist resume on point is easy. If in doubt, follow our advice to ensure that you get the tone and structure right: 
Cut the jargon. The professional reviewing your resume is unlikely to work in payroll, so you should stick to plain English.
Use a visually-pleasing template but don't go overboard. Payroll specialist resumes need to be professional and easy to understand.
Optimize your resume for ATS software. By using specific keywords you find in the job advert, you can give yourself a competitive edge.
Choosing the best resume format for a payroll specialist
Most job seekers will find that the reverse chronological approach is the right one. That means that you list your most recent experience and education at the top of your resume. Grab your time machine. As you work your way down the page, you move backward in time, listing all of the relevant positions you have held and certifications you've gained. 
New to the realms of payroll? You might want to opt for the functional resume format instead. This approach emphasizes the complex skills and competencies you already have under your belt. Whatever you lack in payroll experience, you may be able to make up for in expertise. Before you decide which approach works for you, take a moment to consider what is most impressive about you: your experience or your skill-set?
Resume summary example: introduce yourself 
Your resume summary is a short blurb that you place below your header. It describes you as a professional and briefs what you will bring to the table. As the most creative part of your payroll, you can afford to express yourself here. Chances are, most payroll specialists will have the same training and qualifications. So, what's your Unique Selling Point (USP)? 
Every word counts here. You only have between four and five lines to get your point across. To help you save space, omit any "I", "I have", or "I am" phrases from the paragraph. For example, rather than starting a sentence with "I am a fully-trained payroll specialist", simply go in there with "Fully-trained payroll specialist" instead. 
Our resume sample below will show you how it's done: 
Adaptable resume summary example
Highly dynamic Payroll Specialist adept in accurately entering, maintaining, and processing information in payroll systems. Proficient in ensuring proper payroll deductions for taxes, benefits, and other deductions. Experienced in solving problems concerning payroll, answering inquiries, and enforcing payroll policies.
Employment history sample: your story so far
Chances are — if you're going for a payroll specialist job — you've worked in accounting for a matter of years. You may have started out as a payroll assistant and worked your way up to manager and then to specialist. In your employment section, you need to tell that story. How did you climb to the top ranks and what lessons have you learned?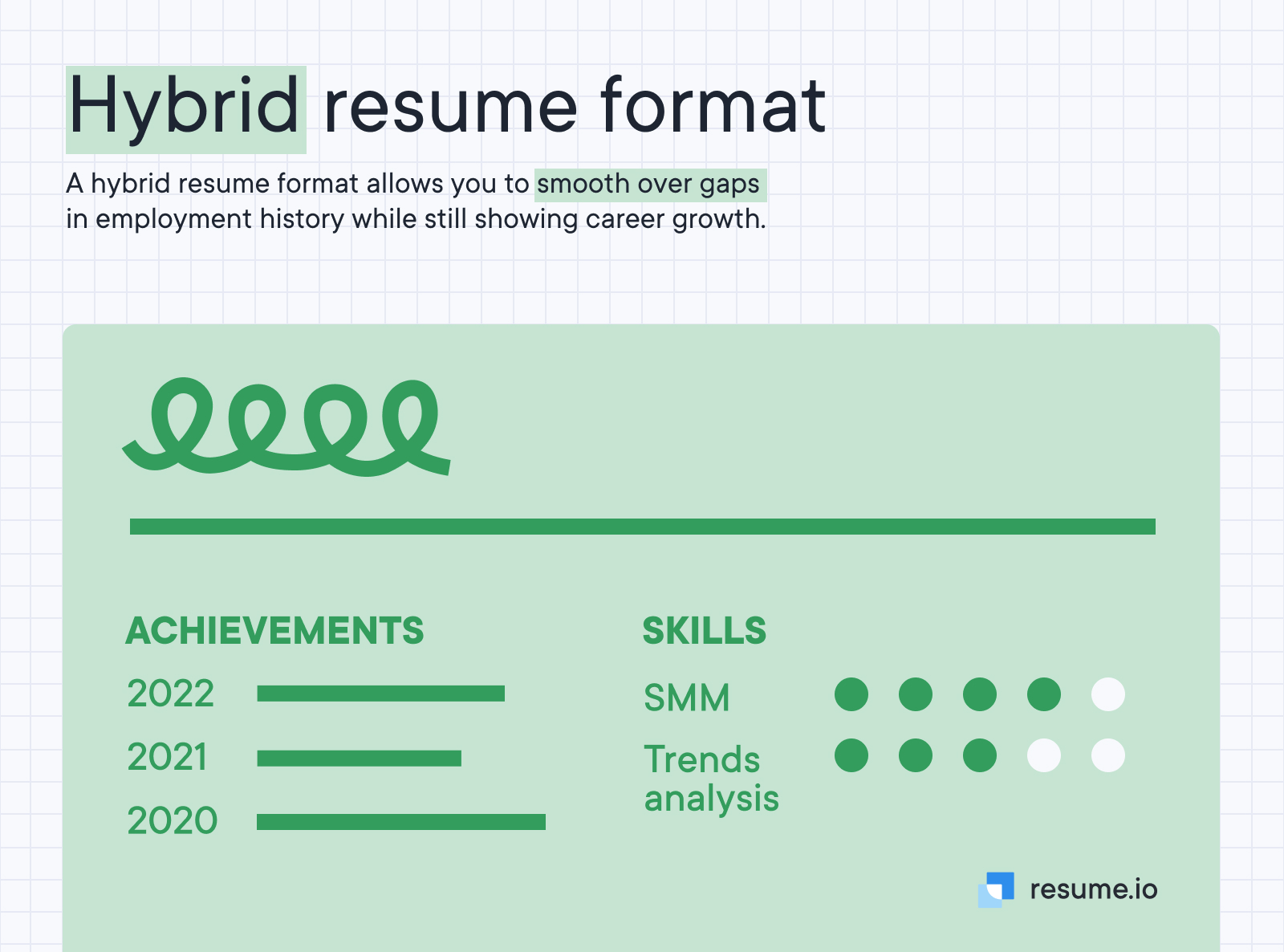 As we have already covered, the best approach may be reverse chronological order. List the company name, your job title, and your dates of employment first. Once you've got that down, you can use bullet points to list your everyday tasks and any special achievements. When listing the latter, be sure to quantify your accomplishments with stats.
Take a quick peek at our resume sample below for some guidance: 
Adaptable resume employment history example
Payroll Specialist at G & A Industries, New York 
July 2019 - August 2022 
Processed weekly payroll in iSolved, including certified payroll, and maintained employee time records including edits, corrections, and adjustments. 
Processed tax changes, loans, medical deductions, commissions, and bonuses.  
Solved problems concerning payroll procedures and policies.  
Processed leave time for 80+ employees.  
Provided support to our team related to payroll functions.  
Maintained updates of payroll dashboard metrics management.  
Completed month-end reporting and reconciliations.  
Assisted with HR projects as needed.   
Payroll Specialist at Devin Financial Staffing, New York 
April 2015 - June 2019 
Reconciled all data with client payroll for each reporting period.  
Processed year-end updates for all clients, and provided accurate relocation tax reports for company transfers.  
Prepared and sent wage requests and payroll reports on time.  
Ensured proper processing of payroll deductions for taxes, benefits, and other deductions.  
Exercised strong attention to detail and data confidentiality. 
CV skills example: prove your competency 
Next up, let's take a look at the skills section of your CV. The world of payroll runs on systems and processes. That's all well and good — but can you integrate well into the team? When listing your talents, you need to have a mixture of hard and soft skills. 
Hard CV skills include computer literacy (e.g. being proficient in Oracle Payroll or Excel), financial expertise, and math. On the other hand, soft skills may include excellent communication, organization, motivation, and intrapersonal skills. Get the balance right and include a sprinkling of each of these. Take a look at our resume sample for an example:
Adaptable resume skills section example
Payroll Processing 
Data Entry and Analysis 
Quickbooks 
Strong Attention to Detail 
Excellent Communication Skills 
Problem Solving Skills
Payroll specialist resume education example
You may not need a degree to become a payroll specialist. As a minimum requirement, you will need to have completed your General Education Development (GED) certificate. In addition, you may have completed training on specific electronic systems. Use the reverse chronological approach and list your most recent education at the top of the page.
Beneath the qualification title, institute name, and years of completion, you can afford to add some detail. If you learned about a specific piece of software during your education, for example, you may want to highlight that. Employers are looking for candidates with expertise in specific programs. If you tick that box, don't forget to shout about it. 
Adaptable resume education example
Bachelor of Science in Accounting , Manhattan College, New York 
September 2010 - May 2014
Resume layout and design: first impressions
The age-old saying goes: You never get a second chance to make the right first impression. Hiring managers spend an average of seven seconds reviewing each resume. Choosing the right layout for your payroll specialist resume will help you catch their eye. Check out the following guidelines to get your application looking spick and span. 
Don't
Try to cram in loads of information
Use a complicated layout
Include fancy graphics or imagery
Key Takeaways
Your payroll specialist resume needs to be easy to read and jargon-free. 
Include a mix of both hard and soft skills to win over hiring managers.
Pepper your resume with keywords to get past the ATS software. 
Take the hassle out of creating your resume by using a tried and tested template.