Caring and compassionate every step of the way. The world's growing need for medical care means doctors are in high demand, and even more so are the people who support them – especially medical support assistants. So how do you create a medical support assistant resume to land one of these positions? This guide will tell you everything you need to know.
While medical assistants don't fill the same role as nurses, they help with basic medical procedures, paperwork and office management, allowing doctors to see more patients during the day. If you're interested in a career in the medical field, starting as a medical support assistant is a great way to experience the realities of working in a doctor's office or hospital. And you can often get going with a high school diploma or as little as one year of a certification program.  
This medical support assistant resume example and writing guide, along with Resume.io's collection of templates and resume builder, will show you how to:
Convey your knowledge of medical procedures and your skill at performing them
Highlight your ability to care for and connect with patients
Get your resume past the applicant tracking systems now in use at many large institutions
Land a job that sets you up for advancement in the medical field
Expert tip
The U.S. Bureau of Labor Statistics predicts that medical assistant jobs will grow by 18 percent from 2020 through 2030 – that's nearly twice the projected growth for other professions. If you're looking to enter the field, now is a great time.
What does a medical support assistant do?
Medical assistants often find that they bridge the gap between a front desk receptionist and a nurse. They take patients to examination rooms and perform light clinical tasks like taking blood pressure, giving shots, dressing wounds and drawing blood. Then, they might be asked to record the results of those tests on EHR (Electronic Health Record) software and call patients with the results. 
They may have to file insurance claims or make sure that supplies are properly stocked. These varying duties mean that a medical receptionist's actual job can change significantly depending on where they work. It's important that a medical assistant resume conveys a wide range of skills and abilities to meet the demands of potential employers.
Expert tip
Some medical assistants decide to specialize in clinical or office work. It's worth reading the job description a few times to assess whether the position leans one way or another. 
How to write a medical support assistant resume
The basic framework for any resume consists of five essential components:
• Resume header
• Resume summary/profile
• Employment history
• Education section
• Skills section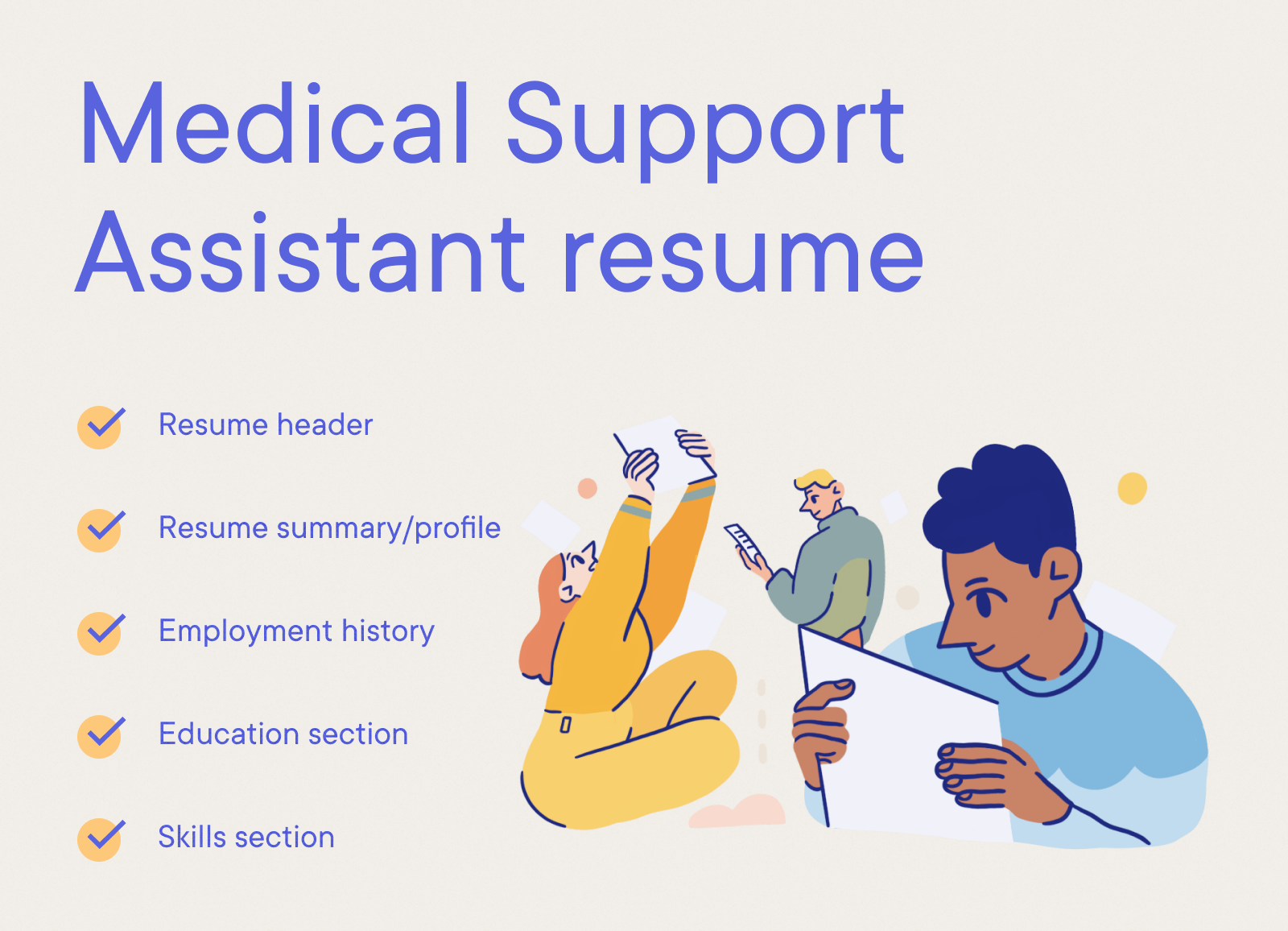 Medical Support Assistant - Medical Support Assistant resume
The header is the space at the top of the resume where you put your name, occupation, address, phone number and email. The header should be elegantly and professionally designed, never gaudy or too flashy. The attached resume example provides one header style that you may like, but there are many others to choose from. 
You can go shopping for a header by scrolling through Resume.io's templates and resume examples and writing guides. When you find one you like, click on it and you'll be guided through the simple steps to making it your personal header. This will save you a lot of time you could spend designing your own.
The other four essential elements of a resume, and how to write each of them, will be discussed in detail below. 
Acing the ATS
Nowadays, applicant tracking systems, or ATS, are the reality of the hiring process in most major hospital systems and physician networks. While a local private practice may ask you to email a resume, chances are you'll be applying for a variety of medical assistant jobs and at least one will use an ATS. These systems scan resumes for keywords used in the job descriptions and rank them against the resumes of other candidates. Then, only the best selection of resumes is forwarded to the desk of the hiring manager. 
That means that great medical assistant candidates can slip through the cracks just because they haven't properly customized their resumes for these systems. Don't let that happen to you. Make sure to use words straight from the job description while still making your resume appealing to a human reader. The summary and skills sections are a great place to slip in some of those all-important keywords while still keeping a natural feel.
Expert tip
Word cloud services like Wordle and Worditout.com can help you add those precious keywords to your profile summary by creating a visual representation of the most commonly used words in the job description.
Resume summary/profile example: just the vitals
Your resume summary, also called a profile or personal statement, should contain just the right dose of personality and professionalism to show employers you can handle the job's variety. Your summary is a snapshot of your strengths, experiences and skills as a medical support assistant. At the doctor's office, you'll offer a warm greeting when first meeting patients. That's the role your profile summary plays on your resume. Think about the most important skills of a medical assistant: attention to detail and good organization, solid listening and communication skills and the ability to offer excellent customer service. Then, of course, there's your medical skills: taking vital signs, giving injections and preparing patients for procedures.
Sample questions to ask yourself when writing a resume summary or personal statement: 
How many years of experience do you have as a medical assistant?
Do you have a speciality like podiatry, optometry, clinical or office work?
What are your top personality traits that apply to this position?
What are your main skills that you've polished enough to use in any position?
MEDICAL SUPPORT ASSISTANT RESUME EXAMPLE: SUMMARY/PROFILE
Dedicated Medical Support Assistant with a proven track record of providing superior assistance to medical personnel for the last ten years. Experienced in providing administrative support to health care facilities and performing tasks such as maintaining patient records, updating patient accounts, and handling all patient and facility correspondence. Bringing forth excellent customer service skills and an understanding of the medical industry and important medical terminology. 
Medical support assistant employment history example
From giving shots to filing out paperwork, your previous experience shows a hiring manager you'll adjust to the role quickly and comfortably. Your employment history is the place to get into the details of what you've actually done as a medical support assistant. Whether it was on the clinical side or in the realm of office work, this is the place to show what you learned on the job. 
If you have solid and fairly continuous experience in this field, the chronological format is probably your best bet for listing your employment history. That means you list your current or last job first and your first job last. Another option is the functional resume format, which emphasizes your job-related skills more than your chronological work history. 
For medical assistants with no formal training, your work experiences are your strongest asset. Let's take a look at some examples of how to use them on your medical support assistant resume.
Statistical insight
If you're not sure you can handle the fast pace of a hospital, working as a medical assistant might still be a good fit for you: 57 percent of these positions are found in doctor's offices, according to the U.S. Bureau of Labor Statistics.
Quantifying or providing context for your experiences is a great way to put some weight behind your words. This can be showcased in a bullet point list or short description below each previous job.  Some examples of questions to ask yourself: 
How many patients did you routinely interact with on a typical day?
How many appointments did you schedule?
How many phone calls did you answer or make?
How many patients did your practice serve?
How many injections did you give every week or how many surgical procedures did you assist with?
MEDICAL SUPPORT ASSISTANT RESUME EXAMPLE: EMPLOYMENT HISTORY
Medical Support Assistant at Columbia University Medical Center, New York 
October 2015 - September 2019 
Provided professional support for phone inquiries and in-person visitors. 
Collected and organized data for administration of programs. 
Prepared treatment rooms for patients and ensured that rooms were clean and inviting for incoming patients. 
Educated patients and family members on treatment procedures, medications, diets, or physician instructions. 
Medical Support Assistant at NYU Medical Center, New York 
October 2010 - October 2015 
Provided superior support to administrative and medical personnel for the high-traffic medical facility. 
Handled the creation, maintenance, and tracking of over 7,000 outpatient medical records. 
Provided excellent customer service to all clients and staff. 
Handled all disputes and concerns regarding medical record content. 
Communicated with patients and families to alleviate concerns and inform people of a patient's status. 
Managed database and maintained confidentiality of files. 
Prepared check-ins and releases, follow-up appointments, labs, and exams.
If you're new to the job
Working as a medical support assistant is a great way to get your foot in the door of the medical field with just a high school diploma. However, some employers won't consider resumes without previous medical assistant experience. You can boost your chances of getting a position by completing a formal internship or even an externship, similar to shadowing, or volunteering at a doctor's office. You might not get hands-on experience, but you'll earn a line on your resume and a way to show employers you're really interested in becoming a medical support assistant.
RESUME EXAMPLE: WORK HISTORY WITH LIMITED EXPERIENCE 
Observed typical week in a doctor's office during an externship
Helped office by restocking supplies, organizing equipment and communicating between doctor and other assistants
Comforted patients by talking with them during procedures
Organized 200+ patient files while working as an office assistant in a busy doctor's office
Resume education example: back to the basics
While medical assistants may not be required to have a certificate, further education is a great way to prove your competence. A medical support assistant position might just be the treasure chest of entry-level opportunities: reasonable pay, daytime hours, indoor work and, most importantly, the ability to make a difference for others while learning about the vast field of medicine. If you haven't completed a higher education degree, you'll list your high school diploma here. We recommend writing the year and name followed by the location. 
MEDICAL SUPPORT ASSISTANT RESUME EXAMPLE: EDUCATION
Certified Medical Assistant, New York Medical Career Training School, New York 
June 2008 - June 2009 
Bachelor of Biology, Fordham University, New York 
August 2004 - May 2008
Expert tip
An associate's degree in medical assisting will help land you a higher starting salary and the credits can often transfer to a bachelor's degree program later on – a great choice if you plan to continue in the medical field.
Certification exams
There are a variety of organizations that administer certification examinations for medical support assistants. The most common of these designations include:
The Certified Medical Assistant Credential (CMA) administered by the American Association of Medical Assistants (AAMA), which requires a certificate or degree program plus a stringent examination. The certification must be renewed every five years.
The Registered Medical Assistant (RMA) distinction which has varying requirements for education, work experience and examinations. The credential is awarded by American Medical Technologists (AMT).
The Certified Clinical Medical Assistant (CCMA) distinction is offered by the National Healthcare Association and may be more achievable than other certification programs since it requires a high school diploma and at least one year of experience in the medical field.
RESUME EXAMPLE: EDUCATIONAL CREDENTIALS
2009 – 2011: Associate's in Medical Assisting, Hartford Community College, Hartford CT
2014: Certificate in medical assisting, Weber College, Ackerson NV
Completed 9 month online certificate program including courses on insurance procedures, medical terminology and anatomy, coupled with 3 week in-person externship
2018: Registered Medical Assistant (RMA)
Completed medical assistant education, military service requirement and 100 question examination for RMA designation from the American Medical Technologists association
Medical support assistant skills section example: the perfect balance
From paperwork to phlebotomy, medical assistants do it all. The skills section is the place to show off your dynamic range. In the reality of medical assisting, all your education and experience are just more proof of your skills. That's why this section is arguably the most important component of a medical assistant resume – after all, it reflects what you'll be doing once you land the job.  When tackling the skills section, you can break down your medical assistant abilities into three smaller categories: medical for clinical procedures, office for paperwork and software systems, and soft skills, which apply in all areas. 
MEDICAL SUPPORT ASSISTANT RESUME EXAMPLE: SKILLS SECTION
Take patient vital signs including blood pressure, temperature, heartrate, height and weight
Clean and sterilize medical instruments and equipment
Collect and properly dispose of waste and biohazardous materials
Educate patients on how to follow doctor's care instructions
Scheduling appointments and managing doctor schedule
Greeting patients and bringing them to exam rooms
Cleaning examination rooms and restocking supplies
Ordering pharmacy refills
Organized
Attention to detail
Expert tip
Skills and requirements for medical assistants can vary by state. Researching the specific laws where you're applying to work and noting those proficiencies on your resume can help make you a more attractive candidate.
Your competence with patient chart organization and various medical softwares like NextGen, Meditech, Carecloud or Athenahealth will be essential, as many doctor's offices are switching over to electronic health record (EHR) systems.
Expert tip
Languages
A multilingual medical support assistant can be a lifesaver in offices or hospitals where patients may have a hard time communicating with doctors. If you have the conversational competency to discuss health issues with a patient, make sure to list your languages on your resume. If you've let your language skills go rusty, brushing up on them and learning new medical terminology might just put you ahead in the medical support assistant application pool.
Choosing the correct CV format and resume template
An easy-to-read medical assistant resume format is essential for conveying important information at a glance. Think of your layout like a patient's chart – if it's messy and disorganized, it's easy for important details to be overlooked. That wouldn't be good in an exam room and it's certainly not good for getting you hired. 
Resume.io's templates are field-tested, so you can be sure your format is giving you the best chance of landing a medical assistant job. Resume and CV templates can help make sure you use the right font styles and sizes and keep the appropriate balance between white space and text. With a template, you can create attractive and easy-to-read formatting in just a few minutes. Our resume builder makes it easy to input your information and download the resume as a PDF, the best format for printing, uploading and emailing.
Resume.io's templates come in four categories: professional, modern, creative and simple. For a medical support assistant resume or CV, we recommend checking out the professional template category to give your experience a most polished feel. It's important to avoid splashy colors or cute pictures for this type of position, since hospitals and doctors are looking for a straightforward and clean candidate profile.
Key takeaways
This is a phenomenal time to enter the field as a medical support assistant. with the job market growing significantly faster than for other professions.
If you plan on continuing your education, an associate's degree may be the right choice. If not, a certificate program can quickly give you a leg up on the competition.
Medical assistants need a good balance of clinical and office skills since they often have to alternate between the two.
A no-frills resume template is the best way to highlight your skills and experience and increase your chances of landing a position.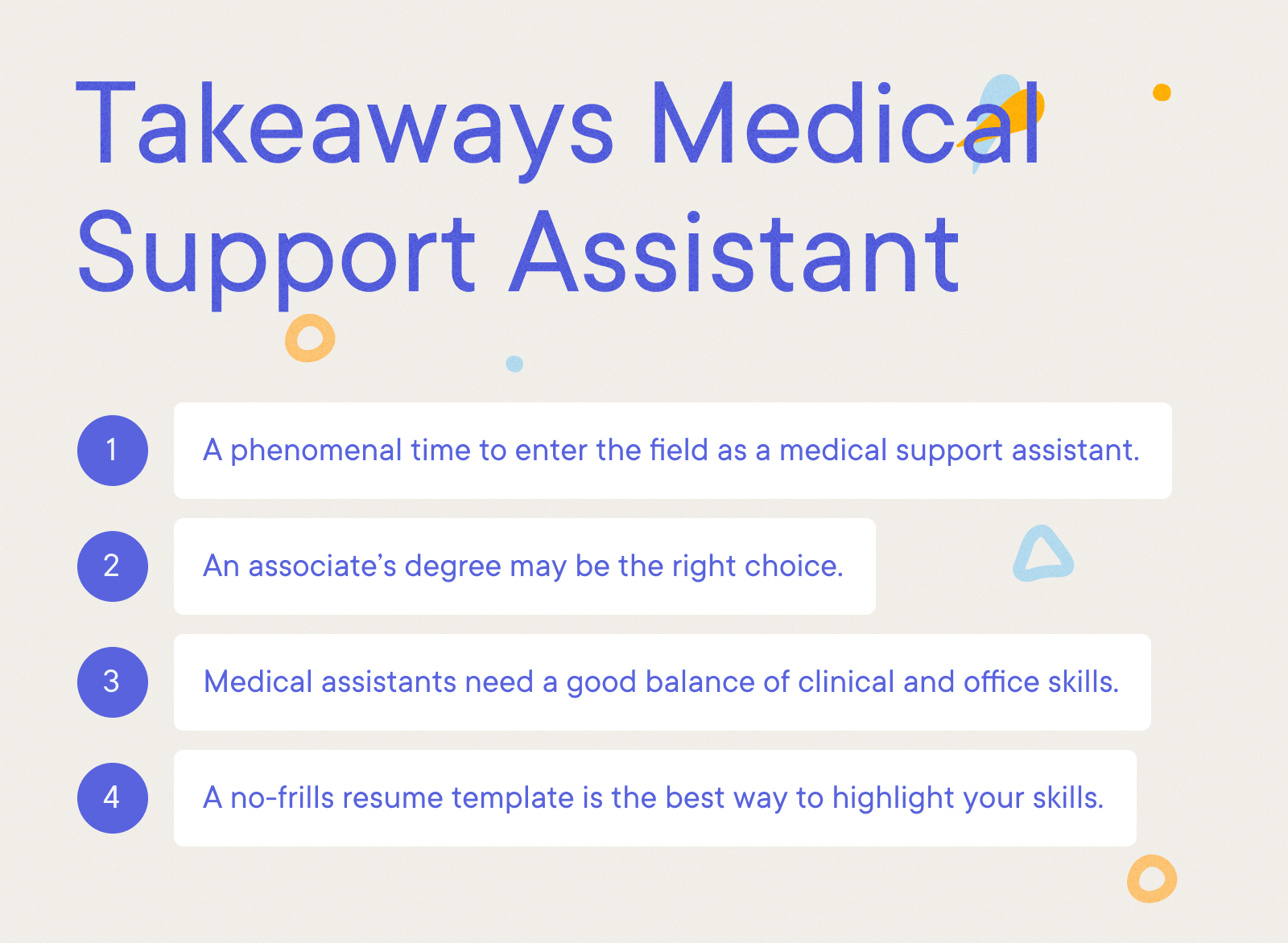 Now it's time to get started. Our tried-and-true resume templates and builder tool can get you on your way to landing the medical assistant position that's right for you. 
 Other related medical resume examples