What is a functional resume format and who should use one? Plus tips, examples, and free resume templates.
Choosing the right format is one of the first and most important decisions you have to make when writing a resume. This guide will discuss the nuances of the functional format and the circumstances for using it. We'll also provide you with adaptable examples and plenty of other resources to help you choose the right type of resume.
A functional resume focuses on your skills and talents. It shows the reader how you can contribute to their organizational objectives from day one. It also helps to mask any issues with your employment history which a chronological resume may expose, such as limited experience or job gaps. We will discuss the pros and cons.
This guide will help you to confirm that a functional resume is the best choice for you, by teaching you the following:
Introduce the functional resume as an option
Show you how to create a layout for this type of resume
What information to include in a functional resume
How to organize each section
Expert tip
Why do many recruiters hate functional resumes? While a functional resume will be suitable for certain job seekers, as we will explore, we cannot escape the fact that recruiters dislike them. Functional resumes make it hard to understand when you accomplished specific things, there is little opportunity to understand the context of accomplishments and they automatically assume that the applicant is hiding something. If you have any career of note (3+ years) - think very carefully whether you want a recruiter to be feeling this way.
The functional resume: An introduction
The functional resume format is applicable for individuals with a great deal of education and training and/or a strong set of job-related skills. This includes new graduates or experienced workers transferring to a new industry where their skills and education will apply. It is also good for people who have worked for a limited number of organizations and whose skills are more important than the employers they have worked for.
A functional resume highlights your skills and talents and how they relate to the job you're applying for. Often, the skills you have are the same ones described in the job posting. This type of resume is best for people working in technical or skill base professions, or who are transitioning into a new career.
Expert tip
My career path hasn't been smooth. Should I hide it with a functional resume? Being open and honest about your career is the only choice. If you attempt to hide job hopping and career gaps with a functional resume, you guarantee an awkward barrage of probing questions in an interview (where you will have to tell the truth). Career gaps happen, mistakes happen and people get fired for no reason. Interviewers understand this - a bumpy career history doesn't mean that you won't do a fantastic job.
Format of a functional resume
The format of a functional resume is very specific. It is structured to enable recruiters to quickly determine your qualifications for the job and to encourage them to read the complete resume to learn more about you. An easy way to create your resume is to select a functional resume template which you can find online and simply insert your details into the appropriate sections, following the prompts provided by the functional resume template. However, you still need to know what the structure of a functional resume looks like.
The basic structure for a functional resume is:
Name and contact information (email, phone and possibly the location, but never an address)
Title – This should match the job title you are applying for
Summary of applicable skills and any experience relevant to those listed in the job posting.
Hard Skills – The emphasis is here. These are the skills directly related to the job
Additional Skills – Soft skills which complement the job
Education – Formal, vocational and subsequent training in specific skills (note – this may precede the Skills section if you are a recent graduate or have received recent training which would qualify you for the position)
Experience – Brief listing of employers, dates, and title
Industry related certifications
Industry organizations
Volunteer experience
Expert tip
Career change is a valid reason for a functional resume format. Having said that recruiters don't like functional resumes, when you are changing careers and wish to emphasize that you have the necessary skills to do your new job, a spotlight on functional skills and competencies is exactly what you need.
Sections to include on your functional resume
The basic content you include in your resume is similar for any resume format you choose to use. However, how it is organized and how much detail you provide for each section differs depending on the type of resume you are writing. Here are the content and organization recommendations for the functional resume.
Contact information
The resume starts with your contact information. This will allow the employer to reach out to you to invite you to an interview, which is the purpose of a resume. Your contact details should include:
Name
Phone number
e-mail address
LinkedIn profile URL
Each of these items could be at the top of each page of the resume so the employer will know whose resume they are reading. Your name should be slightly larger than your contact information. Your email address and LinkedIn URL can contain links which the employer can click on. Anything you can do to make it easier for the employer will help you land the interview.
Professional summary
The next item in your functional resume is a brief summary of your professional background. This enables the employer to begin to know something about you and encourages them to want to read the rest of your resume. It should be the same as your 'elevator pitch' or your answer to the infamous 'Tell me about yourself' interview question. It should summarize your skills, experience, and ability to contribute to the employer's business objectives in 2-3 sentences.
Functional resume summary sample
(Adjective 1) and (adjective 2) (job title) who is passionate about (job duty) and offering (service provided by company) with efficiency and attention to detail. Excited to learn more about (field) from (company name) and be a part of achieving (goal.)
Skills
This next section will include both 'hard skills', which are directly related to the job you are applying to, and 'soft skills', which are character traits. This latter category will demonstrate your ability to work well in the employer's environment. They include things like communication, teamwork, attention to detail, and others.
When you opt for a functional resume, the skills section is the most important and you will spend more time on this section than you would in other types of resumes. The individual skills will be grouped in similar categories and described in much more detail. It may also contain examples of accomplishments related to the skills.  
Here is an example of the type of skills you could add to your own functional resume:
Functional resume skills sample
Hard skill
Technical knowledge
Personality trait
Quality mentioned in job description
Experience
Similar to the skills section, the employment history or professional experience section of the resume will differ depending on the style of the resume you are using. For all formats, the basic information you include will be:
Job title
Company name
Location
Dates employed
The positions is listed in reverse chronological order, starting with your most recent position and working backward. You should only list jobs going back for about 10 years. Anything prior to this either is no longer relevant to contemporary positions or the experience has already been described in more recent employment listings.
In the functional resume, this is all the detail you need to provide. The focus here is on your skills, which you have already described in detail.
Functional resume experience sample
Your main job duty
Your attitude towards customers and coworkers
A skill you learned on the job
Your biggest achievement
Education
This section details both your formal and informal training related to the job you are applying to. The formal education is listed in reverse order, starting with the most recent or highest degree attained. The information you include is:
Degree, with major and any minors if applicable
School or institution
Activities including offices held, organizations, key projects or publications
If you have had informal education related to the jobs you've held or are applying to, include it in your resume. The descriptions should include:
Name of the class or certificate attained
Instructional institution or issuing agency
Dates
These items should only be included if they enhance your qualifications for the job. If any education, training or certifications are listed as 'Required' in the job posting you are applying to, you may want to move this section to just below Skills and ahead of Experience. If you have a higher education degree, there is no need to list your high school on your resume.
Functional resume education sample
mm/dd/yyyy – mm/dd/yyyy: Degree name, University name, City, State
Expected graduation mm/yyyy: High school name, City, State,
The best functional resume example
Check out our example of a great functional resume below. You can make one just like this in only a few clicks by using our easy-to-use resume builder.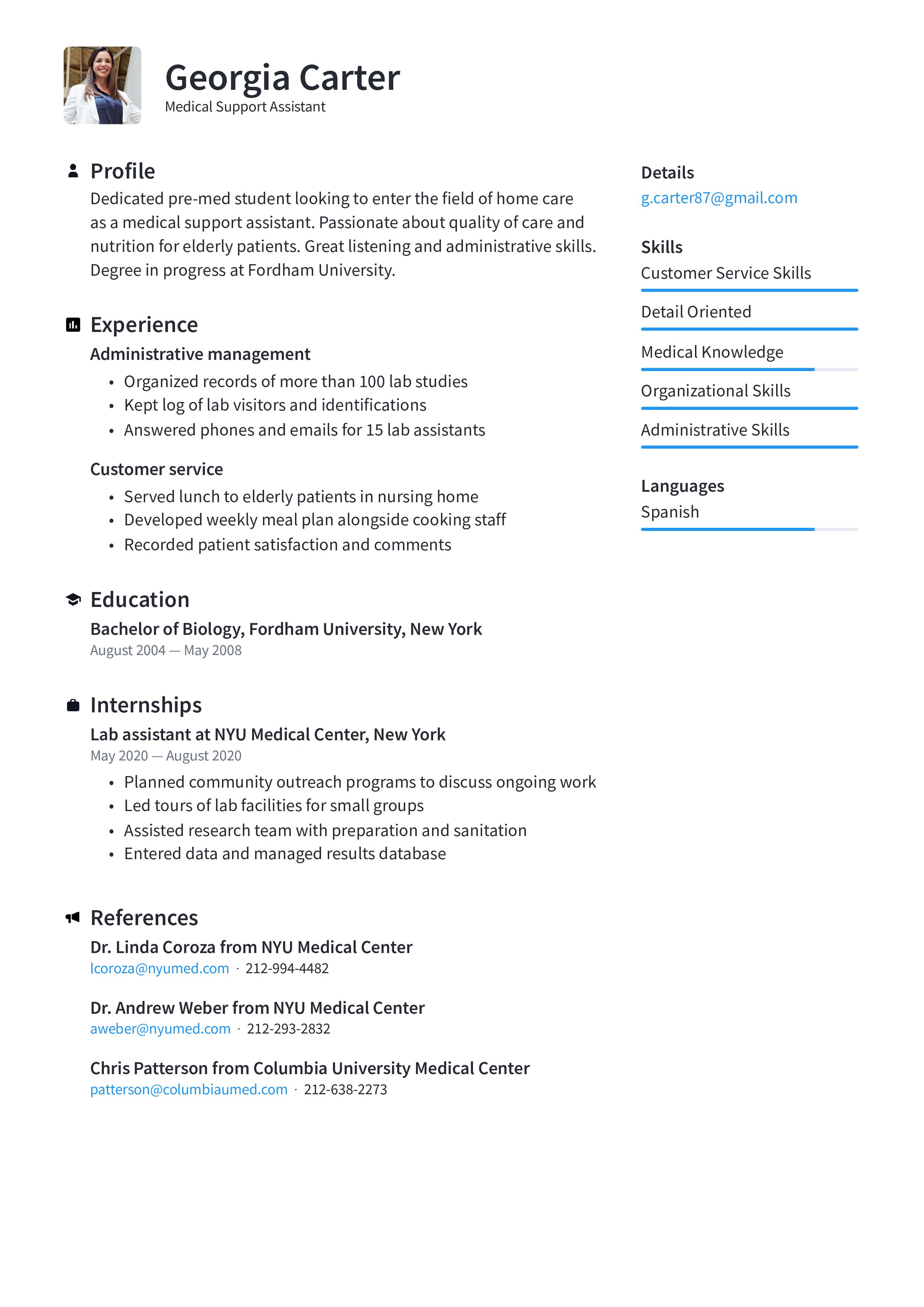 Pros and cons of a functional resume
A functional resume poses certain advantages that can quickly help you get your career off the ground. However, it's not the right choice for everyone since the structure can be limiting in terms of work history. Let's explore the pros and cons of this type of resume.
Pros of a functional resume:
Easy to create without much experience to go off of
Allows you to highlight your personality traits
A great option for students and recent grads
Can be used to change careers and showcase transferrable skills
The best way to highlight education and abilities with no work experience
Cons of a functional resume:
No employment history section to highlight previous positions
Can make you appear like an early-career candidate even if you're not
Less ability to show hard skills or lessons learned on the job
Not favored by employers for certain roles
Stands out as a candidate who doesn't have experience in the field
Functional resume format for freshers
When you are leaving university it is unlikely that you will want your resume to focus on the various student roles that you undertook to earn some money for weekend socializing. 
The jobs in themselves are not important. It is the skills that you developed which matter.
Because it is likely that freshers will have do a whole range of casual work, the format of a functional resume allows them to pick out the specific skills that each role demands. Employers will understand the sense in avoiding a long list of roles in chronological order - they are interested in your assessment of whether you have what it takes to succeed.
Expert tip
What are the common mistakes found in a functional resume? The most common mistake in a functional resume is the lack of context for the skills that you listed. Every resume, no matter what the format, should be packed with quantifiable proof of your career story. By all means, put a lot of emphasis on your skills, but do not forget to outline exactly what value you have brought to previous employers.
What is a combination resume?
A functional resume is most useful in situations where you need to highlight skills and knowledge that can't be attributed directly to a previous position. But what about when you do have some experience? That's when the combination resume can be a great asset.
The combination resume takes elements of a functional format and adds a shorter work history section similar to the one found on a standard reverse chronological resume. Generally, the skills/experience section that comes from the functional resume will be placed at the top of the page and the employment history will come later. 
The combination resume is a great choice when you have some work experience to show but not enough to fully switch over to the chronological resume. It can also be a good idea to create a combination format if you work in certain creative fields where your skills are more important than previous employers. Freelancers also find this format useful because it focuses more on the services they offer while letting them highlight just a few impressive clients.
Expert tip
The combination (hybrid) resume is increasingly popular. A hybrid resume combines the skills focus of the functional resume with the context-laden career story of a reverse chronological resume. No employer can read too much into a one-word skills section, but a hybrid resume offers a dedicated space to explore the functional fit in more detail. 
Functional resume: Final thoughts
Most people are good at what they do for a living but find it difficult to describe it in writing. Luckily, there are many online resources available to help you design and write a resume. The key is choosing the right format for your particular situation and then filling it with the right content, written in the right way.
Once you select the format, you can either write the resume yourself or find a functional resume template you can use. These are available on the internet and make it easy to create a professional looking resume. You simply fill in your details in the appropriate section and then save or print the resume.