As the demand for their services escalates at an astonishing pace, home health aides can expect an ever-expanding range of job openings in the foreseeable future. When pursuing opportunities that seem made to measure, a customized home health aide resume is essential to persuade employers you are the perfect fit.
The importance of a tailored approach is something we'll touch on a few times in this writing guide, backed by an adaptable home health aide resume example. Job seekers in more than 350 other fields can find similar tips and tools in Resume.io's collection of occupation-specific writing guides with corresponding resume examples. Feel free to browse those for ideas and inspiration.
As for the guide you're reading now, feel free to modify any of the wording you like from the home health aide resume example that illustrates each writing step. Here's what we'll discuss:
What home health aides do and their extraordinary employment outlook
The correct structure of resume sections
Choosing the best format for your home health aide resume
Speaking to the employer's needs in each resume section — header, profile, work history, education and skills
Layout and design tips so your resume looks its best
What does a home health aide do?
Home health aides are a lifeline in situations that some of us have yet to experience or envision. But the older we get, the greater our chances of someday needing help with self-care tasks that can't be managed on our own.
Even with friends and loved ones doing their part — whether we live alone or not — their availability and capabilities are often limited. Thanks to home health aides filling those gaps, there may be no reason to forfeit our independence and the comforts of living in our own home.
Statistical insight
According to data reported by the American Association of Retired Persons (AARP): 
Two-thirds of U.S. adults — and more than 75% of those 50 and older — want to stay in their own homes as they get older.
43% of family caregivers are currently looking after people who live in their own home, and 40% share the same residence.
The 65-and-older population will grow from just over 54 million in 2019, to 94.7 million by 2060.
The typical duties of a home health aide vary on a case-by-case basis, depending on the specific needs of elderly, ill, or disabled clients and their family members.
They are often responsible for monitoring the patient's condition, checking vital signs, and perhaps giving medication. In some instances, they assist with simple prescribed exercises, change bandages or dressings, provide massages, apply skin treatments, and assist with braces or prosthetics. 
In providing these healthcare services, home health aides generally are supervised by medical practitioners, usually nurses, and often report to case managers. They may work with other professionals such as physical or occupational therapists.
In addition, home health aides provide invaluable companionship, while assisting patients with daily living activities such as bathing and dressing. They might also prepare meals, perform light housekeeping tasks, and provide support related to shopping, appointment scheduling, and transportation. Where these non-medical services are concerned, there may be some role overlap between home health aides and other caregivers known as personal care aides.
Dynamic employment growth
The U.S. Bureau of Labor Statistics (BLS) projects an extraordinary employment growth rate of 33% for home health aides and personal care aides between 2020 and 2030. (The BLS does not categorize home health aides separately). 
That's more than four times faster than the 8% occupational average for the same time period. And it's more than double the still-robust 16% growth expected for other healthcare support occupations.
How to write a home health aide resume
As noted in our introduction, your approach to creating an effective home health aide resume should be geared to the specific position you are seeking. Before coming back to that, let's look at what all resumes have in common, across all occupations — the universally applied structure of parts. Your home health aide resume should be organized to include these components:
Header
Summary
Employment history section
Education section
Skills section
A few general guidelines are also worth revisiting every time you set out to customize a new version of your home health aide resume for a different job application.
Contain your resume to a single page. These tips should help make that achievable.

Concise writing requires precise language, including dynamic action verbs.
Avoid repeating the same words and redundant information. However, there's no limit to the number of times you should reread and edit what you've written, with each revision being further streamlined.
Be scrupulously selective about what you do and don't include. Always stick to what is directly relevant to the job application.
 

Include enough of the right keywords in your resume to optimize its chances of passing through the applicant tracking systems (ATS) that many hiring organizations use to screen online job applications.
 
Scrutinize the advertised job requirements for your strongest keyword clues, and ensure each section of your home health aide resume is selectively relevant.
Choosing the best resume format for home health aides
Generally, the chronological resume format is the most suitable way to organize your professional experience. Recruiters also prefer this format, which lists job highlights below employer headings in reverse order from most recent to earliest dates.
But if your home health aide work history is less straightforward, perhaps including some independent contract positions, then you may want to structure your resume a bit differently. The functional resume format would allow you to emphasize relevant caregiving skills, rather than previous positions and workplaces. This approach may be ideal for someone new to the workforce or returning after a lapse, and for those making a career change. The hybrid (combination) resume format is even more versatile, with both chronological and functional elements.
Resume header
Professional and accessible — isn't that the first impression you want to make when hiring agencies or clients look at your home health aide resume? It's possible before they even read a word, with a header design that sends the right message.
Polished, efficient, and well-organized are the reader-friendly features of a header that sets your job application apart visually from everyone else's. It draws the reader's eyes to the most easily noticed and remembered information: your name, occupation, and contact information. Double the impact with a matching cover letter and resume header.
Resume summary example
The summary of your home health resume might occupy the smallest space on the page, but it's designed to have the biggest influence on readers. If it fails to catch their attention, they may not look at anything else.
In fact, your summary — sometimes called the profile or personal statement — is how you connect immediately and directly with the person making hiring decisions. Whether that's an agency recruiter, the client needing home care, or their family members, take the standpoint of solving a problem by framing your key qualifications in that context. 
This is one of several times you should revisit the job application and carefully review the position requirements. Address those needs directly in this brief synopsis of your background. Besides highlighting your most relevant professional abilities, give a sense of the personal attributes and attitudes that would make you an excellent fit for the position.
Below is a home health aide resume sample summary you can customize.
Adaptable resume summary example
Dedicated and compassionate Home Health Aide with extensive experience providing home management and care planning to individuals in need. Committed to promoting optimal levels of well-being in addition to fostering independent living skills. 
Employment history sample
This is the place to both showcase your relevant work experience and highlight how you've made a difference during that experience. Go beyond just listing the duties you carried out in previous caregiver roles. Describe ways that your patients have benefitted from the assistance, support, and companionship you provided. Were there improvements in their health, independence, or quality of life? What about positive impacts on outlook, confidence, self-esteem, and relationships with others? How were the lives of family members, friends or neighbors made easier when you were hired? 
Be specific and selective in highlighting past job details as accomplishments, with measurable outcomes if possible. If you have agency experience, think about ways you contributed to administrative efficiencies or even cost and time savings. Maybe you had a useful idea that was implemented. Perhaps you were recognized for excellent attendance, or being dependable on short notice to cover for others calling in sick. Otherwise, be sure not to overlook the collaborative aspects of your work in supporting other healthcare professionals.
Below is a home health aide employment history resume sample you can modify.
Adaptable resume employment history example
Home Health Aide, Clover Friends Caregiving, San Francisco  
Mar 2020 - Sep 2022 
Provided personal caregiving services in accordance with an established plan of care.
Assisted patients with activities of daily living.
Provided transportation assistance to and from activities and appointments.
Served as a pleasant and supportive companion.
Assisted with mobility and range of motion exercises.
Properly managed household needs.
Worked collaboratively with patients and caregivers to assist them in assuming responsibilities toward self-care.
Home Health Aide, Gold Coast Care, San Francisco  
Jun 2018 - Feb 2020
Performed all caregiving duties as assigned by the Case Manager.
Observed, reported, and documented any changes in the condition of patients.
Recognized emergency situations and implemented appropriate emergency procedures.
Assisted in administering medications and implemented infection prevention measures.
Documented observations and services provided in an accurate and timely manner.
Completed other assignments as requested and assigned.
CV skills example
It's useful to create a master list of every possible skill you can think of that an exemplary home health aide should have. You may even want to create separate categories for hard skills and soft skills because both are crucial. Keep adding to this list every time more skills come to mind, and keep it handy for reference when you need an updated CV.
Of course, there will never be enough room on your resume to list all of these skills. Once again, relevance to the job application is your deciding factor for being selective and specific. Take another look at the job posting and start from there. Be sure the skills you list are an exact wording match to those specified, paying special attention to keywords.
Expert tip
Caring Senior Service, a resource for all kinds of home care solutions, considers these 11 unique skills to be essential for caregivers.
Compassion
Communication
Observation
Interpersonal skills
Time management
Organization
Cleanliness
Patience
Flexibility
Initiative
Physical strength and stamina
Check out a home health aide CV sample for the skills section below.
Adaptable resume skills section example
Patient Care
Knowledge of Biology
Ability to Multitask
Hard Working
Empathy
Patience
Home health aide resume education example
While college degrees are not a hiring prerequisite for home health aides, any degree that you do have — especially in a related discipline — should be listed in your resume's education section. The same goes for diploma or certificate programs you completed at a vocational school or community college. These should appear in reverse chronological order, from highest to lowest level.
Below that, your high school information can be included, but only if you don't have a degree. And if you graduated fairly recently, indicate your GPA if above 3.0.
Be sure to indicate the training hours you logged to qualify as a home health aide, and any continuing education credentials such as certifications. In jurisdictions with licensing or other mandatory requirements to work as a home health aide, that information can be included here or in your resume summary.
Below is the education section from a home health aide resume you can modify.
Adaptable resume education example
Berkeley City College, Berkeley  
Sep 2021 - Present 
Associate of Science in BIology
Stuart Hall High School, San Francisco 
Sep 2015 - May 2019 
Resume layout and design
Earlier, when discussing header design principles, we suggested that "professional and accessible" is the image you want to project visually — off the top — in a home health aide resume. Looking the part doesn't stop there. It's all about keeping the layout, design, and formatting elements consistent and compatible throughout your resume document. 
Keeping things simple is generally a good idea too, but that's not to say it has to look drab. It just means you'll never go wrong with an overall look that's clean, streamlined, and uncluttered — scoring readability points right away. You need not shy away from the odd graphic touch or splash of color if used sparingly.
Stay with the same font for all of your resume body text, and no more than one different style for header text and titles. One-inch margins on all sides are recommended, as is enough white space between lines and paragraphs.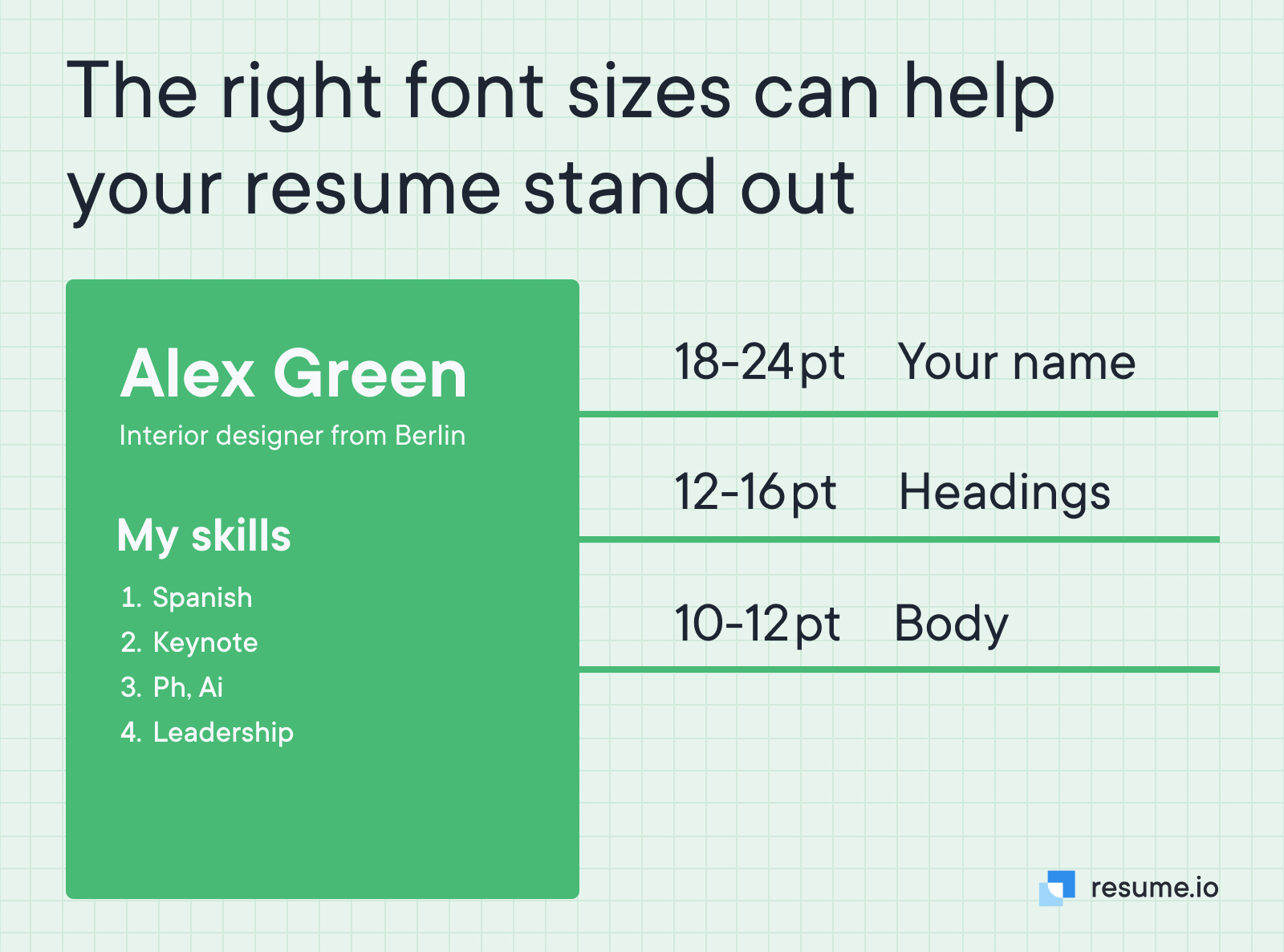 Expert tip
Don't sweat the small stuff.
When it comes to resume design details we can take them off your hands. Resume.io's ready-made resume templates are available in four style categories. Just download one you like, and use our builder tool to adapt the text to your needs.
Key takeaways for a home health aide resume
Skyrocketing demand for home health aides in the coming decade promises an ever-expanding range of employment opportunities. But the need for an outstanding resume to pursue the most attractive jobs will become no less important.
Whether you are applying to work for caregiver agencies, or directly to clients or family members, your resume should be tailored specifically to their needs.
Pay close attention to the posted job ad to determine what should be emphasized in each resume section, while also being mindful of keywords to avoid ATS rejection.
A professional resume template — just like the one used to create our adaptable home health aide resume example — offers assurance that your resume looks the part of the professional you want to portray in the best light.