Computer skills should feature prominently in many resumes, but if you last performed these skills a while ago, do you need to refresh your knowledge? We look at the most popular computer skills and where to revisit your expertise.
Being able to do most jobs efficiently is increasingly linked to an ability to master the technology involved, or ideally use tech to improve things yet further. Outlining your computer skills on a resume is therefore a crucial part of the job search process.
This is no simple matter. Resume real estate is precious, so you need to decide which computer skills are genuinely impressive. Then it is a question of how to weave them into your career narrative and remembering enough about them to hold an informed conversation. In this blog we consider:
What are computer skills and which ones could you list on your resume?
100+ computer skills for your resume and where to revisit them.
Where to share your computer skills on your resume.
With 100+ computer skills in this guide, being computer literate takes on a whole new dimension. Which of these are critical for your career success?
Expert tip
How do you describe basic computer skills on a resume? While listing your basic computer skills will be a waste of space (proficiency in Microsoft Word, etc, is assumed) there are many niche computer skills that may play a part in your future role. Choose which skills to showcase with care.
What are computer skills?
Computer skills is a term that encompasses a broad spectrum of technology expertise – from software skills such as coding and data analysis to hardware skills such as system administration and network security.
Many of the required skills might be taken for granted by employers if the employee has previously worked in the industry, but for those with a particular depth of skill or with an unusual skill set, their computer skills could set from other candidates.
Are you missing any computer skills on your resume and are you sure that your knowledge about them is as fresh as it was when you were actively using them? Hopefully the following list might offer an opportunity to revise your technical expertise and serve as a spark to set off some more career memories.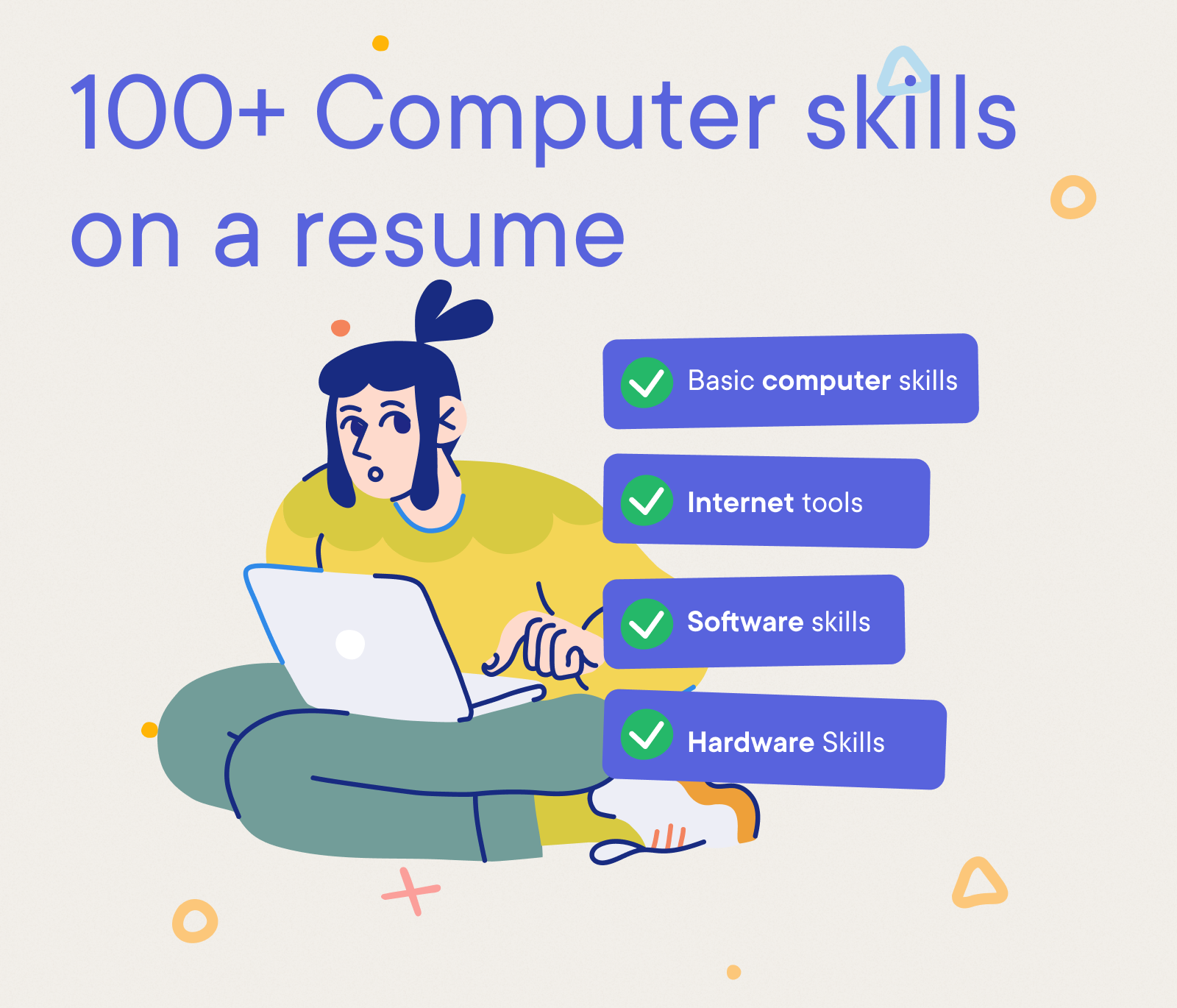 List of computer skills and where to revise them
It is one thing listing computer skills on your resume, but even if you manage to include the business benefit that the skills brought about, there is always a possibility that an employer may want to dig deeper into your competency.
If you used this skill a while ago, you may find your memories a little hazy.
To assist you in your interview prep, we have devised a list of 100+ of the most common examples of computer skills and included links of where you might be able to brush up on your knowledge. If you feel that a certain skill may be central to the application, it is well worth doing some research – on these websites and others.
Basic Computer Skills
MS Office
Word, Excel, Outlook, Powerpoint, Access
Google Drive
Docs, Drive, Forms, Gmail, Sheets
Spreadsheets
Excel, Google Drive, Open Office, pivot tables, vertical lookups, macros
Email
Outlook, Gmail, mail merge, filters, folders
Presentations
PowerPoint, Google slides, Tableau, Keynote
Operating systems
MacOS, Microsoft Windows
Basic computer skills examples
Automated budget tracking spreadsheets, saving 5 hours weekly on reports.
Designed persuasive sales presentation, boosting client engagement by 40%.
Organized team files in Google Drive, improving retrieval time significantly.
Internet Tools
Social media
LinkedIn, Facebook, Twitter, Instagram, YouTube, Hootsuite, Tiktok, Pinterest, content creation
Blogging
CSS, Wordpress, SEO, content management, MailChimp, Google Analytics, Moz
Team collaboration
Dropbox, Slack, Zoom, Skype, Trello, Asana
Internet tools examples
Implemented new Instagram strategy, increasing brand visibility by 35%.
Boosted blog traffic by 40% through SEO optimization techniques.
Streamlined project communication on Slack, enhancing team productivity by 20%.
Software skills
Programming/coding
Java, Javascript, Python, Ruby on Rails, Perl, PHP, XML, C#, C++, HTML
Data science and analysis
Apache, MySQL, SAS, JSON, machine learning, data mining, SQLite, RapidMiner, machine learning, open source
Database management
MS Access, Oracle, Teradata, MySQL, SQL, IBM DB2, SAP BI
Enterprise systems
BCP, CRM, E-commerce, HR management, ERP, Quikbooks, FreshBooks, Xero, Business intelligence
Graphics and design
Dreamweaver, Illustrator, InDesign, Lightroom, Photoshop, Acrobat, Corel Draw, AutoCAD, Microsoft Publisher
Software skills examples
Refactored legacy code, reducing system downtime by 25% effectively.
Implemented machine learning models, boosting prediction accuracy by 20%.
Automated reporting in CRM, saving 10 hours of work weekly.
Hardware Skills
Maintenance
Hardware configuration, system administration, tech support, software installation, Linux/Unix,
Networking
Network configuration, security, network automation, cloud management, WAN/LAN, DNS, DHCP, debugging
Hardware skills examples
Reduced hardware failure rate by 30% through proactive maintenance.
Upgraded company's network infrastructure, enhancing speed and reliability by 40%.
Led a team in a major data center relocation project.
Expert tip
How do you explain the level of proficiency of your computer skills? Apart from putting the skills in proper context, one option is to create a skills section with some sort of graphic to indicate the level of proficiency. You can then expand on your top computer skills at the interview. This visible indicator is a great way of saying: "do you know what? I am really great at this."
Where to showcase your computer skills on your resume
While it might be tempting to simply share a long list of computer skills, your future employer will be far more interested in what you achieved with those skills. There are various places in the resume where you can share your computing expertise.
Resume summary
The summary should ideally contain a couple of your greatest accomplishments, and it is easy to highlight the skills that helped you make them happen. If you have a technology-led role, these may well be computer skills, so are worth including.
Certain roles may well not require such a deep proficiency in computer skills or tech skills, so in these cases leave the summary section for the more relevant aspects. A nurse shouldn't use the summary to detail her ability to use an ECG monitor.
Skills section
Depending on the format of your resume, there should be a significant amount of space for listing skills in the sidebar of the resume – especially if you have a two-page resume. You should only list genuine top-level skills that set you apart from your peers (so don't sweat the small stuff), and lead on the first page with those that are most relevant for the role in question.
It is acceptable to mix up the computer skills with other types of skills that your job requires such as various soft skills, although similar computer skills (such as programming languages should still be grouped together). It will make you come across as a more rounded employee if machine learning is listed alongside agile / lean management.
Expert tip
How do you label computer skills on a resume? Technology is an increasingly important part of most professions, so there is no need for a specific computer skills section or label. Relevant computer skills should be distributed throughout the resume – with those most relevant for the job on the first page.
Work experience
The work experience section is where the majority of your skills will be showcased. You do not have to spell out the computer skills that went into each accomplishment as any experienced industry member will understand what is required. However, if there is one particular computer skill that made a huge difference in a certain project, this is the place to give it prominence. 
There is a certain power in repeating skills across the different sections of your resume, so don't be afraid to double down if there are computer skills that you are passionate about and that enable you to make your unique impact.
How to learn computer skills
New technologies seemingly appear every day, so it is important to adopt a continuous learning approach to new skills. Identify specific skills that align with your professional needs or interests. For example, if you're in marketing, learning graphic design software could be beneficial.
Next, allocate regular, dedicated time for learning. Utilize a variety of learning resources such as online courses, tutorials, webinars, and forums. Platforms like Coursera, Udemy, or LinkedIn Learning offer courses tailored for professionals. Engage in communities related to your field on platforms like Reddit or Stack Overflow to gain insights and tips from experienced individuals.
Practical application is crucial. Apply new skills to real-world tasks, even if they're small projects. This not only reinforces learning but also boosts confidence. Don't hesitate to experiment and make mistakes; they are valuable learning opportunities.
Stay updated with the latest trends and advancements in your field. Lastly, network with peers and mentors who can provide guidance, feedback, and support in your learning journey.
Key Takeaways
In today's work environment, many roles require at least some basic computer skills in order to complete the job efficiently.
Certain basic skills will be assumed so there's no need to waste precious space on abilities like "Microsoft Word."
If you work in a tech-led role, you will need to prove advanced abilities so make sure to prioritize the ones that matter most to the employer.
There are multiple places to place computer skills on your resume so consider adding any essential ones to the summary and/or employment history sections along with your skills section.