Being strategic with your choices of extra-curricular activity during school and further education could be the best investment in an early career.
The definition of an extra-curricular activity is something that you choose to undertake as a student outside of the normal school curriculum. Whether you are at school, college or university, your choice of how to fill your time outside the classroom will say a lot about you as a person to future employers in the early years of your career. Extra-curricular activities will also feature prominently on applications for further education.
It is not enough to tell a future boss or college admissions team that you spent your time "working hard." They will expect you to play the game better than that. There is an unspoken understanding that young people take on the kinds of extra-curricular activities that may be a fit for a future career. Sure, do what you enjoy, but if you are looking to get a step ahead of the rest of the graduates, then you can craft your extra-curricular activities to tell the story of where you would like to go with your life.
Cynical approach? Maybe, but it is a game that every ambitious student will play.
But what extra-curricular activities are out there? What might be a fit for any future career? Do your skills and personal traits that you may need for a future job fit with your blend of activity outside of the classroom? In this blog, we will look at:
How extra-curricular activities fit in a resume
How you know which extracurriculars are for you
200+ activities to consider
How do extra-curricular activities fit within a resume?
When a hiring manager is looking at an early-career resume, they are searching for hints of potential. You may not have so much work experience and your academic achievements will likely be somewhat dry, so extracurriculars are your chance to showcase some personality.
The demands of many of these activities will mirror behaviors that could be critical in a workplace setting. While you might not know exactly what sort of job you are looking for, a mix of extra-curricular activities should do the trick. It is ideal if you focus on one or two main pursuits that demonstrate the ability to go deep into a specialization. No one wants to hire a jack-of-all-trades. 
Extra-curricular activities should be listed at the bottom of your resume, and it may be worth including them just after the education section rather than with the general hobbies. If they relate to the school/college environment, it shows that you are managing your studies alongside these other things. Time management is a critical workplace skill.
How do you know which extracurriculars are for you?
They say that you never know whether you enjoy something until you try it, but with over two-hundred activities listed in this guide and hundreds more that are not listed, it may take a while if you decide on trial and error.
We would advise the approach of focusing on the type of things where you possess a natural talent (sport, music, academia, technology) and find an extracurricular or two that can build on your innate abilities. The specifics of each activity may vary, and it is likely that you will learn many other skills as you progress in your proficiency.
Then, once you have a solid hobby or two, that is the time for experimentation. You can only truly develop fully if you push your boundaries and expand your horizons. Archery, beekeeping, or wilderness survival might become your extra-curricular activity of choice. Doing something unusual is also a talking point during an interview. Many employers want to hire people who are not afraid to be out of their comfort zones – a weird and wonderful activity could be exactly what you need to showcase your adventurous side.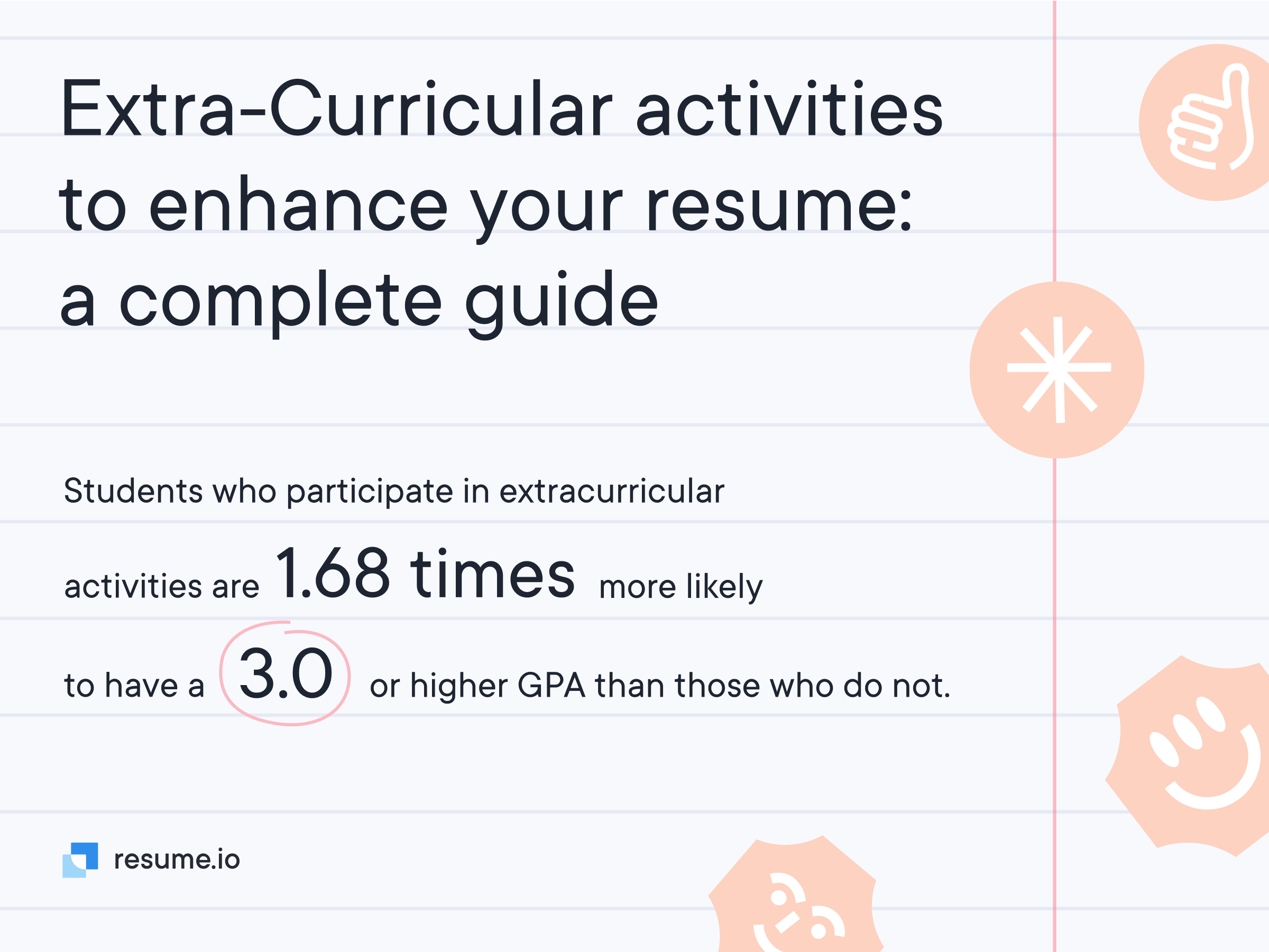 200+ Extra-curricular activities
You may currently be at school or college and wondering what extracurriculars to choose that may be a fit for a future career. While this is a valid approach, we would advise getting involved in things that interest you. This passion will then lead to proficiency, and you will start to understand which sorts of careers (and further education options) might fit with your interests. Putting your ideal career first and choosing your activities around that may not always end up well, although that is certainly what many will do.
This list of 200+ activities is a representative sample of the vast choice that is out there. We haven't covered every area, but hopefully, there will be something here for everyone.
Academic clubs
While every subject at school will likely have its own subject-specific society, there are plenty of clubs that are voluntary and that take place outside of the classroom environment. How you choose to spend your spare time speaks volumes about your personal interests. What could some of these clubs tell a future employer?
Astronomy club, psychology club, entrepreneurship club, political science club, public speaking club, peer tutoring, philosophy club, poetry club, women in stem club, yoga and mindfulness club, electronics club, culinary club, science national honors society, international relations club, engineering club, literary magazine club, photography club, debate club, trivia and quiz clubs, climate change club, creative writing club, nutrition and health club, toastmasters club, LGBTQ+ club.
School/university teams
There are also plenty of competitive (non-sporting) team activities that can showcase a wealth of personal and future professional qualities. Whether you are working in a team for a science Olympiad or part of a competitive dance troupe, you will learn communication and collaboration skills that will be beneficial for many careers. Consistent dedication to a group of people who are aiming for a common goal is a valuable experience.
National history bee, national academic quiz tournament, robotics competition, national spelling bee, chemistry olympiad, model united nations, math league, debate team, science bowl, academic triathlon, eco-challenge, Latin dance team, a cappella group, mock trial team, ethical hacking club, sudoku team, kids philosophy slam, international thespian society, student newspaper, poetry out loud, student council.
Sports activities
With the sports stories that have been dramatized on streaming services over the past decade, the link between sporting and life success cannot be much clearer. Mastery of any sport requires insane levels of willpower and determination. Include your extra-curricular sports with pride. In your early-career resume, you need to take every opportunity to showcase your drive. You never know, they might also provide an opportunity to bond with your interviewer.
Climbing club, bodybuilding, cheerleading, track & field, fencing, baseball, softball, lacrosse, football, hiking club, ultimate frisbee, cycling, skiing, water polo, soccer, tennis, gymnastics, hockey, basketball, volleyball, swimming, yoga club, archery club, wrestling team, boxing club, sailing club, canoeing/kayaking, triathlon, cross country running, table tennis club, squash club, snowboarding, karate, judo, taekwondo.
Outdoor pursuits
Most outdoor pursuits involve pushing mental and physical boundaries far beyond normal free-time activity. It is not a cliché to suggest that outdoorsy types would be well suited to a fast-paced work environment where risk-taking is encouraged and where failure can lurk around every corner. Nature can be brutal and unforgiving – anyone who exposes themselves to such an environment will likely be able to cope in a demanding workplace.
Camping, wildlife conservation, surfing, horse riding, mountain biking, kite flying, scuba diving, orienteering, skydiving, paddleboarding, gardening, beekeeping, paragliding, wilderness survival skills, adventure racing, hot air ballooning, white water rafting, off-road driving, wild swimming, ziplining, disc golf, river tubing, slacklining, rock skimming, outdoor meditation club, backpacking, fitness boot camp.
Music
While your musical passions may not be hugely relevant to an employer, the dedication that is required to become proficient in any musical pursuit is undeniable. Too many resumes omit extra-curricular activities such as music because they do not seem directly relevant. If you are a musical prodigy in the early stages of your career, sing about it from the rooftops. 
Marching band, concert band, school choir, singing lessons, chamber music, jazz band, orchestra, songwriting club, acapella group, music theory, opera, music production club, musical theater, percussion ensemble, wind ensemble, string quartet, music therapy, barbershop quartet, music composition club, woodwind quintet, gospel choir, beatboxing club, school radio station, drum line, music criticism club.
Volunteer work
Volunteers are the lifeblood of so many vital community projects that underpin some of the most important aspects of our society. We all have the capacity and the time to give to those who are less fortunate, and it is precisely this attitude of altruism that will make you a great team member. Employers are looking for people with empathy who always have an eye on the welfare of others. Dedicate a line to describing what you did during your volunteering activity – it will endear you to the hiring manager, without a doubt.
Youth sports coaching, library volunteer, blood donation, animal shelter volunteer, soup kitchen, conservation efforts, beach clean-up, human rights activism, volunteer tutoring, homeless shelter volunteer, meals-on-wheels, church outreach, peer counseling, red cross, suicide prevention hotline, women's shelter volunteer, mentoring, animal rescue, hospital volunteer, literacy programs, recycling drive, veteran assistance.
Artistic hobbies
Artistic abilities may only be directly relevant to a small range of careers, so this may not be top of the priority list for a resume. Having said this, as work/life blend is increasingly important for all sorts of employers, why not mention your obsession with origami? It is certainly a more impressive pastime than slumping on the sofa in front of the television.
Film production club, sculpture, weaving, origami club, community theater program, photography, woodworking, sewing, jewelry making, video game development club, calligraphy club, theater program, anime/manga club, makeup artistry, fashion design, quilting club, puppetry, choir, set design, mural painting, ceramics, art history club, printmaking, 3d modeling, collage making, pottery club, graphic design, animation.
Technology
In contrast to artistic pursuits, any kind of technological hobby may well make most hiring managers' eyes light up. Tech is impacting so many industries in unpredictable ways. People with a natural interest in technology may well prove to be vital employees to help businesses transform their ways of working and adapt their offerings.
Robotics, coding boot camp, artificial intelligence club, mobile app development, drone flying, digital design, video game development, hackathons, tech entrepreneurship, 3D printing, e-sports, computer graphics, ethical hacking, raspberry pi, machine learning club, computer programming competitions, tech mentors, digital marketing, virtual/augmented reality club, computer-aided design, quantum computing club, cybersecurity, digital arts.
Key takeaways
Extra-curricular activities during school, college, and university will be an important addition to those early years of your career. It is also likely that you will continue to practice some of them, and they migrate to the hobbies section. You should obviously not call this section "extracurricular" when you are no longer studying, but every student should definitely have a vibrant section that details their interests outside the classroom.
Pick the activities that fit best with your chosen career.
You don't need to list everything that you have ever done.
Consider adding a line of description if it is relevant to the job.
Only add extra-curricular activities in the final years of your education.