As a professional wordsmith, how could you not ace a job-winning technical writer resume? It's like a written interview audition that you script, direct and produce single-handedly — but with no need to translate from geek-speak.
Then it hits you: This communication advantage is not yours alone. "How will my resume stack up against those of other technical writers vying for the same job?" "How can I craft a technical writer resume that will stand out?"
For guidance geared toward creating a technical writer resume, keep reading. Each step in the process described is illustrated with sample wording from our technical writer resume example. It's yours to adapt as you like, or to provide ideas. This is what we'll cover:
What does a technical writer do, and what is the job outlook?
Essential resume sections and general guidelines
The best format for your technical writer resume
Optimizing the impact of each resume section — header, profile, work history, education, and skills
Layout and design tips
If you're looking for further inspiration, Resume.io offers advice and tools for job seekers in similar circumstances. As a leading international resource, we've produced over 350 occupation-specific writing guides and free resume examples. 
What does a technical writer do?
It's quite easy to describe what technical writers do, but difficult to fathom the scope and complexity of their work. Essentially, they make hard things seem easy to understand. They uncomplicate specific subjects that require direction, instruction, or explanation in unambiguous lay terms. From a user's standpoint, technical communicators, as they are sometimes called, come up with efficient ways to describe how something works and why it works that way. 
Their forte is to simplify and succinctly summarize the right details for the right purpose, designed for the most practical and user-friendly media — everything from assembly/installation guides, FAQ pages, journal articles, and software app support, to drug literature, video tutorials, training manuals, and research grant proposals.
In this multidisciplinary field, technical writers collaborate with IT and communications specialists across various departments and industries.
Statistical insight
Influxes of new technology and scientific innovations in recent years have dramatically changed the nature of technical communications while driving employment growth. This trend is expected to continue. The U.S. Bureau of Labor Statistics (BLS) projects a 6% increase in jobs for technical writers from 2021 to 2031. This growth rate is just slightly faster than the 5% estimate for media and communication workers overall, and the 5% occupational average.
According to BLS data, the median annual income for technical writers in May 2021 was $78,060. Two other income information sources report these lower amounts for annual base salary: Glassdoor — $66,837 and  Payscale — $62,362
How to write a technical writer resume
This writing task will no doubt seem less onerous than what a pro is accustomed to in your typical workday. Here is the simple framework of five essential components that almost all resumes have in common: 
Header
Summary (sometimes called Profile or Personal Statement)
Employment history
Education
Skills
You'll have a chance in each resume section to rock your technical writing talents in more ways than one. We'll be taking a closer look later, one at a time. First, let's consider your resume overall as a platform for showing, not just telling, recruiters why you'd be a great hire.
There's no question, your expertise as a professional communicator gives you an edge. But prospective employers may take for granted your knack for writing clear, concise, and comprehensible content. And you can assume other job applicants will have that going for themselves too.
For hiring managers to take notice, you need to differentiate yourself by conveying the impact of your abilities and accomplishments. Leave no doubt in their minds that you're not just looking for any technical writing job, but that you are the technical writer they are looking for.
Here are some general guidelines that technical writers are ideally equipped to follow.
Keep it short — no more than a page. Busy hiring managers reportedly take just six or seven seconds to skim through each resume on average. Give them nothing but gold nuggets.
Keep it relevant. Be ruthlessly selective about what you include and exclude. Omit anything that has no bearing on your rightness for the job.
Customize the content by being specific to a fault. The effort you put into researching what this employer needs and values most will pay off.
Expert tip
It all starts with research, which technical writers have down to a science! Your first source is the advertised job description. Analyze it carefully, more than once. Pay particular attention to keywords you will want to replicate in your resume (no. 4 above). 
Then turn to websites, publications, and conversations with insiders if possible. Learn everything you can about the hiring organization and industry — what it's all about and where you would fit. Get a feel for the workplace and corporate culture … staff, collaborators, and customers.
Choosing the best resume format for technical writers
For good reason, the chronological resume format is the most popular choice for job seekers and recruiters alike. In nine out of 10 instances, it's the best way to organize your job history under employer headings, in reverse order from most recent to earliest dates. It provides a reader-friendly overview of your progressive work experience at a glance.
The functional resume format might be a good choice for freelance technical writers, placing more emphasis on specific skills or expertise than where you worked. It. The hybrid (combination) resume format is another option allowing for both skills-based and chronological work history sections.
Resume header
A distinctive resume header enables your job application to stand out from everyone else's upfront. As a visual branding element, it gives prominence to your name, occupation or job title, contact information, and perhaps your LinkedIn profile URL. The header's placement on the page, in relation to the blocks of black text and white space, makes everything look inviting to read. 

Applying the same header design to your cover letter reinforces the eye-pleasing impact and shows your regard for communication details. Duly impressed recruiters can revisit this matching pair of documents at any time and easily know at a glance how to get in touch with you.
Expert tip
According to the online resource Technical Writer HQ, too many technical writers are doing themselves a disservice by not having a personal website with links to their technical content portfolio. But this gives those who do have a website with portfolio links a better chance of landing the right job, even with competition.
Your resume header is the perfect place to display your website URL, along with your contact information and LinkedIn URL.
Resume summary example
Of all the superpowers that technical writers could boast about, their deftness at pinpointing and summarizing key details from mountains of material may be unparalleled. This will serve you well in crafting a resume summary that hits the right high notes. 
While occupying the smallest space on the page, this professional synopsis — sometimes called the profile or personal statement — is meant to be a big motivator for hiring managers to get curious and connected. From the standpoint of being a problem solver, highlight the key reasons why this employer needs you on its team. "This could be the one," is the reaction you are after.
Below is a technical writer resume sample summary you can customize.
Adaptable resume summary example
Motivated Technical Writer with 7+ years of experience writing and editing technical documentation for large consulting firms. Adept in reviewing, revising, and maintaining technical documents, as well as creating code documentation for software.
Employment history sample
Remember the golden relevance rule we touched on earlier? Your resume's employment history section is no place for exceptions. 
Relevance goes hand-in-hand with the need to selectively match your work experience highlights to what the target role requires. The same goes for keywords. Make sure your language is an exact fit to the posted job description.
Use dynamic action verbs, in the active voice, to describe what you did/do. (Ban "responsible for" from your resume vocabulary!)
Indicate "why" and "how" when describing accomplishments, along with beneficial outcomes.
Performance-related facts and figures are ideal wherever possible. Employers are keenly interested in deliverables with measurable results. For instance, you might cite the number of

Technical documents produced last year
Content topics identified
Team members, collaborators, or end users
Below is a technical writer employment history resume example you can modify.
Adaptable resume employment history example
Technical Writer, Xec Interactive Danbury 
Apr 2017 - Present 
Work to create concepts for technical writing based on engineering drawings, engineering documentation, and consultations with subject matter experts.
Contribute to Information Architecture decisions with a strong understanding of how readers use our resources.
Write and edit technical documentation for project hardware and software.
Prepare visual assets, such as animated clips and videos for help center articles.
Provide field, data definition, and data flow documentation.
Format technical publications from technical drawings and consultations with technical personnel.
Continually audit existing content for accessibility, and help to update content to achieve greater accessibility.
Junior Technical Writer, Pyramid Hartford 
Jul 2015 - Mar 2017 
Researched, planned, designed, wrote, and produced customer-facing and support documentation (user guides) in accordance with best practice procedures and regulations.
Gathered accurate and relevant information by utilizing the product directly and inquiring with experts.
Participated in project teams and interacted with team members from different departments.
Attended product design demonstrations and generated and maintained relevant support documentation as needed.
CV skills example
Relevance, informed by research, is the deciding factor once again — this time for creating a skills list that fits the employer's wish list like a glove. It comes down to the posted job description that you may have scrutinized more than once already. Take another look now, to determine which skills count the most (and for one last chance to include ATS-busting keywords). It shows hiring managers that their priorities matter to you as a candidate equipped to meet them.
There will never be enough room on any resume for more than a handful of skills that employers would value in a technical writer. There are dozens of technical skills alone, if not hundreds if you drill down deep enough. There are subcategories of specific writing skills and software tools. And every resume needs a blend of hard skills and soft skills because both are crucial. Problem solving and critical thinking skills are important in many technical writing jobs.
Check out a technical writer CV sample for the skills section below.
Adaptable resume skills section example
Programming Languages
Markdown, HTML, CSS, and UNIX
Application Development
Attention to Detail
Complex Problem Solving
Technical writer resume education example
With no prescribed learning path to become a technical writer, job candidates are likely to have widely disparate educational backgrounds. Apply the same relevance criteria in your resume's education section, emphasizing what's pertinent to the job application.  
Starting with college degrees, your education list should be in reverse chronological order, from highest to lowest level. Specify majors and other focuses of study if relevant.
Applicable diploma and certificate programs you completed at vocational institutes belong here. So do internships and on-the-job training, along with workshops or online courses.
Professional certifications, such as through the Society for Technical Communication (CPTC), should be prominent as they can give you a competitive advantage. Professional societies and association memberships, if included here, also demonstrate a commitment to continuous learning.
Below is the education section from a technical writer resume you can modify.
Adaptable resume education example
Bachelor of Science in Information Technology, University of Connecticut Storrs, CT 
Sep 2010 - May 2014
Resume layout and design
Many technical writers have some experience on the visual design side of technical content. They can appreciate that when a document looks as good as sounds when perused, the readability score shoots up. 
Keeping things simple, streamlined and uncluttered is your best assurance of a resume page that's eye-pleasing in a professionally polished sense. 
An orderly layout helps readers find what they're looking for in the expected location. Sections should connect logically and smoothly to each other.
Reader-friendliness should also guide your font choices. Stay with the same one for all body text, and only one different style for header text and section titles.
One-inch margins on all sides are recommended, with adequate line and paragraph spacing.
A little bit of creativity can go a long way if drabness is a concern. Use graphic touches and color splashes sparingly so the impact is attractive and never distracting.
Expert tip
Even if you've worn a graphic design hat or worked with experts who do, there's no need for involvement on that level in making your resume look awesome. Leave the layout and text formatting up to Resume.io by choosing a ready-made resume template from our collection of field-tested designs in four style categories. Just download the one you like, and use our builder tool to drop in your own replacement text. Everything else is done for you.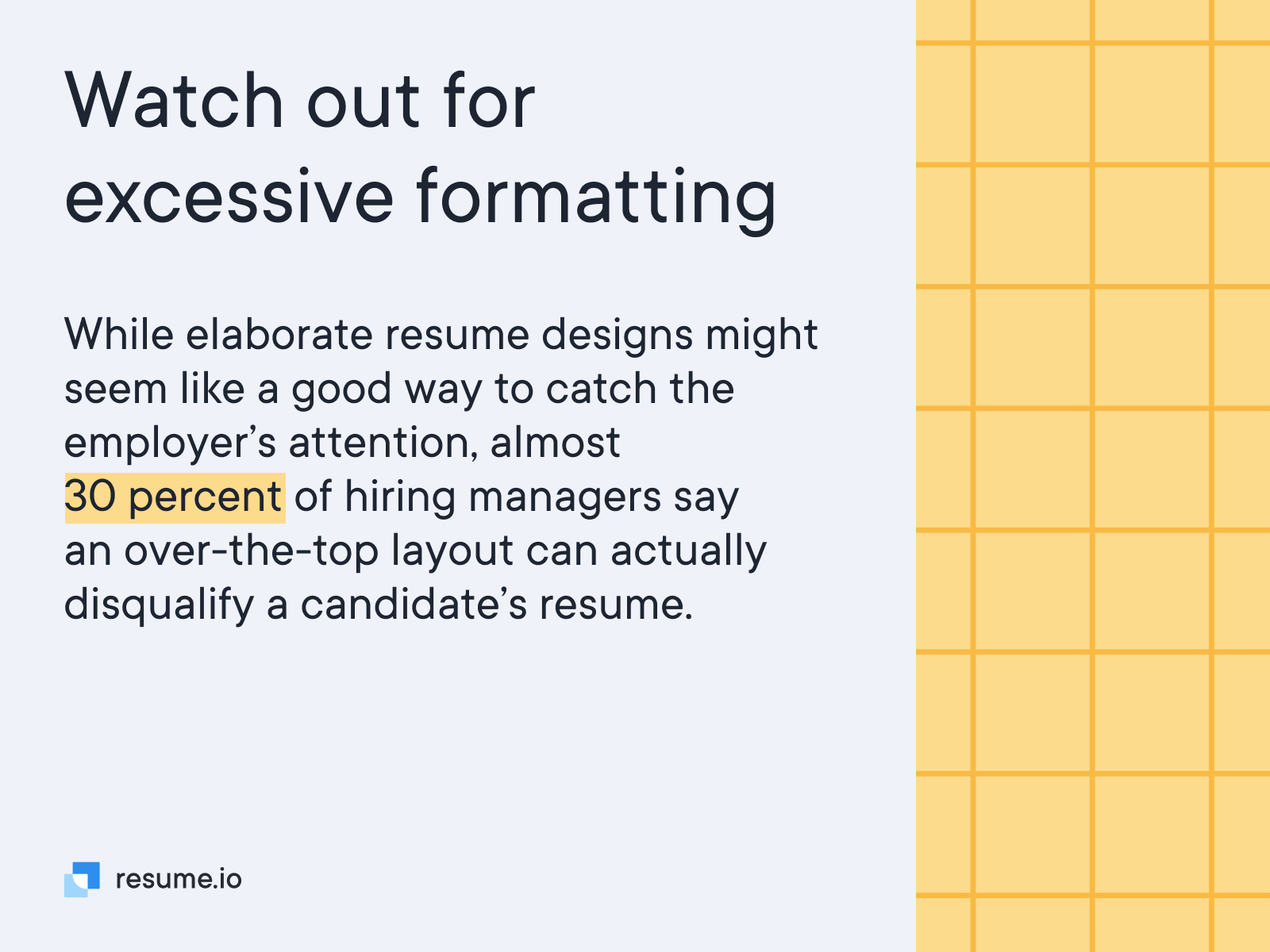 Key takeaways
The constant emergence of new technology and product innovations across all industries will see the continued abundance of career opportunities for technical writers.
The bar is set especially high for technical writers to submit a flawless resume that showcases their communication finesse from all angles. By the same token, they have a unique advantage, given their experience producing high-quality content targeting specific audiences.
Research skills are also an asset when tailoring your resume to the specific job qualifications and requirements.
Include keywords matched to the job listing, and selectively specific descriptions of your most relevant measurable accomplishments.
Using an expert-designed, field-tested resume template is the fastest hassle-free way to achieve professionally polished results.