Even before the pandemic darkened the doors of vacated offices worldwide, a growing number of virtual assistants were proving their worth as a cost-effective staffing alternative. And that's how a great virtual assistant resume will help you ride today's wave of once-unfathomable remote job prospects. 
This resume writing guide will help you showcase your talents to the best advantage. Each step is illustrated by wording you can adapt from a virtual assistant resume example. We'll discuss:
What virtual assistants do
How to write a virtual assistant resume — the basic structure and best format
Nailing each resume section: header, summary, work history, education, and skills
Professional layout and design hints
Expert tip
For more in-depth advice, check out our comprehensive guide to resume-writing excellence. Resume.io also has a library of 350+ occupation-specific resume examples and writing guides, packed with tips.
What does a virtual assistant do?
Virtual assistants are typically regarded as administrative assistants working remotely. While it's fair to say that they are commonly hired to provide administrative support — from scheduling appointments and arranging travel to handling phone calls and emails — make no mistake about the scope and diversity of roles that virtual assistants play.  
Their services are valued by companies of all sizes, across many industries, and cookie-cutter job descriptions seldom apply. Usually engaged as independent contractors, they may work in any of these capacities and more: bookkeeper, accounting assistant, data entry, customer service, payroll specialist, social media manager, content marketing, research assistant, and data analyst.
Statistical insight
While wide-ranging pay rates for virtual assistants reflect experience levels and duties, the average annual earnings reported by these three online sources are in the same ballpark: Glassdoor $39,396, Ziprecruiter $43,646, and Payscale $43,965.
According to Businesswire's Global Virtual Assistant Market 2021-2025 report, the compound annual employment growth rate for virtual assistants during that four-year period is about 12%, faster than the occupational average. 
How to write a virtual assistant resume
Being well-organized by necessity, virtual assistants might appreciate the orderly structure that almost all resumes have in common. These are the essential components:
Header
Summary
Employment history section
Education section
Skills section
Expert tip
Follow these resume-writing guidelines for a winning edge.
Keep it short — one page is perfect.
Keep it relevant by being super-selective and specific about made-to-measure talents.
Keep your focus firmly fixed on one job application at a time.

Each requires a different, customized version of your virtual assistant resume, precisely matched to the job ad.
Infuse your resume with keywords — verbatim —  from the same source, to avoid rejection by electronic applicant tracking systems.
Choosing the best resume format for a virtual assistant
The reverse chronological resume format is recommended for 90% of job seekers — ideal if your work experience has grown progressively over time in employee roles.
Many virtual assistants, however, could be an exception to this rule if they are seeking freelance or steady contracting arrangements. The functional resume format lets you emphasize skills, rather than workplaces. And the middle-of-the-road hybrid resume format combines a chronological experience section with a skills list that's more prominent than usual. 
Resume header
First impressions might matter more than ever in a virtual job application! A distinctive resume header can make you look professional, organized and accessible, while everything else on the page looks inviting to read. And it's what hiring managers will come back to when making interview arrangements. 
So make the most of this opportunity to prominently and stylishly display your name, occupation, contact information, and LinkedIn profile URL. Reinforce the impact with cohesive design elements in your cover letter header. 
Resume summary example
It's unlikely that you are the only applicant for this virtual assistant job, and it's the job of your resume summary to focus attention on your unique value proposition. The profile or personal statement, as it's sometimes called, captures your most relevant and relatable qualifications, zeroing in on the specific hiring needs.
After all, this is really the only incentive for busy hiring managers to pay attention to anyone's resume. But it's not up to them to figure it out on their own. The onus is on you to generate a reaction along these lines: "This person really gets it! I must keep reading." 
Below is a virtual assistant sample summary you can adapt.
Adaptable summary resume example
Highly dynamic Virtual Assistant with 7+ years of experience providing exceptional administrative and management support to clients. Adept in multitasking and effectively prioritizing tasks to achieve the best outcomes. Knowledgeable and skilled in document management software and content management systems. 
Employment history sample
As noted earlier, the job ad offers your best clues about work experience that matters most to this employer, along with keywords. Otherwise, descriptive and dynamic action verbs are the key to concisely and precisely differentiating yourself from other candidates here.
Emphasize the impact and value of your contributions and outcomes as a virtual assistant, as opposed to responsibilities. Your past job titles will tell any employer what you did; this is where you tell how well you did it. Highlight tangible results, using numbers to quantify your bullet points if possible.
Below is a virtual assistant employment history resume sample you can modify.
Adaptable resume employment history sample
Virtual Assistant, Maxwell Staffing Solutions, Portland
Jun 2018 - Present 
Successfully manage multiple administrative projects per week.
Communicate with the CEO and 4 managers to ensure the delivery of high quality work.
Promptly respond to emails and calls, and manage schedules to assure positive workflow.
Serve as the first point-of-contact with regular client interfacing, providing optimal customer service at all times.
Handle all aspects of travel management for employees, including researching itineraries, making reservations, and booking flights.
Assist with the development and deployment of communications, including newsletters, emails, and webinars.
Virtual Assistant, Sublime Assistants, Portland 
Aug 2015 - May 2018 
Served as a reliable and efficient Virtual Assistant for various clients of this boutique agency.
Acted as a "right hand" support to clients, answering calls and emails on their behalf with punctuality and professionalism.
Assisted 15-20 clients per week with complex tasks including calendar management, group logistics, filing systems, and project coordination.
Prepared internal and external documents for team members and partners.
Worked with the highest level of professionalism among staff and clientele at all times.
Virtual assistant resume education example
Even if there are no postsecondary graduation requirements for a virtual assistant position, don't overlook anything that rightfully belongs in your resume's education section. Business degrees are common, or perhaps you've studied in an industry-specific field such as healthcare, marketing, or finance. Vocational school diplomas and online virtual assistant courses are also typical.
In any case, list these in reverse-chronological order, from highest to lowest level. Omit your high school unless that's where your formal education left off. Include any relevant certifications, along with internships, on-the-job training, workshops, and seminars.
Below is the education section from a virtual assistant resume you can modify.
Adaptable resume education example
Bachelor of Arts in Communications, University of Portland, Portland 
September 2010 - June 2014
CV skills example
Be as specific and thorough as possible in pinpointing skills from your virtual assistant toolbox that best match the posted job requirements. This may be another opportunity to use keywords. Every resume needs a blend of hard skills and soft skills, so make sure yours includes both.

Consider the types of activities and functions you would manage in this role if hired, and what skills seem vitally important. Computer skills, organizational skills, and communication skills likely rank high on the list, along with analytical skills, problem-solving skills, critical thinking skills, and conceptual skills. 

Check out a virtual assistant CV sample for the skills section below.
Adaptable skills section resume example
Agile Project Management
Customer Service
Ability to Work Under Pressure
Ability to Multitask
Effective Time Management
Knowledge of Office Systems
Basic Accounting
Resume layout and design
This is the first chance to demonstrate your ability to make things easier for your next boss!
Even before diving into your resume content, hiring managers will take kindly to an orderly page layout and appealing design details. A sleek, streamlined, and clutter-free page is easy on the eyes and inspires confidence about your regard for every "put-together" nuance of a virtual assistant's role. 
Diminish the heaviness of text-dense blocks by amplifying white space. Ensure your margins are wide enough, and line and paragraph spacing are adequate. Your choices of fonts, text formatting, and graphic accents should also enhance readability.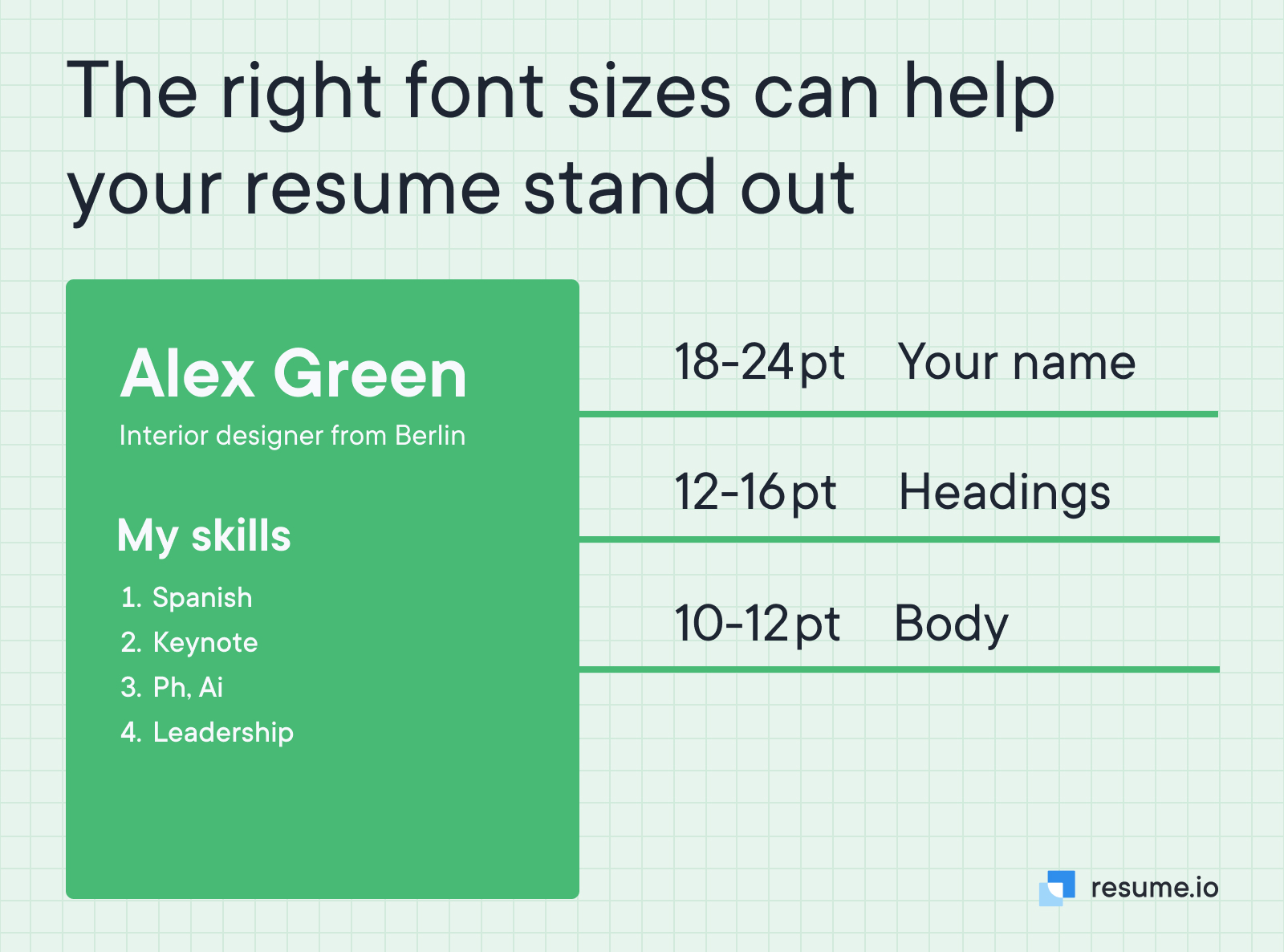 Expert tip
As an easy way to make things easier for yourself, why not leave the finicky formatting details up to Resume.io? Choose a ready-made, field-tested resume template from dozens available in four style categories. Then, our builder tool makes it easy to customize with your own replacement text. 
Key takeaways for a virtual assistant resume
Buoyant demand for virtual assistants has taken a once-novel concept to new levels of normalcy, with a wealth of job opportunities. An exceptional resume is the best way to differentiate yourself in the talent pool.
Strategically match a new version of your resume to each job application, addressing the employer's specific needs and expectations.
The "why hire me" connection you make with hiring managers in your resume summary should be reinforced by your employment history and skills.
Using a premade, field-tested resume template is the easiest way to create a visually impressive document that's inviting to read.