As so much more than the friendly face or voice behind winning customer service experiences, receptionists are often the heart and soul of a business. How does a receptionist resume convey everything employers need to know about your excellence in this role? If it's an entry-level position, how do you prove your teachability and positive attitude?
You've come to the right place for help. As a leading resource for job seekers in all fields, Resume.io offers more than 300 occupation-specific writing guides and corresponding resume samples, plus a CV builder tool, customizable templates and useful advice. 
This guide, alongside a receptionist resume example, will show you how to highlight the personality traits and hard skills you already possess, convincing employers you're a cut above the other receptionist candidates.
We'll cover these basics:
What do receptionists do?
How to write a receptionist resume
The best format for structuring your CV
Advice on each section of your receptionist resume: summary, work history, education and skills
Professional resume layout and design hints.
Specifically, our receptionist resume example and guide will teach you to:
Craft a profile that shows off your work ethic and willingness to learn
Get your foot in the door at top companies with room for advancement
Leverage previous experience in other fields
Avoid having your resume filtered out by automated systems.
What does a receptionist do?
It's 9 a.m. on a Monday morning in a busy doctor's office. The phone is ringing, patients are waiting to be checked in and a pharmacy needs a prescription sent over — right away! It might seem like chaos, but for a trained receptionist, bringing order and positive energy to any workday is a welcome challenge. 
Receptionists are expert multitaskers, handling a variety of office duties, from greeting clients and scheduling appointments to making copies and organizing files. They're expected to complete all of these tasks with a friendly disposition and few complaints.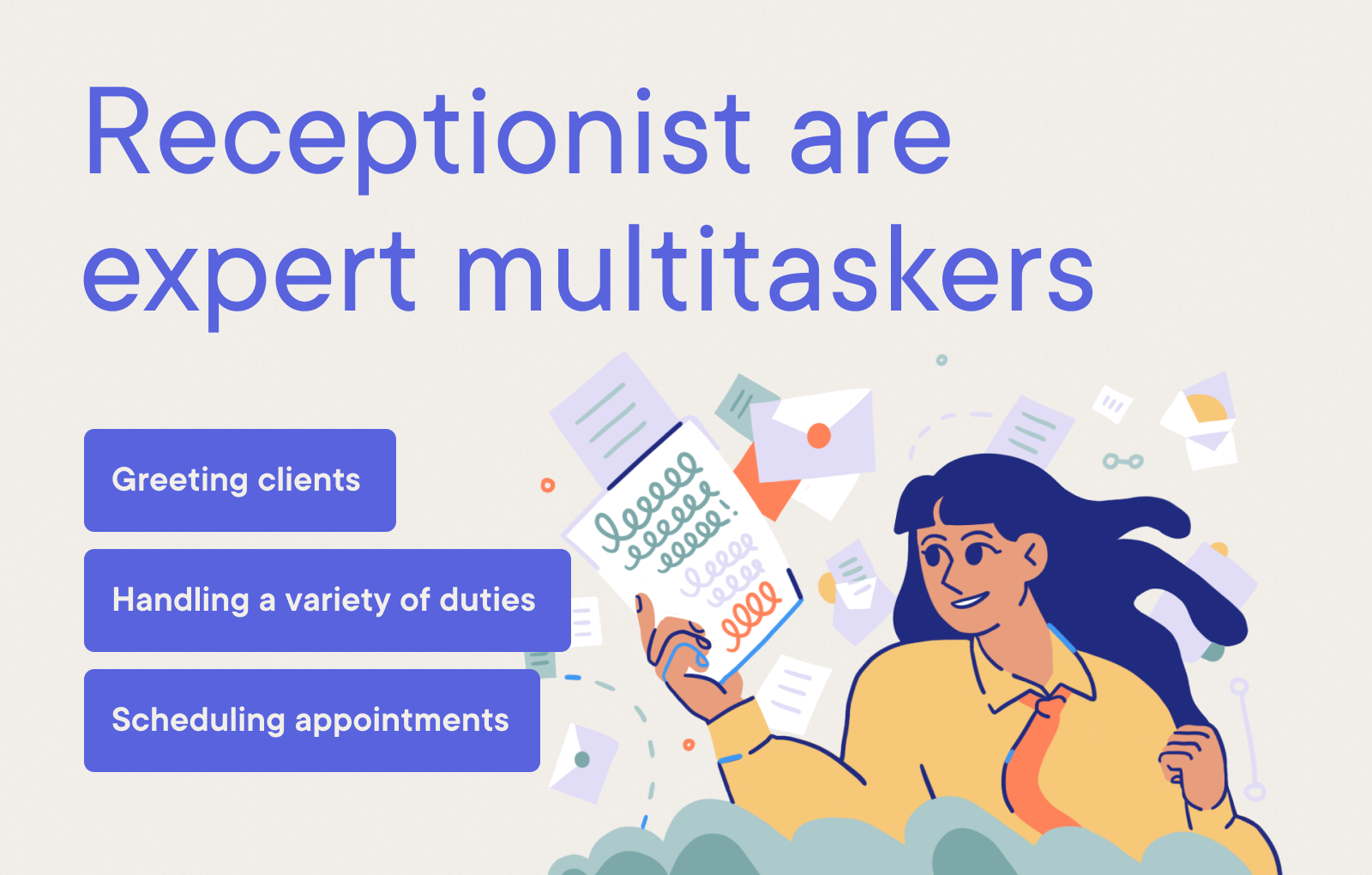 Receptionists work in nearly all industries and most work full-time during business hours. Because most duties can be learned on the job, a receptionist position is a great choice if you don't have a college degree. Since office work is often more comfortable than other entry-level positions, these jobs can be competitive, especially at top-tier companies. 
Expert tip
Check out these other resume examples and guides for administrative jobs:
What it takes and where 
The first step towards building a great receptionist resume is understanding the nuances of the role and job market.Think of a time when you visited a doctor's office or business and the receptionist was less than helpful — or even rude. It probably gave you a negative impression of the whole company and made you hesitate before recommending the business to family and friends. That's why a good receptionist is such an important part of any organization. 
From the newest associate to the CEO, every other employee is represented by the person sitting at the front desk. This means the right combination of charisma, attention to detail and patience is essential for this job. Not only will you be asked to complete a wide range of administrative tasks, you'll probably be expected to listen to a lot of complaints — both from clientele and staff. Avoiding gossip and focusing on the task at hand is the best way to assert your professionalism and stay in the company's good graces.
Statistical insight
According to the U.S. Bureau of Labor Statistics (BLS), 47% of all receptionists work in the medical and social assistance industries. That means medical offices and hospitals are a great place to start the job hunt for a receptionist position. 
One reason for the receptionist job market being so competitive is that it can open the door to many other areas of an industry. The internet is filled with stories of managers and executives who started as a receptionist but eventually propelled through company ranks. An inquisitive nature and ability to do little tasks correctly will show bosses that you're capable of bigger responsibilities. 
Receptionist work is sometimes seen as a temporary job, but that doesn't have to be the case. Working as a receptionist can lead to more opportunities in the administrative field. The skills are often transferable to positions as bank tellers, customer service representatives, secretaries and administrative assistants.
Job prospects
The BLS expects receptionist jobs to grow by 4% from 2020 to 2030, slower than the average for other occupations. However, the market demand is shifting. More receptionist positions are opening up in health and medical services, while jobs are being lost in other industries that use automated systems, websites and applications to communicate with customers. As the field narrows, a high-quality resume will be key to securing the best receptionist positions.
The ATS affair
Imagine spending all that time crafting a stellar resume and then having it be automatically filtered out before it even reaches human eyes. A nightmare, right? That's what can happen with applicant tracking systems, or ATS. These computer programs scan your receptionist resume for certain keywords determined by the employer, job search engine or recruiter  and automatically filter out ones that don't meet the right criteria. So how do you beat the system and make sure your resume lands on a hiring manager's desk?
Expert tip
Word cloud services like Wordle or Worditout will help clear away the confusion when figuring out the most important keywords to include in your resume. Simply input the job description and the word cloud to generate a visual representation of which words are used most often — easy! This way, you will have a fair guess at what the employer prioritizes in case the job description is too vague or too wordy.
It's all about finding the right balance between writing naturally for humans and incorporating keywords a robot will love. ATS is most active in scanning your resume's summary and skills section so focus on inserting words from the job description into these sections. The wording in your education and employment history sections should do the job fine on their own, as long as you've crafted them with care.
How to write a receptionist resume
The recommended framework for a receptionist CV, like all career resumes, includes these components:
Header
Summary (sometimes called profile or personal statement)
Employment history
Education
Skills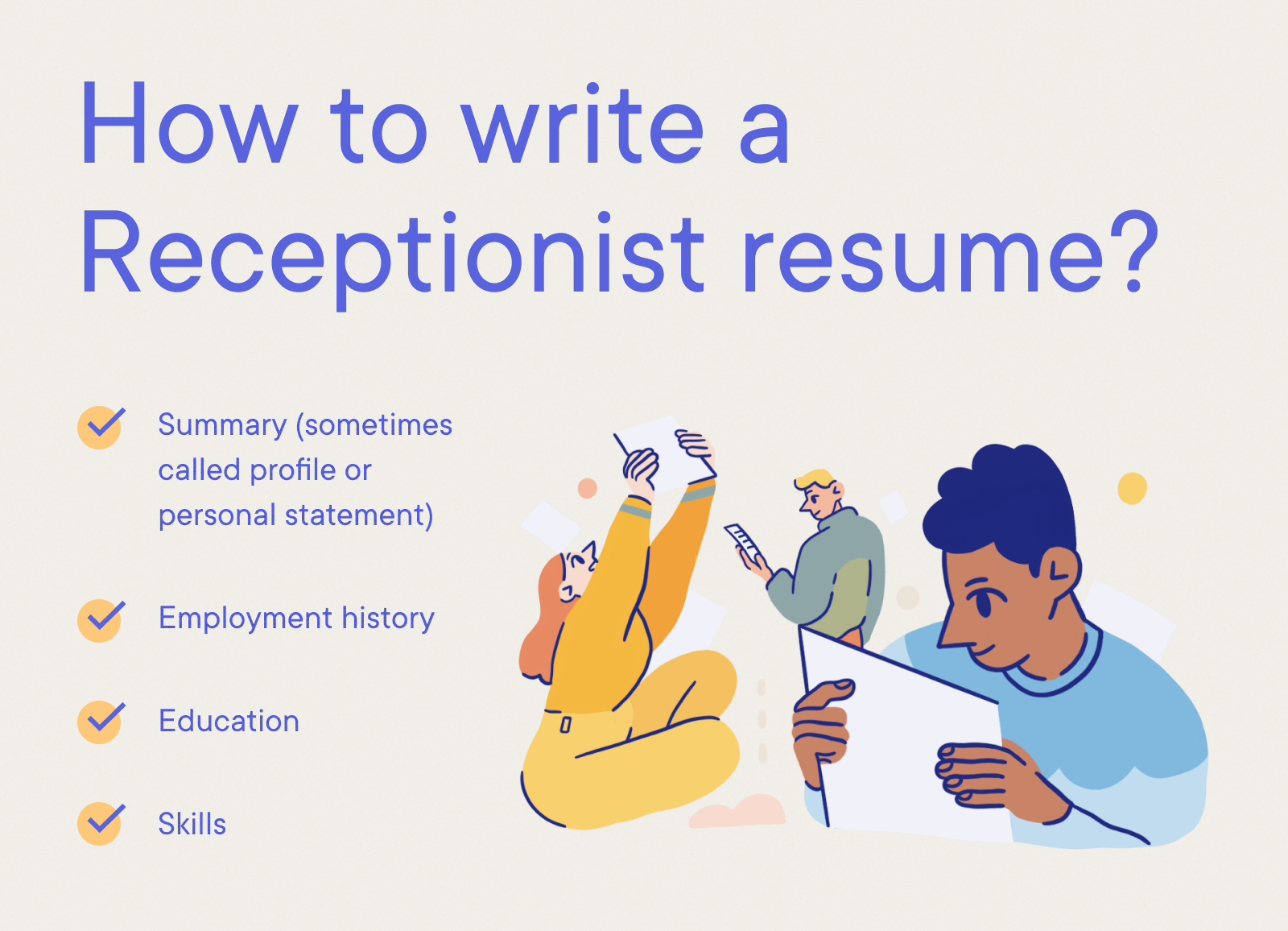 Later in this guide, supported by receptionist resume examples, we'll go through each section one at a time.
Choosing the best resume format for a receptionist
The chronological resume format is likely the best option for structuring your CV, as the receptionist resume example referred to in this guide will illustrate. It's the most commonly used format for job seekers overall. 
But if you are new to the workforce, making a dramatic career change, or your most relevant experience has not been in employee positions, then take a look at alternative resume formats. A functional resume format is sometimes suitable for emphasizing transferable skills or training, or for those who have been self-employed. 
Expert tip
Head off with the right first impression
A striking resume header will get your receptionist job application noticed for the right reasons, especially if the same visual style applies to your cover letter so the two documents match. An eye-appealing header design distinguishes you from other candidates and displays your contact information prominently for recruiters to easily get in touch.
Receptionist CV summary example: The right attitude
Your resume summary (also called a profile or personal statement) is the place to convince employers that you'll stay upbeat and focused even on the busiest days. A compelling resume summary is a lot like a receptionist: multitalented, efficient and welcoming. It's your first introduction to employers and an invitation for them to get to know you better. Think of it as your resume in miniature — a bit of personality, some skills and just the highlights from your previous experience. 
Start with the number of years experience you have as a receptionist or in a related field. What were the main transferable tasks involved in those positions? Any particularly striking accomplishments? Now combine that with your main qualities: courteous, thoughtful, motivated, attentive, customer-focused.
Statistical insight
According to the BLS, just over 1 million people are employed as receptionists in the United States meaning there are ample opportunities to replace retiring and departing workers.
Don't forget to take a look at the job posting and customize your receptionist resume by including keywords favorable to an ATS. If you're applying to a local company or emailing your resume to a hiring manager directly, it probably won't be filtered through an automated system. But it still doesn't hurt to give employers exactly what they're looking for.
You can find sample receptionist resume summaries below.
Adaptable summary example
Hardworking and dedicated receptionist with over 15 years of experience providing integral office support in high volume client settings. Proficient and effective in creating schedules, making appointments, selling products, and providing clients with optimal customer service. Consistently commended for managing front desk settings with poise and grace — sometimes under pressure — in addition to managing a variety of administrative duties. Eager to join a new team of professionals and assist them in thriving with my characteristic passion and commitment to excellence.
Employment history sample: Everything's in order
Your previous work experiences reassure employers they'll have nothing to worry about when you're at the front desk. Since receptionists usually aren't required to have a completed college degree, your employment history plays a key role in showing employers you've learned enough on the job to be a competent receptionist. If you're looking for a position with a larger or more prominent company, previous work as a receptionist is a must. In some industries and small businesses, previous summer jobs and part-time positions will suffice. Just make sure to show how your employment history relates to the specific receptionist job you're applying to.
Expert tip
No one can afford to underestimate the importance of correct spelling and grammar on your resume — especially when applying for a receptionist position, where attention to detail is a key job skill. Incorrectly spelled words (if they turn out to be keywords) may also get your resume kicked out by the ATS. So check your resume carefully before submitting, and ask a friend to proofread.
You can find a receptionist employment history sample below.
Adaptable employment history example
Receptionist, Alfred Young Design, San Francisco
November 2014 - August 2019
Greeted clients and provided them with information and superior service.
Handled calls, collected personal information and managed schedules to ensure all operations ran smoothly and seamlessly.
Maintained accurate client records and provided lead designers with assistance that surpassed their expectations.
Managed the office database, mail, payroll distribution, and the physical setting and logistics of the front office.
Receptionist, Little Star Day Spa, Los Angeles
June 2003 - October 2014
Answered phone calls, greeted clients, and handled all front desk responsibilities.
Decorated the front reception area, contributing to the welcoming and peaceful environment of the spa.
Handled spa orders, mail, and some accounting responsibilities.
Provided clients and prospective clients with information regarding services, spa technology, and products offered.
If you don't have previous experience as a receptionist, jobs like these possibly equipped you with transferable abilities:
Here is a resume work history sample for someone lacking receptionist experience.
Adaptable work history example (limited experience)
Managed data entry and paperwork for a five-person research team
Took orders, solved customer complaints and trained new teammates as a fast food associate
Managed schedules of 60 children as a lead camp counselor
Offered one-on-one support and personalized lessons as a math tutor
Receptionist education example: A little goes a long way
A college degree can't hurt and some certifications will show your commitment to learning and professional development. While traditional receptionist positions may only require a high school diploma or equivalent, a college degree can be a big advantage when it comes to securing a receptionist job at a top company. 
If you're a recent graduate or college student looking to break into the industry you studied, a receptionist position is a great way to get your foot in the door and set yourself up for mentorship and advancement opportunities.
Statistical insight
According to the BLS, the highest paid receptionists work in healthcare and social service organizations; professional, scientific and technical services; and administrative and support services.
We recommend listing your education with the year first, followed by the name of the institution, the degree (if applicable) and location. If you have a bachelor's degree or higher, it's not necessary to list your high school.
Here is the education section of a receptionist resume example.
Adaptable education example
Associate of Communications, Pierce College, Los Angeles
August 2003 - May 2005
High School Diploma, Maria Regina High School, Sherman Oaks
September 1999 - June 2003
Additional certifications
Several organizations offer voluntary certifications to receptionists. These programs usually require you to show experience in the field and mastery of basic office tasks like scheduling, data entry, and office communication and computer systems. Some programs require more complex knowledge of an industry like law or health.
Some of these administrative professional development organizations include:
International Association of Administrative Professionals
International Virtual Assistants Association
National Association of Legal Secretaries
The Association of Medical Secretaries, Practice Managers, Administrators and Receptionists.
A sample certifications for a receptionist resume education section looks like this.
Adaptable certifications example
Certifications: 
2016 – AMSPAR Certificate in Medical Administration
Completed 18 month course in medical terminology and communication through leading industry organization.
CV skills example: Cool, calm and collected
You could land this job by growing an extra set of hands — or by focusing on the skills you already have. You can have a PhD in astrophysics but if you can't answer the phone politely and manage your boss' calendar, you're not going to last long as a receptionist. That's why the skills list on your receptionist resume is so important. This is the nitty-gritty, so make sure to give this section enough attention. That's easy to do using our field-tested templates and resume builder.
Hard skills
Although a positive attitude is important, receptionists often need quite a number of hard skills. You must be adept at using office technology such as computers, copiers, scanners, fax machines and phones, not to mention all of the software and communication apps you'll have to use on a daily basis.
The hard skills you list on your receptionist resume might look like this example.
Adaptable hard skills example section
Microsoft Office Suite (Word, Excel, Powerpoint)
Electronic Health Record Software (Athenahealth, Nextgen office, DrChrono etc.)
Payment and billing software
Scheduling software
Multi line phones
Typing speed
Data entry
Physical and digital filing systems
Copiers, printers, scanners, fax machines
Ordering and restocking office supplies
Statistical insight
A study conducted in the U.S. showed that about two-thirds of receptionists are satisfied with their jobs and about half think that their job makes a difference in others' lives.
Soft skills
Your hard skills might be the key to landing a receptionist job, but your soft skills are how you keep it. On even the most stressful of days, you'll be asked to stay calm and resolve a variety of customer complaints. The right personality traits are the best resource you've got; make sure to include them on your receptionist resume.
Check out the soft skills sample for a receptionist resume below.
Adaptable soft skills example section
Professional demeanor
Positive attitude
Problem-solving skills
Multitasking
Conflict resolution
Patience
Attention to detail
Responsible
Motivated
Focused
Helpful
Written and oral communication
Languages
Since receptionists are one of the most outward facing positions in the company, you might encounter customers who speak a variety of languages. Adding a second or even third language to your receptionist resume, especially if it's commonly spoken in your region can give you a big advantage over the other candidates.
Expert tip
In the United States, having a decent level of Spanish is a huge asset in service or customer experience positions, especially in the healthcare industry (although not limited to it). If you know a foreign language even at a basic level, it might give your resume a huge boost depending on the company to which you're applying.
Basic sample sentences that you can adapt on your receptionist resume:
Spanish: Bilingual
Italian: Conversational
Chinese: Beginner
CV layout and design: Try a template
A receptionist resume format should match the vibe of the company, while also providing a visual representation of your excellent professional qualities. Receptionists often becomes an integral part of the business where they work. Thus it's important to match the CV format to the hiring organization's image and branding. A law firm will be looking for a more prim and proper resume, while a photography studio might appreciate a creative flair. 
If you're not sure what style to go for, it's best to create a clean and modern resume format that isn't overrun by color or extra elements. One of the simplest ways to do this is by using a resume template. Templates allow you to start with a good design base for a resume document that can be customized for each position. With Resume.io's template collection you can choose the most attractive template then adjust the colors, font and other formatting elements inside our resume builder. Take a look at the professional template samples for more serious industries and the modern section for companies that are a little more relaxed.
Sometimes, easy does it. If this is your first job or you're applying for a part-time role, a basic template might be exactly what you need to format a great resume with no hassle. Take a look at our simple template samples to get your experience on paper and your application submitted in no time.
Expert tip
A clean format is also important for getting your resume through the applicant tracking systems. Simple formatting with commonly used fonts will be better understood by the computer. Our resume templates make it easy to find just the right balance between stylish and sleek
You'll probably be uploading your resume to an online application portal, so you'll need it to be easily readable by robots and human eyes alike. Our resume builder allows you to download the final version of your resume document as a PDF, which is ideal for uploading, emailing and printing — just about all situations.
Key takeaways for a receptionist resume
Receptionists are expert multitaskers with a strong mix of hard and soft skills.
Many positions are opening up in the medical and healthcare field, but some other industries are using technology to replace receptionists making the job market more competitive.
Large companies will often filter resumes through automated systems, so it's important for yours to contain keywords from the job description.
Creating a great resume for a receptionist position can lead to advancement opportunities.
A resume layout and design that matches the style of the company is key to getting hired.
Now it's time to get started! Use our resume builder and field-tested templates to get the receptionist job you're after sooner.