You could say that a receptionist is the heart of any company. They are the first point of contact for visitors, and as such, they help to determine the impression others have of the company.
The role of a receptionist should never be underestimated. This is a role that requires great communication skills, a positive attitude, and excellent people skills. You should take your time with your receptionist CV and make sure you highlight those aspects of your skills and expertise that will help you stand out from the crowd.
With occupation-specific CV examples and writing guides, Resume.io is a resource for job seekers in every field and at every level of their career. In this writing guide, together with the receptionist CV example, these are the topics we will cover:
The role of a receptionist and what this entails
How to write your receptionist CV – including some handy tips and tricks
The best format to use for your receptionist CV
What sections to include and what information these should contain (including summary, work history, education, skills)
Tips and hints for designing your receptionist CV
What does a receptionist do?
When a visitor enters your business, it is vital that they are greeted in a polite, professional, and friendly manner and provided with any information they may need. It is the role of the receptionist to ensure that the visitor feels informed and comfortable. 
Receptionists work in a variety of settings including doctor's offices, hotels, businesses, schools – anywhere greeting visitors is important. Beyond receiving guests, receptionists handle many duties, including:
Answering phones
Scheduling appointments
Responding to emails and other enquiries
Sending and receiving packages and mail
Ordering and organising office supplies
Statistical insight
In the UK, employment of receptionists is highest in the South East of England, with 24,997 workers. It is lowest in Northern Ireland, with only 5,188. The health industry employs the most receptions: 18,205.
Receptionist job market and outlook
As employees are required to return to the office, there may be an uptick in the number of receptionist positions available. Hiring potential appears to be most significant in London and Bristol, compared with the rest of the UK.  Salaries may also be on the rise, as more businesses become aware of the importance of having good receptionists at the heart of their organisation.
Statistical insight
How much do receptionists earn?
The median annual salary for receptions, according to employment agency Robert Half:
London: £28,175
Wales: £22,785
Scotland: £24,255
East of England: £24,255
Yorkshire and the Humber: £23,520
How to write a receptionist CV
First and foremost, you need to plan the layout of your receptionist CV. There are five main sections on a CV, including:
The CV header
The CV summary (aka profile)
The employment history section
The skills section
The education section
Always keep your audience in mind when writing your CV as a receptionist can work in many settings. You may like the idea of working within a large organisation with a busy reception, or you may prefer a more relaxed, quiet environment. It is a good idea to show that you are interested in the type of business you would be handling the reception for. For instance, if you are applying for a receptionist role within a beauty spa, you should show your interest in health and beauty in your CV. Tweak your CV to the role you are applying for and take your time so you don't make any rash mistakes.
These are the main guidelines we would suggest following when writing your receptionist CV:
Understand the audience and tailor your CV to suit
Use a crisp, clear design, without being outlandish.
Take keywords from the job spec and use them on your CV.
Choosing the best CV format for receptionists
There are three main types of CV formats: reverse chronological order, function and hybrid. Reverse chronological order is the most traditional format and centres on an employment history section where you can list related work experiences starting with the most recent first.  This is the best format to use for your receptionist CV if you have any previous experience to show.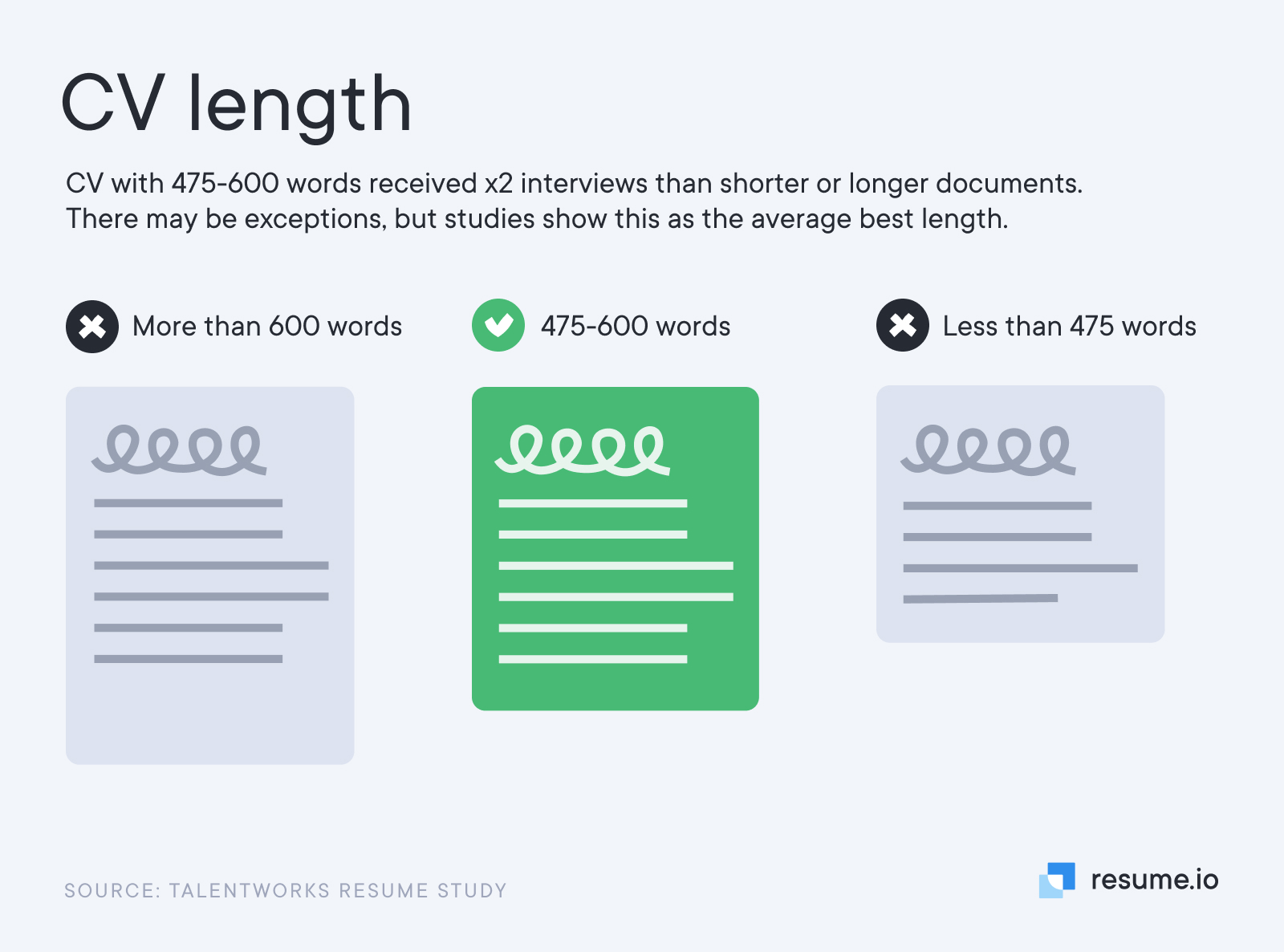 Alternative formats may be a good option for candidates just starting out in the field or making a career change. You can read more about them in this guide to CV formats.
CV summary example: the warm welcome
The warm welcome is the first stage of the receptionist's role and for a CV, that function falls to the summary. This section, at the top of your receptionist CV, is where you give the hiring manager a glimpse into your skills and expertise. 
Be sure to focus on your experience as a receptionist, or any experience that involves dealing with the public. Employ action verbs and relevant details when describing your expertise. For example, 'managed a busy reception with up to 200 visitors per day.' 
Below you'll find an adaptable summary from our receptionist CV sample.
Adaptable summary CV sample
Hard working, polite, and friendly receptionist with 5 years of experience of working within the leisure industry. Committed to ensuring an exceptional level of customer service and exceeding the expectations of any visitors.
Employment history sample: the objective
The employment history section of your receptionist CV should always start with your most recent employment and work back to the start. We recommend going no further back than 10 years, unless your recent positions are not related to the job you seek. 
Each paragraph in the employment section should be in bullet form, with the key aspects of your experience. For instance "responsible for providing first class customer service for up to 100 visitors a day." It's best to use tangible examples. For instance, you may consider saying "responded to voicemail messages within 1 hour," rather than simply "responding to voicemail messages." Check out the receptionist employment history CV sample below, that can be adapted to your needs.
Adaptable employment history CV example
Receptionist, Banisters Hotel and Leisure Complex, Edinburgh
June 2018 - Present
Meeting and greeting up to 100 hotel guests daily to ensure they received a warm and friendly welcome.
Taking time to understand the needs of each visitors and offering them additional information to enjoy their stay at the hotel.
Keeping accurate records on check-ins and maintaining data confidentiality.
Working as part of a team of 10 and motivating others whenever possible.
Leisure Receptionist, BeeHive Gym, Glasgow
February 2015 - June 2018
Ensured an exceptional and efficient level of customer service to all gym members.
Offered visitors a warm welcome and answered questions about services or memberships.
Handed 40+ calls daily and responded to all voicemails within 1 hour.
Provided support to the cafe team by ordering supplies when needed.
Helped to ensure a friendly, relaxing, and professional environment.
CV skills example: taking care of the brand
The skills section of your receptionist CV is the place to show the abilities you possess which are relevant to the role. These 5-7 attributes are a quick way for the hiring manager to get an idea of what you will bring to the job.
Try to answer the question: What makes you the right fit and how can you stand out from other candidates? You can also mention any skills which are directly relevant to the industry. For example, if you are applying for a receptionist role within a gym, do you have any experience or interest within the sporting industry that might be of interest to the hiring manager? Direct experience and industry experience is a winning combination.
Check out our adaptable CV sample skills section below.
Adaptable skills section CV example
Ability to Work Under Pressure
Fast Learner
Computer Skills
Ability to Work in a Team
Microsoft Office
Customer Service Skills
Receptionist CV education example
While receptionists aren't required to have formal education, this section of your reception CV helps communicate your background to the employer. Any completed education shows determination. When you list your education, it should start with the most recent and include any ongoing learning. 
CPD (continuous professional development) is always appealing to employers, so make sure you mention this as well.
Check out the education section from our receptionist CV sample.
Adaptable education CV example
Scottish Qualifications Certificate, River Run Academy, Edinburgh
September 2017 - May 2021
Undertook various online courses during lockdown including:
Marketing in a digital world
Getting started with social media
Customer service skills for receptionists
Counselling skills for beginners
CV layout and design: less is more
As a receptionist, you already know the importance of a professional appearance, with a 'less is more' attitude. The same applies to your CV. Although you want to maintain professionalism, there is no need to go over the top with it. Keep the design clear, concise and clean.
If you want to make sure your layout is done right, you may consider using a CV template with professional formatting.
Key takeaways for a receptionist CV
Before you start creating your receptionist CV, work out the structure you want to use.
Tailor your CV to the role you are applying to and the setting you will be working in. Make sure to mention any interest/experience you have in the industry.
Use relevant keywords in your receptionist CV. You will find some of these on the job spec that you can use. The company you are applying to may have an Applicant Tracking System in place, so you want to ensure your CV doesn't get lost.
Check out our receptionist CV sample for more ideas on creating a great page layout.