If you are considering a job in the NHS, somewhere along the line you're going to be helping people. Regardless of your position, the best way to achieve this is to nail your NHS CV so that you can win that role in the first place.
Working in the NHS appeals to a range of profiles for a number of reasons. There are opportunities that suit almost every skill set and it's an institution that offers a service that is constantly in demand. Not to mention, health service facilities serve the members of the local community in a tangible way. All of us have some first-hand experience experiencing its impact!
So, how do you make sure you deliver an impactful NHS CV? At Resume.io we know a thing or two about landing a dream job. Our library of CV examples and writing guides with role-specific tips have helped millions of people to create job-winning CVs.
This CV guide, along with the corresponding CV example will cover the following topics:
What does an NHS professional do?
How to write an NHS CV (tips and tricks)
The best format for an NHS CV
Advice on each section of your CV (summary, work history, education, skills)
Professional CV layout and design hints.
What does an NHS worker do?
The NHS is a vast institution which covers work ranging from surgeons and nurses to healthcare assistants or even IT specialists in a range of health service facilities. This could include hospitals, GP surgeries, and more. Each role is a vital cog in a huge machine.
Statistical insight
Within the NHS, professionally qualified clinical staff make up 52.6% of the full-time workforce in hospitals and community health services.
However, there are 350+ NHS careers for a range of backgrounds and skills that you could consider.
How to write a NHS CV
The very first step in writing your NHS CV is understanding what sections to include. Your CV should contain the following elements:
The CV header
The CV summary (aka profile or personal statement)
The employment history section
The CV skills section
The education section
A successful NHS CV should do more than respect a standard structure. Sure, it's a good start. In a high-stakes, traditional institution like the NHS, the tone of your CV should lean heavily towards a formal tone. However, your writing style should also reflect the particular role that you hope to undertake. 
Expert tip
ATS in the NHS
In order to optimise resources when recruiting, many foundations and organisations use Applicant Tracking Systems (ATS) to filter job applications. Only the top-ranking candidates will get the chance for their application to be seen by the hiring manager.
To make sure your CV sample isn't thrown away with yesterday's bedpans, you need to make sure you appease the ATS algorithm. The system will usually filter applications based on keywords. The keywords you want to include are likely the ones that are most prominent in the job description. 
Choosing the best CV format for an NHS worker 
Most job seekers will find that the reverse chronological format is the best choice for their NHS CV. This CV format is preferred by hiring managers for a range of jobs because it highlights the applicant's most recent work experience. However, as always, there are exceptions.
If you are not applying for a medical role and you don't have much professional experience yet, then it might be worth hesitating before you choose the best CV format. The functional or hybrid formats have the advantage of helping to highlight skills over work experience. This can also be useful if you want to draw attention away from gaps in your employment history in your CV sample.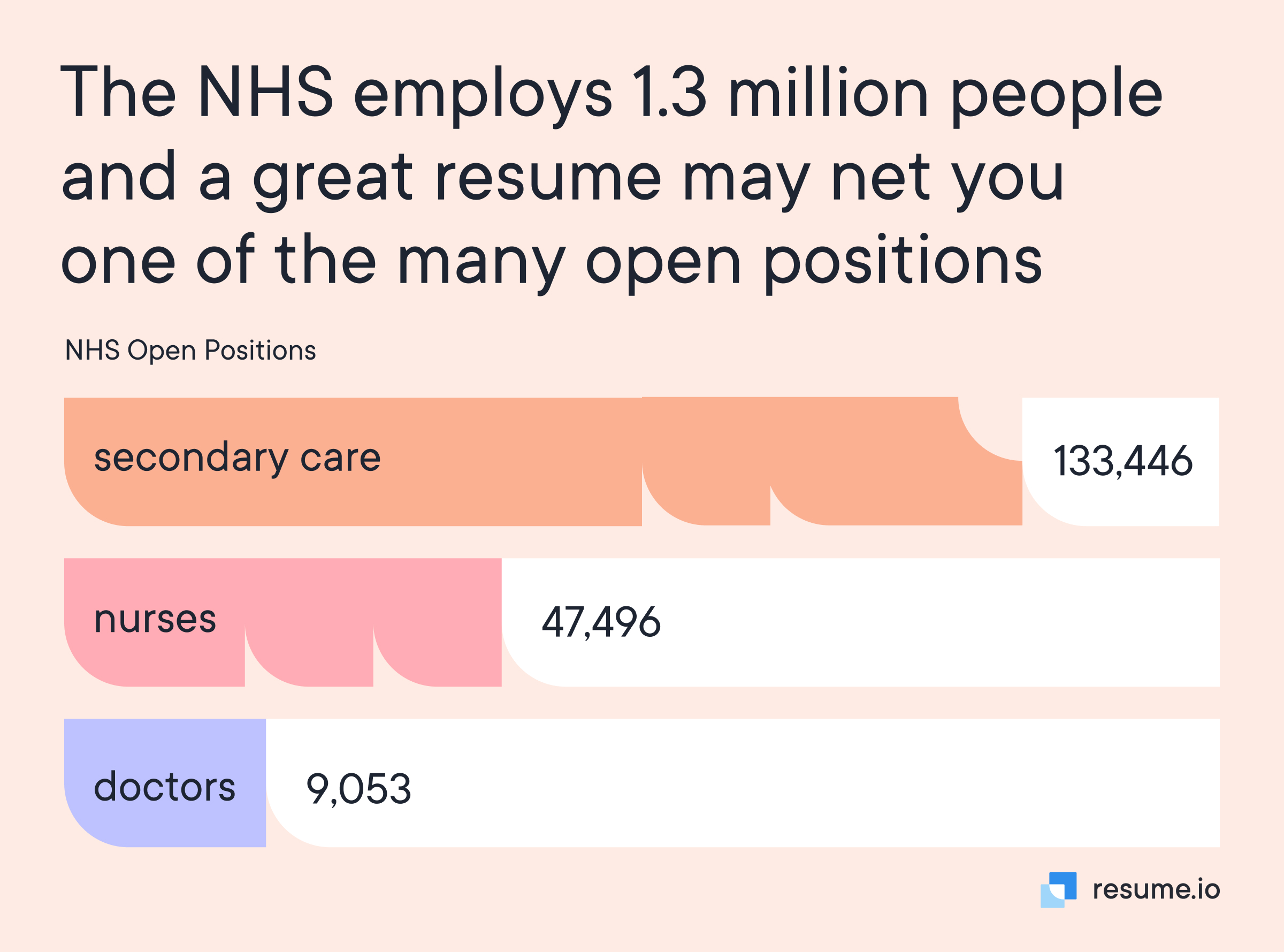 CV summary example
How you will accomplish your role in the NHS is just as meaningful as what you will be doing. The three or four sentences of your CV summary should highlight the most impressive accomplishments and skills that respond to what this role entails.
The CV sample content below will give you an idea of how to incorporate language and achievements to sell your abilities. Not to mention, the CV summary is one of the few places on your CV that you can write freeform. Use it as an opportunity to use strong language to paint a picture of who you are as a professional.
Adaptable summary CV sample
Seasoned healthcare assistant with strong experience in caring for patients in hospital and GP settings. Collaborative team player, known for working seamlessly with nurses and other healthcare staff to consistently meet patient needs. Proficient in drawing blood, preparing laboratory samples, and maintaining sterile equipment.
Employment history sample
For reverse chronological NHS CVs, the employment history section is the main focus. Your most recent role sits at the top and you work your way backwards through other previous roles. Clearly mention your job title, the organisation, the location, and dates of employment for each.
Underneath these key details you will have some space to bullet point your key responsibilities and successes while in the job. These should be to the point, just like the CV sample content below. So use those descriptive verbs and key stats to illustrate your value in the role.
Adaptable employment history CV example
Healthcare Assistant at Royal Hospital London, UK
February 2018 - Present
Work closely with nurses to assist with patient care and update medical charts accordingly.
Monitor patients' vitals and record temperatures, pulse, respiration, and weight.
Provide support to patients in washing, dressing, eating, and mobility needs.
Ensure clean and organised patient rooms, including changing and making beds.
Healthcare Assistant at Dale Miller, GP, London, UK
January 2015 - February 2018  
Assisted physician, nurses, and other staff in caring for patients in a fast-paced environment.
Performed blood draws and processed laboratory samples following appropriate procedures.
Adhered to ascetic techniques and sterilised equipment to prevent transmission of diseases.
Expert tip
Language choice
Active verb choices are a quick-fire way to inject some personality and precision into your CV writing. Here are some examples you can use in your NHS CV:
Rectify
Collaborate
Contribute
Exceed
Supervise
Optimise
NHS CV education example
Your education could refer to your GCSE grades or your medical school training, depending on the role you are applying for. List your certification and grade, the name of the educational establishment where you gained it, as well as the location and dates attended. 
The NHS is vast, but regardless of your place within it, the hiring manager will want to know about this part of your professional story. 
Adaptable education CV example
NCFE CACHE Certificate in Healthcare Support Services 
NCFE CACHE Diploma in Healthcare Support
CV skills example
You've listed the vitals, but we're not done. A thoughtful skills list adds value to your NHS CV. Plus, it's a great way to tick off some keywords for the ATS. Include the most relevant skills for the role that you haven't managed to slide in elsewhere.
Adaptable skills section CV example
Patient Care
Health Promotion
Preventative Care
Patient Education
Phlebotomy
Equipment Sterilisation
Equipment Restocking
Adaptability
Multitasking
Team Collaboration
Highly-Organised
Effective Time Management
Ability to Work Under Pressure
Expert tip
Soft skills vs hard skills
While technical skills — also known as hard skills — are required in any role, so are soft skills. These refer to how you carry out a role and behaviours that are less easily learned. For instance, your bedside manner.
Any role in the NHS and beyond  will require a mix of both. So, make sure that you include a balance in your CV skills section.
CV layout and design: Scrub up
Your NHS CV's design is about more than aesthetics. It ensures that the document is clear, legible, and ultimately does justice to the content you've worked so hard on. Create visual balance between each section and select a simple font and colour scheme.
Not everyone feels confident when it comes to visual communication. If that sounds like you, consider using one of our field-tested CV templates. You won't have to waste any extra time adjusting formatting or design, since everything is done for you in just a few clicks.
Key takeaways for a NHS CV
Don't skip the vitals. Structure your CV using the reverse chronological format where possible.
Include the right keywords to bypass the ATS and get your NHS CV seen by the hiring manager.
Key stats aren't just for A&E. Use them in your previous employment section to illustrate your value.
A mix of hard and soft skills make for a well-balanced NHS worker in any role.
Scrub up with a professional CV design.