The idyllic outdoor spaces you help create have an immeasurable impact on the well-being of individuals, neighborhoods, communities, and ecosystems. A landscaping resume is no place to downplay your part in this human-Mother Nature collaboration.
As a wellspring of career-growing advice, Resume.io offers more than 350 occupation-specific writing guides and resume examples, including this one for landscape professionals.
Our discussion of the following topics is demonstrated by an adaptable landscaping resume example:
What landscapers do: the diversity of roles and job growth potential
Sculpting a landscaping resume with the proper structure and most advantageous format
Cultivating each resume section for optimal impact: header, summary, employment history, skills, and education
Layout and design tips for an esthetically pleasing resume
Other writing guides and resume examples from Resume.io's growing collection can provide more inspiration and ideas for landscaping professionals. We suggest looking at these in particular:
What does a landscaping professional do?
A related question: What's the difference between landscaping and gardening — or the corresponding job titles landscaper and gardener? The distinction is not always clear-cut, even within the industry.
As simplified in a Forbes Home article, gardening is the largest and most active aspect of landscaping. For many homeowners, it means tending to flower and vegetable beds, trees, shrubs, and grass on their property. Plant cultivation tasks typically include planting, pruning, mowing, fertilization, watering, weed and pest control, and leaf removal. Some DIYers also install and/or maintain their own "hardscaping" elements such as fences, patios, driveways, sidewalks, sprinkler systems, outdoor lighting, and water features. 

To generalize, gardening tasks focus on plants, while landscaping extends to all visible features of a property — including plants but additionally hardscaping elements. 
 
Whenever professionals are called into service — whether on residential, commercial or recreational sites — the line between gardening and landscaping becomes blurred. Those hired for either or both types of work might call themselves gardeners or landscapers.
RaiseMe, a student financial aid resource, identifies about 40 career paths for "landscaping workers," categorized synonymously with "grounds maintenance workers." Outdoor work settings run the gamut, from apartment buildings, offices, and shopping malls to hotels, golf courses, and park trails.
Landscapeindustrycareers.org takes a wider and deeper perspective, including scientists, administrative and customer service roles, and others under the same landscaping career umbrella. Entry-level outdoor jobs include equipment operators, and various technicians for plant and hardscape installation, lawn care, irrigation installation and service, and tree and plant care. 
Statistical insight
According to U.S. Bureau of Labor Statistics (BLS) estimates, landscaping and groundskeeping workers were earning a mean annual wage of $37,270, or $17.92 hourly, in May 2022. 
Comparative salary data for landscapers:
Average Yearly Salary
Range
$32,045
$29,353 — $35,788
$37,640
$32,000 — $44,000
$48,800
$29,353 — $35,788
The BLS projects 5% job growth for landscaping and groundskeeping workers from 2021 to 2031, on par with the occupational average.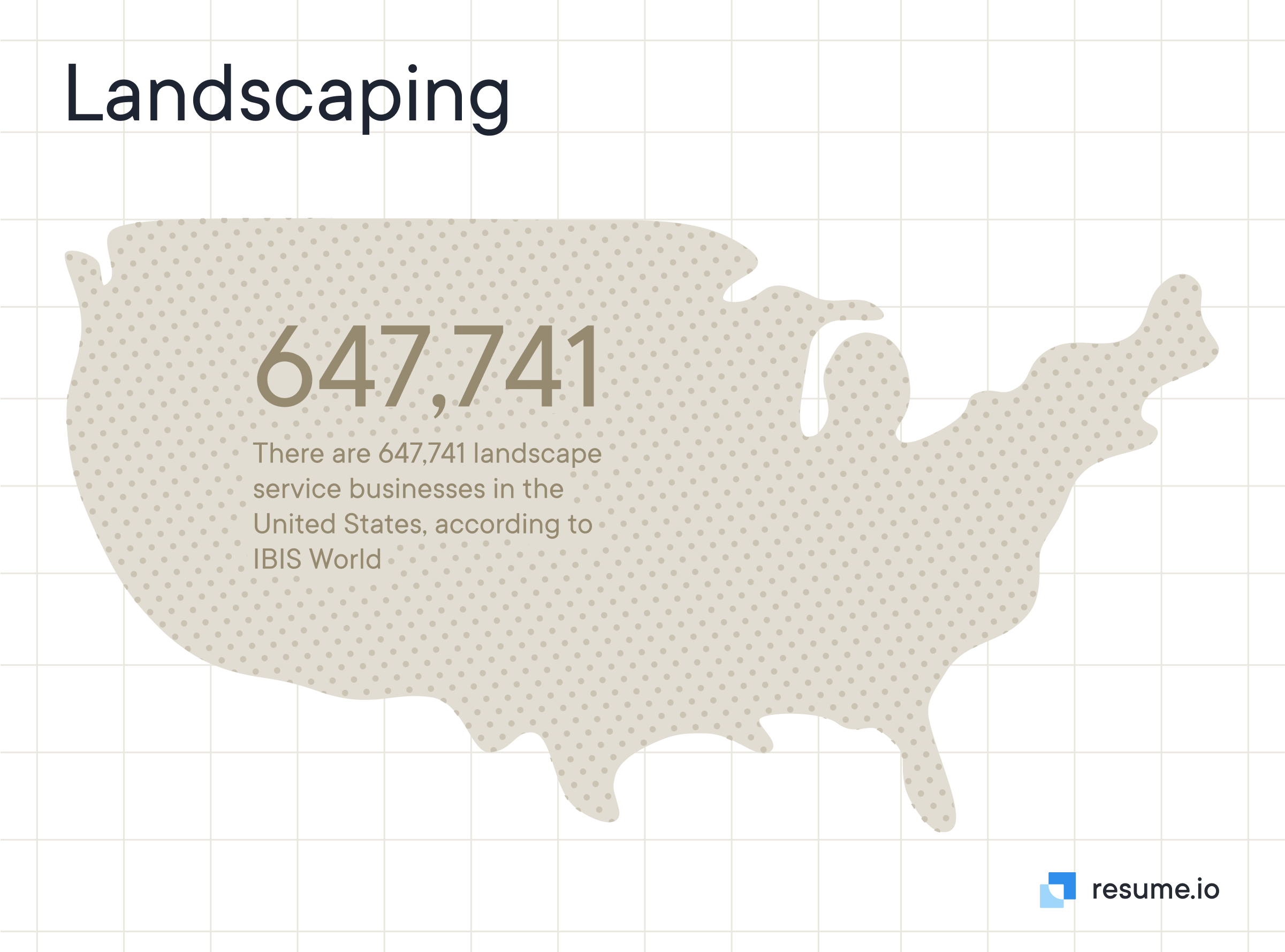 How to write a landscaping resume
No matter how specific or broad your landscaping or gardening duties are, no doubt there are plans to follow. Having a plan for creating your landscaping resume might make the task seem less overwhelming. Like any project, it can be broken into steps conforming to a set order and structure. These are the essential sections to include:
Header
Summary
Employment history
Education
Skills section
Each of these resume components serves a purpose in cultivating seeds of job search success. We'll take a closer look at them shortly. But first, these general guidelines can improve the chances of your landscaping resume getting more than a cursory glance.
Keep it short — preferably one page. Busy recruiters will thank you.
Keep it relevant by pinpointing what matters most to the employer. Weed out anything that has little bearing on your rightness for this specific job. Aim to precisely match the requirements outlined in the posted job ad.
Keep your focus firmly fixed on one job application at a time. Again, it's about  customizing your resume to fit the employer's needs. Take that a step further by extracting keywords from the job listing and incorporating them wherever possible in your resume. This also helps optimize it for passing through the applicant tracking systems (ATS) commonly used to screen online submissions.
Choosing the best resume format for landscaping
Are you a self-employed landscaper? Or is your work experience as an employee on the thin side? If so, you might consider the skills-focused functional resume format or the hybrid (combination) format.
For other landscaping job-seekers — likely the majority —  with relevant employee experience, the chronological resume format works best. It provides a straightforward overview of your employment history, organized in order from most recent to earliest jobs. Hiring managers prefer this format, and ATS rejection is less likely.
Resume header
Think about eye-catching attractions that get noticed first in an exquisite garden. The header of your landscaping resume is where you want the reader's eyes to focus for a favorable first impression. But it's not merely a decoration. A distinctive header also has a practical purpose, allowing your identifying details to stand out initially, and later when the hiring manager wants to contact you. Include your name, occupation (or target job title), phone number, and email. If you have an online portfolio of landscaping project samples, be sure to add the hyperlink.
Resume summary example
The summary of your landscaping resume is where you highlight your proudest achievements, hinting at the part you will play in your next employer's success stories. The intent is to pique the reader's interest up front and encourage deeper digging. Let your strengths come across, but spare the details for your work history section. 
As a succinct synopsis of your key qualifications, the summary (sometimes called a profile or personal statement) should also reflect your personality and motivations. 
Expert tip
The "hire-me pitch" in your resume summary shouldn't be all about you. Employers don't care why you need or deserve this job. But they will perk up at the prospect of becoming more profitable with you on their landscaping team. Use the company name to strengthen the summary's impact.
Below is a landscaping resume sample summary you can customize.
Adaptable summary resume sample
Creative landscaper with expertise in designing inviting outdoor spaces using native plants, grasses, and trees. Excellent communication skills, able to build rapport with diverse customers and provide tailored recommendations aligned with long-term vision and budget. Lead and motivate team members, ensure adherence to safety standards when operating tools and equipment, and manage on-time completion of projects.
Employment history sample
The employment history section of your landscaping resume should tell a story of professional growth, bridging your past performance and future potential. 
Use dynamic action verbs to outline your work experience in precisely descriptive and concise bullet points. Wherever possible, avoid listing job duties that the hiring manager can infer from your past position titles. Talk about accomplishments, not responsibilities, and try to quantify beneficial outcomes. And they don't need to be single-handed achievements! 
Have you ever worked on a landscaping team that helped improve efficiency, or reduce costs or water consumption? What about beating project deadlines or budget underspending? Some facts and figures to substantiate measurable benefits can go a long way. But if hard data isn't available, simply give some idea of project scope and scale — for instance, approximate property size and number of visitors.
Below is the employment history section from our landscaping resume sample.
Adaptable employment history resume example
Landscaper at Max Landscaping, Deptford, NJ 
June 2018 - Present 
Perform a full range of landscaping services ranging from grass mowing to complete redesigns of yards and gardens.
Select flowers, plants, and trees to create a lush, colorful environment that attracts pollinators while minimizing pests.
Recruit and hire staff, provide training on landscaping principles, processes, and equipment, and support professional growth.
Negotiate with vendors and suppliers to obtain best pricing and timely delivery to meet customer expectations.
Install patios, walkways, retaining walls, water features, and other structures following proper techniques.
Landscape Assistant at Yard Pros, Haddonfield, NJ 
July 2016 - June 2018 
Planted trees, shrubs, grasses, flowering plants (annuals and perennials).
Supervised landscaping crews in performing routine maintenance and lawn/yard care.
Assisted with installation of in-ground and surface irrigation systems.
CV skills example
Over time, you've likely acquired many new landscaping skills, while realizing certain personal qualities and work habits serve you well on the job. We suggest keeping a continually updated master list of everything that comes to mind. For each new job application, grab that list and determine which skills belong on this version of your landscaping CV. 
The top priority goes to those that count most to the employer. Not only should they match the advertised job requirements but also replicate the exact wording. Besides ensuring these crucial skills stand out to hiring managers, this is also an ATS-proofing measure.
Otherwise, choose the highest-level skills that could give you an edge over other job contenders. Strive for a balance of hard skills — hands-on landscaping abilities — and soft skills — universally valued interpersonal, communication, and organizational strengths. Customer service skills might also be useful in some landscaping roles.
Check out our landscaping resume example for the skills section below.
Adaptable skills section resume example
Soil Preparation
Rain Harvesting
Edible Plants
Annuals & Perennials
Design Drawings
Hardscaping Features
Irrigation Systems
Project Management
Contract Negotiation
Team Leadership
Landscaping resume education example
While there are no formal education requirements for many entry-level landscaping jobs, hiring managers at later career stages might prefer or require a degree or course completion in fields such as horticulture, botany, agronomy, or soil science.
Whatever the case, complete your resume's education section by listing everything relevant in reverse chronological order, from highest to lowest level: degrees, certificates or diplomas, on-the-job training, certifications, and professional memberships. Mention licenses if applicable, along with any awards or special honors.
Below is the education section from a landscaping resume you can modify.
Adaptable education resume example
Associate of Arts in Liberal Arts at Rowan College, Sewell, NJ 
September 2012 - June 2016
Resume layout and design
With landscaping professionals being held to high standards of visual excellence, the same applies to your resume. You can't afford any layout, design, or formatting missteps.
Naturally, your resume document should emulate the neat, orderly, and inviting appearance of a sublime landscape. An uncomplicated layout, with ample white space, is integral to reader-friendliness. Apply the default one-inch margin settings and adjust line and paragraph spacing as needed. Use no more than two legible and compatible font styles — one for body text and another for titles and headings.
Rest assured there is still leeway for creativity in graphic design enhancements and possibly colored elements. But if you're not up for fussing with such visual details, consider using one of Resume.io's field-tested resume templates, available in four style categories.
Key takeaways for a landscaping resume
Regardless of your experience level, or whether you've worked mostly as part of a landscaping team, never underestimate the value of your contributions to creating beautiful outdoor spaces.
As a showcase for some of your most rewarding work, your landscaping resume can give you a competitive advantage in a field where projected job growth is modest.
Consistently reinforce in each resume section that your landscaping talents are an ideal match for the job requirements.
Attain visually impressive results with ease by using a ready-made resume template.