If you've ever entered a building without the roof collapsing on your head, there's an architect to thank for that (and some engineers and construction workers, too!)
From houses to office buildings, factories and shopping malls, architects design just about every structure needed to make daily life function. Yet despite architects' importance in the modern world, the job market for architects is growing increasingly competitive. 
Whether you're an experienced architect or a fresh graduate looking to get your foot in the door, a well-organized and expertly-written resume is an essential tool to land your next position. A great resume quickly gives an employer an overview of your skills, education and even design preferences.
This architect resume example is designed to walk you through all the steps of building the perfect resume. Combined with our adaptable resume samples plus our customizable resume templates, you've got all the tools you need to land your next dream job.
This architect resume example will teach you how to:
Write a resume that conveys the most important skills needed for architects in today's industry
Beat the algorithms designed to filter out your resume before it even reaches the hiring manager
Format a resume that is organized, concise and shows off your eye for good design
What does an architect do? 
The field of architecture contains several different specializations including residential, commercial, landscape and industrial. While project types and duties vary between sectors, here are some of the most common duties of an architect:
Meet with clients to discuss their needs and the purpose of the structure
Visualize the project and begin to design it by hand or with software
Obtain necessary building permits and make sure project meets local code
Work with other designers, engineers and contractors to bring structure to life
Adapt project as needed, modify plans based on logistic, economic or practical concerns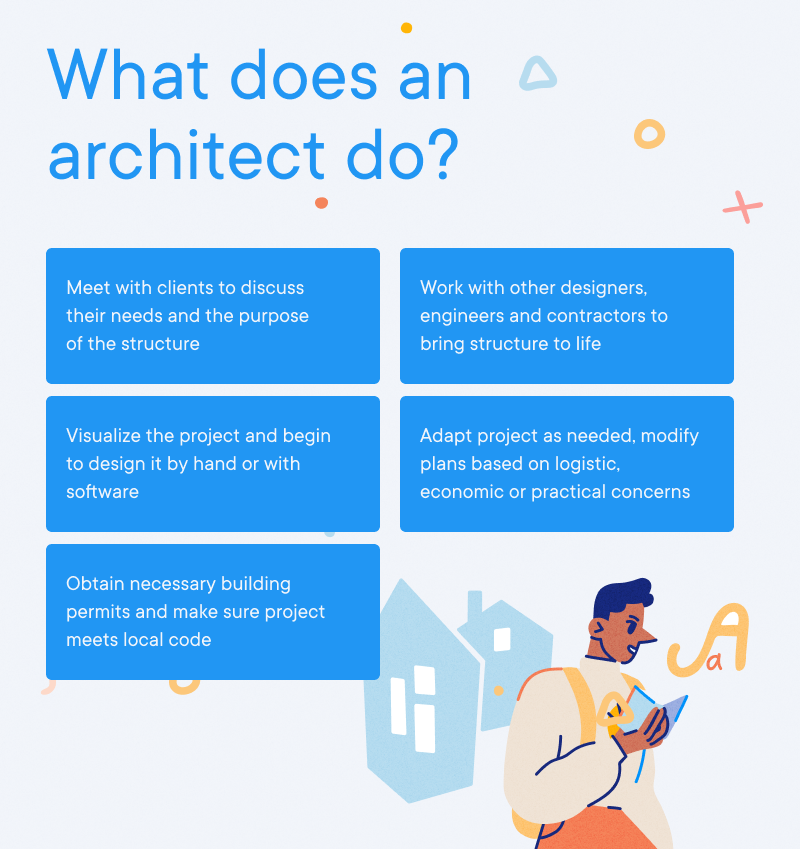 Statistical insight
The job market for architects
The job market for architects is highly competitive, which means you'll need a strong resume to stand out. According to the Bureau of Labor Statistics, the number of architecture jobs is projected to grow by 1 percent each year over the coming decade. 
Meanwhile, the number of students graduating from architecture programs is increasing at a rate of 4 percent, according to Data USA. Recent graduates may need to apply to a variety of companies and possibly relocate to cities with more growth in construction industries.
As new software and technologies allow architects to be more efficient, the number of architects needed for each project is reduced. Architecture graduates who are comfortable with programs like AutoCAD, Rhino, Chief Architect, CATIA and others should make sure to include them in the skills portion of their resume.
Get inspired by our other helpful resumes examples from the real estate industry:
How to write an architect resume
The very first step in writing your architect resume is understanding what sections to include. Your CV should contain the following elements:
The resume header
The resume summary (aka profile or personal statement)
The employment history section
The resume skills section
The education section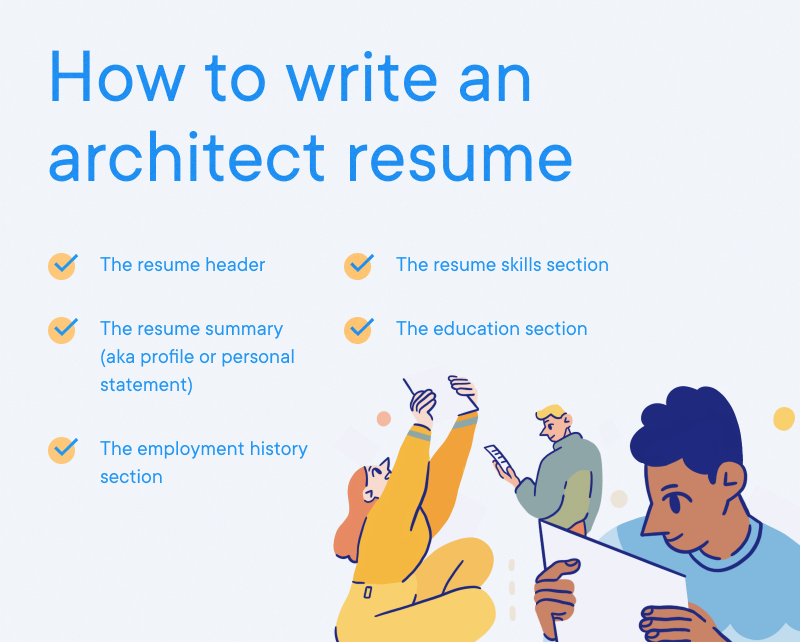 You're designing from a set of specs, but the details are what make your architect CV stand out. 
How you approach your architect resume will often depend on how much experience you have. If you've already worked a few jobs in architecture firms, you'll have a better understanding of the type of information most project managers are looking for when they hire new architects. If you're aiming to land your first job out of college, you'll probably rely more heavily on your student work and portfolio. Your skills section will need to highlight your adaptability and willingness to learn.
Either way, this architect resume example is for you. In the sections below, we'll look at the current industry and the sections needed to create an outstanding architect resume which will help guide the writing process.
Expert tip
Getting past the ATS
Whether or not you encounter an ATS (Applicant Tracking System) will largely depend on the size of the firm you're applying to. Medium to large firms often use online job portals to manage the overwhelming number of applicants they receive on a weekly basis. Applications like Taleo, Greenhouse and iCIMS come with built in algorithms that scan resumes for the most relevant keywords (usually based on the job description) and rank them against the other candidates. Only the resumes that stand out are passed onto the hiring manager's desk.
In smaller and local firms, you'll likely find yourself emailing your resume to a hiring manager directly. In this case, no algorithm is involved, but the same tips that help you beat the ATS can be instrumental in catching a hiring manager's attention.
Here are the most important steps to beat the ATS and wow a human hiring manager:
Understand the realities of today's industry and what you bring to the table
Incorporate job description keywords into your summary and skills sections
Create well-structured formatting that can be easily scanned by the algorithm
Choosing the best resume format for an architect
Any competent architect knows the value of good design: not only does it draw us in visually, it also effectively serves its intended purpose. Your architect resume format should follow the same principles to create a balance of functionality and style.
As an architect, your resume should not only be perfectly readable, it should also give a taste of your personal style. It should convey a clear sense of organization and be structured in a way that quickly leads the reader's eye throughout the page. Think of your resume format not only as your first test as a job applicant, but the company's first impression of you as an architect.
Do
Choose a color scheme that aligns with your company's image
Keep a healthy balance of white space to text
Tailor your CV to each firm or company you apply to
Use spell check or ask a friend to proofread before you submit
Don't
Include more than two different fonts on your resume
Use a font size smaller than 10 point or larger than 12 point
Forget to create a eye-catching, yet professional header
Underestimate the power of a clean resume template, even in design fields
Architects may need to place more emphasis on their CV layout than other professionals but that doesn't mean they are any less busy. A resume template can be a quick way to lay out the foundation of your resume. Resume.io's templates provide an adaptable framework for you to modify, create and adapt each resume based on your preferences and the needs of the employer. 
The resume templates come in four categories: professional, modern, creative and simple. Try out the template that speaks to you, then modify it to align with the branding of your potential workplace. If it still doesn't feel quite right, simply swap it out for a different template or check our different real estate resume examples for more inspiration.
Resume summary example: a strong start
Your summary generally occupies the prime real estate at the top of your resume, right after your name and contact information. As such, it is the first thing both the ATS robot and the human hiring manager will read. Think of this 3-5 sentence description of yourself as your elevator pitch: you'll want to lead with your strongest qualities, most relevant experience and a touch of your educational background. For architects, the summary is also the place to mention whether or not you are licensed.
Your summary is also the only place on your resume where you're free to show off your professional personality. Since architects often work in close communication with one another and other contractors, you'll want to convey the right disposition and give the hiring manager the impression you'd fit right in at the firm. 
Below is resume sample text to give you an idea of how a summary should be written.
Adaptable resume example text for a summary
Passionate and skilled Architect bringing forth several years of experience planning, developing, and implementing exceptional architectural designs. Committed to high-quality details and client satisfaction. 
Expert tip
Writing a resume objective
You'll often hear a resume summary referred to as a "personal statement" or resume "objective." Unfortunately this terminology can be confusing to new resume writers who end up with a summary that essentially says, "The goal of this resume is to land a job with your company." This type of summary is useless for both the employer and the candidate.
If you don't have a significant amount of work experience, aim to create a customized statement that reflects what you hope to learn from that specific workplace and what personality traits and interests you can bring to the table. 
For example: "I hope to bring my creativity and passion for green living spaces to an innovative workplace that will challenge me to better understand the future of home design."
Employment history example: the right building blocks
Your employment history section is more than just a list of the places you've worked: it's a canvas to convey your most notable skills and accomplishments. Make sure to list your experience in reverse chronological order. Work backward from your most recent role until you've listed 3-5 relevant positions. Architecture students and recent grads should take care to leave off any unrelated work experience that doesn't demonstrate a clear interest in the field.
Expert tip
Word clouds
A little visualization makes all the difference – just ask any architect! You can get a quick blueprint for your resume by plugging the job description into a word cloud service like worditout.com. The larger the word on the resulting visual map, the more important it is for your resume. Beating the ATS just got a whole lot easier.
Once you've laid out the places and dates of your previous employment, you can create 3-4 bullet points to describe your duties in each role. Here are some tips for the content of your work history section:
Use action verbs to demonstrate how you participated and took initiative, even as a student
Use numbers, percentages and statistics that quantify your contributions
Highlight duties from previous roles that are most closely related to the job description
Below you will find resume sample text for an architect employment history.
Adaptable employment history example
Worked in high-end residential construction, providing optimal architectural design work for clients.
Worked collaboratively with design consultants and subcontractors.
Developed spreadsheets and project timelines.
Brought forth professionalism and expertise from design conception to completion.
Completed and distributed highly detailed Construction Documents.
Skills example section: your foundation
Your skills are the backbone of your work as an architect. While more complicated processes can be woven into your work history section, the skills section is a short list of your most important abilities.
One tactic you can use while applying to multiple positions is the idea of a Master List. Spend some time brainstorming all your strongest qualities – you can even organize them into hard and soft skills. When it comes time to customize your resume for a different position, you can refer to the list and pick only the skills most applicable to the job description provided by your potential employer.
Unlike in other professions, hard skills for architects are not optional. You'll need some knowledge of drafting, mock-ups and design software. Budgeting, permits and building code expertise can also fall in this category. Include the names of common architecture programs you're comfortable with while leaving off general software like Microsoft Word.
Believe it or not, soft skills are also extremely important for architects. You'll likely be working with construction managers, structural engineers and a variety of other construction professionals across multiple projects at once. The ability to stay organized and offer clear written and spoken communication to your colleagues is one of the first things an employer will want to evaluate in an interview. You'll also need to be an excellent problem-solver and troubleshoot issues that may arise at any phase of the process.
Expert tip
Sneak in those keywords
ATS programs often look for keywords in the summary and skills section of your resume. While your summary section should be written with both the robots and human readers in mind, the skills section's list format makes it an easier place to add in those important terms. For architects, this often means including specific computer software, programs and other hard skills. If space is tight, make sure to prioritize skills mentioned in the job description taking care to use the employer's exact spelling or acronyms.
Notice that the resume example text below focuses on hard skills but also includes the soft skill of leadership.
Adaptable skills example section
Google Sketchup
AutoCAD
Agile Project Management
Leadership Skills
Architectural Design
Education example: knowledge in action
In terms of education, architecture is a fairly formal field. Most architects complete at least a bachelor's degree in architecture, as well as a variety of internships with architecture firms. For the best job prospects, early-career architects should aim to get their license after passing the Architect Registration Examination. All of these items are extremely important for an architect's resume education section. 
Other information to consider including here are certifications and achievements. In order to ensure the safety of houses and other buildings, most developed countries require architects to be certified. In the United States, that takes the form of a license by the National Council of Architectural Registration Boards (NCARB). Passing this exam can greatly increase recent graduates' chances of being hired. 
There are a variety of other certifications pertaining to architects, for example in certain software or design topics like environmentally-friendly buildings. If you have several certifications, you may choose to create a separate section for them instead of adding them under the label of education.
If you've won any design contests, have been recognized by a former employer, or have received recognition by a professional association, adding these items to an achievement section can make them stand out. You may also choose to incorporate achievements as bullet points under the corresponding position in your employment history section.
The resume example text below is a good framework for formating your education section.
Adaptable education example
Aug 2011 - May 2014, Master of Urban Design and Architecture, NYU, New York
Sep 2009 - May 2011, Bachelor of Engineering, Manhattan College, New York
Do
List your education starting with your most recent degree
Include the name, date and location of the degree program
Don't
Include your high school if you've completed some level of higher education
Include your GPA if it's lower than a 3.0
Key takeaways
As the job market for architects grows increasingly competitive, candidates will want to make sure their resume makes a great impression right from the start.
Increase your chances of beating the ATS algorithms in use at many large companies by including important keywords throughout your resume.
If you're a licensed architect, make sure to include that information in your resume summary to increase your prospects of getting hired.
You can include key achievements within your employment history or highlight them in their own section towards the bottom of your resume.
Your resume format will be the first test of your eye for design so make sure to customize it for the employer's image and branding.