A solid resume is the foundation of your career, for a construction worker as much as for anyone else. If you've ever set foot on a construction site, then you know that "construction worker" is something of a catch-all term. It takes a multitude of skilled professionals to bring a building from blueprint to finished project.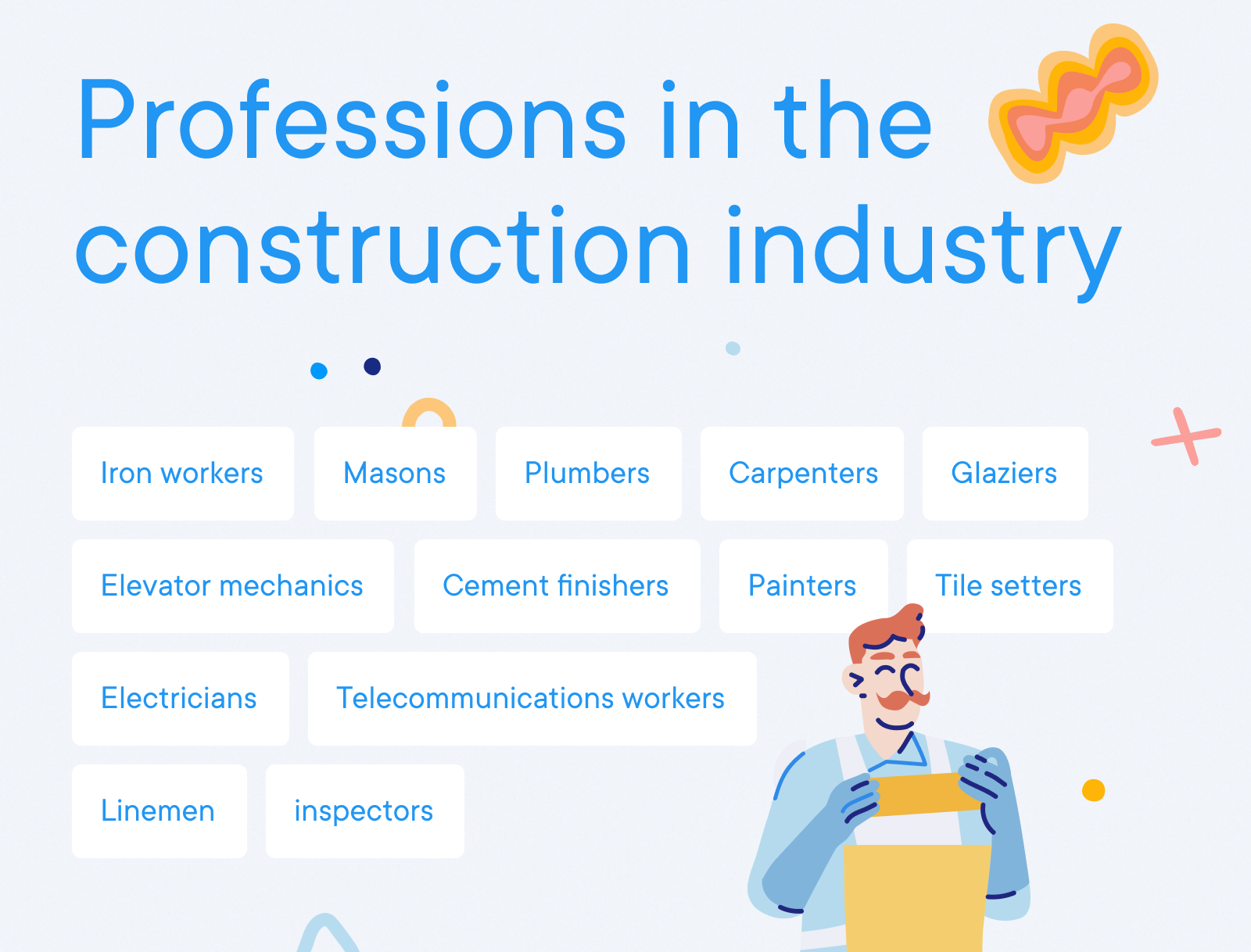 What does a construction worker do?
Professions in the construction industry include:
iron workers
plumbers
glaziers
elevator mechanics
cement finishers
painters
tile setters
telecommunications workers
linemen
inspectors
On any given day, each one of these tradesmen might have one or more helpers or apprentices working alongside them. The construction site will also have foremen and safety inspectors who are responsible for managing the project's progress and regulatory compliance. All these jobs and experience levels mean a construction site is a bustling place with many options for getting your boots on the ground. Perhaps the most entry-level of these roles is the general laborer, who is tasked with digging ditches, shoveling gravel and carrying raw materials to prepare for the work of more skilled tradesmen. 
There's no doubt that construction work is physically and mentally demanding. But there's also significant room for growth and opportunities to learn a specialized trade from skilled mentors. Whether you're looking to break into the construction world or you'd like to level up your job position, a strong resume is an invaluable tool. This guide, along with our resume builder tool, will show you how to:
Create a resume that advances you in a specialized area of construction
Highlight your hard skills and personality traits that make you a great teammate
Catch the foreman's attention with a resume that communicates reliability
Craft the right resume to land you your first job on a construction site
How the construction industry is changing
The construction industry of 30 years ago looked much different than it does today. OSHA regulations and more attention to the health and safety of workers means job sites are more controlled environments. Foremen are looking to hire skilled and educated professionals instead of just anyone who can lift heavy weights. Even so, construction workers have some of the highest rates of work-related injuries and accidents, according to the U.S. Bureau of Labor Statistics (BLS). 
Virtual and augmented reality, software, robotics and green technology are all changing the face of the construction industry. While some of these systems may still be in development, it's important to understand the future of the field as you prepare your resume. Take for example "green buildings" – structures designed to minimize energy waste and environmental impact. Consumer demand has led to the rapid increase in construction of such buildings. That means there's a need for people who understand energy-efficient guidelines and who can work accordingly. There's also a need for associated technical skills like installation of solar panels, energy-efficient windows and green roofs.
Looking to construct your resume? See our similar resume samples, so you will get inspired to write your very own.
Turnover rate
Today in the United States there's what's known as a skilled labor shortage. That means more people are opting for college degrees and white-collar jobs than apprenticeships and trades. That also means that your chances of not only entering the construction industry but advancing in it are great – you're needed. 
Statistical insight
According to the U.S. Green Building Council, which certifies energy-efficient buildings, more than 60 of all construction firms worked on some sort of green project in the past three years.
But one obstacle all construction companies face is a higher turnover rate. About 24 percent of all new hires leave the business in a short amount of time, causing the company big losses when it comes to recruiting and training. This rate is notoriously high among young people. To overcome this obstacle, some companies are turning to algorithms that can weed out less motivated candidates who will hurt the bottom line when they leave. If you're serious about working in construction, it's important to craft a resume that will ace these automated systems by showing that you are a diligent worker who's committed to the position.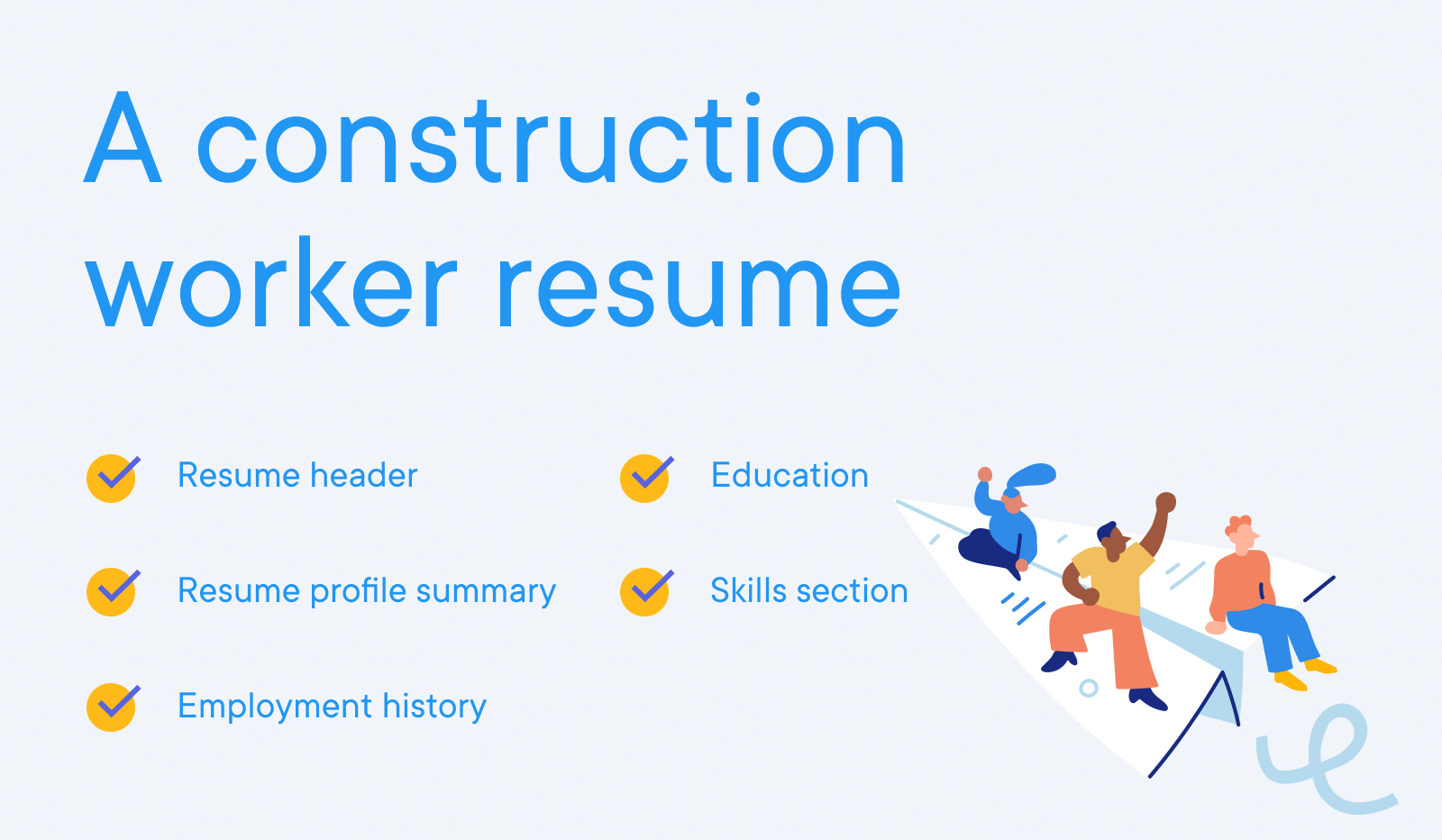 How to write a construction worker resume
In any field, most resumes (also known as CVs in countries outside the U.S. and Canada), should be one page only. Don't bog them down with more information that you need, including the following:
• Resume header
• Resume profile summary 
• Employment history
• Education
• Skills section
The header is an attractively designed section at the top of the page (and sometimes along the sides) that contains the following:
• Name
• Occupation
• Address
• Phone number
• Email
• Optional: Your photo
• Optional: Professional social media links (like LinkedIn)
The header obviously serves a critical purpose in letting employers know how to reach you if they're interested. It's also an important design element on your page, making your resume look better at a glance. 
When paired with a cover letter with a similar look, your header and other design choices give you a visual brand and make your job application documents a matching set.
Review Resume.io's resume templates to get some ideas about what good resume headers look like. Find one you like, click on it, replace the existing text with your own information, and you're on your way to building a winning resume.
Now let's look at the four other components you need….
Do
Keep your CV to 1 or 2 pages
Ensure your CV is well designed, but not too complex
Use a professional photo, if you decide to add one
Don't
Stick to the key, necessary information
Forget your branding, and make sure you keep it consistent throughout your CV
Resume example for construction worker profile summary
You're the complete package, and your profile summary should reflect that. In the design phase, most buildings have a 3D model. It's a compact version of the real thing, with just enough detail to convince someone to take on the project. That's how your profile summary works on your resume. You want a hiring manager to get a taste of your skills, experience and education and decide to read further. Since the average resume only gets 6 seconds in front of a hiring manager's eyes, it's essential to knock this part out of the park. Let's take a look at how to accomplish that.
Expert tip
If you're applying to a large firm, there's a chance your resume will have to pass through an Applicant Tracking System, or ATS. The best way to beat the ATS is by injecting key phrases from the job description into the summary and skills portion of your resume. But make sure to keep the feel natural – a hiring manager will appreciate it!
How would you describe your strongest skills on the jobsite? Are you particularly attentive to detail? Do you take directions well? Have you already begun to specialize in an area like glass, electric or communications? It's also important to include the number of years of experience you have in the field and whether or not you've completed any certifications. You may also include the particular position you're applying for here. 
Resume examples that you can adapt to your experience
Licensed carpenter with over 5 years' experience in commercial flooring, window frame and door setting and general construction. Able to read and follow blueprints with attention to detail. Excellent troubleshooter and works well independently or with other tradesmen.
Project manager with 8 years' experience in industrial and residential construction. Excellent organizational and communication skills. Proficient in AutoCAD, budgeting, workflow and scheduling. Professional and respectful team leader.
Employment history resume sample: Reconstruct your past
Build your past experiences to show your dedication and expertise that make you someone to have on the job. It's best to list your previous experiences in reverse chronological order. That means you'll start with the most recent experience first and work backwards until you've included several relevant examples relevant to the job you're applying for. Under each experience heading, you'll also list the most relevant tasks. Tailoring your resume to the specifics in the job description is a smart idea to earn more attention from the hiring manager. 
Statistical insight
If you're looking for a construction job, you'll have no shortage of potential employers. According to the BLS, there were some 7.2 million constructions jobs in 2018 in the U.S. alone. The BLS projects that there will be more than 7.5 million by 2026, an increase of roughly 300,000 jobs. The industry creates more than a trillion dollars' worth of structures every year. Now that's some heavy lifting!
If you don't have any specific trade or construction experience, you'll probably be entering the industry as a general laborer before you advance into a trade area. In this case, try to list experiences with projects or activities that show your physical abilities or endurance. Use specific action verbs that accurately describe the tasks you've completed and are specific to the type of work you do.
For example, instead of:
Worked as a carpentry apprentice to learn on the job
Helped master electrician wire houses
Try:
Assisted with mortar preparation, radial bricklaying, foundation layout and patio construction
Learned AC/DC control circuit troubleshooting and electric meter installation while helping to service 20 homes weekly
Employment history resume example
Managed safety compliance for 4 job sites during multimillion-dollar dormitory renovation project
Worked closely with carpenters and electricians to install telecommunications wires on tight deadline and according to blueprints
Troubleshooted and repaired a variety of HVAC systems, air compressors and other mechanical systems
Designed, cut and laid stone during driveway installation for elederly neighbor as part of Eagle Scout project
Resume sample for construction worker education
Whether it's knowledge gained in the classroom or on the job, your education will make your resume stand out. A construction worker is far from a set of mindless hands. Today's skilled laborers are educated, tech-savvy and compliance-oriented. While there are still construction jobs available for people without any higher education, a trade school or apprenticeship can put you well on your way to landing a higher-paying position and doing more satisfying work in an area that interests you. If you don't have a higher degree, list the dates you attended high school, the name of the school and its location. If you have higher education, it's fine to leave your high school off your resume.
Education section resume example
2007–2011: Swanson High School, Deerfield, MI
2012–2014: Jefferson Technical College, HVAC certification, Hillston, MI
Additional certifications and licenses
While certification and licensing requirements vary by trade and state, most specialized laborers need some sort of accreditation to work on a construction site. A C-39 license, for example, is obtained by roofers to show that they are qualified to create structurally sound and weather-proof roofs. The license also denotes that they are insured, making them a safer choice for the customer. 
Statistical insight
Almost 13 percent of construction workers belong to a union, according to data from the BLS. Local chapters of these organizations often offer training and can serve as employment hubs for job seekers.
Many tradesmen must complete several years of an apprenticeship before they can apply to take the state's licensing examination. Plumbers, for example, rack up thousands of hours of supervised on-the-job training before they are granted the designation of journeyman plumber and able to work on their own. Apprenticeships and technical schools may also require traditional classroom courses in math and science that will be applicable in the future career. While it might seem like a hassle now, across the board, apprentices in these careers have great job and earning prospects for the foreseeable future. You can add your license number or additional certifications to your resume to help show your professionalism and commitment to advancing in your field.
Certification resume examples 
Courses and certifications: 
2019 – Construction Health and Safety Technician
Completed trade requirements and passed examination to be certified in best practices to minimize injury and fatigue on construction sites
Skills section resume example: What's in your tool belt?
In the fight to get a construction job, your skills are your greatest weapon. Now it's time to show them off. As a skilled tradesman, your skills are truly what you bring to the table. Your expertise in a particular area is highly valuable to employers and your resume should reflect that. However, physical and technical skills are far from the only ones that matter. No one wants to get to the jobsite and work with someone who is unprofessional, irritable or prone to losing their cool. Not only are these traits unprofessional, they can also be unsafe. If you're looking for a job in a leadership position, it's important to note your leadership qualities here (and back them up in your experience section). Otherwise, construction sites function through teamwork and hierarchy, so being teachable, respectful and able to follow instructions are good things to note.
Expert tip
Even as technology improves worker comfort and safety, construction teams still work odd hours and in all weather conditions. If you're looking for your first job in construction, grit and perseverance are great traits to display throughout your resume.
Include general categories of work that you are proficient at, and any sort of more complex tools, machines or software that are needed in your field. If you're looking for general labor work, you can highlight your strength, stamina, motivation and teamwork abilities. Your skills can be broken down into hard and soft skills. In the construction industry, the distinction is clearer than in other types of work. Hard skills require your education and expertise and often involve tools or materials. Soft skills are your personality traits and interpersonal skills.
Hard skills listing example:
Proficient at AutoCAD and MS Project Software
Waterproofing, assessing and fixing roof leaks
Radial brick laying
Backhoe and forklift operation
Topographic data collection
Welding torches and guns
Precise stone sizing and cutting
Blueprint reading and interpretation
Digging, shoveling and spreading gravel
Assisting with framing and sheetrock installation
Soft skills listing example:
Works well individually or with a team
Safety code compliant
Professional and respectful communication
Effective team leadership
Excellent listening and organizational skills
Quick learner
Reliable and motivated
Great physical and mental stamina
Construction worker CV layout: The building phase
Once you've nailed down the text for your resume, it's time to bring it all together in the most attractive way possible. Your layout is the blueprint that keeps your resume aesthetically pleasing while still managing to fit all the important stuff inside. To give yourself the best chance of catching and keeping a manager's attention, you should strive to hold your resume to one page and limit frilly elements like color or pictures. So how do you find the perfect resume format to highlight your abilities? Resume.io's templates and resume builder tool make it simple for you to craft a clean and professional resume in just a matter of minutes. 
For a construction position, take a look at the Simple resume category for the most streamlined design that highlights just the facts. You'll probably be emailing the resume to a construction firm or you may be uploading it to an online application. In all these cases – and even printing – a PDF is the surefire way to make sure your formatting stays in place no matter the situation. Our resume builder makes it easy to customize your resume and save it in the right format.
Key takeaways
The construction industry is rapidly expanding with a growing need for skilled labor. That means it's a great time to enter this industry.
Technology is changing the construction industry and tradespeople with knowledge of green technologies or advanced software will go far in the field.
Showcasing skills specific to the job title you're applying for will help you advance into more specialized and higher-paying work.
Companies are looking for young people who are willing to stick around and learn, so it's important to showcase reliability on your resume.
Now it's your turn to build the resume for the construction job you're after. Our tried-and-true resume templates and resume builder tool make it easy to craft the perfect resume in just a few clicks.