When an interviewer asks "why should we hire you?" you might freeze. Don't panic. Read our expert advice on how to easily navigate this interview question.
Don't panic. Here's how to ace this interview question in a matter of seconds!  
Your palms are sweaty, knees weak, and the interviewer has just whipped out this killer question: "Why should we hire you?" It's the one you'd been dreading — the big one. You don't even know where to begin. Don't panic. Here at Resume.io, we have you covered with all the knowledge you need. In the following guide, we will take a look at 
Tips on how to answer this common interview question
"Why should we hire you" sample answers
Common mistakes to avoid when answering the question.
Need more inspiration? Learn how to answer a whole range of interview questions with our complete interview questions guide here!
How to answer this common question: 10 tips and examples
Ready to get started? The good news is that there are multiple ways you can answer the "why should I hire you" question. It all depends on which angle you fancy taking. Let's take a look at 10 tips and examples that will help you perfect your answer. 
Tip #1: Answer with confidence 
First things first, you should answer this question with confidence. If you're going for a sales or customer-facing job, your self-esteem is a top priority. Showcase that you have understood the question and that have the highest levels of self-belief here.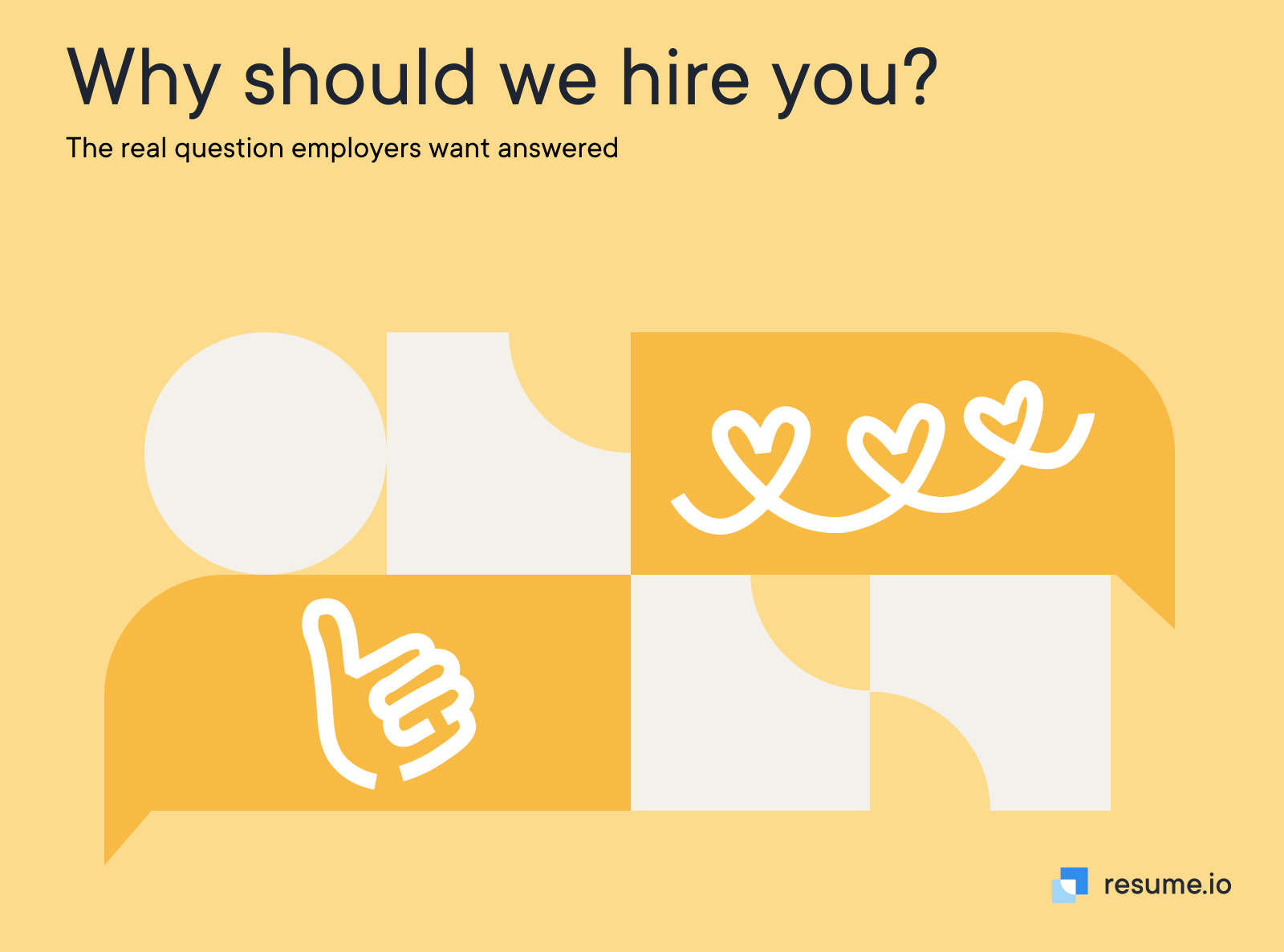 Example
"That's a good question! As I've demonstrated in the interview so far, I meet the job criteria listed on the spec, have a passion for the role at hand, and have the knowledge it takes to work in this fast-paced industry. Should you hire me for this position, I am more than confident that I can hit the ground running and help drive the team forward." 
Tip #2: Focus on your skills 
Entering a new sector? If you don't have a ton of industry experience, you might find the "why should I hire you" question tricky. Don't worry. You can focus on the skills that you have which make you perfect for the job. You may have picked these traits up when volunteering, in school, or within similar workplaces. Highlight them now in your answer. 
Example
"I'm a strong communicator who is highly organized — as I've demonstrated while coordinating volunteers at my local food bank. While I don't have direct sales experience, I am confident in my ability to get up to speed on your processes. My volunteering role has equipped me with a "can do" attitude that I will bring to this role."
Tip #3: Ask the interviewer a question 
You never want to be presumptuous. When an interviewer asks "why should we hire you?" they want to see that you have a strong understanding of the role at hand. What do you know about the position and, crucially, how do you meet the criteria? One way to answer this question is to list what you think the interviewer wants, and ask if you're right.
Example
"Great question! From what you've explained so far, I think you're looking for a driven, self-motivated professional who understands how to lead a small team. Would you say that's correct?"
"Yes? I believe that I have all of the above qualities. In my prior role at CVH Sales, I had to manage my own busy schedule and ensure that I hit weekly targets. In fact, I often exceeded the goals that my line manager had set for me. In the last two years, I was given supervisory duties that included training and overseeing new sales team members. Thanks to this experience, I am well-versed in how to manage a team."
Tip #4: Highlight specific industry experience 
Let's say you're going for a job where you will need certain technical skills. For example, you may be applying to work as a content manager at a publishing business. 
When the interview throws you the "why should we hire you" question, it may be smart to highlight the experience you already have in the sector. You can take this opportunity to show off the particular expertise that makes you perfect for the role. Remember, the more specific you are, the better! 
Example
"That's a good question! I've been working as a writer and editor for seven years now and have used that time to hone my skill set. In my last role at Media Five, I was charged with editing my own work and uploading it to the company web page using WordPress. However, I am also familiar with other CMS platforms and tools."
"Since the world of online content is forever fast-paced, I am a highly prolific worker who can offer a fast turnaround and spotless copy. I'm familiar with the latest trends in this industry and SEO techniques. I am, therefore, confident that my prior publishing experience means that I will be well-suited to the role of content manager with you." 
Tip #5: State your Unique Selling Point (USP)
What is it that sets you apart from other candidates? That is the question that the interviewer is really asking here. When faced with the "why should we hire you" interview question, focus on your strongest selling point. 
There are a few angles you could take here. You may want to name-drop an award you've won or highlight any additional training you have completed. Simply make sure that the point you choose is exemplary. 
Example
"Thanks for the question! As we've already covered, I'm a self-driven worker with experience in customer services." 
"However, one thing I haven't mentioned is my recent honor. Last month, thanks to my proven track record of great service, I received the "Representative of the Year" award for the Georgia region. After going up against more than 100 other professionals, I was chosen by a panel of judges." 
"I pride myself on striving toward excellence and am thrilled to have been recognized for my hard work. What's more, I plan to carry this attitude into future job roles."
Tip #6: Acknowledge your flaws but add some value 
Okay, you might not be perfect for the job… Let's say you're a recent graduate and lack the experience that would be ideal for the role. 
Trying to glaze over that won't win you any points here. It's better to approach the "why should we hire you" question by being upfront. Start out by acknowledging your flaws first of all but then go on to add value to your answer. You may want to draw upon your enthusiasm for the role or your skill set.
Example
"Thanks for the question. As a recent graduate, I know that I may not have the experience that other candidates have under their belt. However, what I lack in experience, I make up for in enthusiasm and a willingness to learn." 
"I am keen to get my foot in the door and prove myself as a highly competent accountant. In my studies, I learned how to utilize the core principles of this field and am ready to put that knowledge into action with your team."
Tip #7: Demonstrate how you fit the criteria
Are you confident that you're perfect for the job? If you believe that you fit every element of the criteria, now is your chance to shout about it.
You may have already gone over the skills and experience you have in the rest of the interview. That's okay. Your "why we should hire you" answer can reflect back on this and reinforce that you're the right fit here.
Example
"That's an important question. As we have covered, I have some of the key skills you are looking for to excel in this role. Since I have been working in a team leader position for three years now, I am skilled at both conflict and relationship management." 
"In my most recent job, I actually increased the team productivity by a massive 13 percent in a year. For these reasons, I am certain that I am well-suited to this new role and can exceed your expectations."
Tip #8: State that you want to grow 
Hiring managers are looking for candidates that will grow and develop in roles. If you have already demonstrated how you fit the criteria of the position, look toward the future. 
For example, should the job include some in-house training, you can show some enthusiasm for that opportunity. It's all about letting the hiring manager know that you are serious about the position and that you're ready to give it your all. 
Example
"Great question — thanks! As a qualified sales manager, I've gone as far as I can go in my current role. So, I'm looking for a company where there is room to progress, learn, and develop my existing skill set. I believe Johnson Oaks is the perfect place for this." 
"I'd relish the chance to take part in your in-house training and apply new skills directly to the job. While I already have a deep understanding of modern selling techniques, I would be eager to further expand upon them and use them to exceed monthly targets."
Tip #9: Reflect on what the interview has said 
Were you paying attention during the interview? You should have been! If you've been taking mental notes along the way, let the hiring manager know about it. 
Reflecting on what they have already said to you shows that you are perceptive and that you're taking this process seriously. Those two traits are well respected. Take a look at this "why should we hire you" sample answer.
Example
"Great question. You've already said that you're looking for a highly organized events manager who has experience in the wedding industry." 
"I tick both of those boxes! I've been working as a wedding planner for more than three years and, in that time, have learned the best approaches to organizing." 
"As you know yourself, planning and executing events can be challenging if you don't have a tight system. I'm comfortable working in a fast-paced environment and managing my own schedule so that I hit deadlines and pull off memorable events for clients."
Tip #10: Explain why you want the job
Why do you want this job specifically? Are you looking for any position or is there something about this that caught your eye? When you're answering the "why should we hire you" question, lean into what makes this job unique.
This approach shows the hiring manager that you have done your research and have been selective when applying. It flatters the hiring manager but also highlights your dedication to pursuing the position. Show why you are a good fit for this job.
Example
"Thanks for that question. You should hire me because I am passionate about working for R&L Marketing. Since I started my career five years ago, I've closely followed your campaigns and been awed by the successful work that you do. It is something I would like to emulate in my role as marketing coordinator."
"With that in mind, I believe I am the perfect candidate for the position. I have years of industry experience and a robust skill set. However, this is backed by my enthusiasm for your company and a willingness to learn new things under your wing."
Mistakes to avoid when answering this question
Now that you've taken a look at some sample answers, you should have a good idea of where to start. Before we sign off, here are some of the common mistakes to avoid: 
Don't give a generic answer. The interviewer knows that you want the job (you wouldn't be there otherwise!). Expand on how you fit the criteria for the position.
Try not to sound too arrogant. Instead, take a confident and secure tone.
Stop over-explaining. Keep your answer short, sweet, and to the point.
Avoiding the above mistakes is the key to getting your answer just right. You can learn more about this process by reading our interview guide. Armed with our expert-backed advice and support, you should have no problem wowing the hiring manager.   
Key takeaways
The "why should we hire you" interview question can be a tricky one! Make sure that you prepare sample answers in advance.
Don't forget to thank the interviewer for the question or state that it is a "good question" before you get onto the meat of your answer.
If you have industry experience or specialist training, take the opportunity to mention it when you are answering this question.
Make sure that your tone is confident and enthusiastic. The interviewer will be looking for candidates who are eager to get started!