As a school principal, you may be an expert in guiding your students toward a bright future. But have you considered investing in your own professional growth? If you're applying for a role as a school principal, you'll want to impress the hiring committee with a well-written principal cover letter.
In this cover letter guide, along with the corresponding principal cover letter example, we'll cover the following topics to help you write the best cover letter possible:
How to choose the best cover letter format and what paragraphs the cover letter should include
How to maximize the effect of each cover letter paragraph (header, greeting, intro, body, and conclusion)
What approach to take when writing your cover letter
What mistakes to avoid when writing your principal cover letter.
There will be plenty of opportunities to add your unique spin to your principal cover letter as we teach you the fundamental principles of top-performing writing. Feel free to explore other professions in our library of cover letter examples for inspiration.
Statistical insight
How much can a principal make?
According to the Bureau of Labor Statistics, the median annual salary for elementary, middle, and high school principals in 2021 was $98,420.
If you're looking for additional inspiration for cover letter writing, you can check out our related education cover letter examples: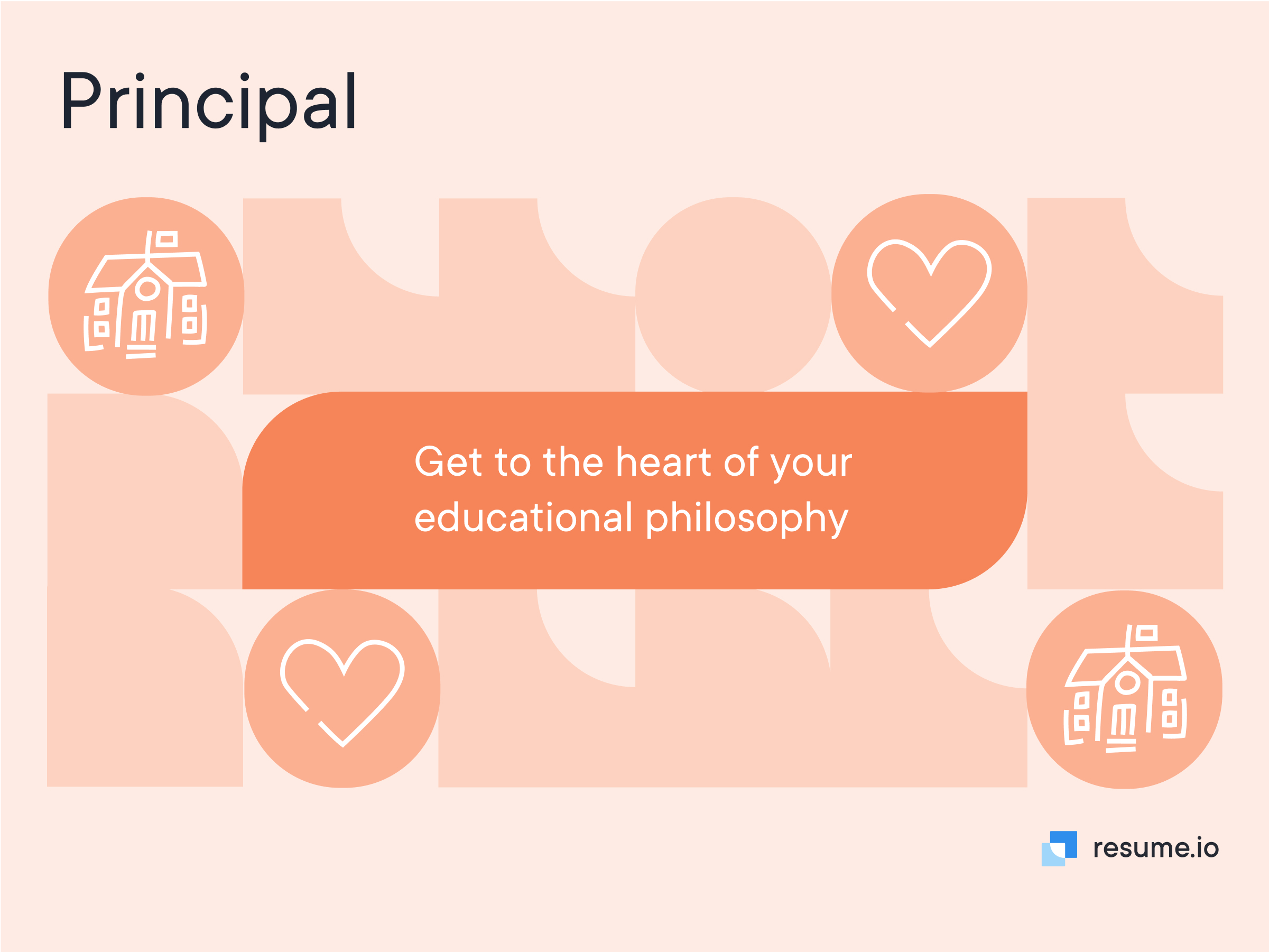 Best format for a principal cover letter
The format of a principal cover letter should contain the following elements:
The cover letter header
The greeting/salutation
The cover letter intro
The middle paragraphs (body of the letter)
The ending paragraph of your cover letter (conclusion and call-to-action)
When it comes to format, a school principal cover letter should follow a traditional business letter format. This includes a header with your contact information, a greeting, and introduction, a middle section that highlights your qualifications and achievements, and a closing that invites further communication. It's important to keep your letter concise and focused, highlighting your most relevant qualifications and accomplishments that position you as a great principal.
Cover letter header
Your cover letter header should include your full name and contact information. It's important to ensure that your contact information is accurate and up-to-date, as this is the main way that the hiring manager will get in touch with you. Make sure that your cover letter header is neat and legible.
Cover letter greeting
When it comes to the greeting, you should always use the hiring manager's name if you have it. If you don't have a name, avoid using generic greetings like "To whom it may concern" as they can make your letter feel impersonal. You could always default to "Dear [insert name of school here] hiring board" if you're truly in a pinch.
The greeting is a crucial element of a principal cover letter, as it sets the tone and establishes a connection with the reader. In this case, the reader is the person - or people - standing between you and your next role. So if the job posting does not include a name, it's worth taking the time to do some research to find out who the hiring manager or current principal of the school is.
Cover letter introduction
Your introduction should be concise and engaging, highlighting your most important qualifications or experience. This paragraph is where you will hook the reader's attention. Try to convey your enthusiasm and energy for this principal role in your writing to make a strong impression.
Another tip for the greeting paragraph is to start with a strong opening statement. Consider why you are drawn to this particular school and what you can bring to the role of principal. Remember that educational institutions are likely looking for candidates who are committed to their school's mission and values, so don't be afraid to address these in your opening statement.
In a nutshell, your cover letter introduction should present the topics which you will expand on in the following paragraphs. Remember to package them in a concise and engaging way to ensure that the reader will continue reading your entire principal cover letter.
Expert tip
Quantify your value
Whether you're a well-seasoned principal or new to the role, use specific metrics and data to highlight your achievements in previous education roles.
Cover letter middle part (body)
The cover letter middle paragraphs should focus on your qualifications and achievements. This is where you can get down to the nitty gritty by providing specific examples of your leadership experience and educational philosophy. Use specific metrics and data to highlight your accomplishments, and make sure to tie them back to the needs and goals of the school.
By organizing your middle paragraphs into easily digestible sections, you can make it easier for the reader to scan and understand your suitability for the role. Aim to use the STAR position when going into detail on examples of your accomplishments that require a more detailed description.
When discussing your relevant experience, it's important to highlight specific examples of how you have made a positive impact in previous roles. For example, if you have experience leading initiatives to improve student achievement or teacher professional development, provide specific data points or anecdotes that illustrate your success. This shows the reader that you are results-oriented and have a track record of driving positive change.
Expert tip
STAR approach
Structure your anecdotes or examples of past achievements for clarity using this acronym:
Situation: set the scene with some general information and context that will help your story to make more sense and/or sound more impressive.
Task: what was the assignment or job that needed to be carried out?
Action: what did you do in light of this? Remember to focus on your personal contribution rather than what your team or school did in general.
Result: how did things turn out? Did you meet or exceed your goals?
It's important to link your professional profile to this position in particular. How do your qualifications align your qualifications with the specific requirements listed in the job posting?  Considering questions like this and answering them in your cover letter shows the reader that you have carefully read and understand the requirements of the position and are a strong fit for the role. 
To make sure the hiring committee has no doubt in their mind that you are a strong match for their school, mirror keywords and phrases from the job posting. This is also a great idea to make sure you pass the ATS.
Expert tip
The Applicant Tracking System (ATS) will filter only the most relevant applications for the hiring committee using an algorithm that searches for the presence of the most relevant keywords for the position. 
In addition to highlighting your qualifications and experience, it's important to convey your leadership style and philosophy. Principals are not only responsible for managing day-to-day operations but also for setting the vision and direction of the school. Find a concise way to explain your suitability for the role from the perspective of your philosophy on leadership and education and how your initial ideas fit in with the board's vision for the school. You're applying for a job that will put you in the driver's seat for the school's success. So assured confidence is a trait that is important to communicate through the tone of your cover letter, without verging into the realm of arrogance.
How to close a principal cover letter (conclusion and sign-off)
The closing of your principal cover letter is your final opportunity to make a lasting impression on the reader. It's important to leave the reader with a sense of your enthusiasm for the position and the school, while also inviting further communication. Consider this as your final pitch to the hiring committee to invite them to take the next step and schedule an interview.
Conclude the middle paragraphs with a short sentence restating your interest in the position. While you shouldn't add any new information, this is a final opportunity to reiterate why you believe you would be a great fit for the role of the principal of this school.
A statement that invites further communication is ideal as you bring your letter to a close. For instance "I would be delighted to discuss my candidature with you further at an interview" or "I welcome the opportunity to meet with you in person to discuss my qualifications and experience." Finally, sign off with a simple "Sincerely" followed by your name, like in the cover letter sample content below.
Expert tip
Consider the goals of the school
It is crucial to tailor your principal cover letter's message to the specific needs and goals of the institution. Take the time to research and understand the school's mission and values. Highlight how your experience and expertise align with their objectives. By demonstrating a genuine understanding of the school's unique aspirations, you will stand out as a candidate with a genuine interest in contributing to their success.
Principal cover letter with no experience
If you're a first-time applicant for a school principal position, it can be daunting to present yourself as a strong candidate without prior experience in the role. However, it's important to focus on your transferable skills and leadership potential to demonstrate that you have what it takes to succeed in the position.
One way to do this is to highlight any relevant experience you have outside of education, such as leadership roles in community organizations or volunteer work. These experiences can demonstrate your ability to lead and manage people and - more importantly - lead the strategy of an institution. Examples that highlight your ability to strategize bigger-picture decisions and communicate effectively with stakeholders at all levels are important. You can also describe how these experiences have prepared you for the challenges of a principal role, such as managing resources effectively.
In addition to highlighting your transferable skills, it's important to emphasize your educational background and any relevant training or certifications. If you have a degree in education or a related field, describe how this has prepared you for the role of principal. If you have taken courses or earned certifications in education, be sure to highlight these as well. This can demonstrate your commitment to ongoing professional development and your readiness to take on a more senior role in a school.
Key takeaways
It is important to convey your leadership style and philosophy and how these will serve the institution you're applying to.
Emphasize your educational background and any relevant training or certifications.
A school principal cover letter should follow a traditional format with clear sections, including a header, greeting, introduction, middle section, and closing.
Don't forget to keep it simple and use the STAR method so your cover letter covers your bases but remains skimmable for a busy hiring committee.
As a high-flying educational professional, you want to make sure there's as little as possible standing between getting your ideas down on paper and making it a high-quality and presentable cover letter.  Resume.io has developed a plethora of tools to do just that and simplify the process of writing your cover letter. Consider clicking on one of our ready-made and carefully market-researched cover letter templates when you're simply ready to get down to business on your principal cover letter.