Spitballs and passing notes are an all-too-common movie trope: When the substitute teacher arrives, the class goes haywire. In real life, however, substitute teachers are far from clueless fill-ins. Not only are substitute teachers essential assets for any school system, they are in huge demand. The nationwide shortage in the American education system means this opportunity to get hands-on classroom experience is ripe for the taking. And a flawless substitute teacher resume is the first step to getting one of these jobs.
What's more, in an effort to recruit more candidates, school systems have drastically lowered the requirements for substitute teachers, meaning there are plenty of positions open to people with degrees in fields outside of education or even with no more than a high school diploma. Substitute teachers also have clear advancement opportunities for people looking to reenter the education field or make a switch from another career. In fact, the only thing between you and a new job as a substitute teacher might just be a great resume. So how can you get started on your journey to enrich the lives of young people?
This guide, along with our field-tested templates and resume builder tool, will teach you how to:
Craft a resume that catches an employer's attention with the right balance of skills and personality
Mold related experience to show off your ability to teach and manage a classroom
Highlight your strongest accomplishments in previous positions
Choose a format that hits the mark when it comes to professionalism and style.
The substitute teacher shortage and what it means for you
According to the U.S. School Superintendents Association, "a shortage of substitute teachers, both in quantity and quality, across the country has never been more severe." The cause is twofold: many high-quality teachers prefer to take on full time roles instead of subbing. In addition, many current teachers are requesting more flexibility in a traditional rigid career, increasing the need for classroom coverage.  In response to this imbalance, school systems have started increasing pay, offering bonuses, recruiting heavily and offering additional training to encourage more substitutes to join the pool.
Statistical insight
The shortage of substitute teachers is such a pressing problem that research shows more than half of teacher absences are not covered by a substitute, even when the administration knows in advance, according to Frontline Institute.
That's where you come in. In such an in-demand position, you can easily become the star of the school system, working as little or as much as you'd like and making an impact on students, even in a short period of time. In addition to daily subbing, you may also consider applying for long-term positions, where you may be responsible for a class for many months or even a full year. And once you show off your skills as a sub, you'll already have one foot in the door when a full time position as a teacher or teacher assistant becomes available. 
What does a substitute teacher do?
Substitute teachers serve as temporary replacements for full-time teachers when the regular teacher is ill or can't come to work for some other reason. They most commonly work for public or private elementary or secondary schools, although sometimes they are employed by junior colleges, technical and trade schools, employment services and child day care services.
Substitute teachers often work for a single day, though in unusual circumstances a substitute job can lasts for months or even for the entire school year. 
Once a school has put a candidate on its approved list of substitute teachers, that person may be called in to cover any grade or subject, often on short notice. If the regular teacher's lesson plans are available, subs will generally follow those, although they may have to come up with their own. 
Substitute teachers in the U.S. earn annual mean wages of $29,370, according to the Bureau of Labor Statistics.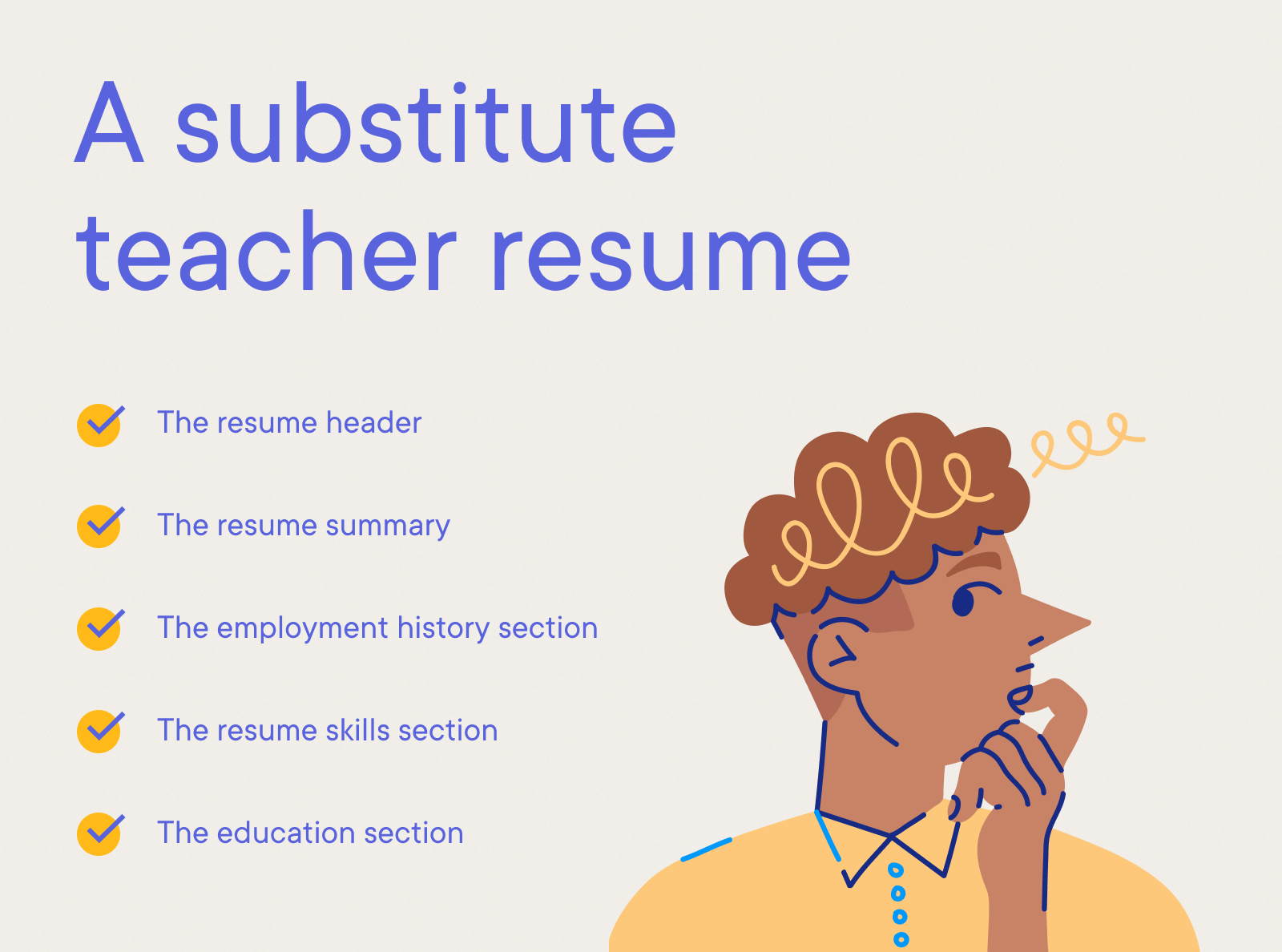 How to write a substitute teacher resume
A resume for a substitute teacher should be one page only, consisting of the following elements:
The resume header
The resume summary (aka profile or personal statement)
The employment history section
The resume skills section
The education section
The header is an attractively designed section at the top of the page that contains the candidate's name, occupation, address, phone number and email. It may also contain the candidate's photo.
Take a moment to review resume.io's resume templates to give you some ideas about what a well-designed header looks like. You can save yourself a lot of trouble by choosing a resume example where the work is already done for you, and all you have to do is fill in your own info.
The first reason for the header is obvious: so that schools can reach you if they're interested. But the header is also an important design element on a resume, making the page look attractive at a glance. As you prepare to write a cover letter to go with your resume, you should give them a matching look, including by using a header for both that's similar if not identical.
Expert tip
Many school systems use ATS or Applicant Tracking Systems to rank resumes against one another and send only the best to HR or the principal. Make sure your resume avoids this digital black hole by including keywords from the job description in the profile summary and skills section. The easiest way to do this is to analyze the job listing itself and highlight the most important requirements, words that seem to come up often or those that are heavily emphasized. Another great source for keywords is researching the employer and learning its values, needs and educational priorities.
Resume example profile: a smart start
Just like a strong start sets the tone for the rest of the class period, a strong profile (also known as the summary) will carry the reader through the rest of your resume. In the summary, hiring managers should be able to get a feel for your personality, previous experience and skills with just enough detail to make them want to keep reading for more. Note that resumes are mostly built on bullet-point lists with little room for free-form sentences. The profile/summary is the only exception, so it might be a good place for some short-form creative writing. The pitfall to avoid here is long-winded explanations. Evaluate each word critically, as they all need to be either action verbs (strong verbs describing concrete tasks or achievements), powerful adjectives or simply necessary for the grammatical structure.
Expert tip
When writing the summary, it's important to keep the tone conversational and human-reader friendly. Just make sure to work in some keywords the robots will love to make sure the ATS works in your favor.
Your summary can also answer basic questions about your preferred grade levels, subject interests or availability – just keep in mind that flexibility is often one of a substitute's most attractive attributes when it comes to hiring. 
Resume example of a substitute teacher profile
Disciplined, enthusiastic substitute teacher with 3 years of experience in education. Able to effectively follow teacher plans as well as create relevant activities and teach new material for a productive class. Excellent organization and classroom management skills. Available for last-minute scheduling and open to all subject areas, with an affinity for science and math.
Employment history resume sample: your personal report card
Showing that you've worked with children before, even if it wasn't as a teacher, will be a big advantage when it comes to securing a position as a sub. If you don't have any teaching or childcare experience, you may also be able to demonstrate your expertise in a field relating to one of the subject areas you will be teaching. Either way, it's important to tailor your resume to the job description of the position you're applying for by showing how your previous work experiences fostered the skills needed to be an excellent substitute teacher. It's best to write your resume in Reverse Chronological order with your most recent experiences first. Work backwards until you have 2-3 relevant examples. If you have enough experience in education, it's best to leave off completely unrelated experiences, unless they demonstrate knowledge of a particular subject area you plan to teach.
Statistical insight
According to Fordham Institute and data from the U.S. Department of Education, 28.3 percent of teachers miss 11 or more days of school each year.
Create a few bullet points under each job title keeping in mind the needs of the school when it comes to hiring subs.
A few things to ask yourself about previous roles:
How did I demonstrate an ability to follow instructions?
How did I demonstrate an ability to manage a classroom or another sizable group of people?
What is my strategy for keeping a class orderly and safe?
How did I incorporate creativity into a lesson without reinventing the wheel?
How did I demonstrate effective communication both with students and fellow teachers and staff?
Did I accomplish any measurable goals or tasks and how?
What extra roles did I take on?
How did I make life easier for the teacher or administration?
Resume sample for employment history bullet points
Effectively taught new material to a class of 20 AP Biology students
Carried out a detailed lesson plan including creative activities to the exact wishes of an Art History teacher
Left detailed notes on homework, in-class assignments, absences and behaviors for all teachers
Filled in during lunch duty and helped direct students to buses while subbing on the first day of school
Developed and executed a trigonometry lesson using compasses to create repeating art patterns
Disciplined disruptive student and effectively calmed down class to continue lesson without further interruption.
Related jobs
Substitute teaching is a great entry point into the world of education from related jobs or even from a different career entirely. Previous experience with kids is invaluable on your resume – if you can mold it to effectively demonstrate how you can manage a classroom. One way to do this is to think about the results or outcomes that closely mirror the desired role of a substitute teacher. Were you able to teach kids a new skill on the soccer field? Did you manage the art lesson at a preschool? Did your clarinet students go on to accomplish new music and perform at recitals? These tasks are not insignificant if they show you can bring out the best in kids and keep them disciplined and focused.
Resume examples of work history details
Taught beginner guitar lessons to 10 students between the ages of 7 and 12, four of whom went on to major in music-related fields
Created interactive lessons and activities for a group of 25 preteens as a Sunday school teacher for local church congregation
Supervised two children, ages 9 and 12, through weekly English homework and helped them improve their creative writing skills as part of ongoing nanny duties
Led team of 14-year-old girls from backyard players to state finalists through targeted and disciplined softball drills and trainings.
CV example for substitute teacher education: the knowledge to finish the course
The amount of education required of substitute teachers can vary widely from state to state or even between school districts. There are a number of regions which will accept substitutes with only a high school diploma, while others ask for an associate's or bachelor's degree as the bare minimum. 
While a degree in education can be a big bonus, an unrelated degree is unlikely to stop you from being hired for a substitute position. In fact, candidates with other specialties often bring something new to the table, especially if the school district is in a position to offer some supplementary teacher training. 
If you have a bachelor's degree or higher, it's fine to leave your high school diploma off your resume. For your college degree, you can also mention your GPA, as long as it's above a 3.0.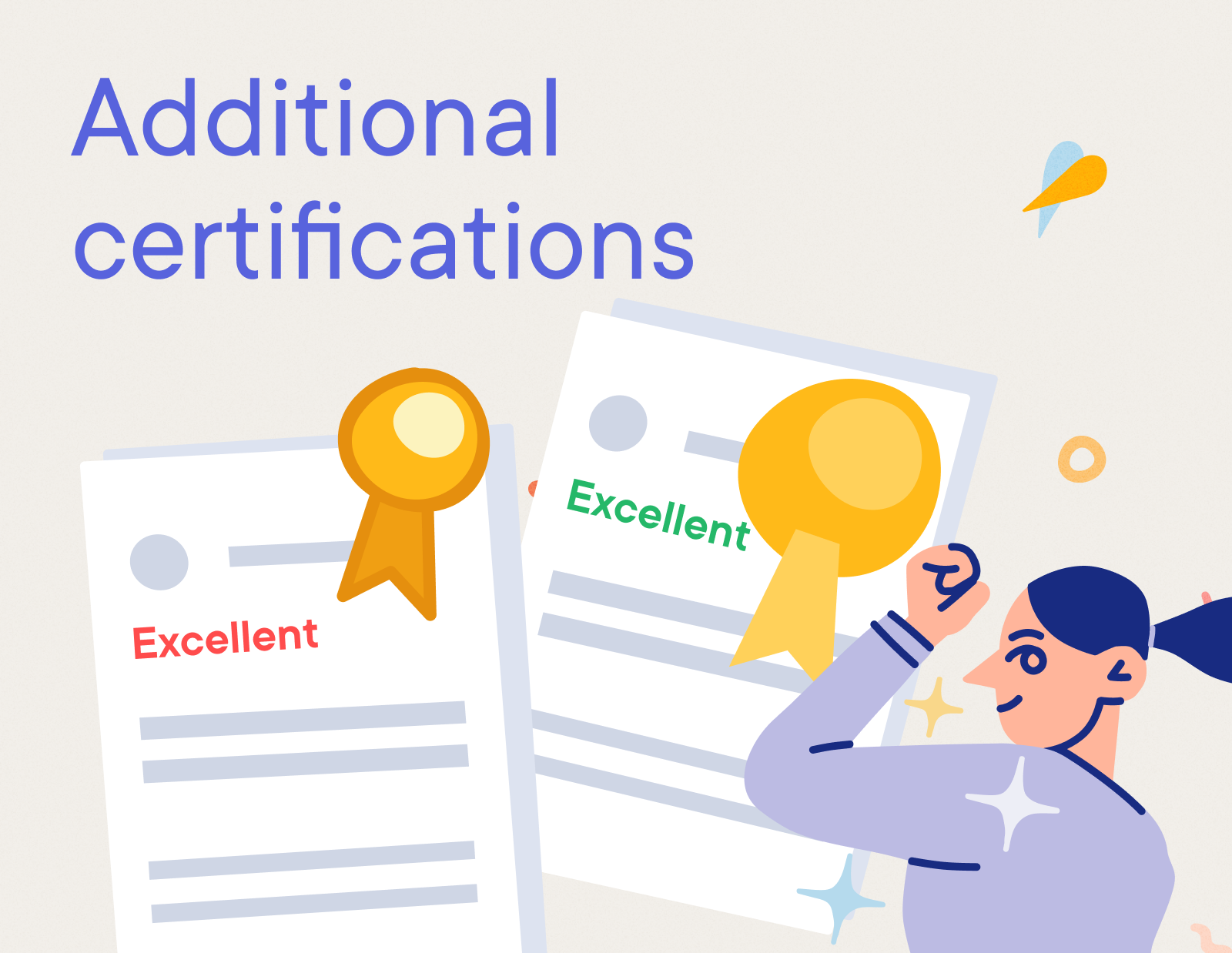 Additional certifications
If you have passed a teaching exam or training, it's a great advantage to include it in this CV section. Additionally, some states require substitutes to pass a specific program designed to train them on teaching basics in case they come from another discipline. In Ohio, for example, substitute teachers are required to have a bachelor's degree in any subject and then complete an online course and in-person training to become a licensed substitute teacher. 
Education section resume sample 
2007 – 2011: Washington High School, White Oaks, NH
2011 – 2015: University of Maine, B.S. Applied Physics, Orono, ME
Major GPA: 3.7
2018 – State of Illinois Substitute Teacher Training
Resume example for a skills section: your strategies for success
While education is about knowledge, teaching is about skill. Anyone who has spent a day in a classroom can tell you that the brainiest professor doesn't always make the best teacher. That's because having the knowledge and being able to impart it are two different processes. 
The reality of substitute teaching is that your classroom management skills will be just as important as your teaching abilities. Students are likely to test your patience and principals are looking for a substitute who can get through the day without cracking under pressure. 
When writing your skills section, you will probably primarily focus on soft skills – those innate qualities which make you an effective teacher that students respect. But it's not a bad idea to throw in some hard skills, too. Hard skills are any abilities revolving around physical objects, specific knowledge, computer programs and pragmatic tasks.
Expert tip
Word cloud services like Worditout.com can make it easier to find important keywords by creating a visual representation of the most frequently used words in the job description. Then, plug them into the skills section. While the summary is a great place to cater to a human reader, the skills section is the perfect place to feed the ATS robot.
If you already have some knowledge of the school system you intend to work with, you can include the specific classroom technologies that are in use, as long as you are decently comfortable with them. If applying for a long-term position, you may already know what subject matter you will be assigned to teach. In that case, feel free to include your competencies related to that area. If you are applying for a general subbing role, you will want to keep your skill section more multipurpose.
Skills listing resume example
Enthusiastic
Patient
Well-organized
Positive
Excellent teacher and administration communication
Disciplined
Effective and fair classroom management
Promethean interactive whiteboards
Microsoft Office Suite including Word and PowerPoint
Written and spoken Spanish, bilingual fluency
Texas Instruments graphing calculators.
Substitute teacher resume layout: the right look
It's one thing to say you're a well-organized teacher. It's another thing to show it. One of the easiest ways to put some weight behind your words is through your resume layout and design. The layout is like the lesson plan for the principal to follow in evaluating your skills and experience. A high-quality layout that hits just the right mark when it comes to professionalism and style is the best way to give yourself a fighting chance at landing the substitute teacher role.
In the education field, you'll want to keep the resume simple. While one accent color may be acceptable, it's best to keep the feel of the layout clean and free of unnecessary icons or pictures. If you need a little help building a layout that meets the right criteria, try resume.io's expertly crafted and HR-tested templates to get your resume on the principal's desk in no time.
Key takeaways for a substitute teacher resume
Substitute teachers are in high demand and that doesn't seem to be changing anytime soon, making this anexcellent time to enter the field.
Classroom management is essential to the role and an important skill to convey throughout your resume.
Since school districts have relaxed the requirements for subbing, converting related experience to demonstrate your teaching skills can give you a good chance of landing the job.
Don't forget to include any previous substitute licensure or training.
A clean and professional layout is essential to highlighting your experience and landing the job.
And if you need a little help to get out of your living room and into the classroom, try our field-tested templates and custom builder tool to craft the perfect resume and meet your students in no time.