If you've ever marveled at a striking illustration on a magazine cover, been amused by sleek animations on a website (or for the old school PC users among us — been annoyed by a bouncing paperclip in a Word document), you have a graphic designer to thank. Tightening job competition in this field means an exceptional graphic design cover letter is essential for even the most talented creative professionals to gain an edge.
We at resume.io are specialists in all aspects of resume and cover letter design and content. Our resources include an extensive collection of occupation-specific writing guides with corresponding cover letter examples. 
This guide for graphic designers will take you step by step through the process of writing a persuasive cover letter as part of your job hunt. Also known as an application letter, this letter is your personal introduction to the people who have the power to hire you for the graphic design job you want. Don't underestimate its importance!
Here's what we will discuss in this writing guide, backed by a graphic designer cover letter example:
An overview of what graphic designers do and the job outlook
Why a cover letter is a crucial component of a job application
How to structure your graphic designer cover letter
How to optimize the impact of each cover letter section: header, greeting, introduction, body and conclusion
How your letter can trigger both an emotional and a rational response
Some of the common mistakes that make a cover letter fail.
A picture of graphic designers — role and job outlook
Graphic designers make our world more visual. Also known as graphic artists, they are versatile, creative individuals specializing in illustration, photo editing, layout, design and typography. Text is always more interesting to read when it's presented in a typographically interesting way and accompanied by eye-catching images. When you walk into a McDonald's, the menu on the wall is not a black and white list of the hamburgers for sale — it's a visual explosion of color, photography and design. There's a graphic designer behind that.
Company logos are also crucial to corporate branding, none more famous than the Nike "Swoosh," which is said to be worth $26 billion. It was created in 1971 by a graphic design student from Portland State University named Carolyn Davidson. She was working with the founders of a shoe company that wanted to compete with Adidas and asked for some kind of stripe that conveyed the idea of motion. Today it's among the most iconic logos in the world. Genius in its simplicity, unparalleled in its laconic visual power.
Graphic designers tend to gravitate toward advertising, public relations, online and print publishing to fulfill the vital need in all these fields for attractive graphic design.
Statistical insight
There were about 254,100 graphic designer jobs in 2020, according to the U.S. Bureau of Labor Statistics (BLS). These were their largest employment sectors:
Self-employed 19%
Specialized design services 9%
Advertising, public relations and related services 8%
Printing and related support activities 7%
Newspaper, periodical, book and directory publishers 4%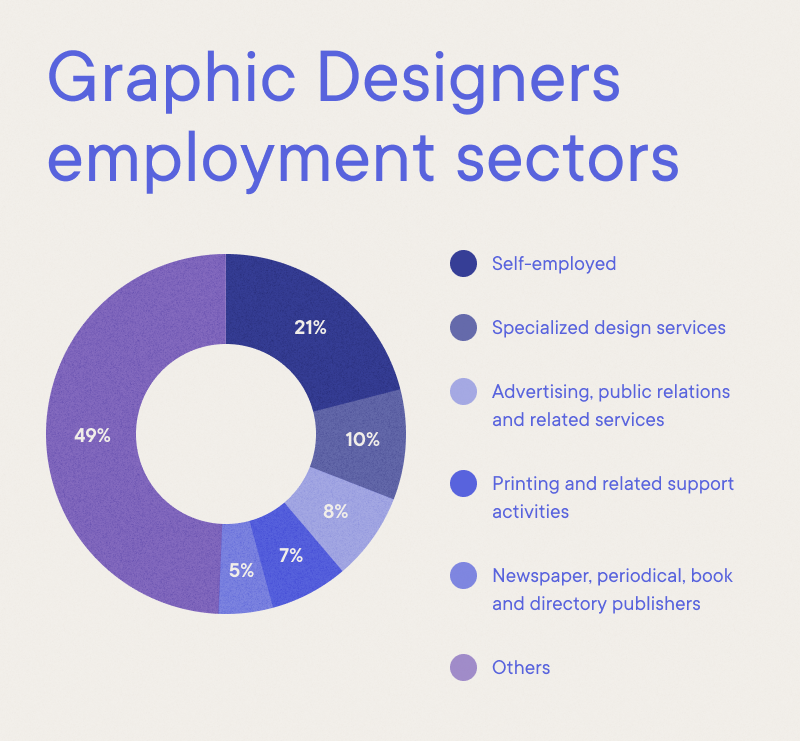 The need for graphic designers is expected to grow by only 3% between 2020 and 2030 slower than the overall job market average. This means there will be a limited number of jobs and more people competing for them, and it underscores the need for an outstanding resume and graphic design cover letter.
Why do you need a graphic design cover letter?
The purpose
If you've ever worked in sales or retail jobs, you know the importance of making a sweeping pitch, a personal appeal and an irresistible offer — all within the space of a few seconds. The cover letter is basically this pitch in writing. 
There's a story about a handyman who went door-to-door looking for odd jobs, saying he was down on his luck but had a lot of skills and was willing to work hard for low wages. One homeowner asked him, "Could you paint my porch out back for $50?" The handyman said of course he could, and the man gave him two buckets of green paint and a brush. Two hours later the handyman knocked on the door again to say he was all done. "But I've got news for you," he said. "That's not a Porsche, that's a Ferrari."
For our purposes (humor aside), the point is that the handyman's pitch worked. Look at the elements of his strategy: a personal approach, an emotional appeal and a demonstration of his value. That's basically what you need in a cover letter — it's an "elevator pitch" in writing.
So what should a graphic design cover letter include?
The purpose of the cover letter is to open a conversation with potential employers about the value you could bring to their company. Of course you will have a portfolio to wow them with your graphic design work, and you'll have a well-constructed resume — but the cover letter is your personal entrée to your target. It's also an invaluable tool to compensate for any irregularities or discrepancies in your professional journey. The resume is a structured document with bullet points and short facts. The cover letter allows you to explain yourself as a personality.
A cover letter should be one page only, the length should be 200 to 400 words, and you need to make every one of them count. You are not just introducing yourself but also highlighting your graphic design experiences, skills and qualifications. And you're seeking to trigger a personal and emotional response.
Expert tip
The failure to include a cover letter was cited by 10% of hiring managers surveyed as one of the top deal breakers for job applicants, according to a recent survey conducted by the Harris Poll for CareerBuilder. While 10% may not seem like much, it's often the difference you need to beat the competition (who may have submitted resumes similar to yours, but with no cover letter in sight).
Always include a cover letter unless you are specifically asked not to. While a resume should list all the job experience, education and skills that make you a great candidate, it doesn't give you an opportunity to speak directly to the hiring manager. The cover letter does, and that's why it's so crucial.
For more ideas and inspiration, check out these other relevant cover letter writing guides and examples. 
Best format for a graphic design cover letter
Most cover letters should follow the same basic structure:
Header
Greeting
Introduction
Body
Conclusion
Signature / sign-off.
For detailed advice on each of these, take a look at our comprehensive expert guide on how to write a cover letter.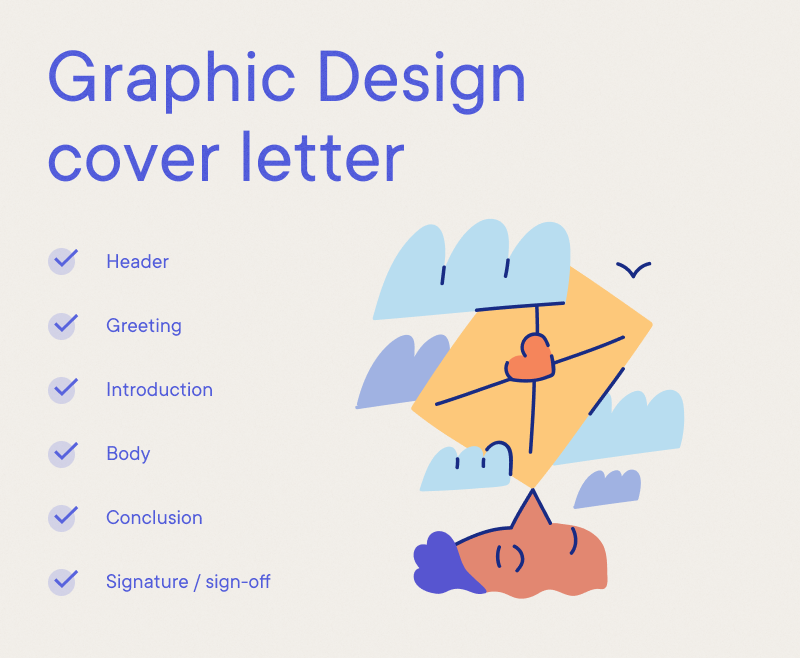 Here are tips for optimizing the impact of each cover letter section.
Cover letter header
Also known as a letterhead, the cover letter header lists your name, phone number, email address and often your snail-mail address as well. Your name should generally be the largest element on the page, and it's usually placed top and center. This shows your confidence in yourself and helps employers remember you.
If you're sending your cover letter by email, don't make the mistake of thinking that your contact information is unimportant because the recipient simply needs to hit "Reply." Your email may be printed or forwarded to a larger team, and your contact info may end up being hard to find. The last thing you want to do is make it difficult for the employer to figure out how to reach you.
In addition to sharing critical contact info, the header should be attractively designed and incorporate ample white space to break up the paragraphs of text that follow. As a graphic designer, you are undoubtedly familiar with the importance of well-spaced text that's easy on the eyes. Your header should reflect your skills in the display of text — though it should never be gimmicky or over-decorated. 
Expert tip
Align document styles
Because you're a graphic designer, we don't really have to tell you the importance of consistency. Your cover letter and your resume should use the same fonts, font sizes and formatting styles, giving them a similar look and feel. This shows that you're well organized, you pay attention to detail and you've deliberately chosen an attractive style and design — your own visual brand. It should be easy to figure out at a glance that your resume and cover letter came from the same person.
Goal of the cover letter header: Stand out from scores of other job candidates with a distinctive-looking header that showcases your graphic design abilities, while identifying who you are and how recruiters can reach you.
Cover letter greeting
The greeting, also known as the salutation, is the "Dear. Mr. Xxxxxxx:" that opens your letter. It's almost always preferable to use a real person's name here. It demonstrates that this is not a mass-mailed cover letter, but that you're actually addressing an individual. 
Also, people like to read their own name. And they are more likely to reply to a letter addressed personally to them than a letter addressed to an entire company, or a department within the company. If the hiring manager is not named in the job listing, sometimes it's worth calling the company to ask for the name of the appropriate person to address. 
In some cases, employers try to obscure the name of the person who makes hiring decisions. If that's the case, respect their wishes and don't go to extraordinary lengths to track down the name of a person who doesn't want to be named.
Adaptable cover letter greeting example
Cover letter introduction
One of the commonest (and laziest) ways to open a cover letter is by saying, "I am writing to express my interest in…." But "I am writing" is a phrase that should be eradicated from all cover letters — your recipients already know you are writing, so tell them something they don't know.
Goal of the cover letter greeting: Make a direct personal connection with the hiring manager in a friendly, professional manner.
The introduction should usually be one provocative sentence that both identifies the job you're seeking and offers a glimpse at your experience and qualifications to fill it. Here is a concise example:
Adaptable cover letter introduction example
In a world, where attention is at a premium, award-winning graphics and show-stopping visuals are key to making customers stop and pay attention to the actual message. My 12 years of experience as a graphic designer have seen customers move onto social media and apps where, if they are not captivated, the swipe of a screen makes it so easy to move on.
Cover letter body 
You've introduced yourself, you have your target's attention, and now you deliver the meat of your letter — the evidence that you are a great candidate for the job. 
The central two paragraphs of your letter should highlight your experience, skills and previous accomplishments in the field. It should be as specific as possible, ideally with statistics to back up your claims. Consider the "STAR" method — situation, task, action and result — for describing challenges you've faced in the past, the actions you took to address them and the positive results you achieved.
Cover letters are expected to be a bit boastful, without crossing a line into arrogance. But remember that this letter is not about why you deserve a job — it's about how you can help the employer solve its problems. 
Use strong action verbs, and where possible use facts and figures — for example, how many magazine covers you designed, how many illustrated web designs you created, or the dollar value of the advertising campaigns for which you managed the design. 
Goal of the cover letter body: Build the reader's confidence in your abilities as an accomplished graphic designer.
Adaptable cover letter body example
Design036 is the only game in town for consumer advertising. Your leading consumer and hospitality clients need to bring their brands to life with arresting visual design, and you need a graphic designer who can translate your creative concepts into graphic reality. I have worked for your national competitors for many years, but after my move to Boston, I want to make your clients swoon with the power and simplicity of my work. I have a BA in Graphic Design and am proficient in all major design, web, wireframe and multimedia software. Working on 120+ graphic design projects every year has led to a deep understanding of how exactly to get my clients' messages across.

Teasing out the best ideas early in the process leads to competitor-crushing success along the line, as these achievements illustrate:
The UX and GUI design of a hospitality website won a national advertising award.
Packaging redesign of a baking brand resulted in a YOY sales uplift of +75%.
Revamping social media visuals for a travel business resulted in +160% engagement.
Playbook for all clients about graphics in SEM led to +21% incremental business.
Typography and style sheets were adopted across 60 clients for my previous employer.
Conclusion and signature
This is your call to action, suggesting that this letter should not be put aside and forgotten, but that some action should be taken as a result.
You may want to ask if you could give the hiring manager a call next week, letting him or her know that you mean business. Or you may want to say that you'd be happy to schedule an interview, or at the very least that you're looking forward to a response. 
Keep this paragraph short, but make your correspondent feel that he or she should take some action as a result of this letter. Exude confidence and determination, though without sounding demanding or entitled. In other words, you are asking for a graphic design job, not demanding one, but it's obvious from your confidence that you believe you are an exceptional candidate.
Aim of the cover letter closing: End with a call to action that encourages the reader not to set aside and forget about your cover letter.
Adaptable cover letter conclusion and signature example
I would love to discuss at an interview how my omnichannel visuals have transformed the fortunes of my past clients. I feel confident that I can do the same for your customers.

Sincerely,
Theodore Martin
The psychology of writing a graphic design cover letter
Psychologists say the human brain operates with a mix of rational and emotional responses, and there's an art to triggering both of these with a simple letter. Emotional responses tend to be quick, unconscious and automatic, but they are powerful because they touch us where we feel, in our hearts more than our heads. But rational responses tend to be slower, more logical and calculating, and you need your target to engage in that kind of deliberation in order to consider hiring you.
Here's an example of writing that appeals to emotion: I am a passionate believer in the power of graphic art to compel people to read print. I always think of readers as my primary clients, and I do everything in my power to connect with them on a personal and emotional level.
And here's an example of writing that appeals to reason: For three years, I spearheaded all aspects of graphic design for more than 200 ad campaigns with a total value to our firm of close to $8 million.
Learn to appeal to both emotion and reason, and your letter will have more impact — and be more memorable.
Tone of voice
Study your target. Learn everything you can about the company you want to work for — what it does, what it doesn't do, what it needs to do better. What kind of corporate culture does it have? How does it talk to its customers?
Study the company's website and social media posts to understand the kind of language it uses and the image it projects. Then address the company in the language and style that it commonly uses.
Graphic designer cover letter if you lack experience
Never fear if you have no experience: Your graphic design portfolio will speak to your talent. Use your cover letter to promote the caliber of your work, and then include a resume link to your portfolio.
Even if you have not held a graphic design job — or any job for that matter — you have skills that make you a great candidate. Play up your graphic design influences and why you gravitate toward graphic art. You also have a host of soft skills, such as attention to detail and the time management finesse that enables you to always meet deadlines. As a graphic designer, you must be able to listen carefully to what clients want and communicate your ideas well. If you don't have experience in a graphic design job, use examples of these skills to apply to reason in your cover letter.
Mistakes to avoid
Here are some pitfalls to avoid in your quest to write a great graphic designer cover letter.
Don't make any English mistakes. Your writing must be impeccable and error-free. Surveys of hiring managers have found that spelling and grammar mistakes on resumes are the most common deal-killers in the job-application process. If your English skills are not outstanding, find an editor to proofread your cover letter draft.
Beware of formatting errors and unusual fonts. Remember that a document you create using the software of your choice on your Mac may look totally different on your recipient's PC when it opens in a different version of the same software, or even a totally different application.
Don't crowd the page. You are an expert in visual design, and your letter needs to reflect that with an appropriate amount of white space and an eye-pleasing distribution of the elements on the page. Do not crowd it with big blocks of wall-to-wall black text.
Avoid word bloat and clichés. Keep your language sharp and focused, never lazy, hackneyed or dull. Look up some resume clichés (like "team player" and "self-starter") and steer clear of them. Use striking and original language, and keep it short.
Expert tip
You won't go wrong if you use the field-tested templates and professional guidance at resume.io. Not only do these templates sidestep formatting traps and bad fonts, but they offer a clean, eye-pleasing design that has been proven to work. Get started by choosing a cover letter template.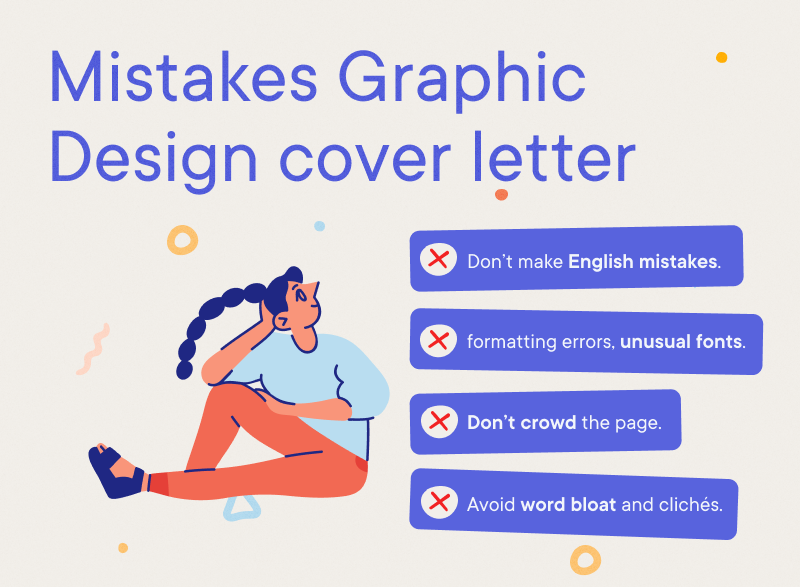 Key takeaways for a graphic designer cover letter
Graphic design employment is expected to rise by only 3% between 2020 and 2030, slower than the overall job market average, creating a limited number of jobs for a growing pool of applicants.
The best graphic design jobs will go to those who make the best pitch with an impressive portfolio, a well-built resume and a carefully crafted cover letter.
This cover letter is your personal introduction to the hiring manager, an "elevator pitch" in writing that makes your case for employment by this company.
This letter is a personal appeal, and it should seek to trigger both rational and emotional responses in the reader.
Follow the proper structure for your cover letter — header, greeting, introduction, body and conclusion — and hold it to one page containing 300 to 400 words.
Adopt an appropriate tone, and avoid spelling and grammar mistakes, clichés, formatting errors and splashy packaging.