If you work in HR, you have likely read a lot of cover letters. Many HR professionals have had recruitment responsibilities at one time or another.  
However, you should be honest with yourself: Do you really appreciate the linguistic and psychological mechanics of writing a winning application letter to complement your resume? It is one thing recognizing a well-crafted cover letter, but when you want to land your next HR role, sitting down and writing one for yourself is another matter entirely. The human resources cover letter gives you the chance to highlight your personality and demonstrate your impact in a piece of free-form writing that is true to who you are.
This guide, alongside our HR-specific cover letter example, will:
Demonstrate the theory behind writing a human-first HR application letter.
Outline the elements of your cover letter format – the perfect blend for your career.
Delve into the essential psychology of how to weave a memorable HR career story.
Write an application letter that will impress even the most discerning of HR leaders.
You are probably wrestling with your cover letter alongside writing your resume, so why not also check out Resume.io's free resources for some additional inspiration? Our HR resume guides, templates and general resume writing guide are a great place to start.
But now let's explore how (and why) to write a perfectly dove-tailed HR application letter.
What does an HR (Human Resources) cover letter look like?
What is the primary purpose?
Many HR professionals find the process of writing their resume frustrating and limiting. The rigid nature of a resume dictates that they have to put their complex and subtle workplace interactions into convenient bite-sized boxes. There isn't much space for their personality.
A cover letter, on the other hand, can be lovingly tailored towards the specifics of why they would be an ideal choice for each specific position. While they might tailor their resume by 5-10% for each role, each application letter should be written from scratch. When you have 200-400 words at your disposal, you have the freedom to let your passion for the job run riot, outline your character, tell the stories of your past successes and show how you would fit snugly into their people agenda. 
Do some research on social media into the hiring manager and the culture of their company, understand what is important to them and put yourself into their shoes. Write the sort of cover letter that they would want to read. Remember that your cover letter will be read alongside your resume, so make sure that it complements the information rather than repeating it. Tug on the emotional heartstrings and write an application letter that will compel your next employer to press send on that email to invite you to the interview.
Expert tip
A great cover letter will always give you an incremental advantage.

It might be the case that your company does not require applicants to include a cover letter, but never assume that this will be the case for other employers. Unless the application process specifically forbids the inclusion of a cover letter, give yourself an additional platform to showcase your people "fit." HR is one of the professions where "human" qualities are paramount, and there is no better place to demonstrate these qualities than in the application letter.
If you seek more inspiration, check out our Human Resources cover letter sample category or other related examples.
Secondary purpose
While highlighting your personal fit is the primary consideration of a cover letter, the opportunity to demonstrate your deep understanding of the role in question (and to convey the specifics of why you would be the perfect candidate) should not be missed.
Any cover letter should aim to finish off the punctuation of your resume with a solid "yes, I get what you need, hire me now" exclamation mark. Pick out the parts of the job description where you think that you will have a unique advantage over other candidates and include the sorts of details in the body of the letter that truly set you apart. There are many facets to an HR role, so only pick the aspects that are going to be most important to your future employer. It is like that most fiendish of open-ended interview questions: "So, tell me about yourself."
You know that you shouldn't tell them about how you like your coffee or what Netflix series you last binge-watched. You have to answer the hidden part to their question…. "Tell me something useful about yourself that will be uniquely relevant to me (in this case – the employer/company)." After conveying your personality, that is the secondary purpose of any application letter. Together with writing a laser-focused resume, in the game of job search marginal gains, making yourself uniquely relevant will give your application those extra few percentage points of advantage to move it to the top of the priority pile.
You need to walk into that interview room with your future employer wanting to hire you already. A great cover letter can go a long way towards making that happen.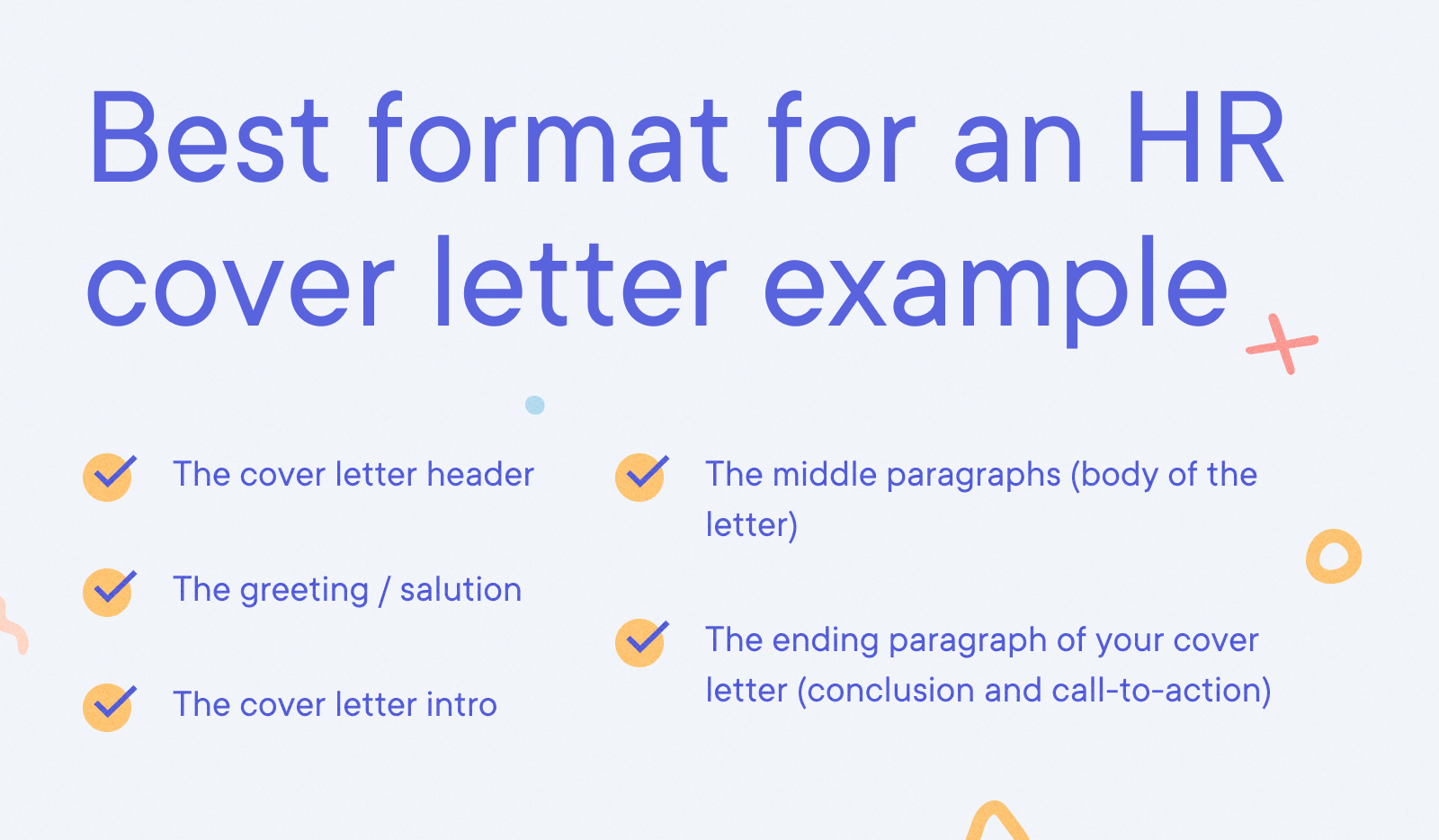 Best format for an HR cover letter example
While the content of your HR cover letter should be uniquely compelling, there are certain expected norms in the structure of your cover letter that it would be foolish to disregard. Make sure that you are on top of the latest industry thinking on the format and maintain a professional flow when you are composing your pitch.
Here are some core requirements:
The cover letter header
The greeting / salutation
The cover letter intro
The middle paragraphs (body of the letter)
The ending paragraph of your cover letter (conclusion and call-to-action)
For an in-depth look at writing each of these sections, as well as free example sentences  –  make sure to check out our overall guide on cover letters.
Our HR cover letter example is a great place to start:
Hello Ms. Fournier, 
I would like to convey my genuine interest in being considered for the Human Resources Director position at the Jansen Group. I have had the pleasure of serving as an HR Administrator for the last several years for two of the busiest staffing firms in New York. I bring forth a wealth of experience and a unique passion for the Human Resources field, where I have found my strengths are most needed and best utilized. I am highly skilled in overseeing HR systems, handling employee relations, and ensuring compliance with all rules and regulations. 
My research tells me that the Jansen Group has earned the "Top Staffing Agency" award two times in the last six years. I am not surprised, as I am well aware of the reputation Jansen has for expending the time and effort to provide clients with the best quality services. 
Is there a time we can arrange to further discuss the value I can bring to the Jansen Group as a Human Resources Director? I hope to hear from you soon about this wonderful opportunity. 
Most sincerely, 
Daniel McCleary
Cover letter header
The innate practicality of the HR role should be reflected in the composition of your cover letter header section. Certain things just need to be done, and done correctly. There is a basic need to provide your contact / personal information. While online applications may be briefer, the header section in a document also provides an opportunity to create a visual "breathing space" before the reader dives into the detail. 
Just as we take a few milliseconds before we truly engage in a conversation, when we read a piece of text it is not uncommon to skim past the first few lines. Taking a few seconds to scan a letter header (and the physical space that it occupies) will mean that the reader of an application letter is really concentrating when they get to the good stuff. In reality, they will only really read it properly if they are interested in your application, but all the essentials need to be there. You don't want them emailing you to ask for your mobile number or phoning you to ask for your email. Make the process of hiring you as easy as possible.
The aim of this part: provide your basic details, put your name in your email address, provide a visual pause before the real reading begins.
Cover letter greeting
Those critical couple of words to greet your reader at the top of the cover letter can set the tone for how the rest of your letter is received. 
If you get it right, the reader will move on without a second glance, but if you get it wrong their dissonant thoughts might linger in an imperceptibly negative place for longer than you might wish. Subconsciously, they might be wondering why you couldn't greet them correctly. Just as someone might be called Dan but never Daniel, no one likes it when you get their name wrong.
Understand the culture of the hiring organization, and while "Dear Mr. / Mrs. Surname" will likely be the most prevalent option, "Hi First name" might sometimes be a better option to fit in with the team. Having said this, err on the side of being respectful. Investigate to whom you should be addressing the cover letter – show that you have done your research and understand the pros and cons of addressing it to the hiring manager or the internal recruitment contact. You might decide to address it to both parties, which is a valid approach. Our cover letter sample text uses "Dear Mr. Marshal." Notice it only has one "l." Always double-check the spelling of the person's name before you hit send. You don't want to start out with a faux pas.
Pause and ask yourself how your HR peers and colleagues would like to be greeted. Try to avoid the overly formal "To Whom It May Concern" if you possibly can. If you really aren't sure to whom your introduction letter should be addressed, try to choose a warmer combination of words and include the name of the company to make it a little more personal, for example; "Dear Resume.io team" Never underestimate the power of starting off any communication with someone's name.
The aim of this part: set the tone for a personal "conversation" by addressing the reader by name where possible; judge required formality by considering company culture.
Cover letter example text for a greeting
Cover letter introduction
While it might seem impossible to condense your career into a two-page resume or a 400-word introduction letter, the thought of writing a powerful introductory paragraph (or just one sentence) is enough to send many of us into a cold sweat. 
In actual fact, many HR professionals will know exactly what they want to say. In a hugely demanding profession, it is their reason for getting up in the morning, what they are most proud of, and the reason why they want to be employed. That introduction, their essence, should flow easily onto the screen. Make sure that you project a combination of people-orientation, business smarts and organizational effectiveness.
Our cover letter example opens with a strong sentence showing that the applicant understands the company, what it needs and how he will proceed: "I will help your team to flourish during your global reorganization by focusing on people, process and profits."
The aim of this part: share your why, grab attention and make it a "wow" moment.
Adapt this cover letter example for an introduction to suit your needs
I would like to convey my genuine interest in being considered for the Human Resources Director position at the Jansen Group. I have had the pleasure of serving as an HR Administrator for the last several years for two of the busiest staffing firms in New York. I bring forth a wealth of experience and a unique passion for the Human Resources field, where I have found my strengths are most needed and best utilized. I am highly skilled in overseeing HR systems, handling employee relations, and ensuring compliance with all rules and regulations. 
Cover Letter Body 
If the introduction awoke their interest, the main body of the letter should appeal to their reason and excite their emotions. Like any good story, you want the hiring manager to feel compelled to read it again to soak up the detail and see what subtleties they missed.
If you have thought enough about the role in question, you should be able to craft a narrative that shows how your skills and experience make you the perfect match. After your killer introduction, your professional achievements and qualities will drive the narrative. If you share a balance of soft and hard skills, quantifiable achievements and evidenced behaviors, they will want to read your resume that little bit more carefully.
It goes without saying that the body of any HR cover letter should contain its fair share of quantifiable achievements as well as softer descriptions of behavior. HR people make a difference to their employer's bottom line in so many ways, so don't be shy to share your personal impact on growth and profitability.
The aim of this part: Focus on those aspects of your career that matter most for the role in question, build a compelling case, make them want to linger over your resume.
As an HR professional, you know that bullet points make your job easier. Our cover letter sample gives you an idea how to use them in your application:
Cover letter sample
An interview at Binder would provide an opportunity to discuss my HR-highlights:
Shaped HR policy for the Mexico team, who were growing by 45% year-on-year.
Managed a redundancy and outplacement process for 630 employees.
Streamlined HR costs and processes, shaving 8% off the annual HR budget.
Cover letter conclusion and signature
Imagine that the conclusion of your cover letter is like the parting lines of a sales presentation to an audience that has yet to show any reaction to your pitch. Tread carefully. You can't be so arrogant to assume that your words will be well received, but you should be self-assured enough to be confident in your message. Let them know that you have done your homework and that you think that you will be able to do a good job for them.
Leave them with one last tantalizing thought about why they should hire you and then do what any good salesperson does – include a call to action. Tell them that you would make yourself available for an interview at any time, share a link to your blog if they want to find out more about you, or just let them know that you hope they enjoy your resume.
The aim of this part: finish on an upbeat note, be confident but not presumptuous, leave the hiring manager wanting to find out more.
The cover letter example offers one way to conclude and request an interview:
Is there a time we can arrange to further discuss the value I can bring to the Jansen Group as a Human Resources Director? I hope to hear from you soon about this wonderful opportunity. 
Writing psychology – cover letter tools and strategies
There are certain must-have ideas / emotions to include in any HR introduction letter:
Cultural fit: a company's culture is driven by the personalities and behaviors of its HR team. Your cover letter will invariably convey an insight into how you go about your work – make sure that it aligns with how your future employer does things.
Judgment: HR professionals make countless decisions every day which invariably have repercussions for other people. Sound judgment and critical thinking skills are crucial to ensure that you have a positive impact.
Balance of feelings and logic: No one wants to make someone redundant, but sometimes the situation demands it. Sometimes the most unlikable person can be the best employee. In HR, short-term pain often means long-term gain. Sometimes you have to ignore your immediate feelings and let logic win the day.
Professional attitude: When you are dealing with people all the time, anything but an intensely professional approach is not good enough. In HR, you are the guardian and gatekeeper of careers and livelihoods.
Conveying the concept of likeability
HR professionals need people to talk to them, open up to them and be honest with them. They would never get under the bonnet of what is going on otherwise.
In order for other people to involve them in their problems, being approachable (some might also say likable) is important for many HR professionals. The typical image of the "HR dragon" who rules her domain with a fist of iron is long outdated. Likeability is in demand. The CEO of Likeable Local, Dave Kerpen, has long been preaching the importance of likeability in business for the past decade and while it is important to convey a sense of likeability in any job application, for a professional that works with other people every minute of the day likeability is a crucial factor.
But how do you convey likeability in an application letter? Keep your language warm but professional – no one wants to work with an HR robot. Show that you have empathy for your colleagues and that you prefer the carrot to the stick (unless the stick really is required). Demonstrate how you revel in developing those around you and take pride in helping others to grow. Let your employer know that you have a sympathetic ear and a big heart.
It is eminently possible to kindle a spark of likeability in your cover letter and while you will be able to go a lot further than that during your interviews, it is nonetheless important that you have a thread of humanity and likeability in your cover letter and resume.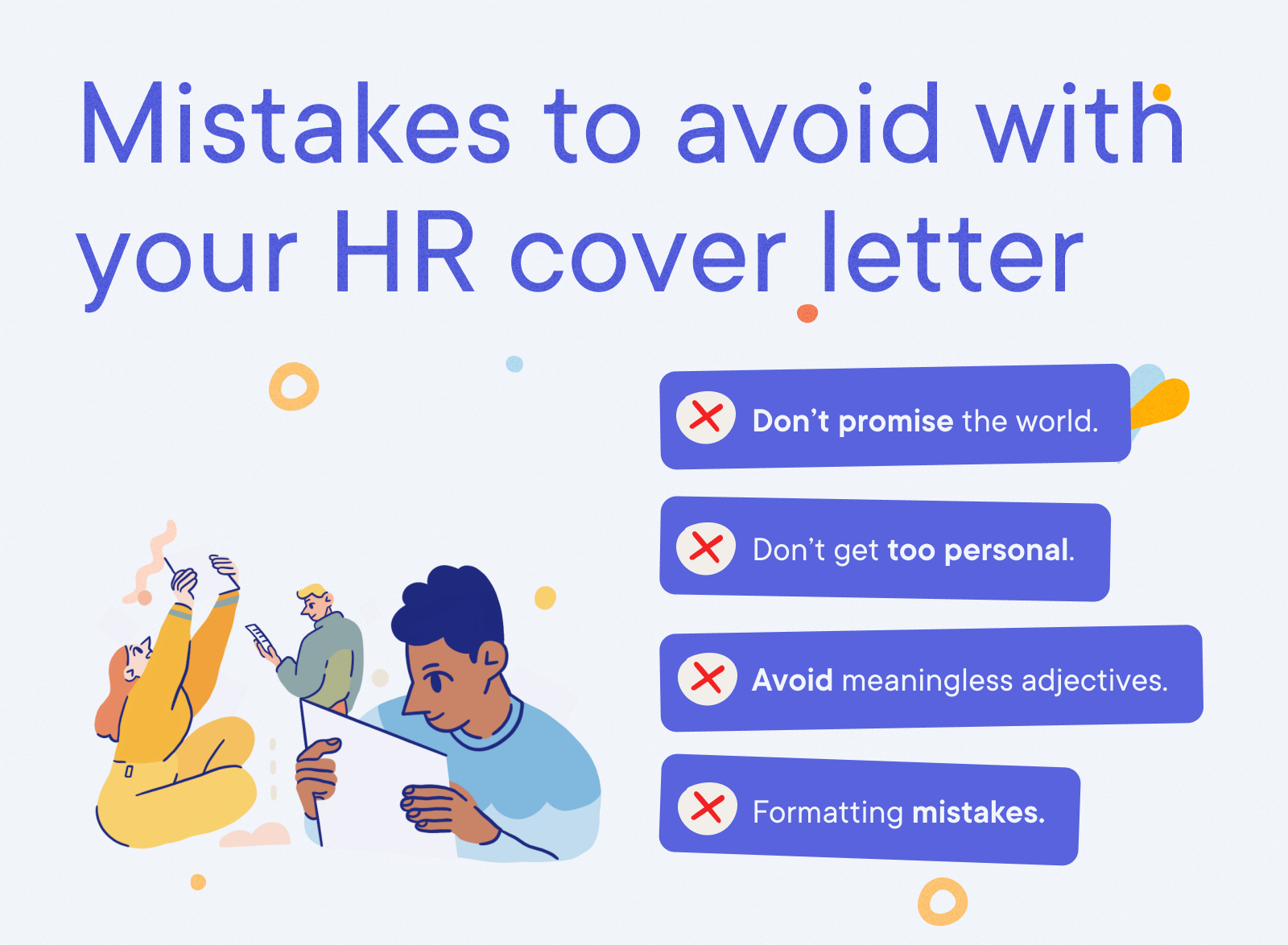 Mistakes to avoid with your HR cover letter
Some HR professionals might risk getting carried away with the content of their cover letter and slip into some common mistakes. For someone who should know better, this is unforgivable, so no apologies for sharing some of the more obvious things to avoid:
Don't promise the world. Employers don't always understand the nature of their issues themselves, so adopt an inquisitive tone of curiosity rather than an all-conquering "I am going to solve all your problems." Describe your past to give context but realize that your experience may not be their experience.
Don't get too personal. You likely don't know the hiring manager, so don't be overly personal in the tone of your letter. You might establish a cordial relationship  after a week or two, but to start with a professional "distance."
Avoid meaningless adjectives. With the limited real estate of a cover letter, going overboard on adjectives will make the reader think that you have nothing of substance to say. HR has a bad reputation as being fluffy and "nice," but you need to portray yourself as a people-oriented achiever. You can convey that with your stories – meaningless adjectives won't do the job.
Formatting mistakes. Attention to detail in HR is critical when you have the well-being of your people at stake. Make sure that your spelling has been checked, your grammar is on point and your fonts are consistent. If your summary is written professionally, that will reflect well on your candidacy.
Key takeaways
Make sure that your HR cover letter impresses even HR people. That is a tall order.
Complement the information in your resume with an emotional and likable story.
Show that you understand the role and demonstrate your fit with valid examples.
Demonstrate your professional judgment and balance of left-right-brained thinking.
Don't make the basic mistakes that you know HR people hate to read.
With resume.io, your cover letter can become a perfect foil for your resume. With this dual strategy, the job is as good as yours.