The shape of the global workforce has changed significantly over the past decade, with companies bringing in external consulting expertise on demand like never before. The "gig economy" could describe Uber drivers and Deliveroo couriers, but at the high end there are tens (and maybe hundreds) of thousands of consultants and interim professionals.
If there is a challenge for a business that they do not have the resource to handle internally, there is a pool of awesome external talent waiting in the wings to come to their rescue. The challenge for a consultant when they write their consulting resume and cover letter is the need to work out just how to package up their vast and diverse experience.
They have always done what has been required in the specific circumstances of their past employers, but without knowing the demands of their future employer in detail, they are writing their applications in the dark. We will explore some ways of shining a light on the process to make any hiring manager take notice.
This guide to writing an incisive consulting cover letter will:
Talk about the considerations of making sure that your experience fits their needs.
Explore the intricacies of the cover letter format – what will be right for you?
Look at the psychology of why consultants are hired and how you sell yourself.
Create a letter that makes you think: "did I really do all that?"
Most people write their cover letter alongside their resume, so check out Resume.io's free resources for some additional inspiration. 
Now it's time to begin. What should an amazing consultant include in their cover letter?
Best format for a consulting cover letter example
There are certain job search norms to writing a cover letter that have been tried and tested over the fullness of time. You would be foolish to ignore them. While you might want to spend the majority of the piece waxing lyrical about how much you saved an employer, how you increased their sales, or how you introduced a new technology, it is important to leave a rounded impression. Give them a taste of different aspects – experience, personality and fitness for the role.
Here is the suggested structure:
The cover letter header
The greeting
The introduction
The letter body
The conclusion
The signature / sign-off phrase.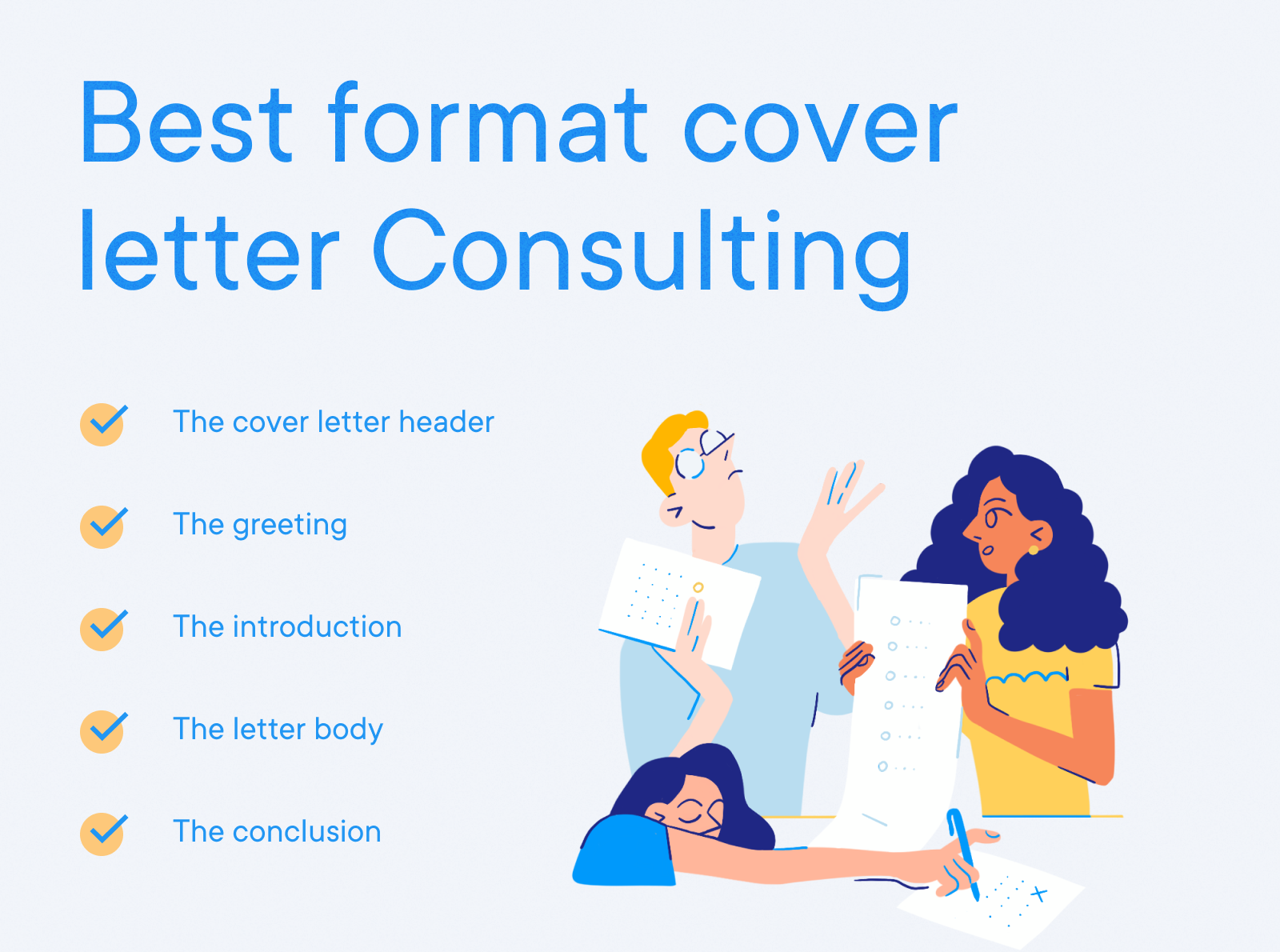 For an in-depth look at writing each of these sections, as well as some free example sentences, have a look at our overall guide on cover letters. If you need more guidance or are considering broadening your search, investigate our related business and management cover letter examples: 
If you're looking for more ideas, check out these related business and management cover letter samples:
Cover letter header
Consultants are expected to be proficient at influencing at high levels, so any mistakes in gauging the required formality of the application letter header will be viewed harshly.
Make sure that it is easy to find your contact information at the top of the letter. In the world of social media this might seem superfluous, but not everyone is surgically attached to their LinkedIn profile, so make it easy for a reader to get in touch with you.
Depending on the industry, some consultants might cultivate a strong personal brand and curate their own website. There is nothing wrong with including this in your contact information, but only do it if you are sure that there would be relevant information there for your particular client.
The aim of this cover letter element: get the basics spot on, think about maybe including a relevant personal website, provide a mental break to reset before getting into reading.
They will only have a certain amount of time and mental headspace to spend in considering your application, so make sure that they aren't wasting it on trawling through an irrelevant website. No matter how fascinating your blogs are, if they are not directly relevant to the job in question, they are stealing time that could be spent reading your resume in more detail.
Lastly, there is a psychological consideration. It is vital that the reader is "present" as they absorb what you have written – the header section offers a chance to pause and direct their thoughts. When there are a million and one things going through their heads, the boring necessity of a header makes them stop and settle in the job search starting blocks.
What comes next is therefore important: the first paragraph that you want them to read needs to create that critical amazing first impression.
Cover letter greeting
There are certain things that you should simply "get right" in your job search: don't be late to an interview, call them by their correct name, don't use emojis in your emails… the list is long and for the most part obvious.
Getting the greeting of the letter right is right up there. It might be obvious, but no one likes it when you get their name or preferred greeting wrong.
Understand the culture of the hiring organization, and while "Dear Mr. / Mrs. Surname" will likely be the most prevalent option, "Hi First name" might sometimes be a better option to fit in with the team. Having said this, err on the side of being respectful.
Most importantly of all, think about how you would address your partners and colleagues in your normal work. Follow these guidelines and you won't go far wrong.
There is a power in starting off any communication with someone's name. Use it.
The aim of this section: Set the tone of your job search process. Getting it right won't really be noticed but getting it wrong could set alarm bells ringing.
Adaptable cover letter greeting example
Cover letter introduction
Consultants can bring a whole host of different benefits for their clients. Their projects will have an impact on all sorts of areas of the business and their legacy will be felt long after they have moved on.
It is therefore more difficult for them (than most) to come up with a pithy one-liner or short paragraph to introduce the letter. Getting to the crux of their value is always the hardest thing to do, but it is essential to do in the greeting if they want to hook a potential client.
As with any correspondence, the information that they choose to share will be interpreted as the very best information that is on offer. If the opening line is weak, the reader will assume that there is not much more to come and may well even stop reading.
Go with the big guns blazing and excite the reader.
Notice the first introduction sentence in this cover letter example text. Don't you want to know how the writer saved that much money for the client? When you save a client $2.3m on a $30m spend, there are many impacts on a business. 
The aim of this part: You should aim to sell yourself like no other candidate can – in one or two short sentences. No pressure.
Adaptable cover letter introduction example
When you save a client $2.3m on a $30m spend, there are many impacts on a business. I did exactly this at Bift Forwarding - optimizing their routes, centralizing their purchasing and rationalizing their supplier base. Employees had to start working in different ways and the strategy of the business took on a new dimension.
Cover letter body
For a consultant, the cover letter body is a bit different. Because they are coming in to do a specific job, an impactful cover letter should focus more on the specific projects that they have delivered in the past that are relevant to what will be required in the job in question. You should still include aspects of your personality and the fit for the company culture, but this is secondary to showing that you have the ability to do the job in hand.
Think long and hard about the sorts of projects that you might be asked to undertake (although this should be obvious from the job description) and include 2/3 examples of what you have done previously. Talk about the issues that you faced and how you solved them.
A last consideration for the body is to include some financials and performance metrics. If you cannot give a quantifiable indication of your value, doubts will quickly appear. Putting a number down in black and white shows that you adopt a target-driven and commercial approach. Being a consultant is the ultimate results-oriented profession. 
The body of your cover letter has to scream: "success."
This cover letter sample text details the writer's experience and tells the hiring manager that a solution will be offered: I have run audits, managed RFP processes, analyzed needs, assessed vendors and reduced costs for some of the biggest names in supply chain. Logistics is a traditional industry in terms of maintaining the status quo of vendors and processes, but modern technology has transformed the potential for optimization. I understand how your business is structured and I know that there are least three projects to make a difference to your profitability.
The purpose of this cover letter body: Think about the projects that you would most like to talk about during your interview and steer the conversations in the way that you wish.
Adaptable cover letter body example
With a joined-up procurement approach, every part of the business benefits. When logistics cost savings are thoughtlessly pursued, reliable suppliers can be cast aside and already efficient processes discarded. 16 years in logistics consulting have proven to me that a sledgehammer approach can only bring delay and confusion.

I have run audits, managed RFP processes, analyzed needs, assessed vendors and reduced costs for some of the biggest names in supply chain. Logistics is a traditional industry in terms of maintaining the status quo of vendors and processes, but modern technology has transformed the potential for optimization. I understand how your business is structured and I know that there are least three projects to make a difference to your profitability.

I could translate the following successes to your operation:
Optimized route planning to save 8% on transit time and 12% in total transport cost.
Audited the spend of a $22m logistics provider - $1.5m cost savings across five areas.
Re-negotiated service level agreements with 180+ global suppliers during my career.
 
Being adept at involving every section of the business is key to squeezing the potential out of any change project. Whether presenting to the board or chatting to the guys in the warehouse, every part of the machine matters equally.
Cover letter closing paragraph
The parting line of a consulting cover letter should center around the importance of leaving a good final thought / emotional impression. This is where you provide a Call To Action which leads to an interview or further contracts and cooperation. Any consultant can come into a business, be paid an inordinate amount of money and then leave after they have made a mess. The best consulting professionals make an impact that lasts long after they have left and the receptionist has forgotten their name.
Leave your future employer with one last thought: if they hire you, they will be investing in the future of their business for years to come. That might make your remuneration demands a little easier to swallow and it will certainly start off any interview on a positive note.
End with a call to action, just like this cover letter sample text does: I would love the opportunity of an interview to discuss how my procurement approach could help you at Risden Freight.
The aim of this part: Finish on a future-looking note and be confident in your ability to bring about beneficial change. Show that you are invested in their future success.
Adaptable cover letter closing paragraph example
I would love the opportunity of an interview to discuss how my procurement approach could help you at Risden Freight.

Sincerely,
Tina Gotsch
Writing psychology – application letter tools and strategies
Any consulting professional should be adept at influencing others with their communication skills. There are certain psychological moments that should be considered in a cover letter. Without getting a sense of these four attributes, no employer will feel confident inviting a consultant to an interview:
Strategic mindset: every consultant should understand the long-term ramifications of their actions. Their job is to guide their employers along a given roadmap, implement tactical measures to get things on track, but always have a final destination in mind. Demonstrating strategic thinking is a must.
Commercial awareness: Your employer needs to be reassured that you are a safe pair of hands with the figures. Most consulting assignments will have a financial element, so make sure that your cover letter ticks the commercial boxes.
Team player: Consulting professionals rarely work in a vacuum. They might have great ideas, but it is often the case that these ideas will have to be implemented by others. Influencing skills and people management are the hallmarks of a great consultant. You are a critical cog of a much bigger machine.
Mistakes to avoid in your consulting cover letter
While the content of your application letter is the most important consideration, there is always the danger that you might become too focused on the message and neglect some of the basics. It is surprising how many of the following basic mistakes are made:
Don't exaggerate. Much as you might want to paint the rosiest picture of your experience, don't mention anything that won't be corroborated in a reference. Exaggeration in any part of a job application is a dangerous pursuit.
Maintain distance. You probably don't know the hiring manager personally, so make sure that you keep the tone of your application letter formal. You might be friendly, but make sure not to be overly familiar with your language.
Don't use too many adjectives. A one-page cover letter might seem like a lot of job search real estate, but in reality, you should only be looking at 200-400 words and with the amount that you will want to say about yourself, extra adjectives should be chosen carefully. They can add an extra layer of meaning, but make sure that the content itself is meaty enough in the first place.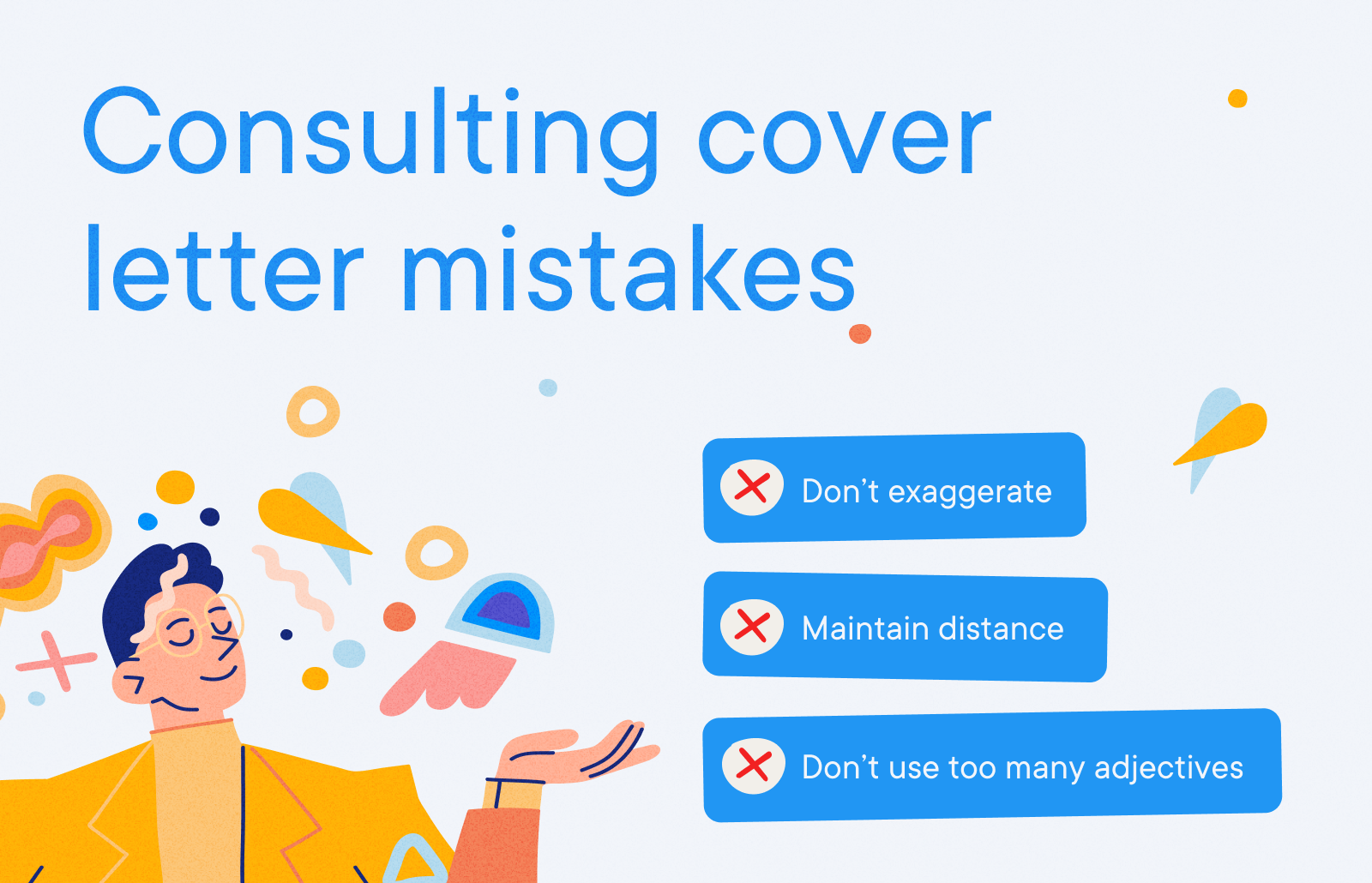 Key takeaways
Base your application letter around your previous successful projects.
Weave a story around your successes and how you achieved them.
Make your examples relevant to the sorts of projects that you will be taking on.
Focus on your strategic thinking and commercial awareness.
Talk about your process orientation and how you replicate your success.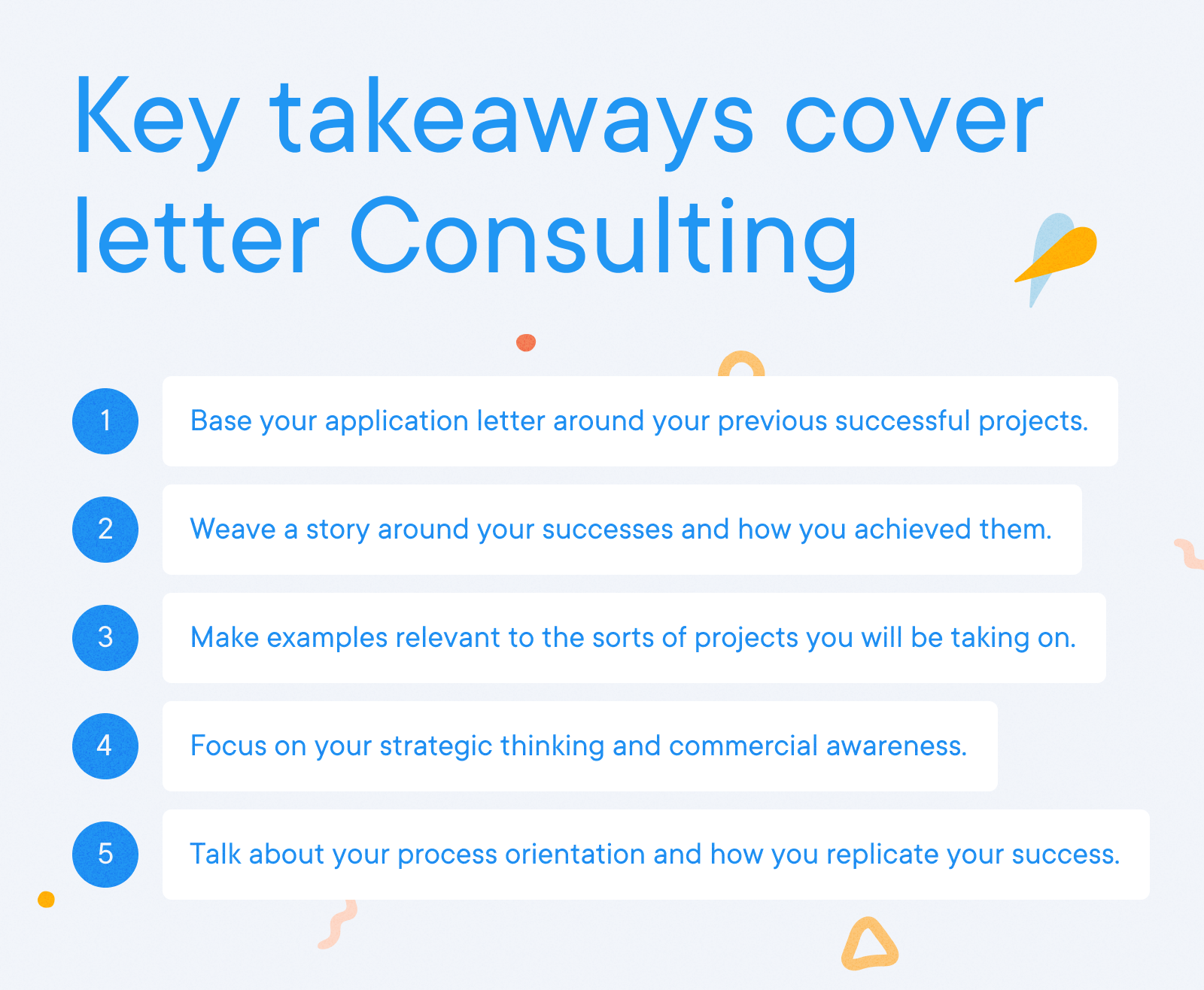 With resume.io, you can construct the ideal cover letter to accompany your stunning resume. In the challenging current job market, both need to be perfect. Get started now and have an amazing cover letter (and resume) ready in no time at all!