Whether you are at the beginning of your college career or coming to the end, applying for a job while you are a student is never straightforward. You may be leading a dual life of books and partying, but a potential employer needs to see a different side.
As the reality of a looming long (and hopefully prosperous) career starts to bite, you realize that every job during college is a stepping-stone to what comes next. Be deliberate in which jobs you target and create a compelling story that binds together your core skills and interests. There are plenty of jobs open to students, but which is the right job for you?
The college cover letter should go much further than the functional resume. When your resume will likely only be one page, the cover letter offers a more free-flowing format. What do you want to write there? Well, there is a lot of flexibility.
First, you need to do your research and have a think. What sorts of student jobs would fit with your future career? What skills will you need to acquire for your post-college employment? What do you enjoy doing? What did people in your future field do when they were in college? Thanks to social media, all this research is at your fingertips.
We have a wealth of job search resources to share with curious college students. Our library of cover letter examples covers a range of professions and may well be useful as you think about the content of your college cover letter. From a practical standpoint, in this blog and the college cover letter sample we look at the following considerations:
Selecting the best format for the demands of a college cover letter.
How to tell your college job application story in each section.
Writing a college cover letter when you have no experience.
The basic mistakes to avoid before you press the send button.
Best format for a college cover letter
Every college student understands the value of a tightly structured argument. Hiring managers will be reading a large volume of cover letters, so you need to get to the point and convey your message with maximum clarity. They are not in the room with you, so make sure that your points hit them right between the eyes. The format of an effective college cover letter looks like this:
The cover letter header
The greeting/salutation
The cover letter intro
The middle paragraphs (body of the letter)
The ending paragraph of your cover letter (conclusion and call-to-action)
The most important thing to remember is that the college cover letter should be relevant for the role in question. You may well have your ideal "job search story," but if parts of it are irrelevant to the hiring manager, they will likely not invite you to an interview. Pick out the parts of your experience and personality that will be of interest to them.
Writing a cover letter is no simple matter. When you sit down to share your career objectives and justify your application, you might be surprised at just how hard it is to distill your thoughts into something truly compelling. Our comprehensive cover letter guide offers some general advice on how to approach it.
Here is a college cover letter sample to set the ball rolling:
 
Adaptable cover letter sample
Dear Mr. Vallant,
I am currently in the final year of high school and am looking for an entry-level weekend role to see me through college. I have experience in the gardening and landscaping sector and would relish the chance to serve customers at your garden center.
I am prepared to get involved and do any duties that are required of me. I understand that there is a lot of physical work involved with moving stock and arranging displays – as a keen sportsperson I would enjoy the physical challenge.
Consulting with customers and helping them make the right decisions is something that I have witnessed during my landscaping experience. I have taken on board much of the advice and look forward to building on my knowledge. Customers come to a garden center for solutions as well as products. As a marketing student, I always seek to find the most effective method of communicating with someone.
Several of my college friends have worked at your garden center previously. From all their positive impressions, it is the mix of experience and youth amongst your staff that attracts me the most. I am keen to learn from your amazing team.
My side interest in marketing technology and software may allow me to offer some ideas in terms of how you track the needs and habits of your customers. This is a project that I know is high on your agenda and I believe that I am well-equipped to help. I would welcome the opportunity of an interview to discuss this further.
Sincerely,
Amy Sanders
Cover letter header
The college cover letter header should contain your basic contact details – full name, email, and phone number. Don't be tempted to include any social media details unless you are going into marketing or sales. Your LinkedIn profile likely won't be very impressive at this stage. If an employer wants to check out your socials, it won't be too hard to find you.
Secondly, take care not to include your full postal address. Just city and state will be fine. There are data protection issues here. Including the address of the employer is only for the most formal of applications – just write the name of the hiring manager and their position.
Cover letter greeting
The greeting for a college cover letter should be no different from any formal letter that you might write. Avoid the impersonal style of email that you may be used to. Respect convention and start with a standard "Dear Mr./Mrs. Surname."
It may be that the recipient of the cover letter was not shared in the job description, so you can either opt for a friendly "Dear Company Team" salutation or maybe show some initiative and give the company a call to ask. Only include the name if you are 100% sure that this is the person interviewing you. You can address it to either the HR representative or the hiring manager – preferably the latter. 
Cover letter introduction
When you get to that vital first introductory paragraph, pause to think before you start writing. The first few words of a cover letter can flow onto the page. You need to be mindful that you are sharing the right message.
For a college cover letter, a blend of your previous part-time work experience and your career objectives will work well. Employers of college students want to feel that they will be motivated by something greater. The job itself likely won't be your end game, so tell the employer why it is important in the bigger scheme of things.
Adaptable cover letter introduction example
Dear Mr. Vallant,

As a student of organizational behavior and occupational psychology, I relish any opportunity to explore the human condition. Working as a research associate in your HR consultancy would offer a fascinating real-life perspective to my studies.
Cover letter middle part (body)
There is a temptation for a college student to fill the middle part of the cover letter with their academic excellence. While academic success tells a worthwhile story, a hiring manager needs to know more. Where you are studying, and your expected level of qualification is enough for them. They need to understand the fit with the role in question.
If you have not got a lot of work experience, this takes some thought. Pay close attention to the job description and only expand on those areas of your resume that demonstrate your suitability. If they feel that their role is a logical next step in your career path, it will not be hard to imagine your motivation.
It is likely that your college will have a careers department or advisory service that could offer you some guidance. There is nothing like talking through your career plans with an expert and while many students can't afford a careers coach, most colleges do help their students to transition to the work of work. Trust their advice.
Make sure that the tone of the cover letter's middle part is hopeful and optimistic. Coming across as somewhat ambitious is no bad thing – you want to develop, after all. Many other college cover letters will be factual and overly formal. Be warm and personable.
Adaptable cover letter middle part example
During my work at college, I have led several successful industry research projects. I am used to working within a corporate setting and know that occupational psychology only achieves a breakthrough when participants understand what the outcomes mean to them. Your practical approach is exactly how I have run my previous studies – one of which won me a Young Achiever Impact award from the local chamber of commerce.
My research has spanned seven different industries, with projects ranging from 2,500 to 45,000 employees. I am enclosing a link in my resume to my portfolio and academic papers. 
While there are several relevant aspects of my experience for a role with LaneTech, it is my work with change management that is most impactful. I spent a year looking at the challenges of performance management after a $41m business merger. This is the sort of work that I hope to replicate with your clients.
I am also enclosing several references from both academic and corporate sources. While my healthcare experience remains rather limited, I am keen to broaden my experience in the medical devices and pharmaceutical industries. I believe that I have the transferable skills to bring a new dimension to your undergraduate research team.
Expert tip
Passing the ATS test matters – even for a college student.
While you might think that applying for a college job is an informal process, if you are applying through the normal recruitment channels at any medium or large company your resume and cover letter will likely first be processed by an ATS system before they get to a hiring manager.
When it comes to passing the Applicant Tracking Systems (ATS) test, be mindful of the keywords that you use in your cover letter and try to use some of the language from the job description where appropriate. Don't go overboard.
If you want your speculative application to be read, it may be better to contact the hiring manager directly on social media first. Such cold outreach has mixed results, so consider giving them a call to improve your chances. If you have something to contribute, they will be glad to consider your case.
When you are nearing the first draft of your cover letter (especially the critical middle part), it is worth getting a second opinion from older students or pastoral support from the college. They will be well-versed in what a good college cover letter looks like.
How to close a college cover letter (conclusion and sign-off)
Every college student knows that the conclusion is where the reader will slow down and weigh up what they have just read. They have got to the end of the letter, so share one last compelling message. Then get to the point of the correspondence: you would love to meet them to find out more during an interview.
An effective cover letter is an introductory piece of communication that will be supplanted in the minds of a hiring manager by the substance of an interview, but you have to get to the point first. So many college cover letters will be deleted without action because they do not compel the hiring manager to invite the student for a chat. Tell them that you want to take this next step – don't be shy. A polite call to action will accompany any sales pitch.
Adaptable cover letter conclusion and sign-off example
I would welcome the opportunity of meeting for an interview and finding out more about your research priorities for the coming year.
Sincerely,
Amy Sanders
College cover letter with no experience
You may not have much work experience, but you will certainly have enough life experience to excel in a college-level role. The key to a college cover letter with no experience is to frame what you have in such a way that it proves your potential. If you do not try to do this, the hiring manager will question your motivation.
It may seem like a fudge, but do your best to achieve the following:
Share what you have learned in your part-time jobs and internships.
Show an understanding of the role and what it takes to succeed.
Demonstrate that your personality fits the company culture.
Show your results focus by talking about your academic success.
So many college cover letters will focus on individual personality traits and ignore the realities of what the role requires. Paint a picture of the person that you will be when you are doing the job. Leave little to the imagination.
Basic mistakes in a college application letter (and how to avoid them)
Every college student knows the importance of checking their work for errors. Given this fact, any mistakes in your cover letter will be judged harshly. Avoid the following:
Spelling and grammar errors could cast a shadow on your application. Check with software such as Grammarly and ask someone to proofread the cover letter.
Make sure that the cover letter focuses on more than your academics. Your resume is about achievements – the cover letter should be packed with personality.
Don't be too formal. You are a college student, not a board-level executive. Be professional with your language, but err on the side of friendly and conversational.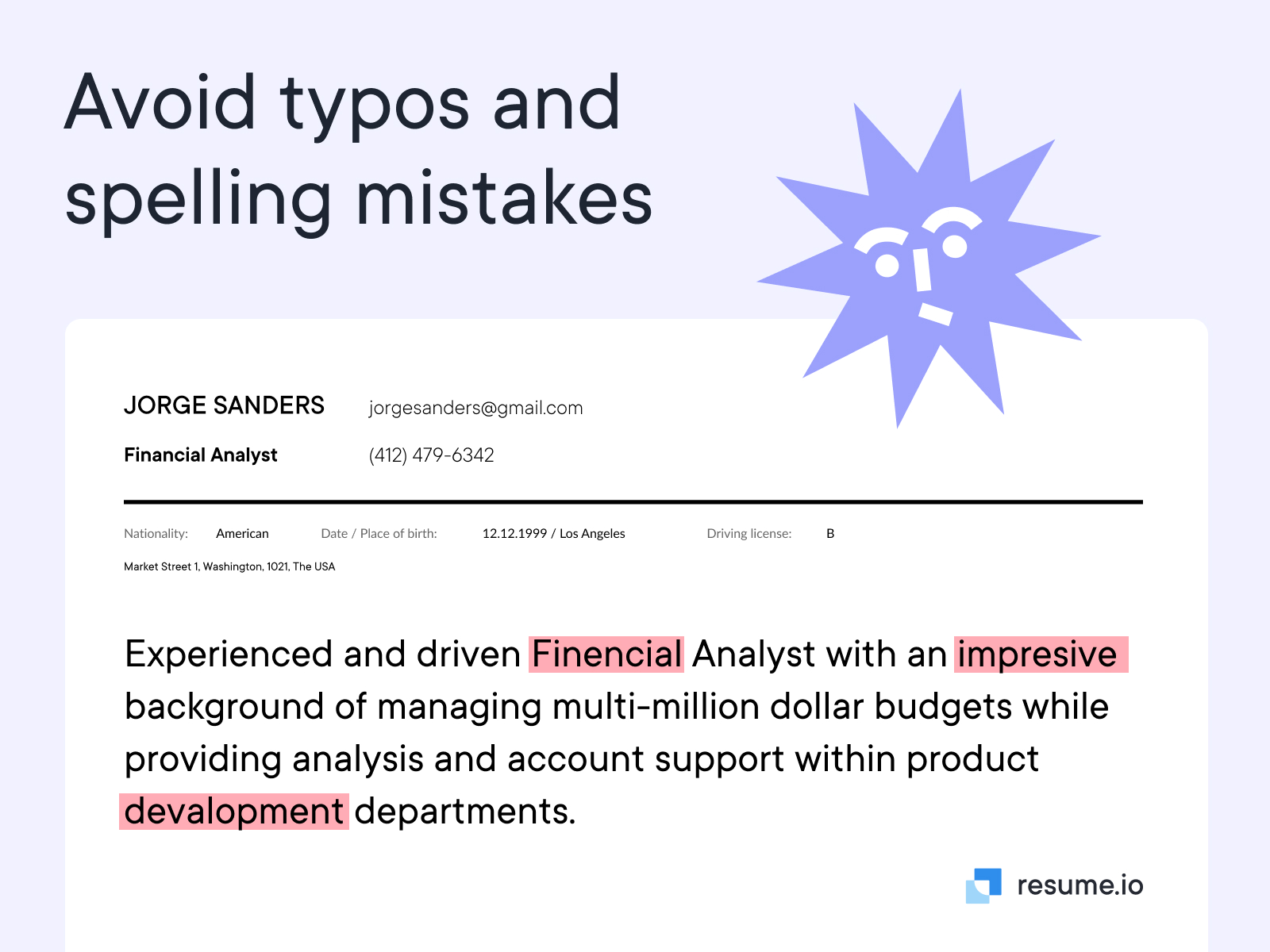 Key takeaways
Every college cover letter should step beyond your academic activity into the world of work. How will you make a difference for your future employer?
Try to include as much previous work experience as possible, but only do so if you can prove relevance for the role in question.
Avoid errors and include enough keywords to pass the ATS test.
Ensure that the cover letter looks great with our cover letter templates.
Read around to get different sources of inspiration. These different examples may offer a useful perspective: