Filling out online application forms can be a real challenge. If you need some advice, you've come to the right place. Here are the most effective tips to help you out.
Ready to land your next job? When you're on the hunt, you need a well-written resume to wow potential employers. But what if the company asks you to fill out an online application form too? Don't panic. We have the expert-backed advice you need. We will be covering the following key points: 
The tips you need to keep in mind when filling out application forms
How long it takes to complete an online application
The best ways to save yourself both time and energy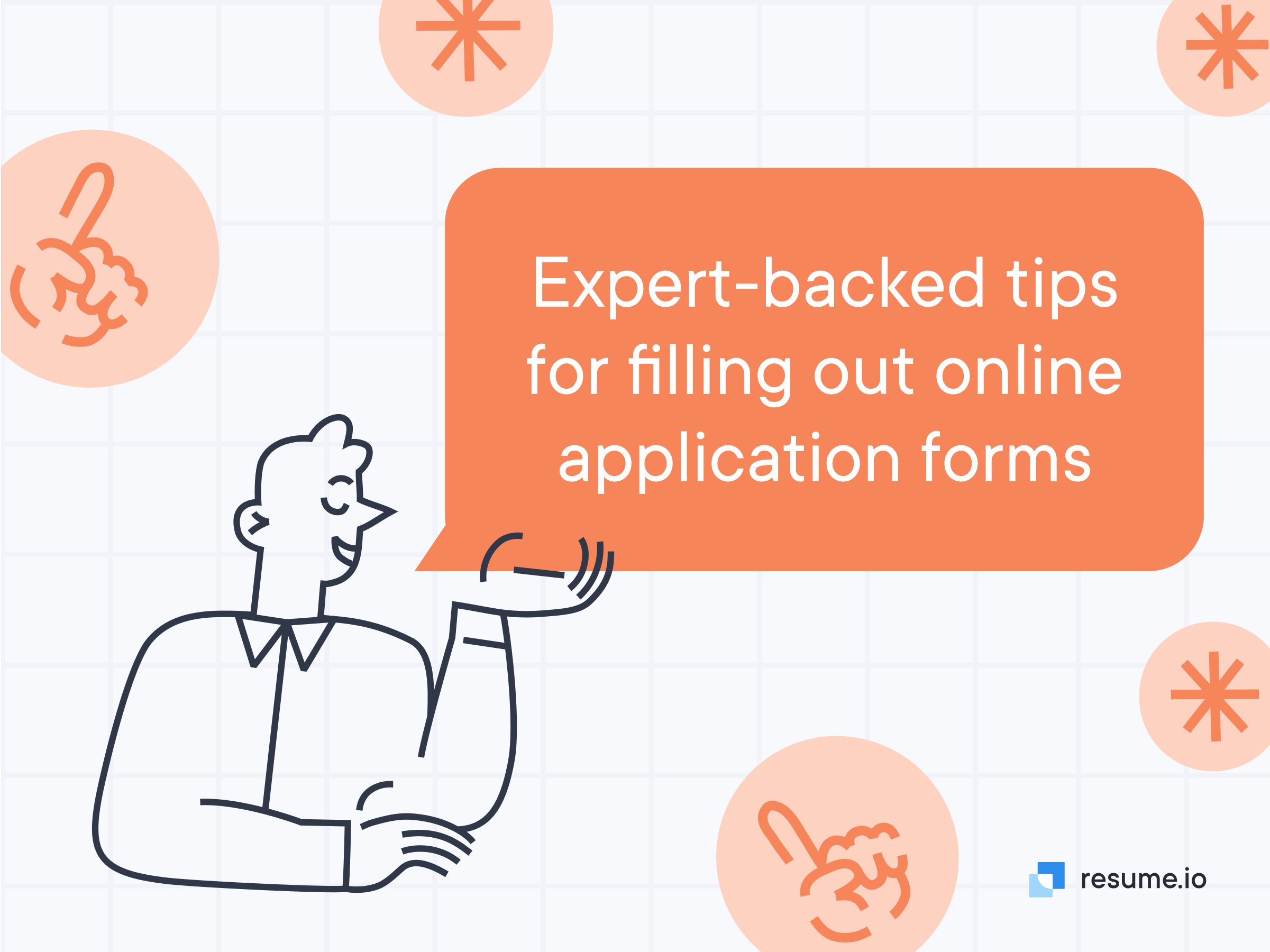 1. Ask whether you really want the job
We won't beat around the bush — filling out applications takes a lot of energy. Before you sit down and get started, you should ask yourself the all-important question: "Do I actually want this job?" Take a close look at the description and the job criteria. 
There's nothing wrong with casting your net far and wide. However, if you don't think that the job would be a good match for you or it doesn't offer the progression you want, you may want to cut your losses. Don't waste your time filling out the form for no reason.
2. Set aside the right amount of time 
Trying to fill out an application form when you're in a rush is a recipe for disaster. Chances are, you will stress yourself out and end up getting frustrated. Before you get started, take a look at how long the application form is — some will be a couple of pages while others may be a little longer. Make sure you give yourself enough time to get the job done. 
Statistical insight
How long does it take to fill out an application form?
Think applications take hours and hours to do? Think again. Two-thirds of application forms take less than 30 minutes to complete. You can certainly find that time to spare. The same research found that only 19% of forms take more than an hour to fill out. 
3. Read the questions carefully 
This tip should be obvious. However, if you're eager to fill out the application form, you might make this all-too-common mistake. When you're reading each question, take your time. Some questions may have more than one part, so you need to ensure that you answer them thoroughly. Start by looking at the question and jotting down some notes. 
You may want to draft an answer and then reflect on the question. Ask yourself whether your explanation covers everything. Have you missed anything? How can you add extra value to your answer? Are you over-explaining your point? Take the time to edit the answer and make sure that it is clear, concise, and easy for the reader to understand. 
4. Save your work in another document 
Technical glitches will happen. When it comes to online application forms, there's nothing more disheartening than the website losing your answers. Your internet may cut out. The site might crash. You might click "Back" when you meant to click "Save". These things happen. And, if you're working in the form itself, these issues will ruin your day. 
One of the smartest ways to avoid this problem is to save your answers elsewhere. You can use a Word document or a Google document. This approach means that you can answer your application questions in long form. You can also edit them. When you have worked through all of the questions and you're happy, copy and paste them into the form.
5. Don't exceed the word count 
Most application forms include word counts for each question. If you're writing your answers in a separate document, take note of the word count. The last thing you want is to write a super long, explanatory answer, only to realize that you have to cut it in half. Save yourself time and energy by making sure you know how long it should be in advance. 
6. Always consider the job requirements 
Never take your eyes off the prize when filling out an application form. Each of your answers should showcase why you are the right fit for the job. To help you get things right, you should keep a copy of the job description next to you when you're writing your answers. Look back at the criteria and tailor each of your answers to suit the requirements.
7. Proofread and double-check the form
You're all done! You've answered all of the questions on your application form. Before you pat yourself on the back, there's one last thing you need to do. There's no sense in spending all of that time working on this application for a silly mistake to ruin your chances. 
Check the application form. Make sure that you've copied and pasted the right answers into the right boxes. You should also be certain to proofread the form. Now, you can do this yourself or you can ask someone you trust to help you. If in doubt, you may also want to use some spell-checking software, such as Grammarly or the Hemingway App. 
The takeaway  
Filling out application forms can be laborious. Be sure that you want the advertised job before you start this task.
You don't want to lose all of your hard work. To save yourself the trouble, you can save your answers in a separate document.
While you are writing each of your answers, refer back to the job description.
Always proofread your application form before you hit the "Submit" button!