If it's time to leave your position, you can never overestimate the importance of making a graceful exit. In the world of remote working, that might come in the form of a resignation email. Here's how to write one that gets the job done – literally.
Resignation is a formal matter, but with stories of people resigning with a WhatsApp message or even using a string of emojis, it is worth investigating the role of the resignation email alongside the more formal resignation letter.
In many countries, any correspondence that you send your manager or HR contact can be viewed as having legal force, but as emails feel less formal it is easy to miss out on some essential contractual formalities. 
This blog explores the specifics of the resignation email and how it could be used in a valid way alongside the slightly more formal resignation letter. We consider:
Why you need a resignation email
What to include in a resignation email format?
Tips for writing a resignation email
Resignation email sample
Our guide " How to write your resignation letter " offers a comprehensive deep dive into how to leave a job professionally, so it should be read alongside this email blog. Most people will do both, but the differences are worth noting.
Expert tip
What are the types of resignation email?
As there are many situations in which you might be handing in your resignation, there is no single standard resignation email. You can choose to keep it as short as possible, but if you do want to go into more detail, all the following scenarios may require a slightly different approach:
Simple two weeks' notice resignation email
Professional resignation email
Formal resignation email
Resignation email for a job you just started
Short resignation email
Immediate resignation email
Resignation email when leaving on bad terms
Resignation email for unsatisfactory working conditions
Negative resignation email (this is one to avoid)
Why do you need a resignation email?
As you will likely not be handing over a physical letter to your manager or HR department, you need to send them the formal resignation letter as an attachment to an email.
It is perfectly acceptable to write a short email asking them to please find your resignation letter in the attachment, but a disappointed and emotional manager might not feel like clicking on it immediately. Then they move onto something else and not read it at all.
The resignation email is a less formal way of documenting the key points of the resignation letter and so long as you make it clear that there is more information in the formal letter, then both documents should be read.
Managing a resignation is one of the key duties of any manager , so they should take the content seriously. But what do you include and, more importantly, what do you omit?
Expert tip
What is the difference between a resignation email and a resignation letter?  
In terms of the content, the resignation email doesn't have to be as comprehensive, but it should still cover the basics as detailed in this blog.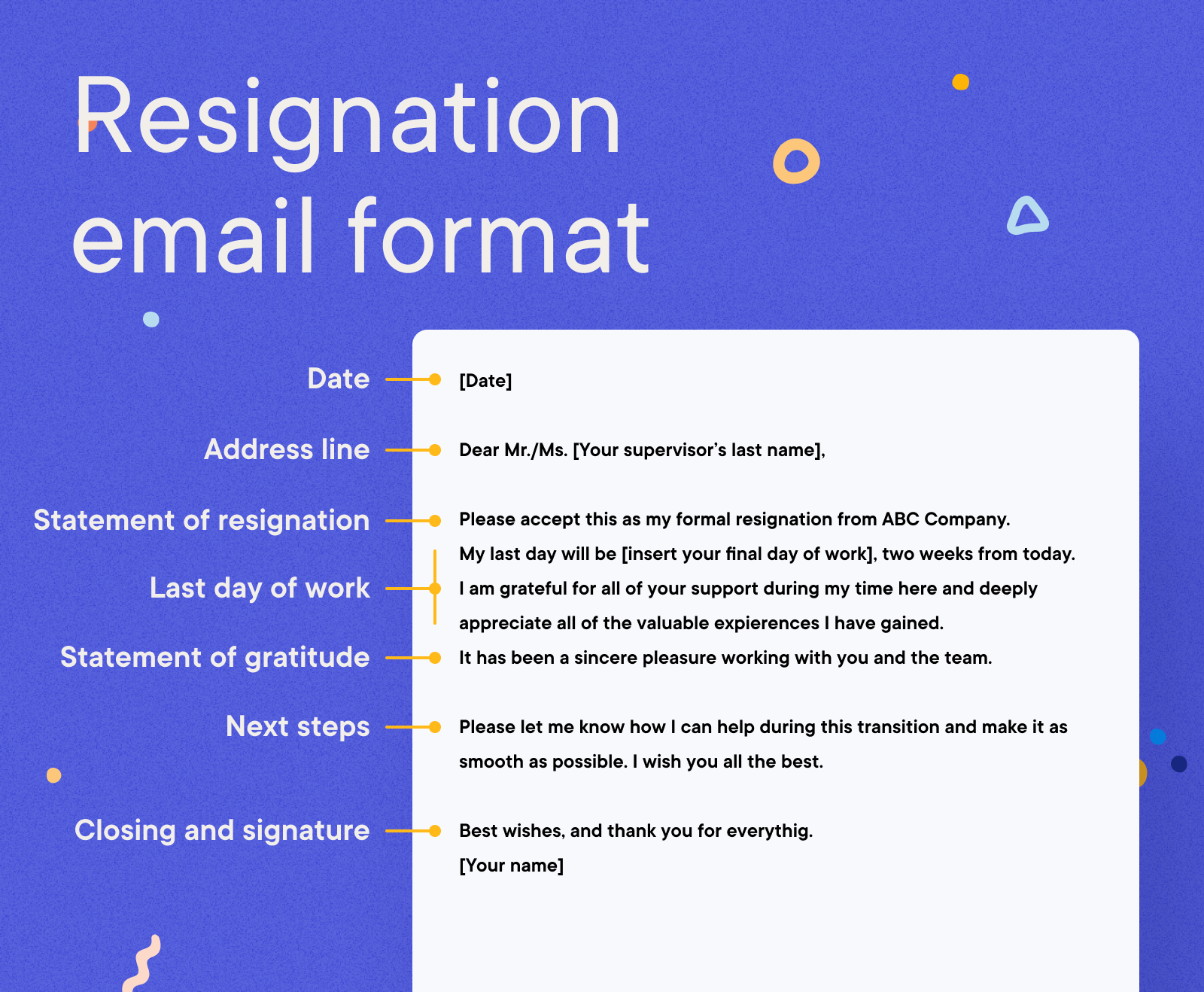 What to include in a resignation email format
While the format of a resignation letter is like a cover letter with the header, contact details, greeting and sign-off following the same rules, there are three key paragraphs that are unique to every resignation letter.
First paragraph: Details of your resignation
Second paragraph: Expression of gratitude for your development
Third paragraph: Next steps and offer of potential assistance
These are the three typical paragraphs of an effective resignation email. You can also opt to add any questions you may have in the final paragraph.
Expert tip
Is a two-week notice 14 or 10 days? 
Normally a two-week notice is 10 working days from the date that you handed in your resignation. Check your employment contract and think about things like any holiday you might be due. Get your affairs in order in advance just in case you are put on gardening leave with immediate effect.
Tips for writing a resignation email
Any piece of writing requires serious thought, but a carefully considered resignation email will help to make those fraught few last weeks at work slightly less awkward. Here are a few ideas for writing a resignation email that will help to soothe the pain.
Mention your name and the word resignation in the subject line. There is nothing else that should be in the subject line of a resignation email than your name and the word "resignation." Your manager will send it on to others and it needs to be easily found.
Be clear about your notice period. Whether your notice period is two weeks or two months, your manager may not be aware. It is best to point this out at the start of the resignation email – just double check your employment contract first.
Give the date when you are leaving. After you have triple checked the notice period, make sure that you are unambiguous in terms of the date that you will be leaving. It might be that you are asked to go on a period of garden leave after your resignation, or you may well agree to work for longer, but state this first off as a matter of contractual certainty.
Resist the temptation to go into detail. Resignation is an emotional time. You will feel something about leaving an employer who has been your work home for a while. A whole host of feelings are possible: regret, anger, disappointment, joy, hope…. The resignation email is not a place to express these things. Keep it formal and say things to others in person (as long as you don't burn your bridges ).
Be thankful for what you have learned. This is a simple professional courtesy that should not be left out. No matter how things have worked out, your managers and colleagues will likely have attempted to help you develop and grow, so simply say thank you.
Offer assistance during your notice period. The notice period before you have left and while the company is looking for a replacement is a crucial time. The first reaction of your manager will be to wonder how they will cope. Allay their fears and say that you will do everything possible to ensure the smoothest possible transition.
Get all questions onto paper. If you have any key questions that you need to ask about the transition, the resignation email is the place to list them. In many cases, they will require a formal answer, so don't leave them to any other secondary communication. Don't be shy – make sure that you find out what matters to you.
Provide your contact information. Don't disappear. On a practical note, including your contact information in some part of your resignation email (normally at the end) makes a lot of sense. You never know which of your colleagues might need to contact you, so make your details publicly available rather than in some HR system somewhere.
Expert tip
The 10 most common reasons for resigning. You probably won't choose to talk about these in your resignation letter, but here are the 10 most common reasons that people choose to resign according to Glassdoor. You are not the only person going through this:
Employees do not feel appreciated
Pay package is not up to scratch
Not enough holiday / paid time off
Management revolving doors
Outdated equipment and technology
Unrealistic demands and goals
Managers don't support them
There is no challenge anymore
Work just isn't much fun
There is no path to progress
Resignation email example
Every resignation email will be deeply personal, but if you wish to keep it simple, the following email template should work. Feel free to add any additional details, but this should cover all the essential bases:
Resignation email sample
YOUR NAME - RESIGNATION
Address, City, State/Province, ZIP/Postal Code  
Phone Number  •  Email
Supervisor's Name
Supervisor's Title
Company Name
Address
City, State/Province
ZIP/Postal Code
Today's Date
Dear (SUPERVISOR'S NAME):
With regrets, I will be leaving my role as [JOB TITLE] at [COMPANY NAME] in two weeks. My last day of work will be [MONTH, DAY, YEAR].
Although I've been very happy working at [COMPANY NAME] for [XX] years, I will be leaving in order to [REASON FOR DEPARTURE].
Working for [COMPANY NAME] has been an honor and a pleasure. I've learned so much, and I've formed friendships with my superb colleagues that I will always value deeply. 
I'd be more than happy to do anything I can to train my replacement, should you find one before my departure. Thank you so much for having given me the amazing opportunity to work at [COMPANY NAME].
I enclose my resignation letter as an attachment to this email.
Sincerely,
[YOUR NAME]
Key takeaways
Remember that a resignation email should be as professional as possible.
Leave your positive or negative emotions to one side and write a functional document that does not leave any questions unanswered.
Writing a resignation email is one of the last things that you will do in your job. Make sure that you give it the time that it deserves.
Now that you've successfully quit your job, it's time to refresh your current cv . Have a look at our field-tested resume templates and cover letters . These professional templates follow the exact 'resume rules' employers look for.