Resume.io analysed the laws covering annual statutory paid leave and paid public holidays in 197 countries across the globe to reveal where in the world employees are entitled to the most time off whilst still being paid.
After years of social progress and improvements to work-life balance, conflicting pressures are fragmenting the work world's approach to paid leave.
Employers struggling to attract talent are paying workers more, leaving firms understaffed but with a steep payroll to meet and a reluctance to give time off. In 2022, only 35% of U.S. organizations offer paid maternity leave – a shocking drop from 53% just two years ago, according to a survey from the Society for Human Resource Management (SHRM). For paid paternity leave, the drop is from 44% to 27% in the same period.
Meanwhile, workers continue to suffer the health and mental health fallout of the pandemic. COVID-19 prompted a 25% rise in anxiety and depression globally. Today, the workforce is adjusting to post-lockdown conditions – whether returning to the workplace, adapting to a permanent WFH or hybrid situation, or rethinking things entirely in light of lay-offs, organizational changes, and the volatile economic landscape.
And governments are stepping in to maintain a balance. Around the world, some are mandating paid leave for the sick and even for victims of domestic violence, while others resist pressure to add annual bank holidays to the calendar.
In these fluctuating conditions, it makes sense to know your rights and manage your time with care. So, Resume.io has found out how much paid annual leave and how many public holidays are available in every country around the world – and how paid vacation days compare in total from one place to another.
What We Did
Resume.io reviewed the annual statutory paid leave and paid public holidays laws in 197 countries, referring to government websites, the OECD, the International Labour Organization, etc. We then ranked the countries based on the combined number of statutory paid leave days and paid public holidays per year.
Paid leave refers to the statutory minimum annual time off bookable by the individual. Vacation days refers to the combined total of paid leave days and paid public holidays.
Key Findings
Iran has the most public holidays (27) in the world and the most paid vacation days overall (53).
We found 23 countries with 30 days of paid leave per year, the highest number of paid leave available.
The United States is the country with the joint fewest days of paid leave (0) and the second lowest number of paid vacation days in the world (10).
The U.S. is the Second-Worst Country for Paid Vacation Days, the Worst is Micronesia
African and Middle Eastern countries dominate the top of the table. Iran has the most statutory annual vacation days in the world (53), with a clear week's worth more than second-placed San Marino (46). As well as a reasonable 26 days of paid leave, Iran has nearly a month of public holidays (27 days), which is more than any other country. Religious holidays and days to mark events concerning the Islamic Revolution contribute to this total.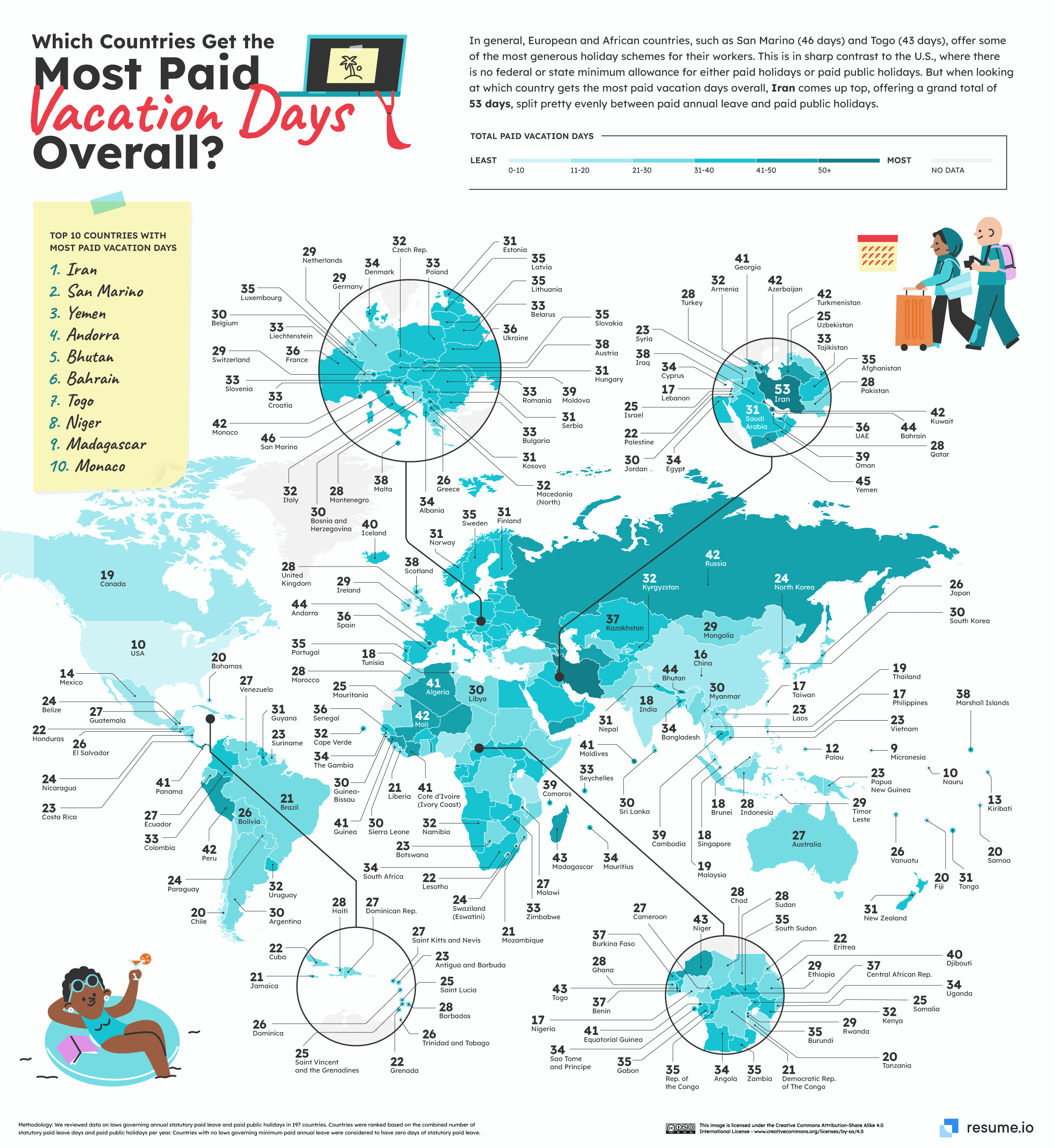 Panama, in joint 17th place, is the only North American country in the top 100. Although Panama has a relatively low public holiday count of 11 days, a joint top annual leave count of 30 days ensures Panamanians are assured at least 41 days off each year. Additionally, workers are guaranteed a 'rest day' of at least 24 consecutive hours each week – earning 150% of their regular rate and a bonus day off if required to work it.
The U.S. Has the World's Least Paid Leave (Hint: It's Zero)
Four weeks' leave has become something of a norm around much of the world – though some count it in working days (i.e., 20 days) and some in full weeks or a month (28-30 days). We identified 22 countries with a 30-day leave plan, of which 10 are in Africa. The average by country is 18.2 days of paid leave per year.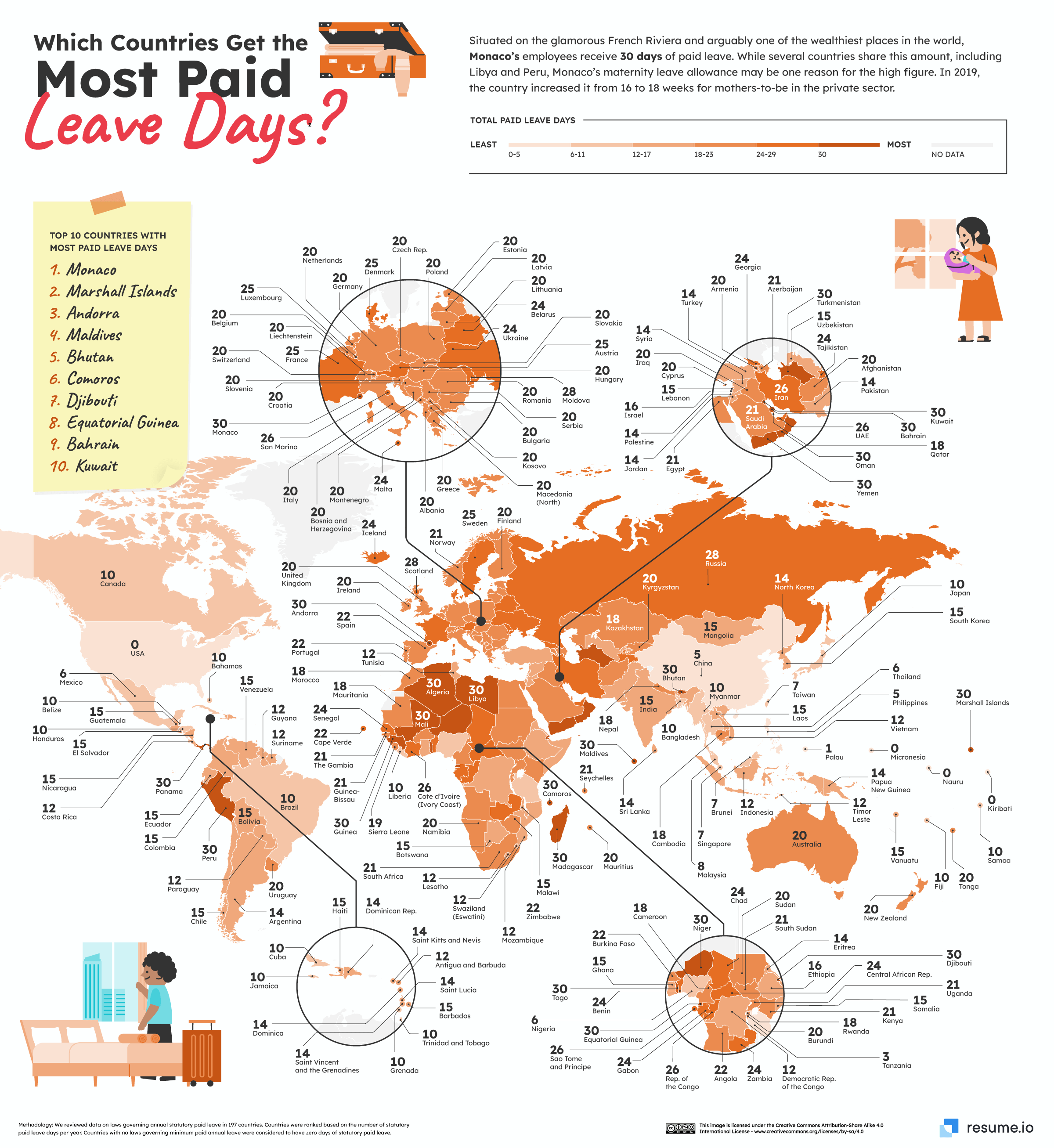 The U.S. is bottom of the table for paid leave, with the simple figure of zero days. It is the only developed country with no statutory paid leave, and only the Pacific island countries of Nauru, Micronesia, and Kiribati have the same. In the U.S., paid leave is at the discretion of the employer. The average employee gets 14 days after their first year with a company, but 15% of civilian workers get no paid leave at all, according to the Organization for Economic Cooperation and Development (OECD).
San Marino is Europe's Capital of Public Holidays
The U.S. does at least have 10 "legal public holidays," although it is not obligatory for private employers to honor them with days off (except in lucky Massachusetts and Rhode Island). However, state and federal organizations and some private firms do award these days as leave. The majority of private employers give paid time off for New Year's Day, Memorial Day (the last Monday in May), Independence Day, Labor Day (the first Monday in September), Thanksgiving (the fourth Thursday in November), and Christmas Day. Juneteenth and the birthdays of Martin Luther King, Jr. and George Washington are more of a lottery.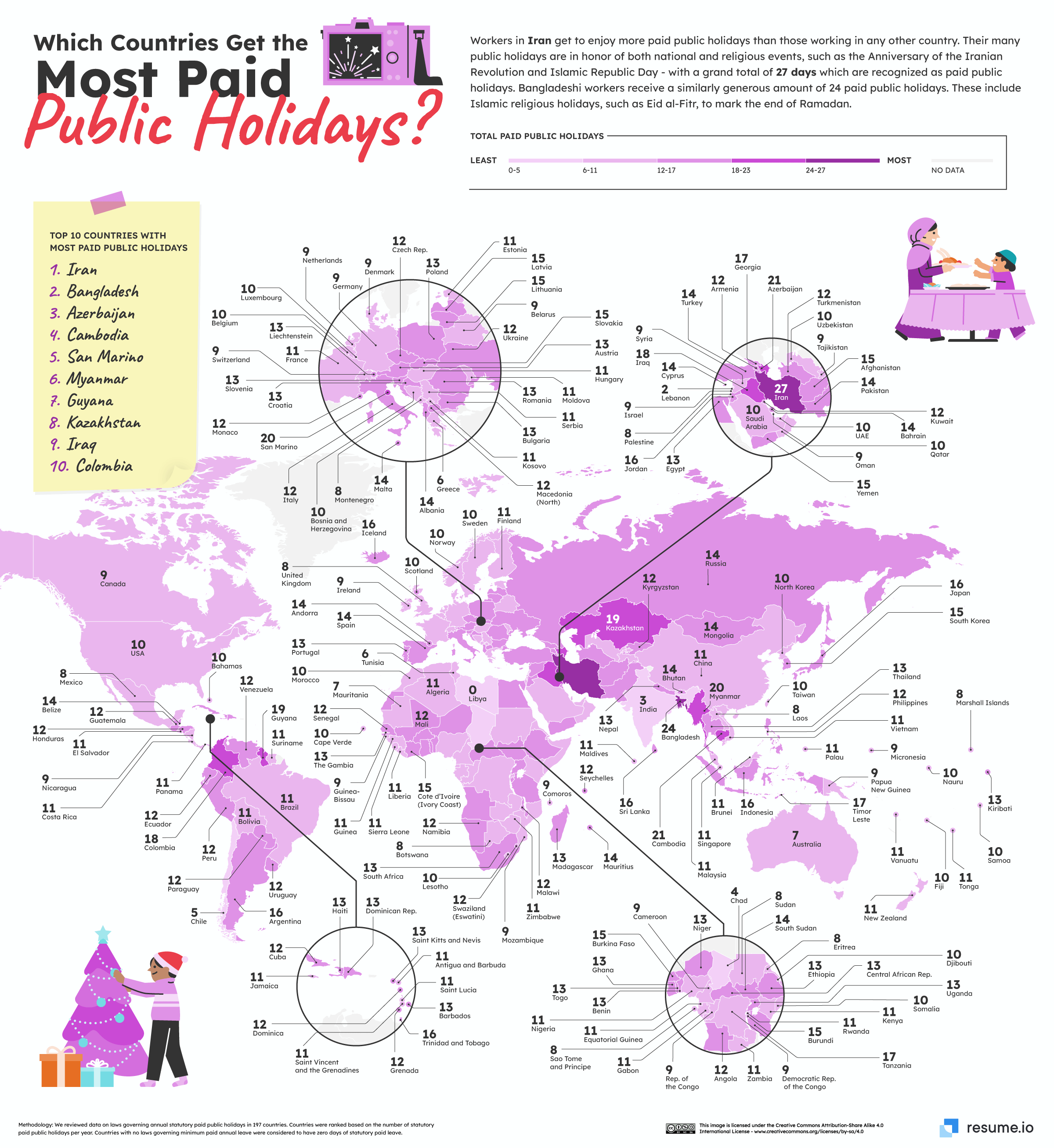 The average number of paid public holidays from country to country is 11.8, but we found six places with upwards of 20, mainly in Asia. The exception is San Marino, whose 20 public holidays make it the most generous in Europe by a significant margin. Catholicism remains prominent in the little republic, and annual celebrations include several Christian commemorations as well as days marking San Marino's hard-won victories and freedoms.
Work-Life Balance Around the Calendar
Employers can be assured that shorter hours tend to lead to higher output, not least because depression costs the global economy around 12 billion workdays annually. As an employee, one of the easiest steps you can take to protect your work-life balance and mental health is to know your rights – and take the annual leave that you're due. You can find the amount of paid leave and public holidays in your country by browsing our data in this table.
Experts have also pointed out that just as holidays work on a cycle, work-life balance and mental health require ongoing attention and maintenance. Taking a four-week tour of the world this year won't protect you if you feel too guilty to take the leave you're offered next year. Regular time off provides the opportunity to pause and reflect, to prioritize and plan. When do you intend to next catch a breath?
Methodology & Sources
We reviewed data on laws governing annual statutory paid leave and paid public holidays in 197 countries. Countries were ranked based on the combined number of statutory paid leave days and paid public holidays per year.
Information on leave laws came from various government websites: the OECD, the International Labour Organization, Global Expansion, WageIndicator Foundation, Skuad, Papaya Global, and various news reports and press releases.
Statutory leave laws were normalized to measure the minimum number of paid vacation days allotted for an employee working a five-day, full-time workweek with minimum tenure. In cases where workers with longer tenure are entitled to more vacation days, we listed the number of paid vacation days an employee can receive after working at the same company for one year.
Holidays were also standardized to the five-day, full-time workweek. Only holidays that typically fall on a weekday, or holidays that warrant a paid day off on the following Monday when having fallen on a weekend, were counted. In cases where the holiday calendar varies every year, we estimated a "usual number" of paid holidays that workers are typically allowed off.
Countries with no laws governing minimum paid annual leave were considered to have zero days of statutory paid leave.
The data was collected in August 2022.