The daily commute might be a chance to catch up on podcasts and reading for some but for others it's a sluggish and stressful time that they'd rather spend doing something else. Enter remote working. Resume.io analyzed U.S. Census Bureau data to uncover the cities and states where remote workers save the most travel time by working from home.
The American workforce just hit a diversion on the way to the office.
In 2019, just before the pandemic, the average commute reached a record high of 27.6 minutes per one-way journey — an increase of nearly 22 hours per year on the road in the 13 years since 2006. Only 5.7% typically worked from home.
Then, the lockdown struck. Remote work became the rule and then, after lockdown, the expectation.
By the spring of '22, some 58% of Americans reported having the option to work from home at least some of the time, with 35% permitted to spend the whole week 'out of office.' Nearly nine out of ten said "yes" to flexible work when offered.
But the WFH revolution does not promise an equal experience for everyone. That same survey revealed that men were 9% more likely than women to be offered the chance to cancel the commute, and younger workers received more opportunities than older ones.
This inequality stretches to the commute. While commuter time may not be linked to corporate discrimination, the length and quality of your commute vary greatly depending on the city and state where you're based. So, Resume.io has uncovered the places where working from home offers the most benefit to former commuters: the cities and states where remote workers save the most travel time by working from home.
What We Did
Resume.io used U.S. Census Bureau data to find the length of the average commute in every U.S. city and state and doubled it to account for the journey to and from work. We multiplied this figure by 250 (average number of days worked in a year) to calculate the number of hours saved by not commuting for the average worker. To get a figure for all remote workers, we multiplied the hours saved by the number of remote workers in each area.
Key Findings
Remote workers in New York City save the most commuting time on average: 331.67 hours per year.
Altogether, New York City's remote workforce saves 295,632,078 commuting hours yearly — more than any other city.
California is the state that's cutting the most commuting hours altogether: 876,776,100 per year.
The average remote worker in South Dakota saves just 145 hours per year by working at home — the lowest average for any city or state.
Cities: New Yorkers Gain Two weeks/Year By WFH — and Are Doing So En Masse
Resume.io found 11 big cities where workers spend more than ten full days per year commuting. Five of these are in California, and two are in New Jersey. New Yorkers spend two whole days more on the road than workers in any other city: we found that the average worker could save 331.67 hours per year by staying home. That's practically a whole fortnight of full days and nights.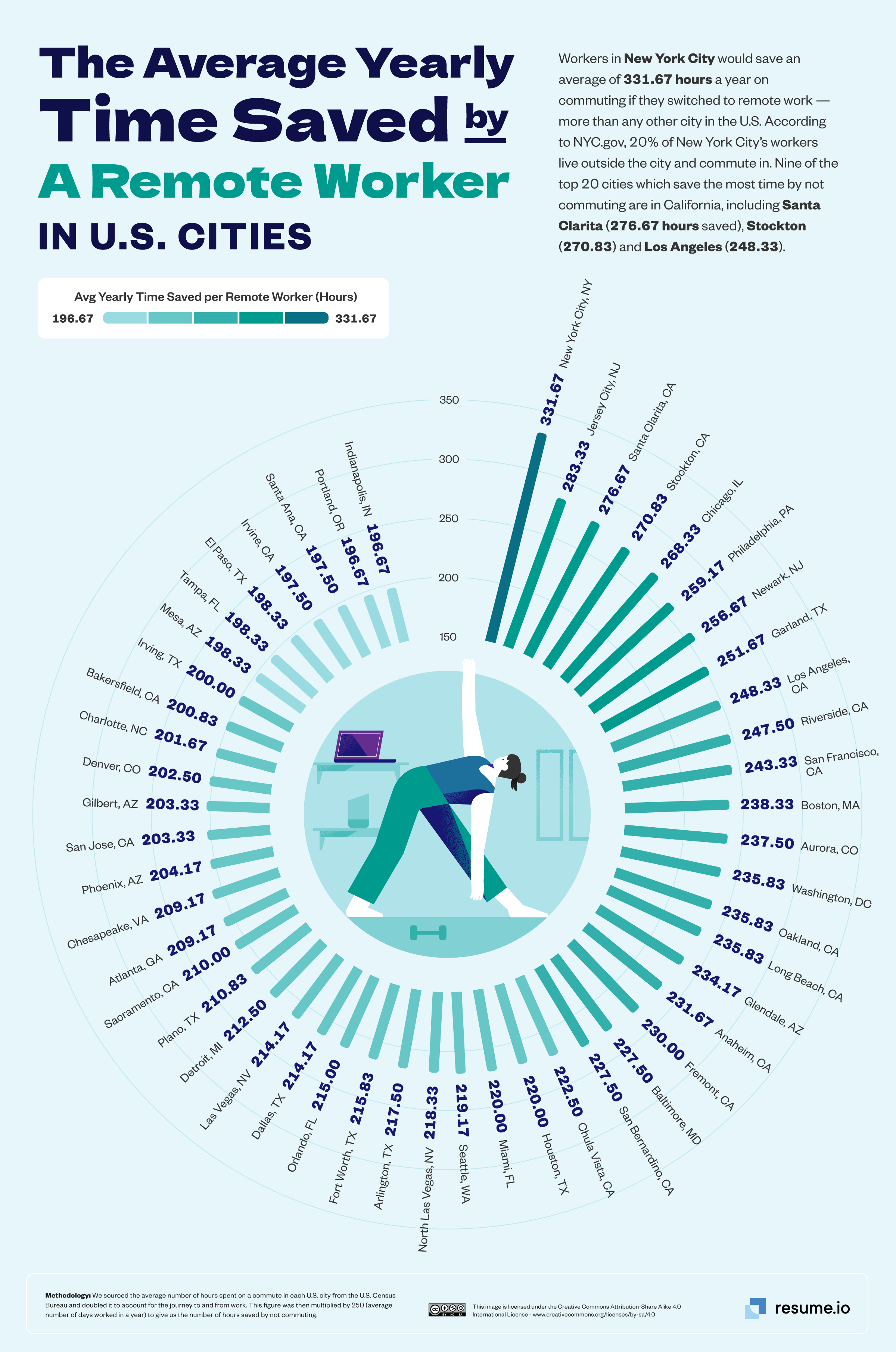 Click here to see the image in full size
Working a long ride from home also has economic ramifications. "The young advertising copywriter comfortably situated at his stand-up desk in his East Village apartment is being asked to come back uptown for the romance of an $18 salad at Sweetgreen," writes Ginia Bellafante at the New York Times. As of April 2022, 49% of New Yorkers planned to work remotely more often, likely saving around half the average $12,561 they usually spend working in the city, according to Stanford economics professor Nicholas Bloom.
But while the data above reveals how much time the individual commuter could save if they worked from home, Resume.io wondered how this is playing out in real terms. We multiplied the average commute time by the number of remote workers in each area to see how many millions of hours workers are actually saving in each city and state.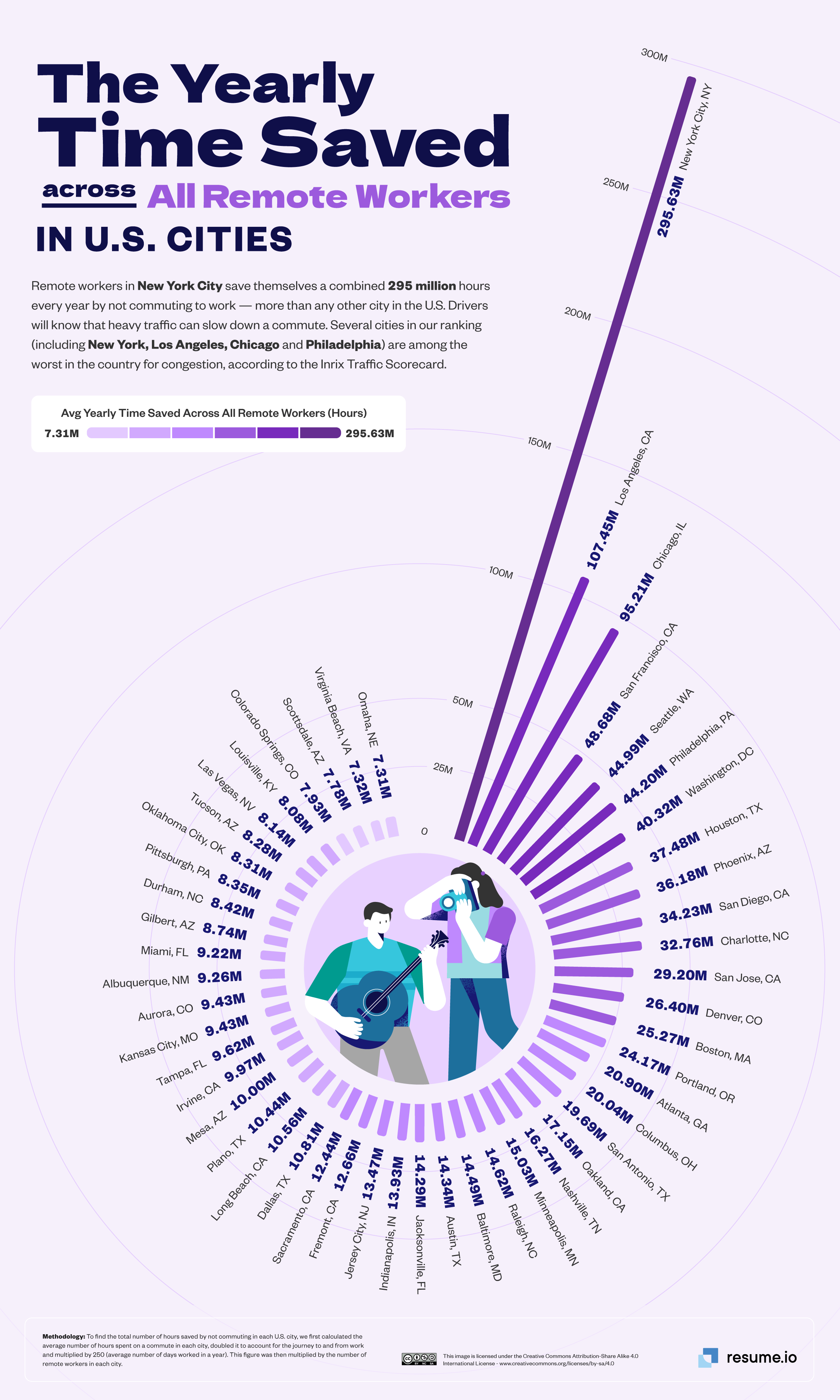 Click here to see the image in full size
To add salt to the wound of its long average commute, New York City is also the most stressful city in which to commute, according to a recent Resume.io study. Perhaps that's why NYC's workforce now collectively saves 295.63 million hours/year by working from home — 2.75 times more than any other city and a higher number of hours than the lowest 17 states (see below) altogether! However, while remote work may benefit the individual, employers and urban policymakers have to figure out how to thrive in this quiet new world.
States: Californians Saving Nearly a Billion Hours Per Year at Home Office
Commuting takes its toll on an individual's physical and mental health: one study linked a round-trip of just 20 miles to higher blood pressure, which can lead to heart disease and stroke. At the same time, another revealed how a regular long commute makes you less likely to socialize in your 'real' life. For those who live in the suburbs or the sticks, getting stuck in a long commute each day means subjecting yourself to harmful air. We found that workers in the state of New York and its neighbors Maryland and New Jersey can save the most time on average by opting to stay home when possible.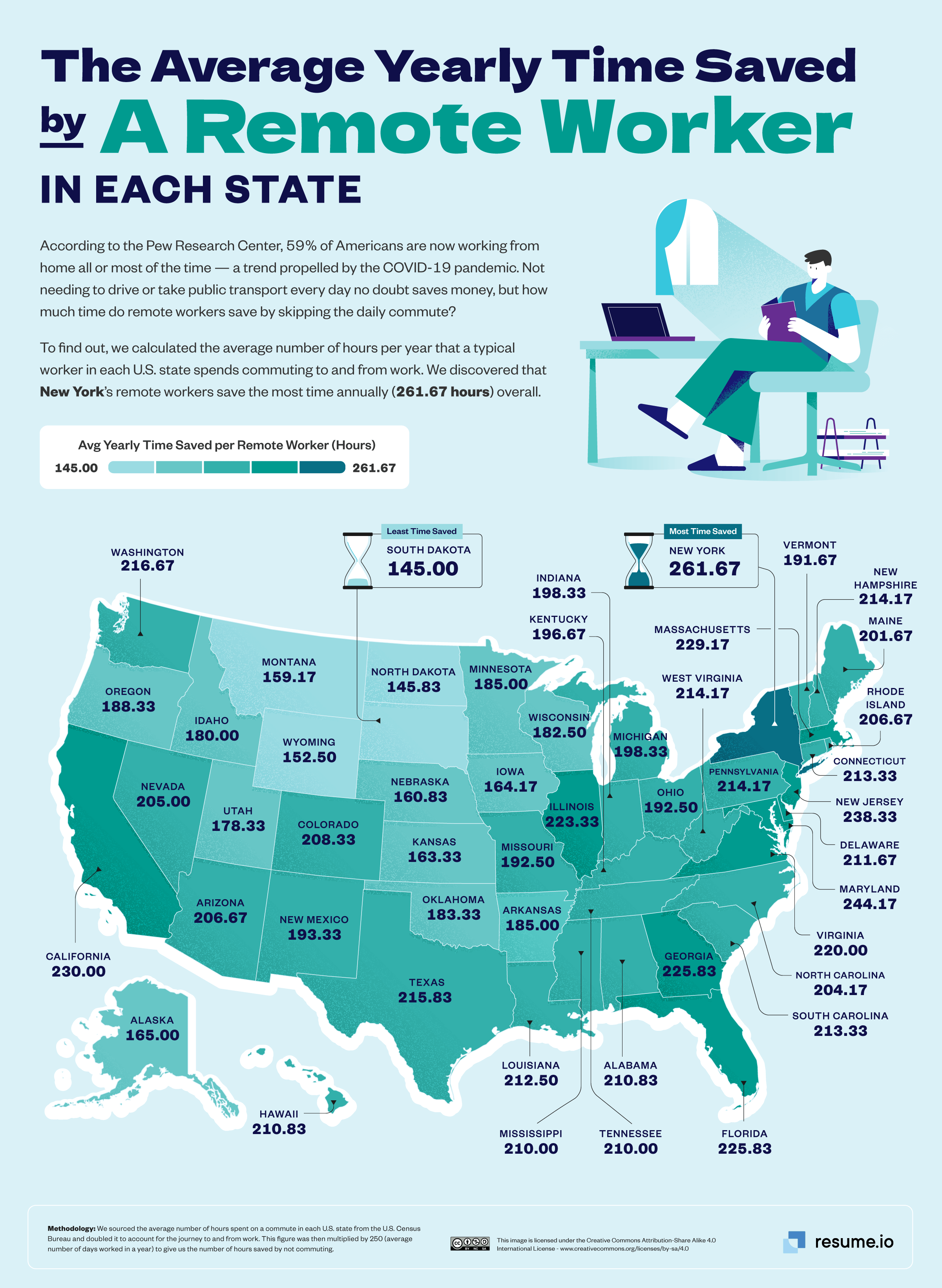 Click here to see the image in full size
Midwest and central western states are among those whose individual workers will save the least time by working from home. The average annual commute in both South and North Dakota is around 145 hours. These are some of the states with the lowest population density in the U.S., which may make commuting a smoother operation.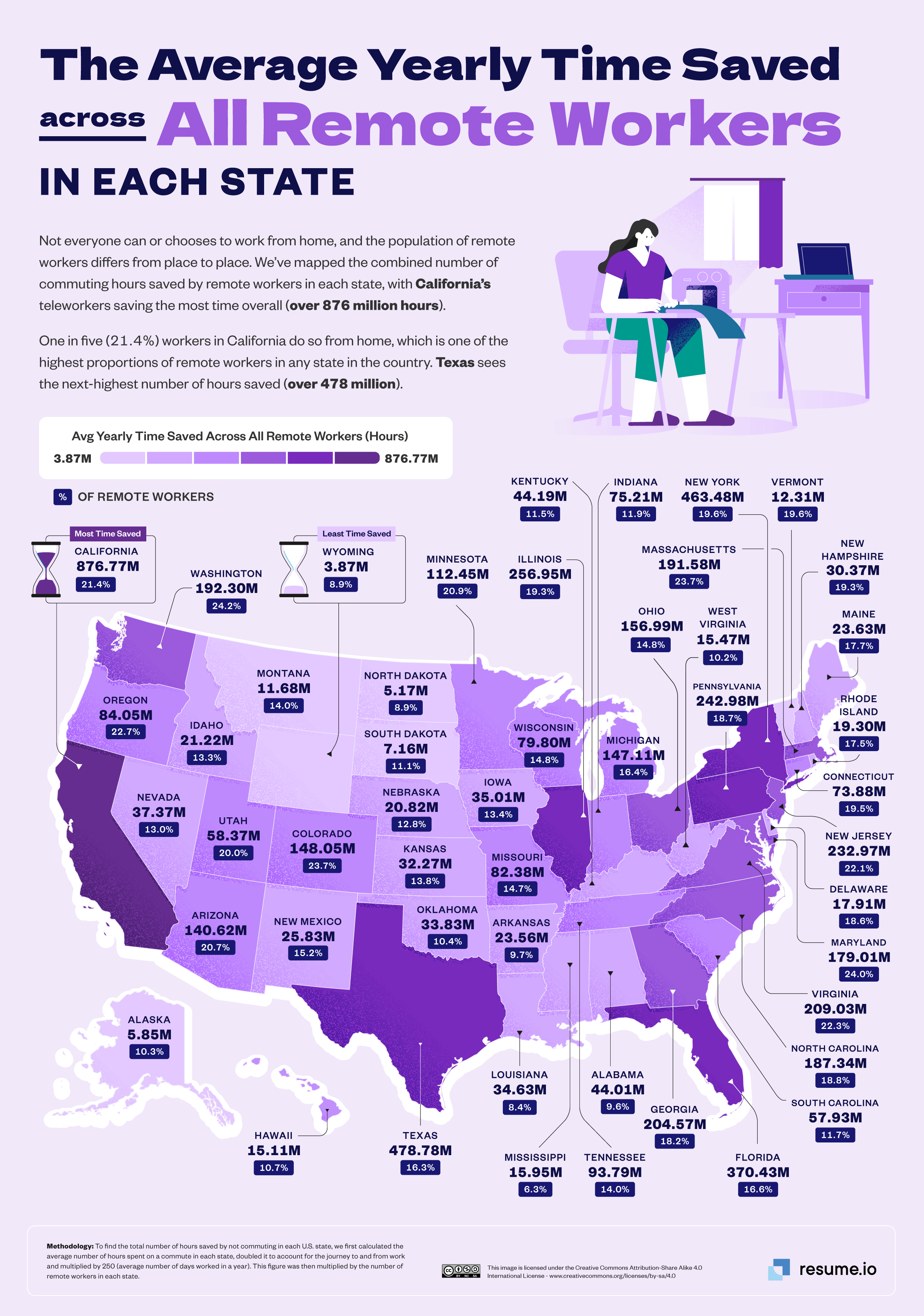 Click here to see the image in full size
But how much people power is each state actually saving? California comes out on top with 876.77m worker hours saved each year — eclipsing runners-up Texas and New York by virtue of its high population, lengthy average commute and a relatively high proportion (22.1%) of remote workers. Only seven states, led by Washington (24.2%), count more remote workers among their number.
The Virtual Commute?
Some people miss not only on-site working but the commute itself.
One HBR column even argues that the commute is good for you, providing structure, a ritualized break between your "work and home identities" and — uh — something to moan about with colleagues. Of course, none of these are dependent on that commute being long. You can identify the cities and states where you'll find a shorter commute (or feel best about working remotely) by exploring our data in the interactive below.
Anyway, as HBR suggests, you can always build these "healthy" elements of commuting into your remote work routine, scheduling "some solo time meditating in an unoccupied room or taking a short walk around your block before hopping into your first meeting."
They call it a "virtual commute," and perhaps the most empowering aspect is that each remote worker gets to choose how much time it takes.
Methodology & Sources
We began our study by retrieving a list of the top 100 U.S. cities by population using 2021 annual estimates from the United States Census Bureau. Using the same source, we then collected the average commute time and the total number of remote workers in every U.S. state and the top 100 U.S. cities.
We doubled the average commute time (accounting for the journey to and from work), then multiplied that figure by 250 (the average number of days worked in a year) to determine the yearly number of hours spent by an individual worker on a commute and therefore hours saved by not commuting.
We could then find the total number of hours saved by all remote workers in each location by multiplying the time saved on commuting by the total number of local remote workers.
Our data was collected in December 2022.